AMD CEO, Dr. Lisa Su, will officially be opening Computex 2019 on the 27th of May with the AMD keynote. AMD's President and CEO will be presenting a range of new technologies that will utilize the brand new 7nm process node.
The keynote will include the much anticipated Ryzen 3000 series processors and next-gen Radeon RX Navi GPU based graphics cards as well as the new EPYC Rome Server Chips.
The AMD Ryzen 3000 line-up is based on the new Zen 2 core architecture which is made possible with TSMC's bleeding edge 7nm process node. AMD has reaffirmed that their Zen 2 based Ryzen 3000 series processors for the AM4 desktop platform will be available in mid of 2019.
It is highly likely that the launch will be on the 7th of July to represent the 7nm fabrication process. Though it is plausible that AMD will go live with these products at Computex 2019
One of the key upgrades for Zen 2 is the doubling of the core density which means we are now looking at 2x the core count for each core complex (CCX).
Previous leaks have covered both the product line-up and possible pricing. The top of the range Ryzen 9 products will cap out at 16 cores and 32 threads, doubling what it currently available for any mainstream CPU.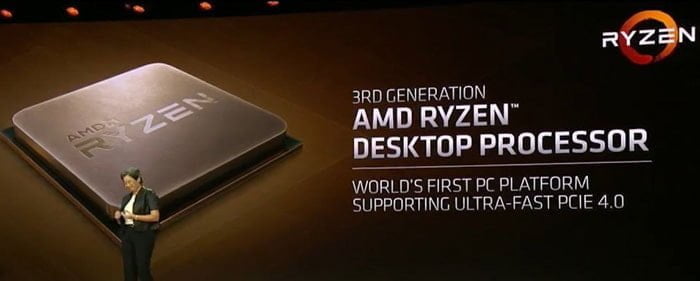 Zen 2 also includes stronger hardware level enhancements when it comes to security. This further solidifies AMD CPUs against enhanced Spectre variants and these mitigations will be adopted fully be Zen 2.
The new Ryzen X570 that launches with the new CPUs will be the first consumer solution with PCIe Gen4. The new CPUs will be backward compatible with X470 & X370 boards too and new BIOS firmware has already started rolling out on existing motherboards. However, they may not be compatible with B350 boards.
As for the Navi based GPUs, these are slightly less exciting, as the first release will be aimed at the middle end of the market.