Dozens of companies have launched cloud-based security cameras in recent years, and we have covered many of them. So, it is no surprise that Amazon has announced a product of their own. Named the Cloud Cam, this intelligent camera is also being launched alongside a new smart-lock service called Key, similar to the likes of August smart locks (who were recently acquired by Yale).
Amazon has been experimenting with ways to allow delivery drivers access to secure parts of your home for a while now, and this appears to be their solution. The new combo of products allows the cloud cam to detect when someone has come to deliver a package and work the unlocking of the smart lock in tandem with that. As Amazon describes it when a delivery driver requests access to the customer's home.
"Amazon verifies that the correct driver is at the right address, at the intended time, through an encrypted authentication process. Once this process is successfully completed, Amazon Cloud Cam starts recording and the door is then unlocked. No access codes or keys are ever provided to delivery drivers."
"Amazon Key gives customers peace of mind knowing their orders have been safely delivered to their homes and are waiting for them when they walk through their doors," said Peter Larsen, Vice President of Delivery Technology, Amazon, in a statement "Now, Prime members can select in-home delivery and conveniently see their packages being delivered right from their mobile phones."
In terms of the Cloud Cam, its exact specifications include:
24/7 monitoring – Stay connected to your home, family, and pets. Catch activities as they happen in 1080p Full HD and watch the last 24 hours of clips for free.
Notifications – Get notified when Cloud Cam sees activity and use the Cloud Cam App to check in anytime with live view.
See clearly in the dark – Night vision lets you detect what's happening around the clock.
Two-way audio – Check in with the family or tell your dog to stop barking.
30-day free trial – Get advanced features like person detection, Zones, and more storage, plus download & share clips with a Cloud Cam subscription.
Works with Alexa – Just ask Alexa to show your live feed on your Amazon Fire TV, Fire Tablet, Echo Show, or Echo Spot.
Cloud Cam's intelligence lives in the cloud so it is always getting smarter with more advanced alerts, detection, and features.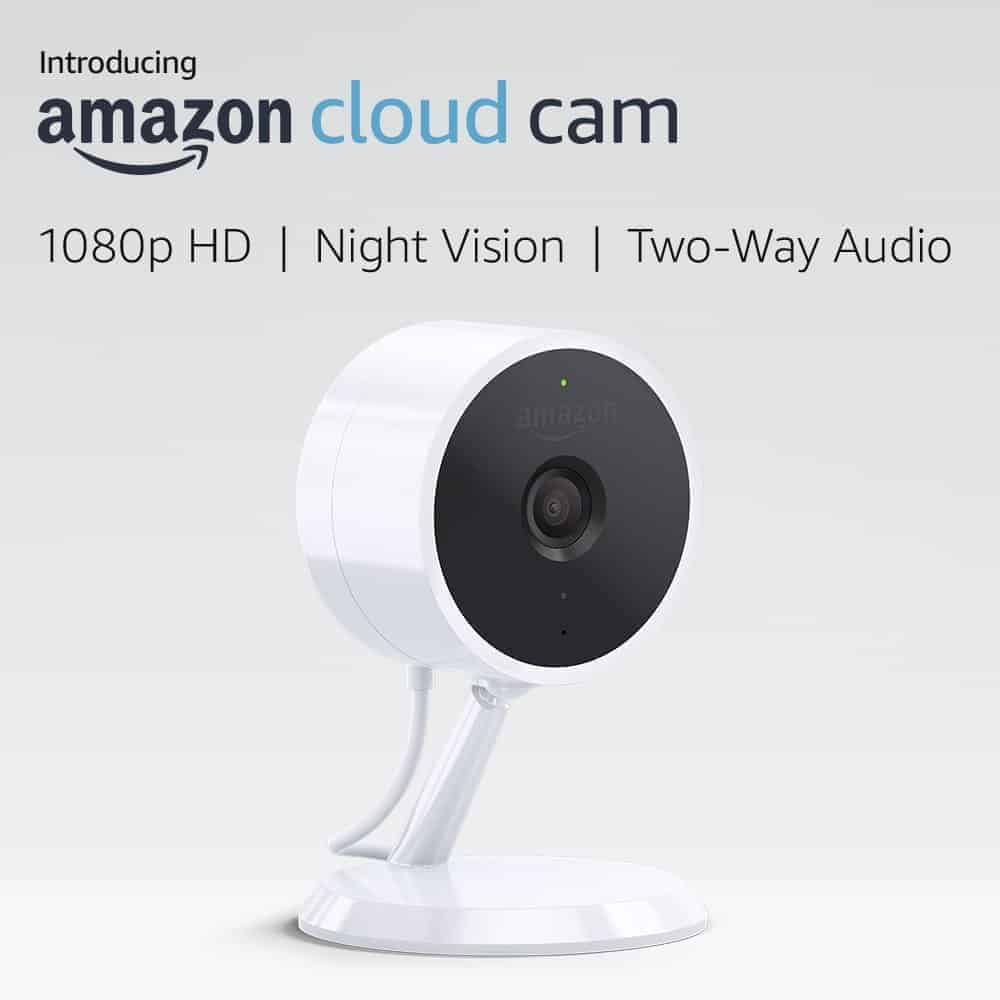 Considering one of the main selling points of the Cloud Cam is to intelligently allow delivery drivers access to your home, it is a little odd that this is not outdoors compatible.
As usual, the new products are only available in the States for the time being. Pre-order pricing for the Cloud Cam starting at $119.99 and going up to $249.99 for Prime members if paired with Key as part of a larger In-Home Kit (which also includes a smart lock from Yale or Kwikset). As it did with the Echo Dot, Amazon is also selling multipacks of the Cloud Cam that bring down the unit cost. Amazon describes the Cloud Cam as a "premium product at a non-premium price." But there are also subscription prices, which we're detailing below.
Key, meanwhile, will launch on November 8 starting in 37 cities in the U.S. covering "millions of items," Amazon said.