Acer have been focussing heavily on their gaming orientated products recently. I had the pleasure of trying out several of the Predator products during the #AcerLiveBlog2016 even in Belfast last month, and the past two weeks I have had the Predator Z35 monitor at my office to review.
The Predator monitors are without a doubt the strongest part of the Predator line-up, they easily compete Asus in terms of specifications, looks, build quality, but are often at a better price point.
The Predator Z35 is a massive 35" ultra-wide curved gaming monitor with a resolution of 2560×1080 and a refresh rate of 144Hz going up to 200Hz with its built in overclocking. On top of the crazy refresh rate the Z35 has NVIDIA G-Sync to ensure buttery smooth gaming.
The Z35 offers DP 1.2a and an additional HDMI 1.4 input as well which is useful. This is a slightly limited range of connections compared to some monitors, but this is largely due to the G-Sync module it uses.
The screen has an external power supply brick, which comes packaged along with the power cable you need. There are also 4x USB 3.0 ports, located on the back of the screen next to the video and power connections. One has charging capabilities as well. There are also some 2x 9W DTS sound integrated speakers, and also an audio-out port, but no further extras like card readers, ambient light sensors or human motion sensors provided as those are more aimed at office uses, while this is primarily a gaming screen.
The Z35 uses the same aggressive gamer styling that you see throughout Acers products. It is largely matte black with red styling across the bottom and the top of the rear of the screen, and a large predator logo on the rear and a smaller one on the front.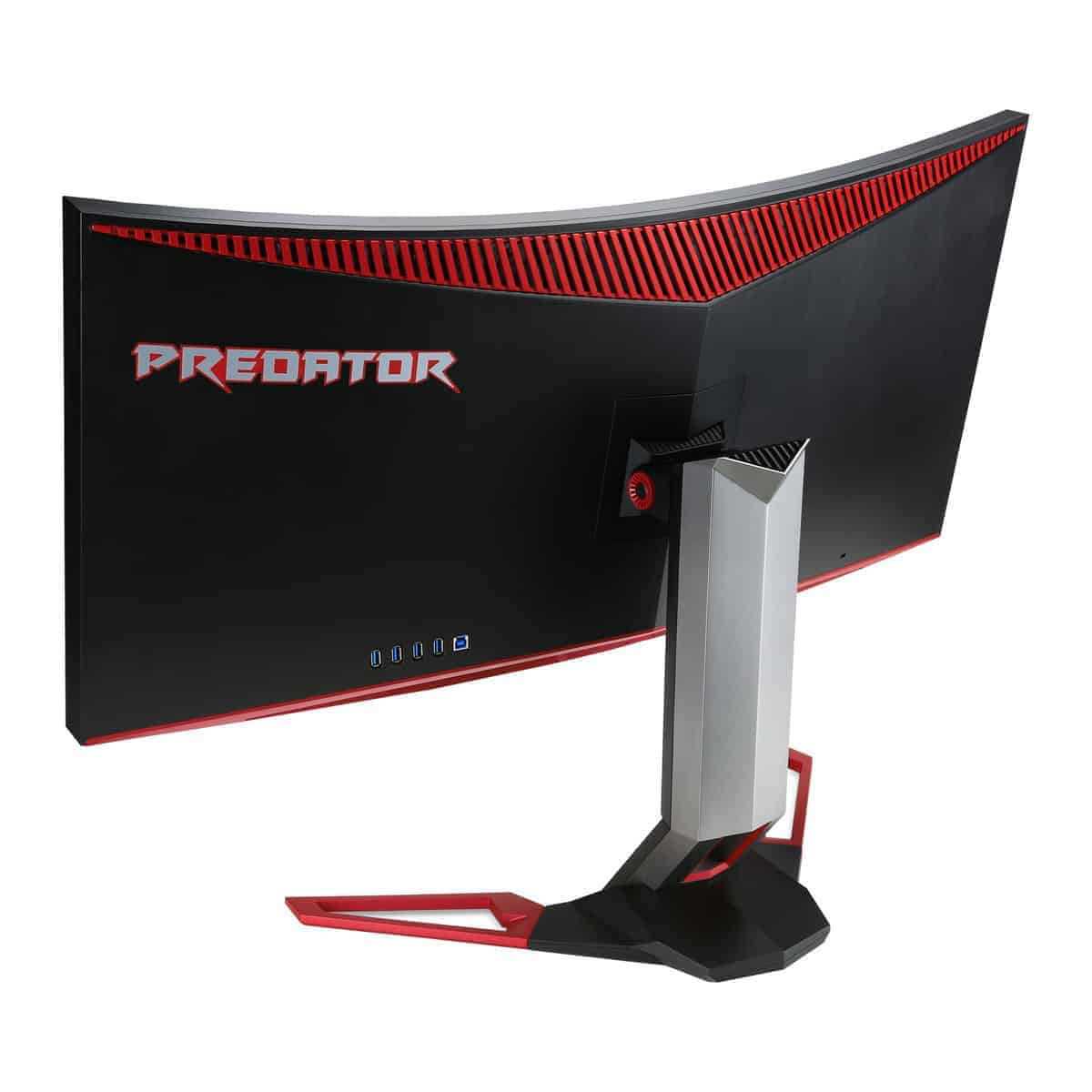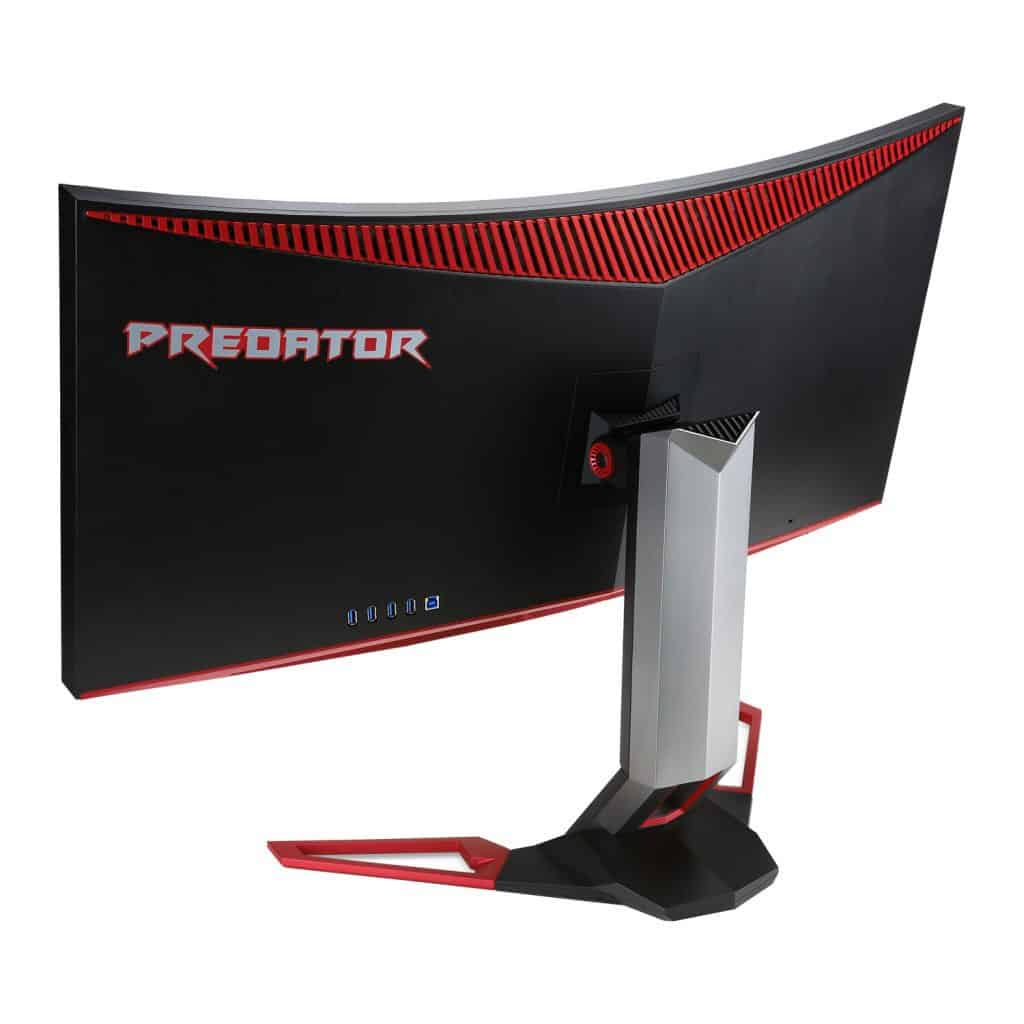 The curve of the screen isn't too aggressive in my opinion and it works well due to the size of the screen.
Due to its size I was worried setting it up would be a nightmare, but in fact it was extremely simple, you slide the monitor onto its stand, then just tighten the connection up with a built in thumb screw on the bottom of the stand. It took me less than a minute in total and is easily doable with just one person.
If you prefer to use your own mount, then the monitor does have a VESA 100 option. While I do use an Ergotron normally, I opted to just use the stand. The stand itself, it quite large and wide, which is understandable due to the size of the screen. It feels very sturdy, and there is no wobble. Adjusting the height and tilt is very easy and it took no time to get a comfortable position to use it.
The Z35 resolution of 2560×1080 with an aspect ratio of 21:9 on a 35" monitor is slightly unusual for my tastes. It does look amazing, but the resolution is comparatively low compared some the growing trend in monitors. Windows icons are quite large and you don't get as much screen real estate as you might expect. It is a big jump up from using FHD/1080P though, and it works great for long periods of office work. Whereas 4K can sometimes be tricky for regular office work as you have to mess around with scaling.
The low-ish resolution does mean individual pixels can be visible at times and some may find the anti-glare coating bad for picture quality, though I find it great for usability.
Obviously this is not designed for office work, and it really comes into its own for gaming. The 2560×1080 resolution means Acer has been able to push the refresh rate up to 200Hz. This will be particularly useful for competitive FPS players where high resolution is less important than high refresh rates.
Overclocking the monitor is a breeze, you can do it directly in the monitor settings, rather than having to fiddle around with windows programs.
Unfortunately, I only have an AMD card to use so can't comment on G-Sync, but gaming on a screen with such a high refresh rate is great everything on the Z35 is silkier than you've probably ever experienced.
There is a bit of an issue with 21:9 support in gaming. I noticed straight away that Metal Gear Solid does not support it out of the box and you need to mess around with hex editing and patches.
The biggest issue here is the cost of the monitor itself, it currently retails for £690 on Overclockers which is more than most people would spend on an entire PC. However, this is not a monitor aimed at regular users, you need a reasonably powerful PC just to run games at the refresh rates this can do, but then at this price how many people want a screen that can only do 2560×1080?
It's not that Acer is over charging for this monitor, BenQ has the XR3501 which is the same resolution, lower refresh rate (144Hz) and no G-Sync, but charge more.  For around £70 more you could get an Acer 32″ XB321HK which is 4K, but then you obviously sacrifice the refresh rate. Or there is the Acer XB271HU for £100 less, with 2560×1440 but you lose the ultra-wide.
Personally, while I think ultra-wide looks amazing, and certainly has the wow factor, unless you are a serious FPS player the Acer Predator XB271HU is a more logical choice for your average gamer. You get more screen real estate, better game compatibility and a lower price point. If you have the cash and still want that ultra-wide wow factor, then the Acer X34A could be a better choice for some as it has a better resolution, sacrificing the refresh rate (100Hz) though you get hit with an additional £200.
Overall, what this monitor does, it does amazingly well. The issues with it are really due to the range of option on the market and the limitations of connectivity options which limit the refresh rate or resolution. At the moment there is not really any monitor available on the market that has this specification, so if it fits your needs, then you will no doubt be extremely happy with it.