Acer Predator Helios 500 PH517-52 Review Rating
The Predator Helios 500 is the current flagship gaming laptop from Acer. This 4kg beast costs more than double that of any other Acer laptop currently listed on Currys.
Specification
Processor: Intel Core i9-11980HK – 8-core 3.30 GHz base 5.0 GHz boost
Memory: 32 GB DDR4 SDRAM
Storage: Up to 2 TB PCIe SSD
Graphics: NVIDIA GeForce RTX 3080
Display: 17.3″, 4K UHD (3840 x 2160)
Storage: 2TB NVMe (2 x 1.024)
Ports:

1x 2.5 Gigabit Ethernet,  Killer E3100G

Battery: 74 Wh / 4 hours with 2×330 Watt power supply
Dimensions (W x D x H): 400 x 319.2 x 35.30 mm
Weight: 3900 g
Design & Build
The Acer Predator Helios 500 is a 17″ laptop weighing almost 4 Kg, so it falls very much into the desktop-replacement style of laptop. It is easy enough to carry about the house, but you are not putting this in your backpack for your daily commute.
You also have the issue of the power brick(s), which are also massive and heavy. Yes, there are two, but you only need one.
With dimensions of 400 x 319.2 x 35.30 mm, this is one of the largest 17″ laptops on the market. Being both wider and deeper than the Gigabyte AORUS 17X, and bigger in every dimension compared to the Dell Alienware X17. While that may not sound too appealing, the benefit appears to be cooling. The laptop has big inlet fans on the base, which then expel the air on the rear and side vents. While I'd normally prefer smaller, lighter laptops, the overall dimensions and weight become somewhat redundant once you get to this style and size as you will rarely be moving it much.
The chunky design and premium price mean you get all the ports you could need. 5 different USB ports, HDMI, 2.5GbE and Thunderbolt 4. This will easily connect up to all your peripherals and 2nd monitor and become a full work/battle station.
Along with the RGB keyboard, the laptop has numerous RGB elements around the chassis as well as a glow-up Predator logo.
Maintenance / Upgrades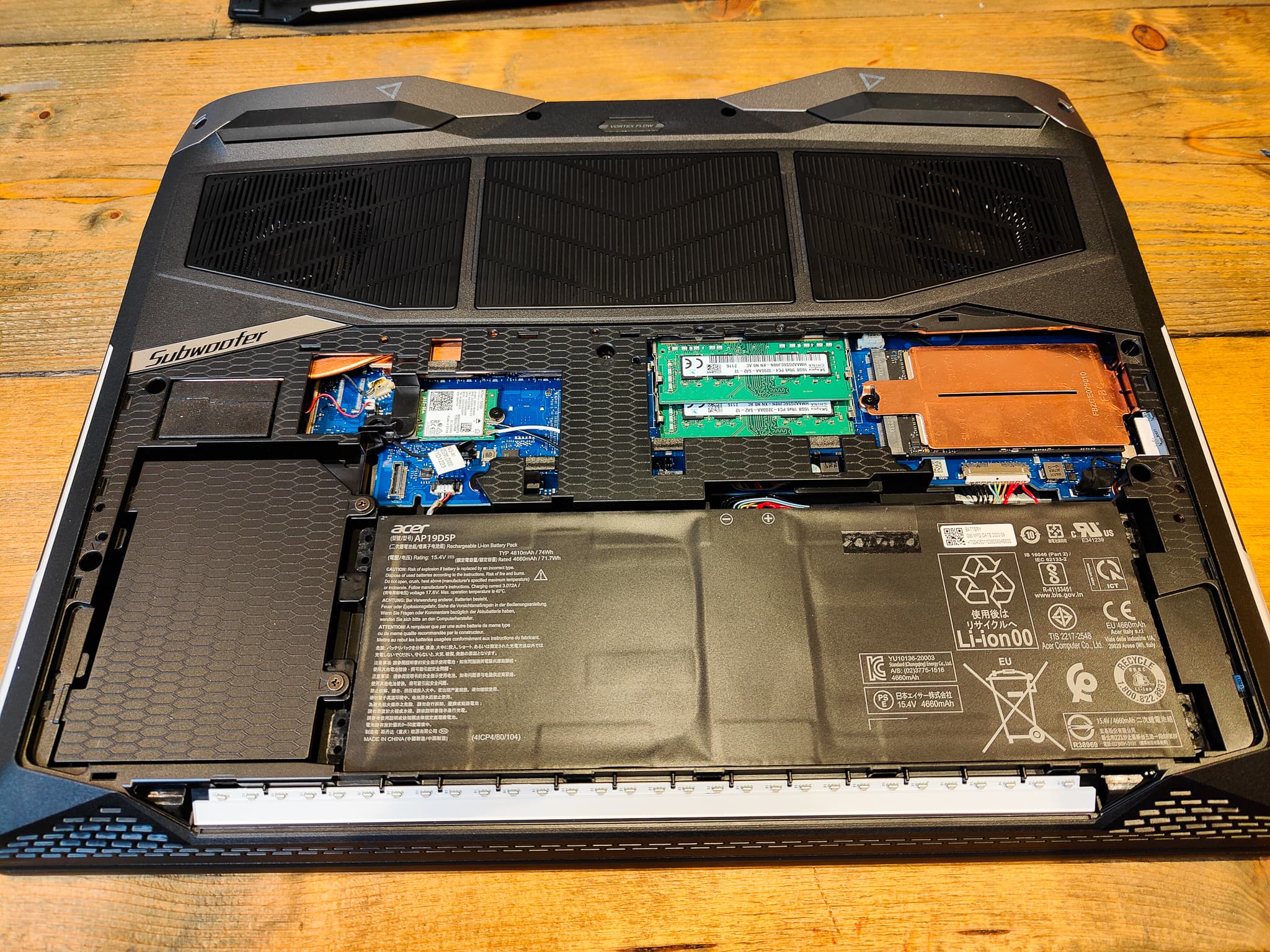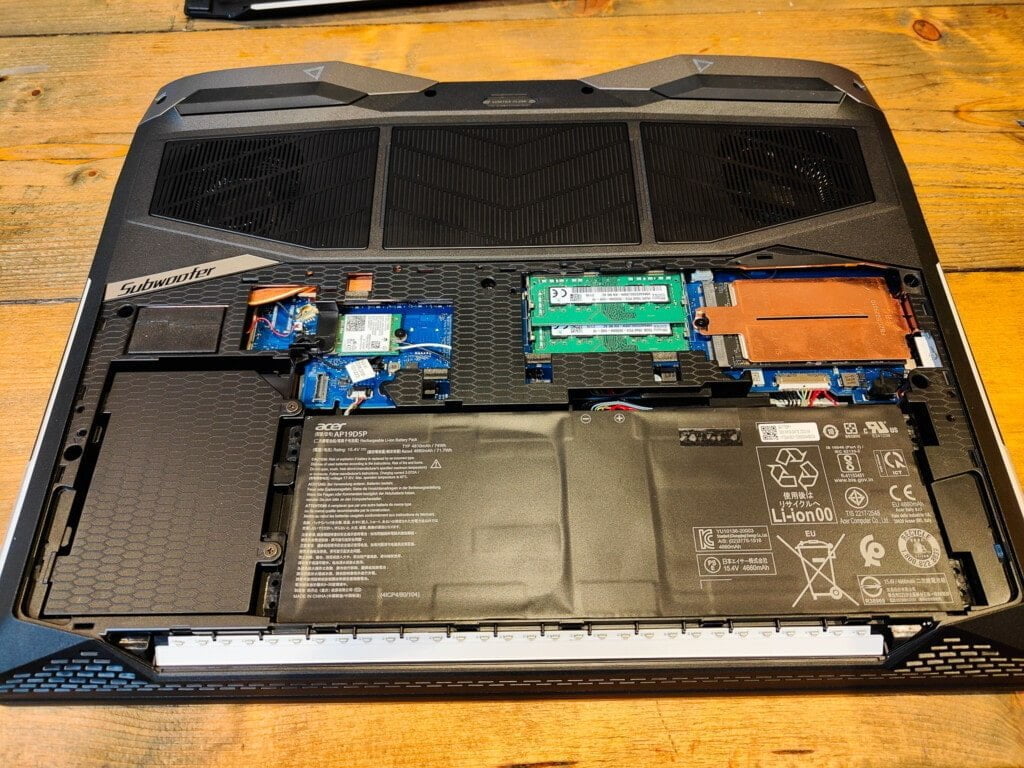 I am not normally a fan of poking around the internals of a £4k review sample, but within the packaging is some 2.5″ drive mounting accessories, so I felt the need to see how easy upgrades were.
The laptop has a two-part back panel. You need to remove the smaller panel before you can remove the full back panel. Even with the smaller panel and additional screws removed, I felt more resistance than I was comfortable with trying to remove the full back panel, so I decided to leave it. This appears to give you access to the cooling and main components of the laptop, which you should not need to access unless there is something wrong with it.
The smaller part provides access to the 2.5″ tray, battery, WiFi module, RAM and M.2 NVMe drives.
Display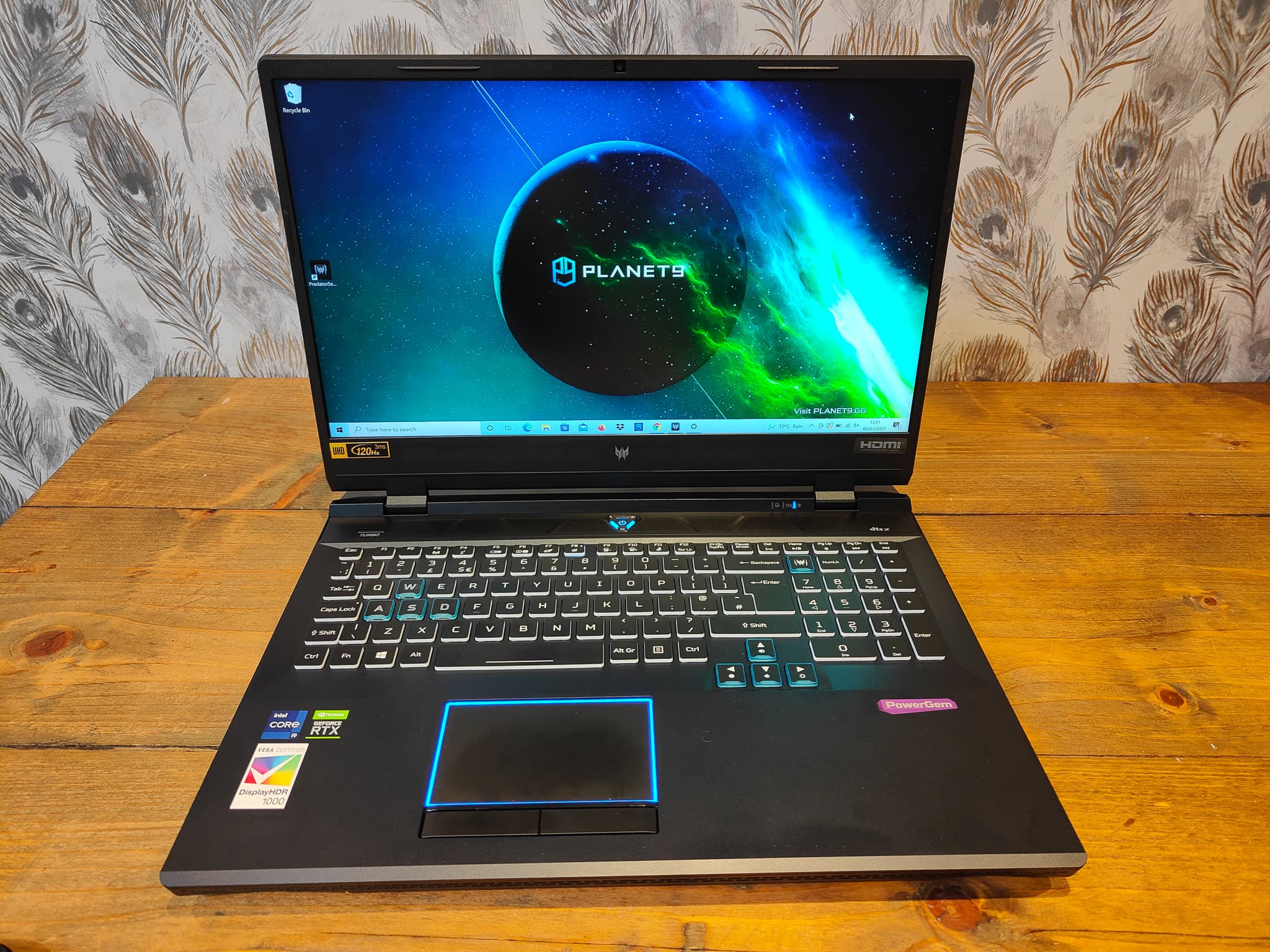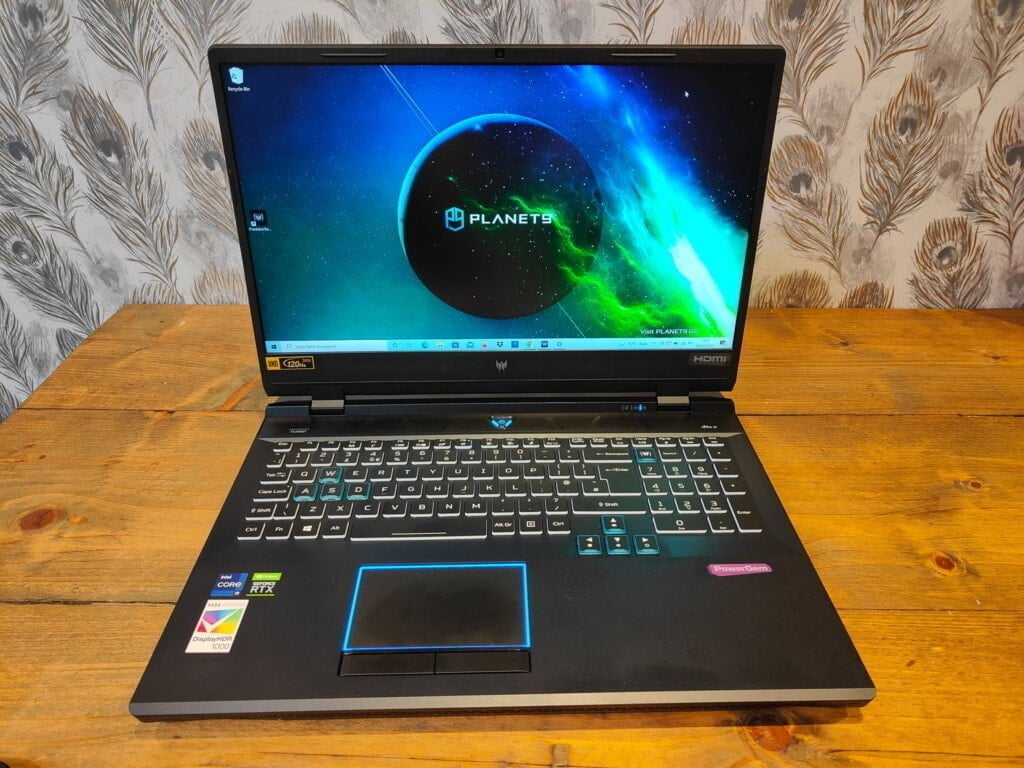 My sample has a UHD 120Hz miniLED panel, which is the top of the range option for this laptop. It is a bit special and perhaps one of the things that helps justify the price. There are very few laptops that have 4K 120Hz.
I don't have a properly colourimeter to test the performance, but the display goes very bright, and colour accuracy and blacks appear superb.
Overall, the display is one of the best I have used on a laptop, though admittedly I am not a serious enough gamer to appreciate things like 300Hz refresh rate you find on other laptops.
Keyboard and Trackpad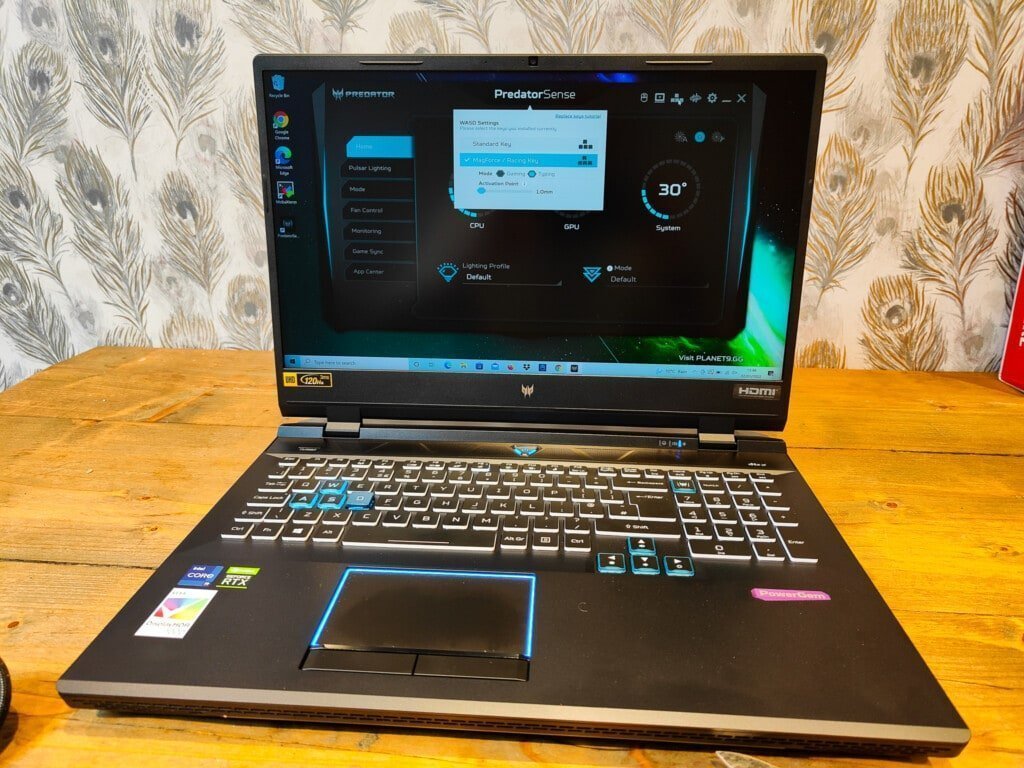 With this being a gigantic and premium-priced gaming laptop, the keyboard and trackpad are much better than generic laptops.
The keyboard is backlit, with bright RGB LEDs and per-key control. The lights go quite bright, so you will be impressed if you are an RGB fan. More importantly, the typing experience is good, the keys have a good level of travel, making it feel a bit more like typing on a proper keyboard.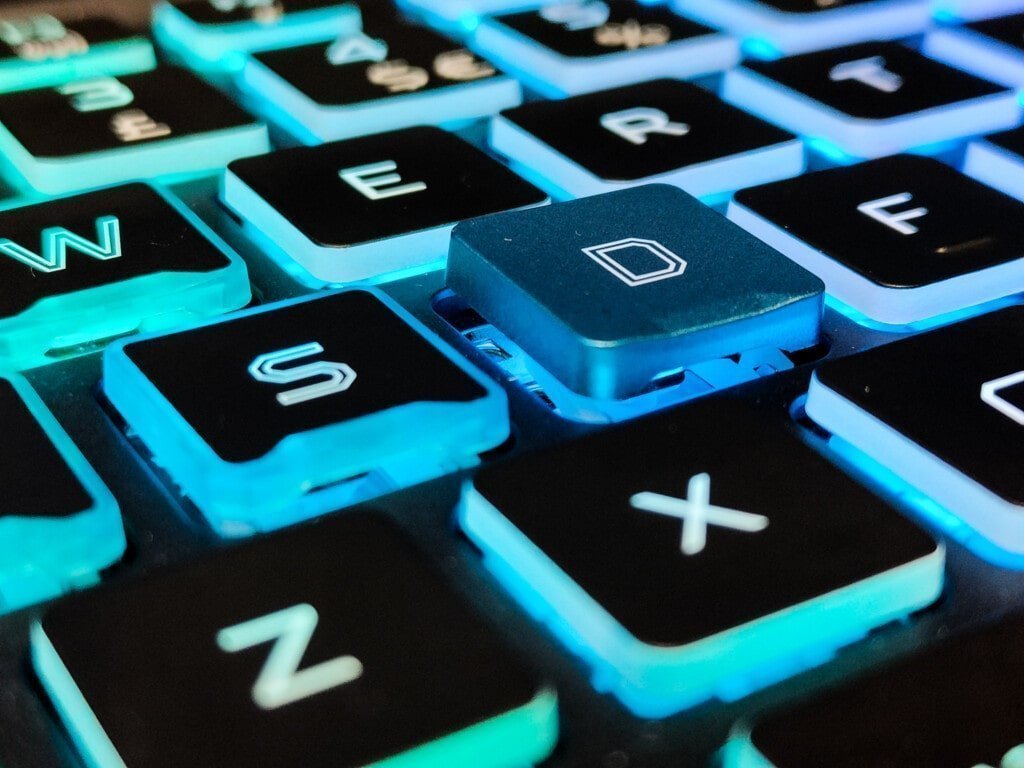 It is also possible to replace the WASD keys with two sets are included in the box. Using the alternative keys, you can set up Predator Sense to provide some analogue control to your keys, with a light press providing a different functionality than a full press. You need to manually go into Predator Sense and switch the keyboard setting. It is a quirky feature that I have no strong feelings about, but I can appreciate that some people may find it useful.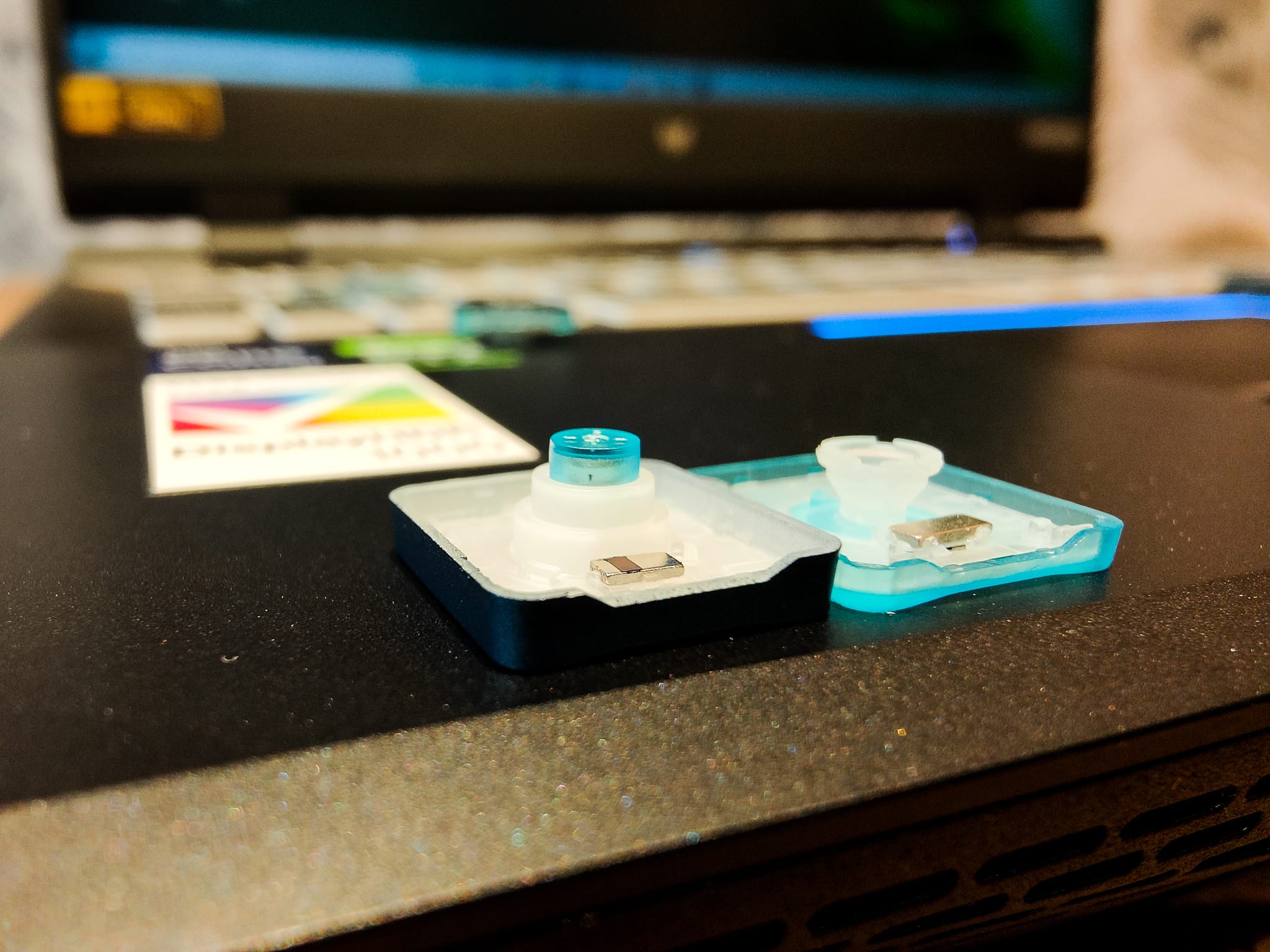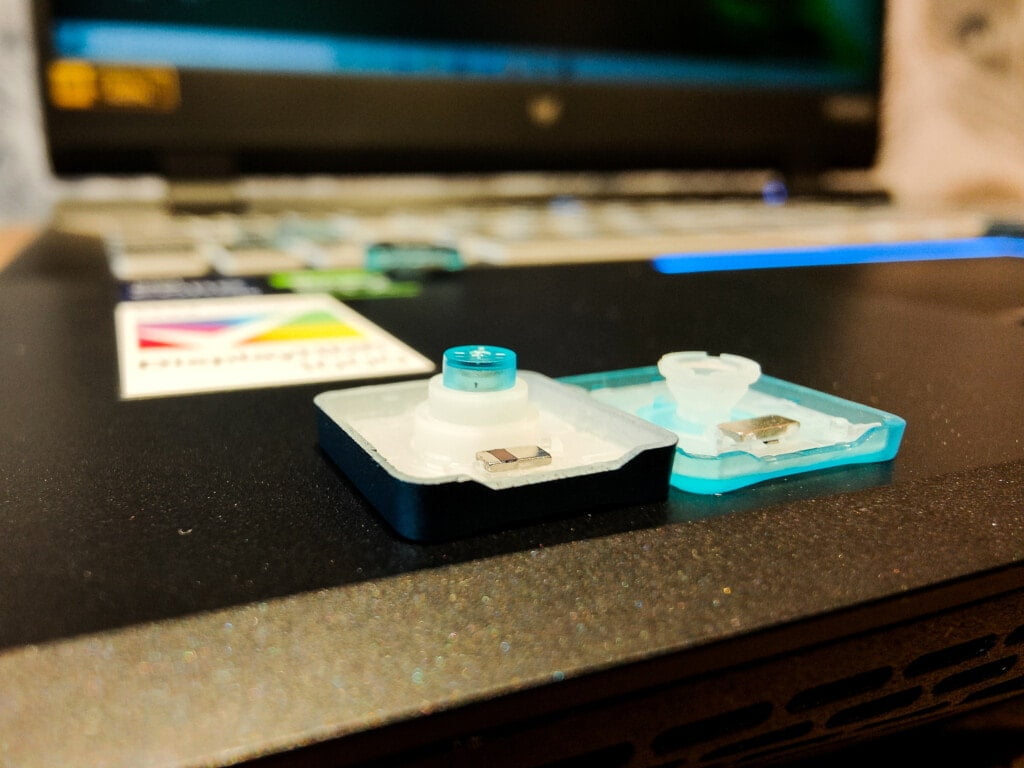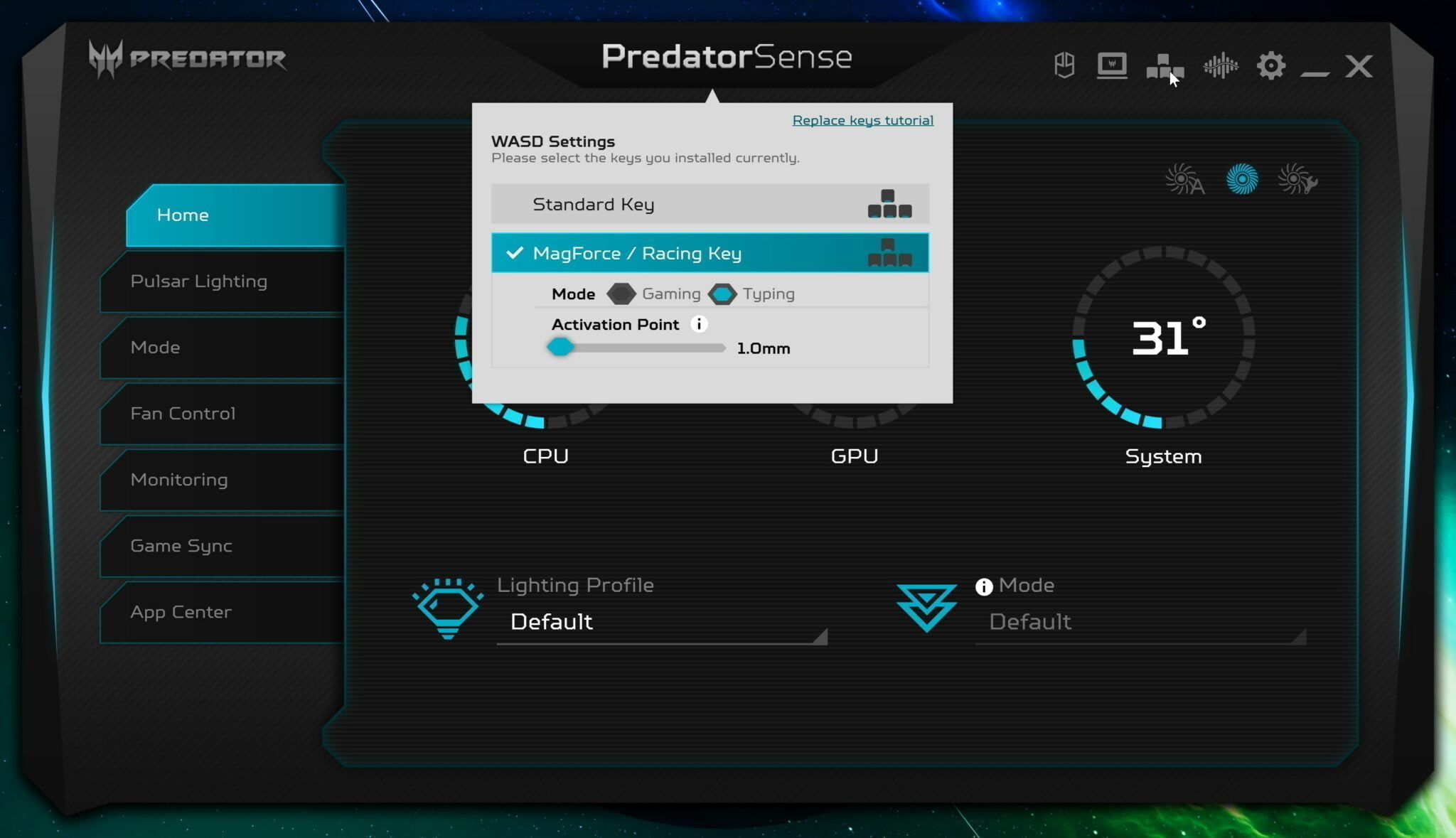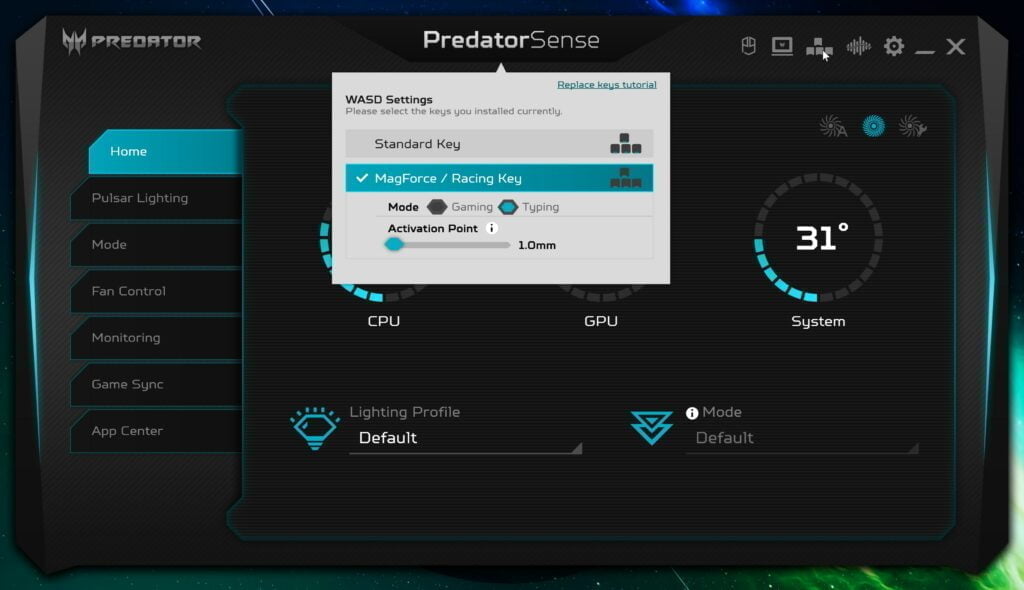 The trackpad works well, and it has proper left and right mouse buttons, which I much prefer.
Performance and Fan Noise
At first, I didn't realise this had TWO power bricks. The laptop works perfectly well using one, but it was only when I pressed the turbo button did I realise you needed the second power supply to use this functionality.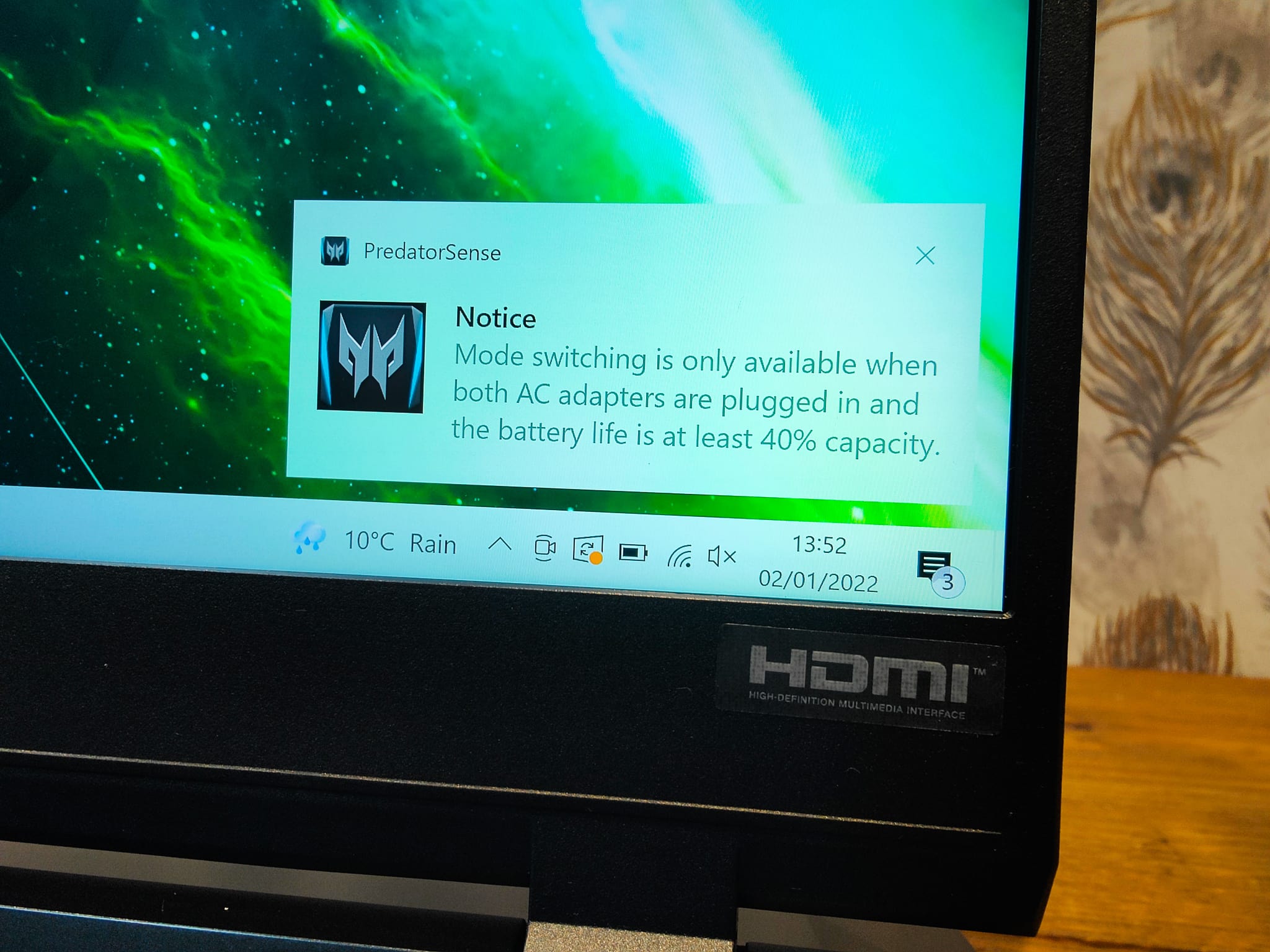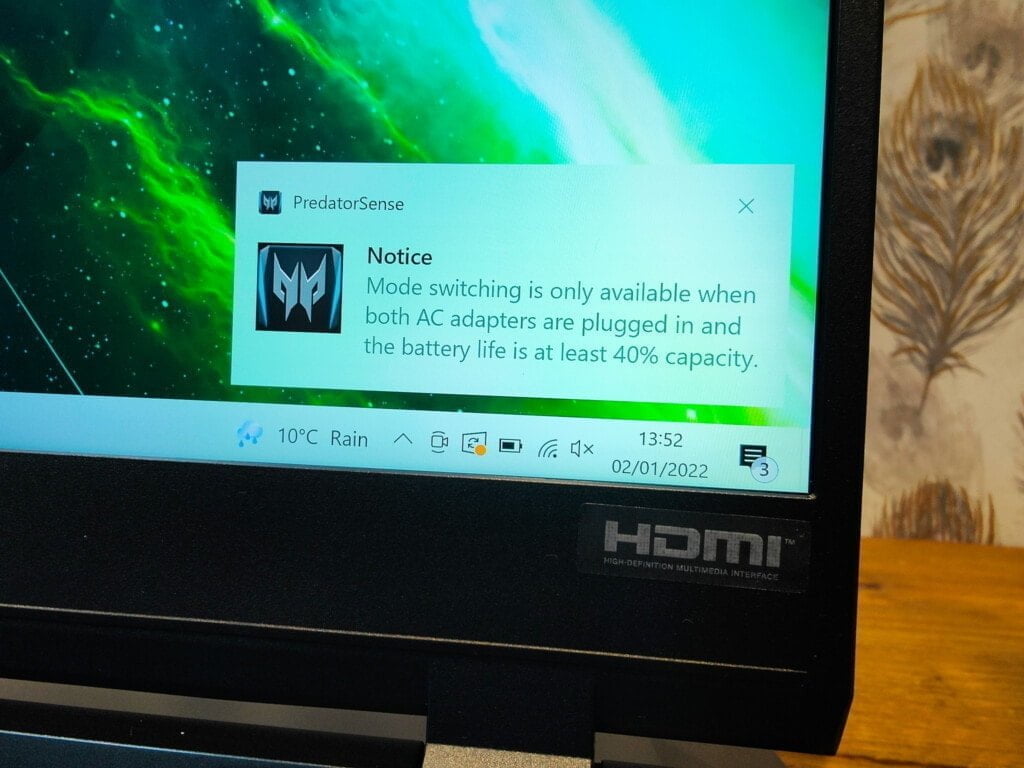 One thing I noticed immediately with this laptop is that it runs relatively quiet. While I was using it, I typically had the TV on in the background, and I could just about hear the fans under light load, and during benchmarks, the fans didn't spin up annoying loud. The sound profile of the fans is relatively pleasant, too, more of a low-end whoosh than that irritating noise you get from small laptops.
This laptop lacks a MUX switch, so it is impossible to disable the integrated graphics. This can negatively impact performance, but I don't have access to a similarly specced MUX enabled laptop to compare.
As far as performance goes, this handles everything you throw at it with ease. All benchmarks were run at 4K with the highest settings.
Time Spy: 10156 (Graphics: 10572, CPU: 8308)
Port Royal: 6506
Fire Strike: 17791(Graphics: 21432, Physics: 19718, Combined: 7350)
3DMark CPU Profile: Max Threads 7413
PCMark 10: 6475 (Essentials:9066, Productivity: 8498, Digital Content Creation: 9562)
Far Cry 6: Avg 46 FPS, Min 39 FPS, Max 50 FPS
Final Fantasy XV Benchmark: 10911
Assasins Creed Valhalla: Avg 52 FPS, Min 19 FPS, Max 96 FPS
CystalDisk: 12038 MB/s Read, 9854 MB/s Write
With the CPU being unlocked, you also have the option to tweak the performance of the CPU. Most people will stick with Predator Sense, but the more adventurous can experiment with the BIOS settings.
Battery
The 74Wh inside this laptop is certainly not going to get you through a full day of work, even light usage. Acer claims 4 hours of use, but I think this is very optimistic.
A laptop of this calibre was never designed to be used predominantly on battery.
The power bricks are massive, providing 330W each. As far as I can tell, 330W should be enough to run this without a problem. However, it may help once you start playing around with overclocking.
Software
Out of the box, the Acer Predator Triton 900 was running Windows 10, but during the set-up process, you are now informed that you can upgrade to Windows 11. I kept it on Windows 10 for my review.
As usual, one of my biggest irks is Acer Jumpstart, which game a big popup to play some random game I have no interest in. Getting adverts on a laptop is bad enough as it is, but it feels a bit more annoying on a four grand laptop.
You can, of course, disable the alerts and delete Acer Jumpstart, it just shouldn't be there in the first place.
While I don't like Jumpstart, Predator Sense is good, providing you with easy to access controls for all the settings you need. This includes fan profiles, RGB lighting and a variety of other features.
Price and Alternative Options
It probably comes as no surprise that the Acer Predator Helios 500 is insanely expensive, priced at £3800 from Ebuyer. and the age-old argument of "but desktop would be better" is certainly valid. You are getting a lot of hardware for your money, though.
Pricing falls in line with other powerful gaming laptops and is actually a bit cheaper.
The Gigabyte AORUS 17X has a 1080P 300Hz display, 512 + 1024 GB NVMe and is a smidgen lighter at 3.75Kg. This is priced at £4K on Scan.
The MSI GS76 Stealth uses the Intel Core i9 11900H, 64GB Ram, 2TB NVMe, and has a 120Hz 4K display. It is almost ultraportable in comparison at just 2.45 kg, but you will be on the hook for £4.3k
The Dell Alienware X17 may be the best alternative, depending on sales. At the time of writing, for £3224 you get: Intel I9 11980HK, RTX 3080, 32GB RAM, 1TB NVMe, 4K 120Hz display. Upgrading the NVMe to match the Acer takes it to £3,414. However, RRP is £3,939.
Back in 2019, Acer had the completely over the top Acer Predator Triton 900, which weighed 4.4kg with a gigantic footprint and a flippable display. That was priced at just £4k, which I thought was obscenely priced at the time. So it is a bit depressing that the near £4k price of this comparatively normal laptop doesn't feel that expensive by today's standards.
Overall
A laptop that is pushing £4k and 4Kg is always going to be a niche product. However, if you are looking for a massive laptop that can offer desktop-like gaming performance, then this is an excellent option.
Pricing is attractive compared to the competition, and it has all the performance you need to play the latest games at the highest settings. The miniLED 120Hz 4K display is a big selling point compared to most. It may be a bit chunky compared to the rest, but this runs quieter and cooler than other high-end gaming laptops I have used previously.