Acer Nitro 7 AN715-51 Review
Summary
There is not much to fault about this slim gaming laptop, it offers superb performance, excellent build quality in a lightweight frame without breaking the bank
Build & Design -

90%

Performance -

92%

Price -

90%
I have reviewed a lot of excellent laptops from Acer, but none have really tickled my fancy when it comes to laying out my own money. The premium ultraportables always look appealing but I would inevitably break one on a press trip. Similarly, I praised the Acer Nitro 5 last year for being the most affordable gaming laptop on the market, but it was a little chunky for me to spend my own cash on it.
With the recent trend towards slim gaming laptops, there has been a lot of superb choices made available that combines power and portability. The Acer Nitro 7 is one such laptop, and for me, it could offer the perfect balance of affordability, portability and power.
My current laptop is the Dell XPS 15 with a GTX 1050 which I have loved over the years, but the GPU could do with being a little more potent for gaming. The Acer offers similar dimensions and weight but with much more power.
Specification
Priced at £1,199.97 the Acer comes with an i7-9750H Hexa-core Processor, GeForce GTX 1660Ti 6GB and uses a 15.6″ Full HD IPS 144Hz Screen. While an RTX 2060 would be nice, you are looking at close to £1500 for the Predator Triton 500 which uses a slower processor and has less storage. So the GTX 1660Ti is at a sweet spot for pricing and power.
[content-egg module=Ebay template=list]
Interestingly, while this is a slim laptop, the GPU appears to be the standard GeForce GTX 1660 Ti laptop variant rather than the Max-Q version. This means the clock is 1455 – 1590 (Boost) MHz vs the slower 1140 – 1335 (Boost) MHz.
There is one small issue I have with the specification, and that's the 8GB of RAM; obviously, this keeps the price low, and I didn't experience any issues with this amount of memory, but it is something I would look to upgrade. Opening up the laptops reveals it has 2x4GB modules so an upgrade would be a little more expensive than just one 8GB stick.
Inside the packaging is some extra screws and cables allowing you to upgrade the storage. It specifically says not to do it yourself and to go to an Acer support centre. I am not sure if there would be a cost in this. I can't say it is something I have seen before on a laptop, but it is good that Acer promotes upgrades. I don't usually open up laptops I have to return, nor am I sure my PR contact will approve, but the clear potential for upgrades made it too hard to resist.
You have two M2 slots and a 2.5-inch drive bay. The drive bay is what requires the cable accessories included, and I am not too sure where this plugs into so this is the hard bit. Upgrading the RAM and M2 drive should be easy enough for anyone to do. Similarly, the Wi-Fi module is easily accessible should you fancy a Wi-Fi 6 upgrade.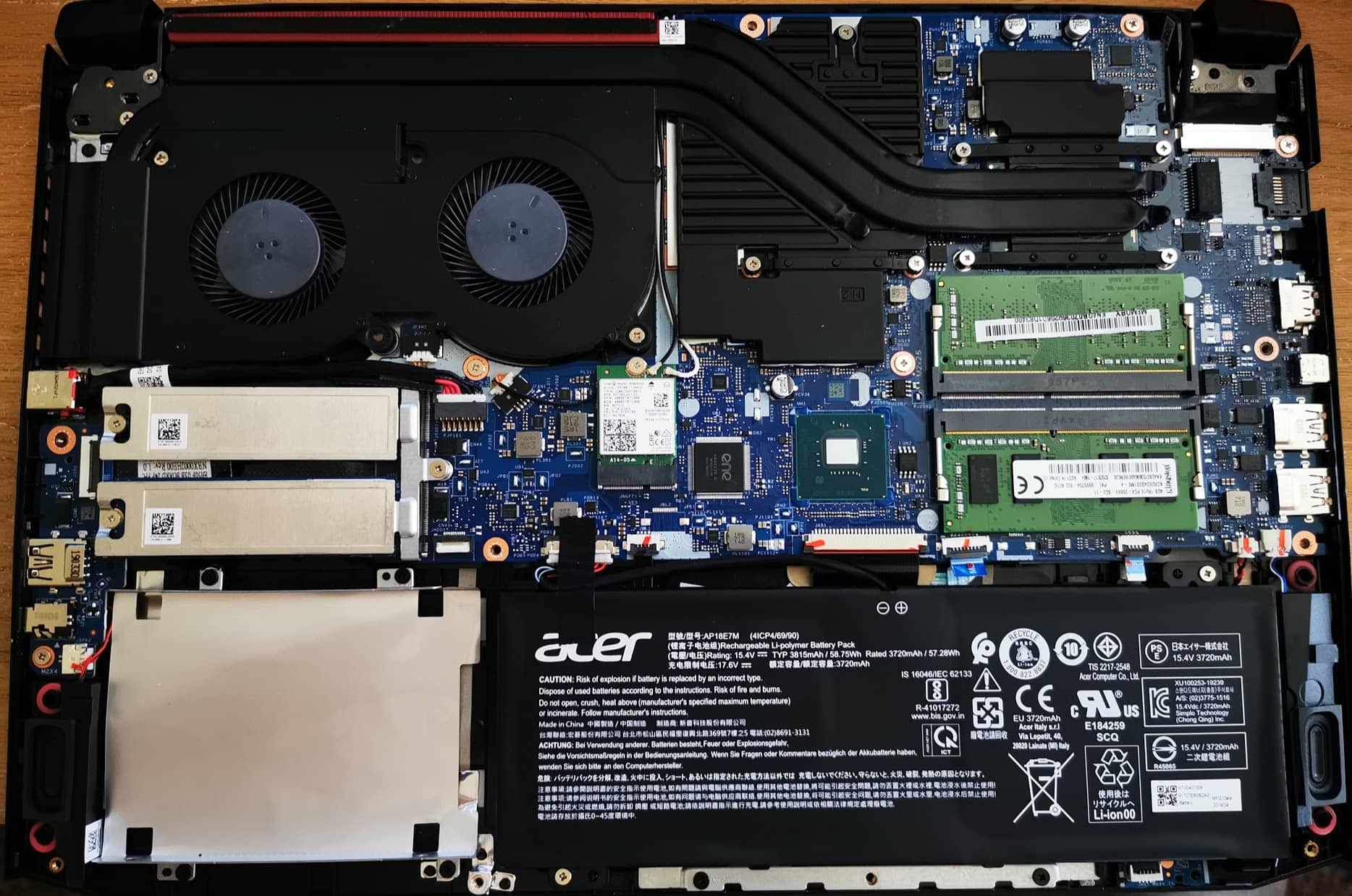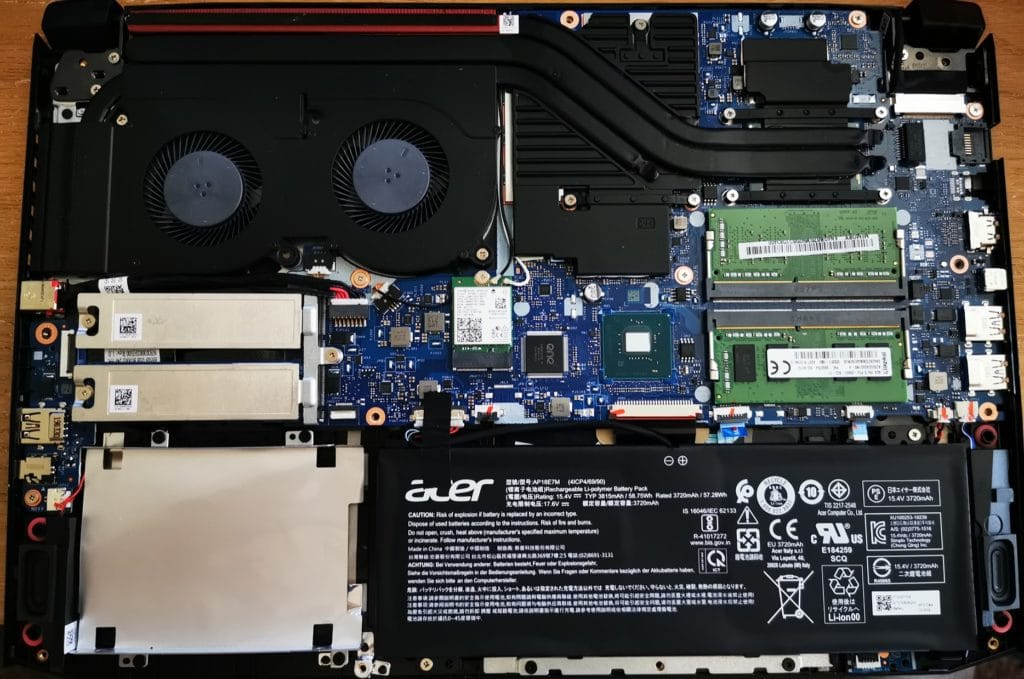 Competing Products
The Dell G5 15 is a close competitor the i7-9750H model is currently priced at £1,299.00 and has almost an identical specification apart from the 256GB M.2 PCIe NVMe Solid State Drive (Boot) + 1TB 5400 rpm 2.5″ SATA Hard Drive. The G5 weighs 2.68 kg and is 23.7 mm thick while the Acer is 2.2kg and 19.9mm thick.
If you would prefer the Alienware M15, the price shoots up by around £600 but with more RAM.
From my limited research, at this price point, there is nothing really competing with the Acer here, the closest other laptop I could find was the MSI GL63 9SD 15″ on Scan for (discounted) £1,299.98 it has more RAM, but a lower refresh rate screen, and is thicker and heavier.
Build and Design
Sitting at the top of the Nitro line-up this has a premium design and build with an attractive black brushed aluminium chassis. With the lid closed this doesn't scream about being a gaming laptop, the angular vents on the rear are perhaps the biggest give away. Powering it up, lights up the keyboard in red providing that ubiquitous gaming aesthetic, admittedly it is not actually RGB, just red. I loved the brushed aluminium chassis, but it is a smudge magnet, I had to wipe down the machine more than once when taking photos
One element that Acer can't compete with Dell with is the bezels around the screen. They are not massive but certainly a lot thicker than the XPS range. However, the 144 Hz refresh rate is superior to the XPS range and an important specification for many gamers.
The keyboard itself is excellent as far as you can get with a laptop, there is good key travel, and this is comfortable to work or game on. It is a full-sized keyboard with number pad, so the keys go nearly the full width of the chassis.
The touchpad sits slightly to the left, which I always think is an odd choice for a gaming laptop as it is a little in the way of the WASD keys, but it is not a significant issue, and I doubt a lot of gamers user the touchpad for gaming.
There are plenty of ports included, and this thankfully includes a gigabit ethernet port. Due to the slim nature of the laptop, it expands open. There are plenty of other connections too, including 1x USB 2.0, 2x USB 3.1, 1x USB 3.1 Type-C and then you also get an HDMI 2.0 port out. So you should be able to set this up in a dual monitor desktop environment without buying more cables and adaptors.
The Nitro 7 uses a cooling system with two fans and two exhaust ports along with the company's CoolBoost technology that increases fan speed by 10% during extended gaming sessions.
Performance
As you might expect, performance is excellent, for day to day work, it handles all tasks with ease, making this an excellent work and gaming laptop.
Last year I praised the Acer Nitro 5 for being the most affordable gaming laptop available. However this laptop proves that spending extra can yield considerably greater results with a Time Spy score 185% higher than the Nitro 5. Admittedly this costs a lot more, but for 87% more money you get 185% more performance.
3DMark 13 – Fire Strike: 12939 (Graphics – 14713, Physics – 14692);
3DMark 13 – Time Spy: 5603 (Graphics – 5672, CPU – 5242);
PassMark: Rating: 5653, CPU mark: 12728, 3D Graphics Mark: 10256;Disk Mark 2357
PCMark 10: 5078;
Battlefield V – 94 FPS
Just Cause 4 – 68 FPS
Far Cry New Dawn – 79 FPS
The Division 2 – 64 FPS
Metro Exodus – 38 FPS
Serious gamers may prefer something with a little more clout, but this will happily play all AAA games at a playable framerate using the highest settings. The 1080p resolution helps here, moving up to 1440p would require a better GPU.
I suspected that the thin nature of this laptop might hold it back and suffer from thermal throttling. So I ran some of the above benchmarks after user ThrottleStop and undervolting the CPU slightly. There were no discernable differences between the scores, my testing was limited in this regard, but it appears that the cooling is more than adequate.
Fan Noise
Fan noise bugs me, a lot. Sadly you can't have a gaming laptop without fan noise. Similarly, thin laptops struggle with cooling so will be more prone to spin up fans.
With the Acer, under light load the fans a very quiet, I had to put my ear up to the laptop to check they were spinning (with the TV on in the background).
Understandably, they spin up a lot in gaming, and they are very audible. The noise is about as good or as bad as any other laptop I have used.
You can tweak the fan profiles using the Acer software, which is always a nice option to have, it shows fan speeds and other basic info. In practice, I just left it in auto.
Overall
I like the Acer Nitro 7 a lot, from what I can gather it offers the best spec for the money on the market. Subjectively I love the lightweight nature of it while being a capable gaming machine. This is ideal for when I go on holidays or big press trips allowing me to work on a laptop with near desktop-like performance, but not lugging around a giant heavy laptop.
With so many options on the market, at different prices, it is hard to objectively say if or how much better than it is compared to other laptops, if you are a keen gamer you may think spending a bit extra and getting the RTX 2060 provides better value for money. Alternatively, if you need to save some cash the new Acer Nitro 5 is a touch under £1k has the same GPU but comes in a thicker body with a lower specced Intel Core i5-9300H.
Overall though, if you want a portable gaming laptop, and £1200 is the top end of your budget, then the Acer Nitro 7 is a superb laptop.