8b Free website builder Review Rating
Summary
An easy to use free website builder with an excellent selection of templates, decent page speeds and premium plans much cheaper than competing services
I have worked in the web design/development industry for years, back when I started the business I worked for would sell static HTML websites for thousands and basic ASP dynamic websites for much more.
Times have changed though and getting your own website has never been easier. WordPress dominates the landscape, and it is what this site uses. While it is superb there is still quite a bit of development involved, then hosting fees. If you install loads of plugins or a fancy theme, your website runs slow and you need to pay more money for faster hosting, caching plugins and content delivery networks.
In recent years we have seen a boom in Free Website Builder sites which allow people to develop their own sites for fee quickly and easily.
8b.com Web Builder is one of those sites and is one of the more impressive systems I have used, allowing you to get a website up in a matter of minutes. It will then fill out all the content for you eliminating the need for any design skills, just need to customise the content to suit your needs.
Website builders like this are ideal for people just starting out, maybe small businesses that need an online presence but don't have the budget to spend hundreds if not thousands on something professional.
Getting Started
When you go to the 8b.com homepage you will be asked to create a website, there are 17 categories to choose from include company, gaming, real estate, shop and writer.
When you select the details, this will create a home page for you that is broken down into sections that you can customise.
There is no code required, everything is visual and with the homepage, if you like the way it looks you just need to change the images and text to suit your business.
Adding new pages & customising content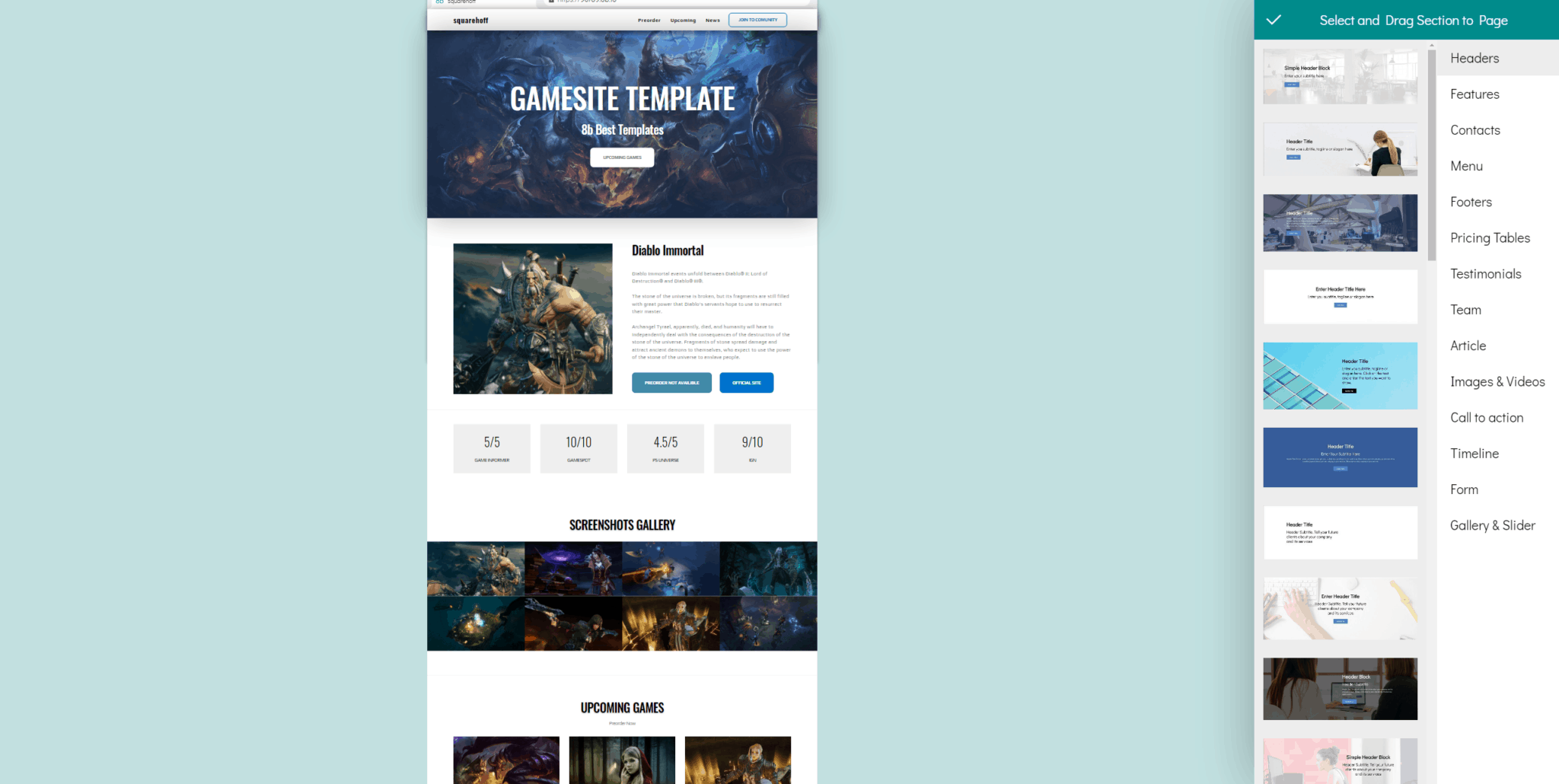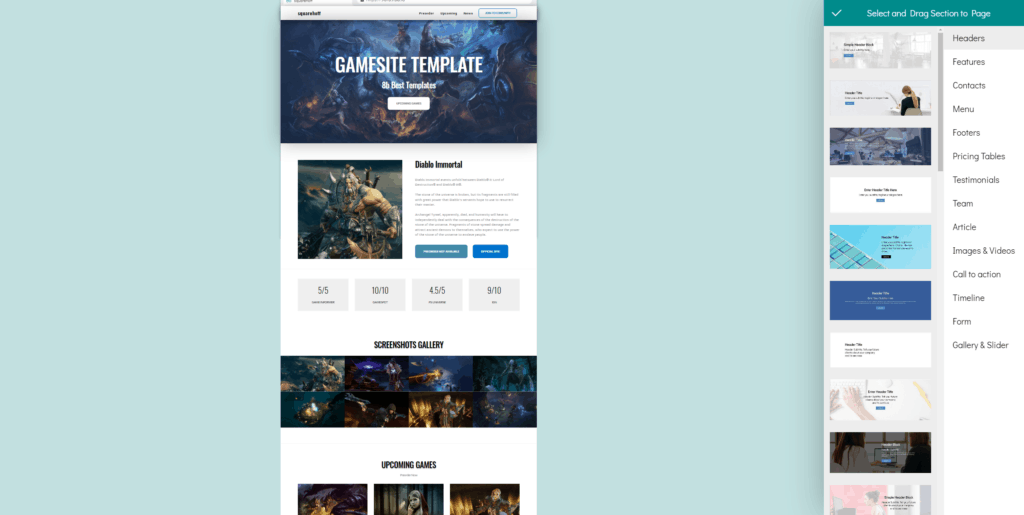 The builder only creates one page for you, but under the pages tab you can duplicate the page or create a new page
When you create a new page it is mostly blank, but adding sections is far easier than you may have experience in WordPress page builders.
I would suggest the easiest method is to copy the pre-built home page, so you maintain the design and branding, then customise a page so it works for inner pages, then duplicate that page for subsequent pages (which is pretty much what I do with WordPress).
For things like images, you have the option to upload your own photos or you can insert royalty-free images from Pixabay with the built-in search tool.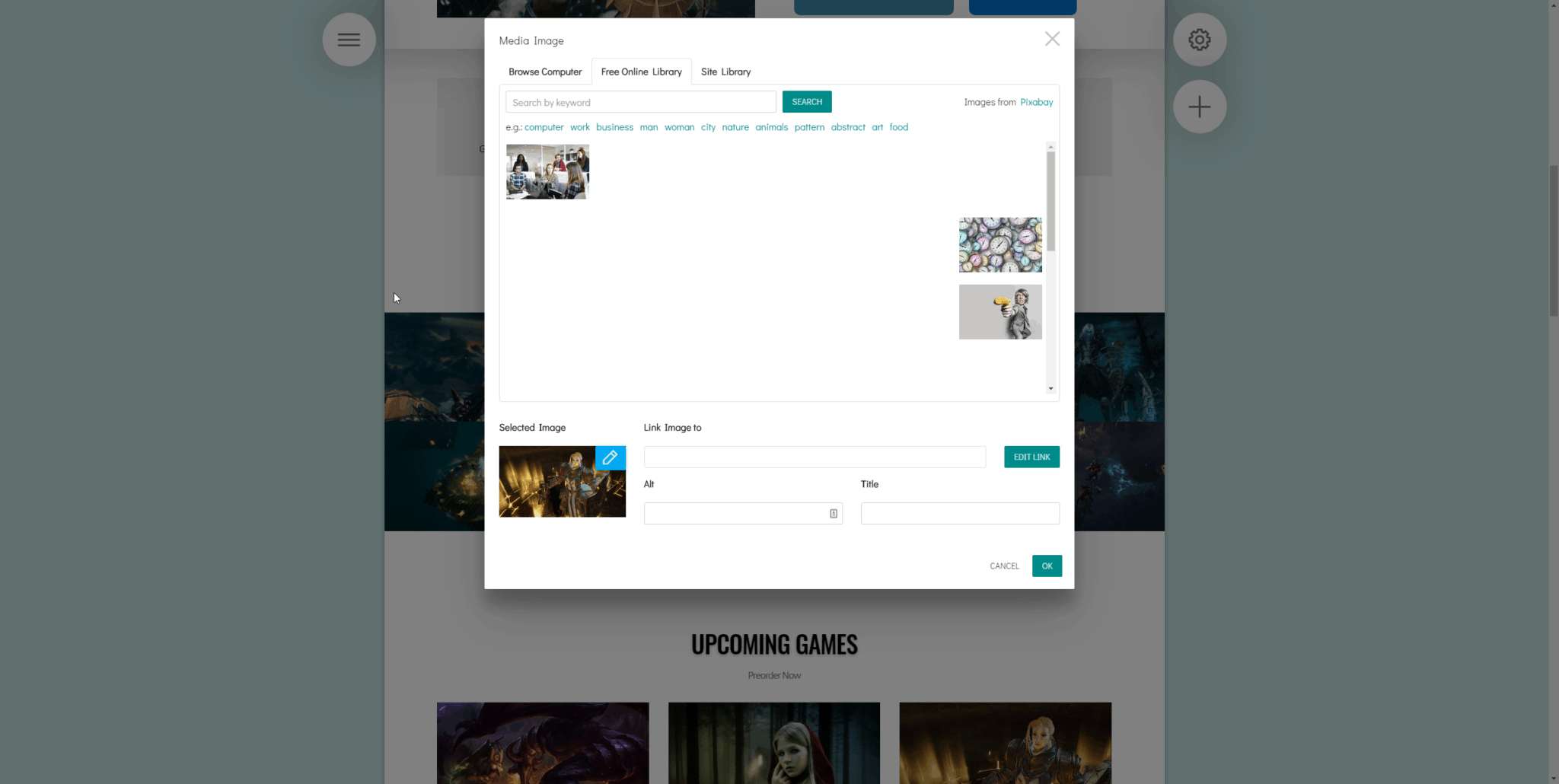 SEO, site speed and other features
SSL
Not much to say here, but there is an SSL installed by default. This is important nowadays because Google and Chrome have both started to issue warnings when a website is not secure, which would lose you visitors.
SEO and integrations
You can connect Google Analytics, and then also connect webmaster tools through analytics authentication. You can also submit to the Google Index, though this shouldn't be necessary.
Under the page settings, you can change the page title, description and page URL so you have some key onsite SEO elements to tweak.
The builder appears to use header tags appropriately though it doesn't use the terms within the builder settings. For text blocks, there is title1,2,3,4 which are the equivalent of headers.
Progressive Web App
You have the option to publish this as a Progressive Web App, for most users this won't be necessary but it allows you to publish your site like a mobile app. So if you have a lot of returning visitors, it can be useful and it will speed up the load speeds.
Google Pagespeed
Testing the site I published on PageSpeed Insights revealed positive results with a page speed of 85 for mobile and 97 for desktop. This is likely much higher than a WordPress website bogged down with a feature-heavy theme and dozens of plugins.
Paid Upgrades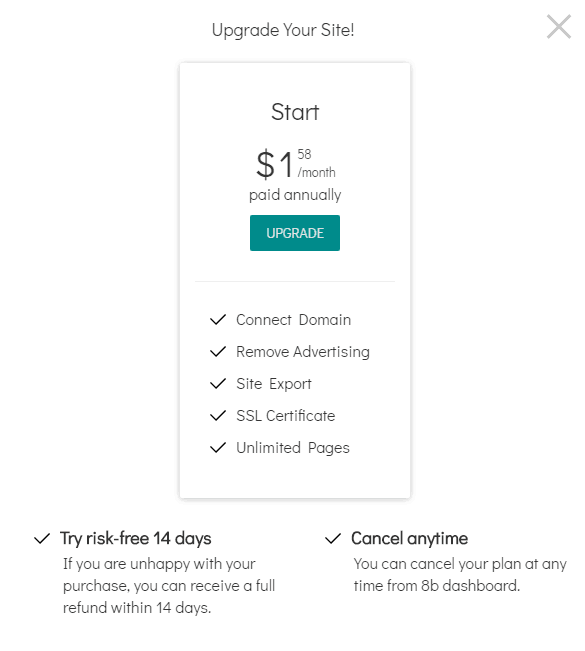 Like most competing services, the aim of the game is to get you to upgrade your package. This service has a very cheap premium option costing $1.58/month but paid annually so $22.80 (inc. VAT) which works out as £17.47.
With this you get to remove any advertising 8b may place onto your site, have unlimited pages, and most importantly use your own domain name.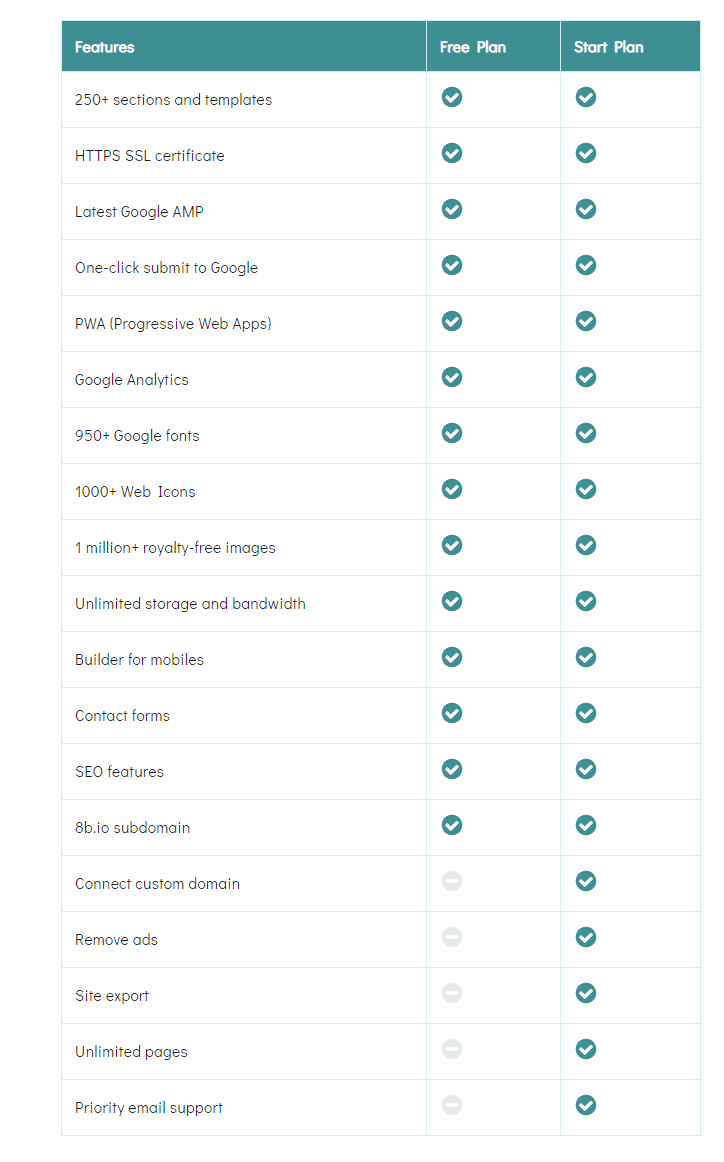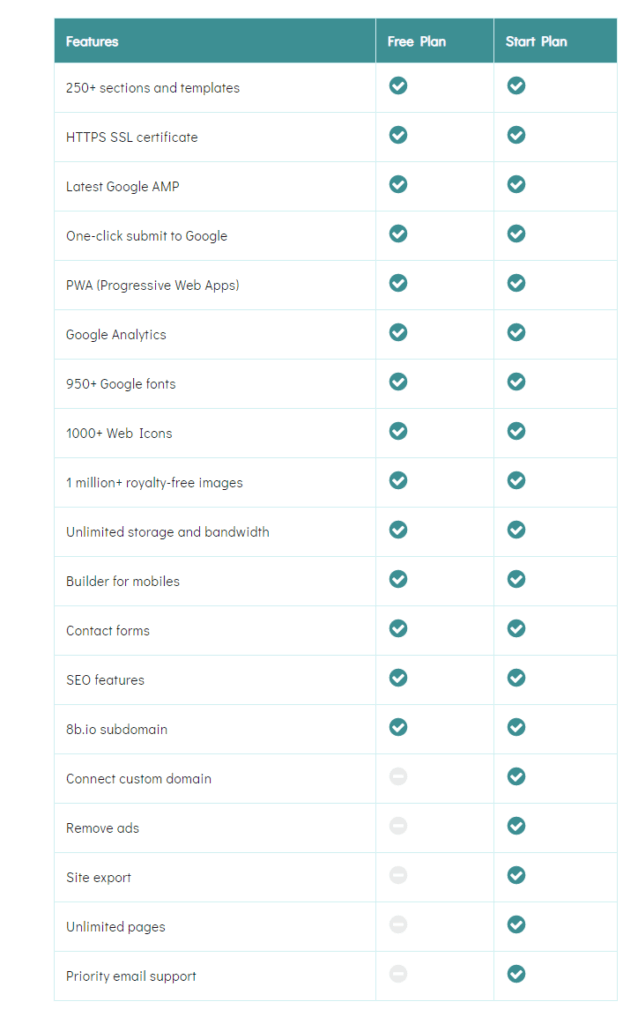 In comparison to other website builders this is quite a bit cheaper:
Wix is £3 per month or £36 per year
Weebly is £4/£48
Websitebuilder.com is $4.40/$52.80 for the first year then $11pcm
Squarespace is £120 per year
Overall
Overall this seems to be an excellent option for a free website builder with a very low-cost upgrade to use your own domain.
There is a decent number of templates to get you started and the builder itself is extremely easy to use, even for someone not great with computers.
This is much easier to use than WordPress and will have fewer issues with hosting and management.
For a small business wanting an online presence for as cheap as possible, this appears to be an excellent option.