Xiaomi Mi A2 Lite Android One Review
Product Name: Xiaomi Mi A2 Lite Android One
Offer price: 144
Currency: GBP
Availability: InStock
Design and Build -

80%

Camera -

80%

Battery -

95%

Software -

95%

Price -

95%
Released in late last year the Xiaomi Mi A2 Lite is an exceptionally well-specced budget phone running Android One. Outside of the UK this is branded as the Redmi 6 Pro and features the MIUI interface rather than Android One.
Currently priced at just £144.18 on GearBest it is one of the cheapest phones featured on Mighty Gadget, but its specification easily outshines some of the other budget phones I have reviewed. With a Qualcomm Snapdragon 625 it has considerably more processing power than the popular Moto G6 which costs £169 on Amazon. The 625 will also provide superior performance to the MediaTek processors found on other budget options such as the Alcatel 5 and Nuu Mobile G3.
[button link="https://mightygadget.co.uk/MiA2Lite"] Buy from GearBest[/button]
Specification Overview
Display: 5.84″ IPS LCD with a cutout, 1,080×2,280px resolution, 19:9 aspect ratio, 432ppi.
Processor: Qualcomm Snapdragon 625 Octa Core 2.0GHz , Adreno 506 GPU.
Operating System: Android 8.1 (Android 9 is available for download immediately)
RAM + ROM: 4GB RAM + 64GB ROM
Rear Camera: Primary 12MP, 1.25µm pixel size, f/2.2 aperture, PDAF; Secondary 5MP, 1.12µm pixel size, f/2.2 aperture – serving as depth sensor; [email protected] video with EIS.
Front Camera: 5MP, Auto HDR; 1080p/30fps video recording.
Battery: 4000mAh
Sensors: Proximity Sensor, Accelerometer, E-compass, Fingerprint Sensor, Ambient Light Sensor, Gravity Sensor, Infrared
SIM Card: Nano SIM card + Nano SIM card / micro SD slot
Features: GPS, A-GPS, Glonass, Beidou
Bluetooth:4.2
NFC: No
Design and Build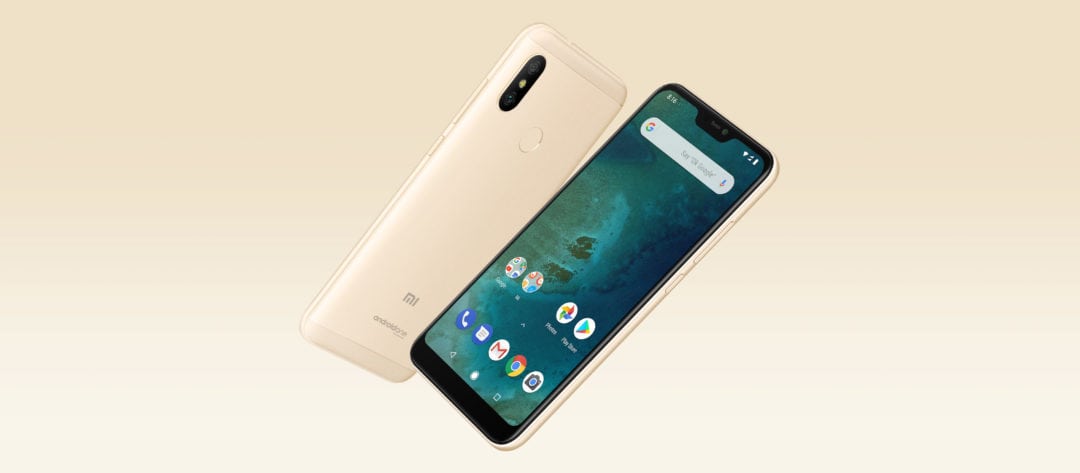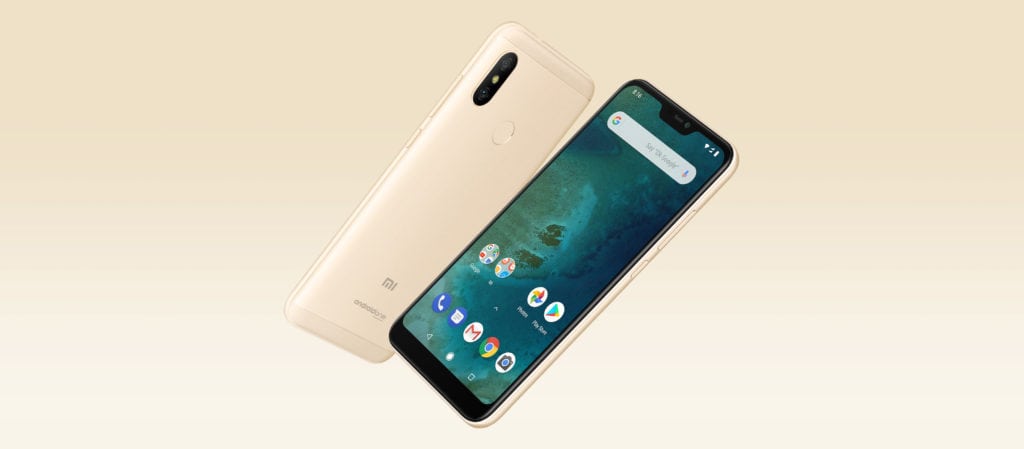 The Mi A2 Lite tries to emulate the design trends of the 2018 flagship phones with a high-res notched screen with slim bezels. However, it can't quite keep up with phones four times its price so the bezels are all a little thicker, in particular, the bottom bezel is quite thick. It is certainly an impressive looking phone for the price though.
The phone is constructed with an aluminium body giving a premium feel compared to some other budget options.
At the back, the A2 Lite has a centrally mounted fingerprint scanner along with the dual cameras sitting vertically on the upper left-hand corner.
The phone features a microUSB port giving away its budget nature. While USB-C is nice, there are limitations on how much you can criticise a phone at this price.
Thankfully Xioami has avoided the flagship phone trend of no 3.5mm jack, and this is located at the top of the phone.
You already get a decent amount of storage for the price but this can be improved further via the elongated dual SIM tray that also has an additional slot for a microSD.
The one issue I can find with this phone is the lack of NFC which means there is no opportunity for Google Pay. This is reasonably common with budget phones, especially ones originating from the Chinese market. Some people won't miss it, but I have come to rely on it over the past couple of years for all my payments.
Display
The 5.84-inch display combined with its reasonably thin bezels means this feels quite small in my hand, especially considering I use the 6.39 inch Mate 20 Pro as my primary phone. This should be quite comfortable to use one-handed for most people.
The notch allows them to squeeze in a  19:9 full-HD+ display with 1,080×2,280px resolution at 432ppi. As far as budget phones go the screen is fantastic with the IPS display offering realistic colours, excellent clarity, and a high brightness which makes it comfortable to use outdoors.
Camera
Its dual rear camera features a Sony IMX486 12MP lens with 1.25µm pixel size and f/2.2 aperture. Then a secondary 5MP, 1.12µm pixel size, f/2.2 aperture combined it has a similar specification to the Moto G6 and outclasses many other phones in this price range.
I found the performance of the cameras to be excellent and this should be more than adequate for your average user who isn't a serious photographer.
Thanks to the second lens, bokeh effects can be created with targeted application of background blur.
Battery
With its 4000mAh battery, moderately sized screen and mid-range Snapdragon SoC you get a lot of runtime out of the Mi A2 Lite. This will comfortably last a heavy user over a day and for most people you can probably squeeze two days out of it.
It supports regular 5V/2A charging, which restores about 26% of the battery in 30 minutes, 40% in 40 minutes, and 100% in 2 hours and 10 minutes when charging from zero. Not exactly fast, but as fast as expected for the price segment.
Performance
The Qualcomm Snapdragon 625 is a mid-range chip, it is a little dated now as it was launch in 2016, but it still offers a great deal of performance for the price. In particular, it will outperform the Snapdragon-450 and MediaTek rivals.
In terms of real-world usage, this means the phone comfortably handles all day to day task with ease. Browsing website in Chrome or social media such as Facebook are all smooth with no lag.
Apps are also quick to load, in particular, I always notice if the camera has a delay on loading or shutter lag and I did not experience this here.
This should be able to handle most games as long as you have realistic expectations. The racing game Asphalt 8 was able to play smoothly on its highest settings.
Software
One of the biggest selling points about the Xioami Mi A2 is the fact that it uses Android One which is Android with no other interfaces or software applied to it. Phones branded with this are guaranteed 2 years of updates.
Unless there was a massive price difference, I would always opt for this phone over the Redmi 6 Pro due to it using Android One.
Subjectively, phones using this feel like they run faster than other phones, logically this makes sense as there is no additional software slowing things down.
The two years of updates also give you some reassurance when buying the phone. I have reviewed some great budget phones from Umidigi, but you never know if they will receive an update at all, and more shockingly the Nuu Mobile G3 came with Android 7.1 out of the box.
As this phone has been released a few months now, Android 9 was available for immediate download.
Conclusion
This is a superb budget phone, it is easily one of the best and possibly the best option based on its pricing. You get an impressive specification, with excellent real-world performance, two-day battery life and regular software updates which already includes Android 9 Pie.
The only minor gripe is the lack of NFC for Google Pay but based on the price I think I can forgive Xiaomi.
[button link="https://mightygadget.co.uk/MiA2Lite"] Buy from GearBest[/button]