UREVO Kardio T1 Exercise Bike Review Rating
Summary
The UREVO Kardio T1 is a good option for anyone with a low to medium level of fitness that is looking for an affordable indoor bike with some smart functionality that will alleviate the boredom of indoor cycling.
Pros
Good specification for the money
Zwift & virtual trainer compatibility
Well built / Stable
Cons
Seat could do with going higher
Limited resistance
Zwift power measurements are wildly inaccurate
During the lockdowns, demand for home gym equipment boomed and finding a good quality indoor spin bike was like gold dust. Things have settled down now, but with Covid still causing worldwide issues, many people will still be reluctant to return to the gym.
At-home gym equipment is a great way to keep fit, but it is often painfully boring to use. Staring at the wall of my garage as I use my treadmill makes things so much harder.
I have been using my bike on a Tacx Flux S with Zwift for a few years now, and during lockdown, I hammered it, keeping me both sane and fit. I recently upgraded to the amazing Tacx Neo Bike Smart Bike. However, for nearly £2k, it has niche appeal, only for the most dedicated (or affluent) of cyclists.
UREVO is one of the many brands selling affordable home gym equipment on Amazon, they have two spin bikes worth considering, the Kardio E1 and T1.
Sale
UREVO Spin Bike Models & Specification
The E1 is priced at just £259.99 and has a 10KG flywheel with mechanical wool resistance.
The UREVO Kardio T1, which I have been reviewed, is more interesting. It is priced at £299.99, but Amazon currently has a £15 off voucher.
It has a 15KG magnetic flywheel, and it also has Bluetooth allowing you to pair it up with apps
Set-Up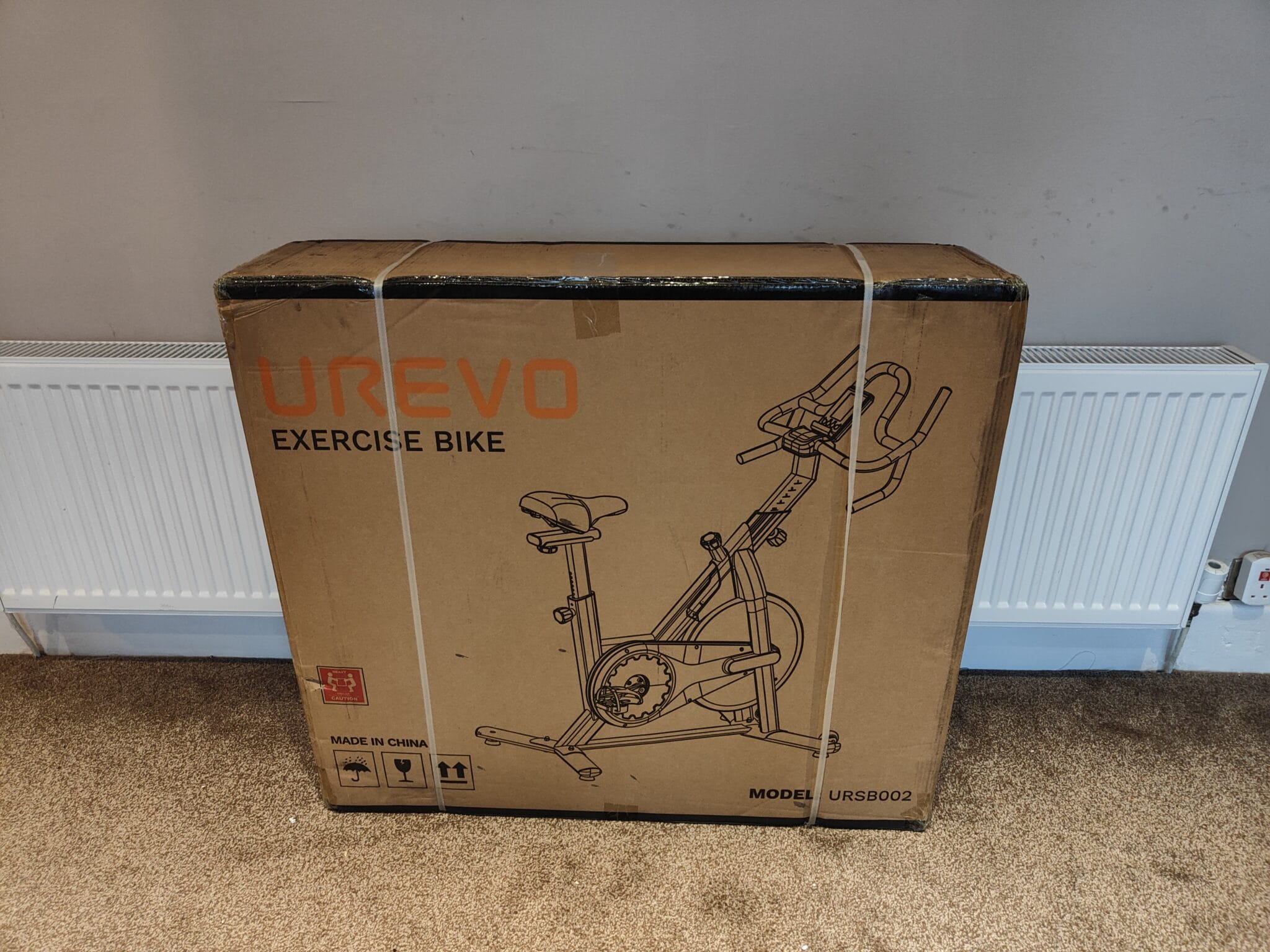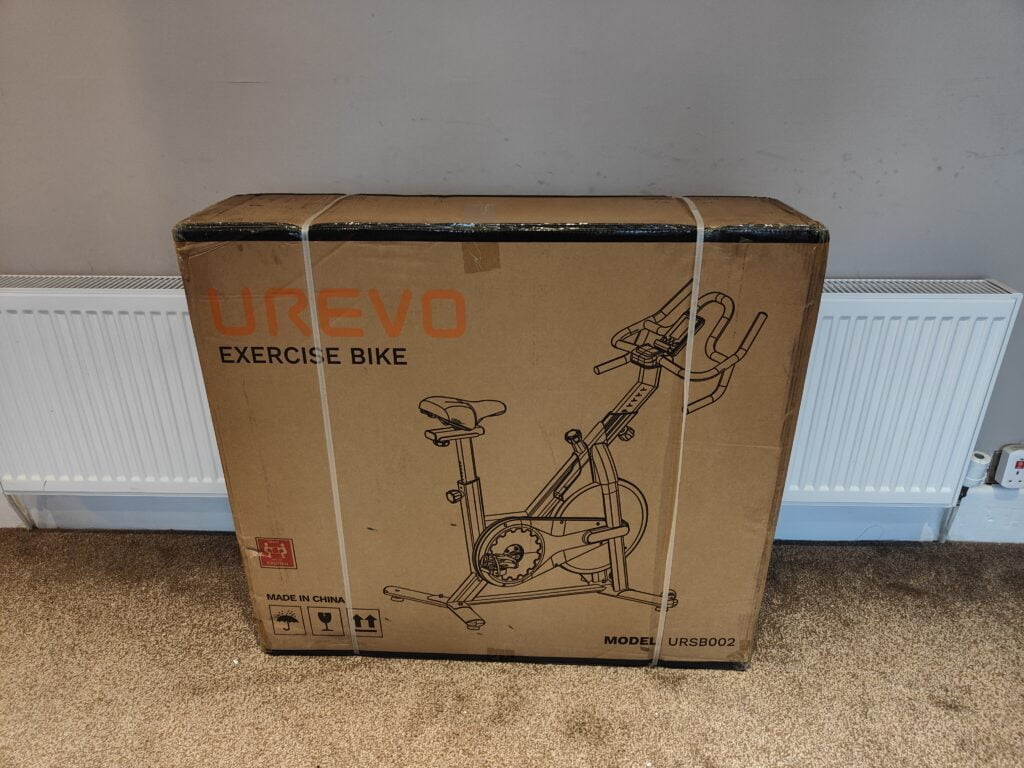 Building the bike was quite easy, and it is a bit easier to handle than my Tacx Neo. I think I had it all built by myself within about 20 mins
There are 2 bolts to screw in for each of the feet, then four bolts for the handlebars and four screws for the digital display.
The pedals went in quite easily. I have had some bad luck in the past with pedals, destroying the thread. I find it best to do this by hand, so you know it is screwing in without resistance, then tighten with the spanner.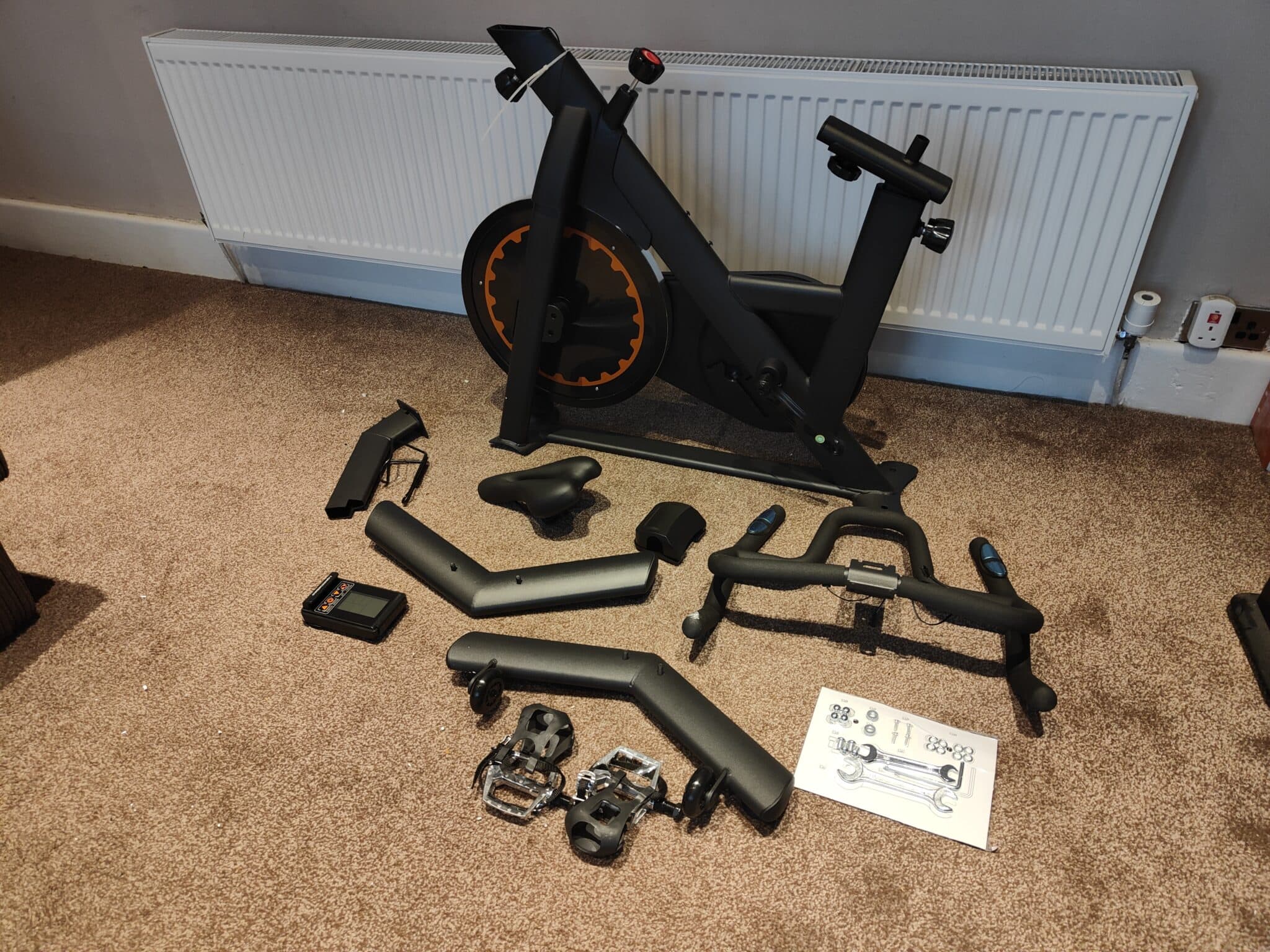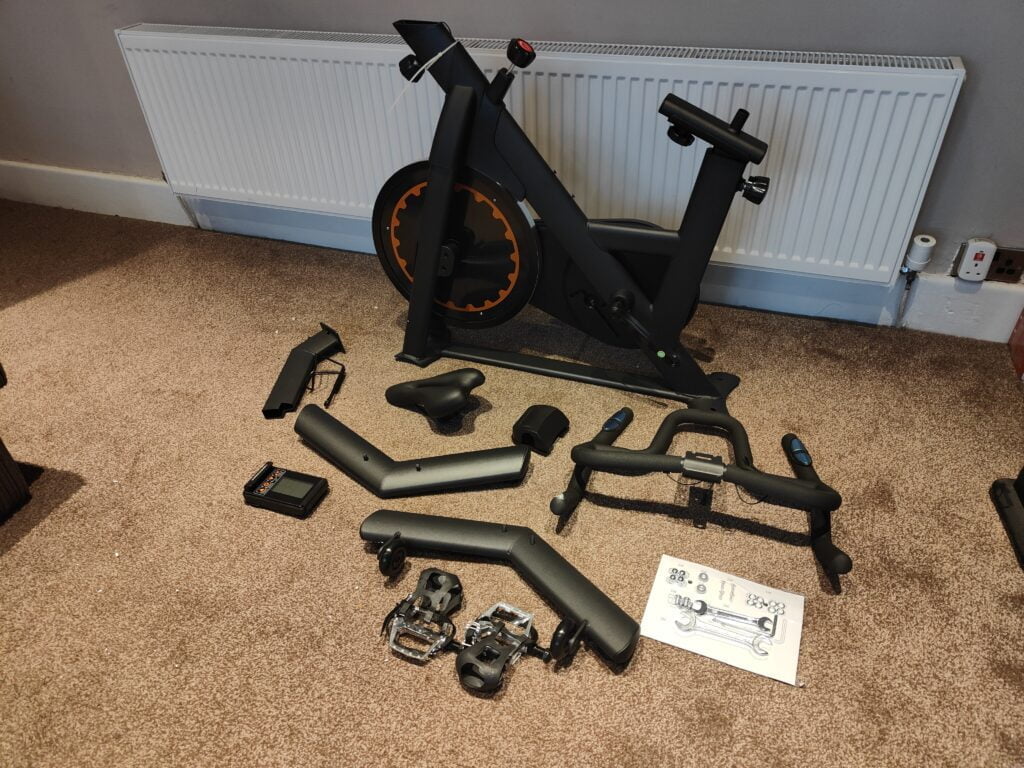 Pairing with Zwift
In its default mode, the bike displays all the information on the digital display. However, if you hold the reset button, it will move into Bluetooth pairing mode. In this mode, Zwift will detect power, control and cadence with the device name URSB002.
Comfort / Fit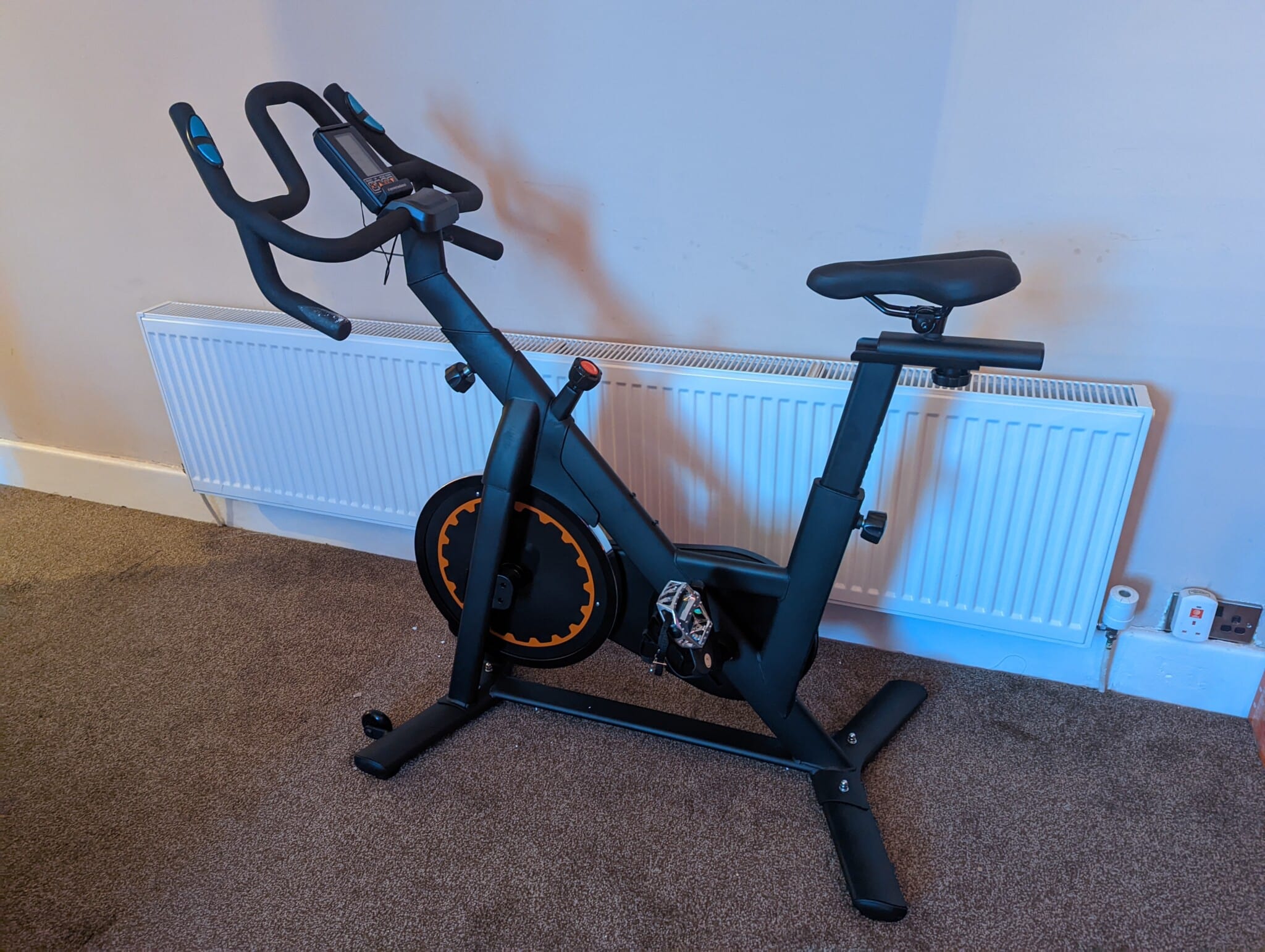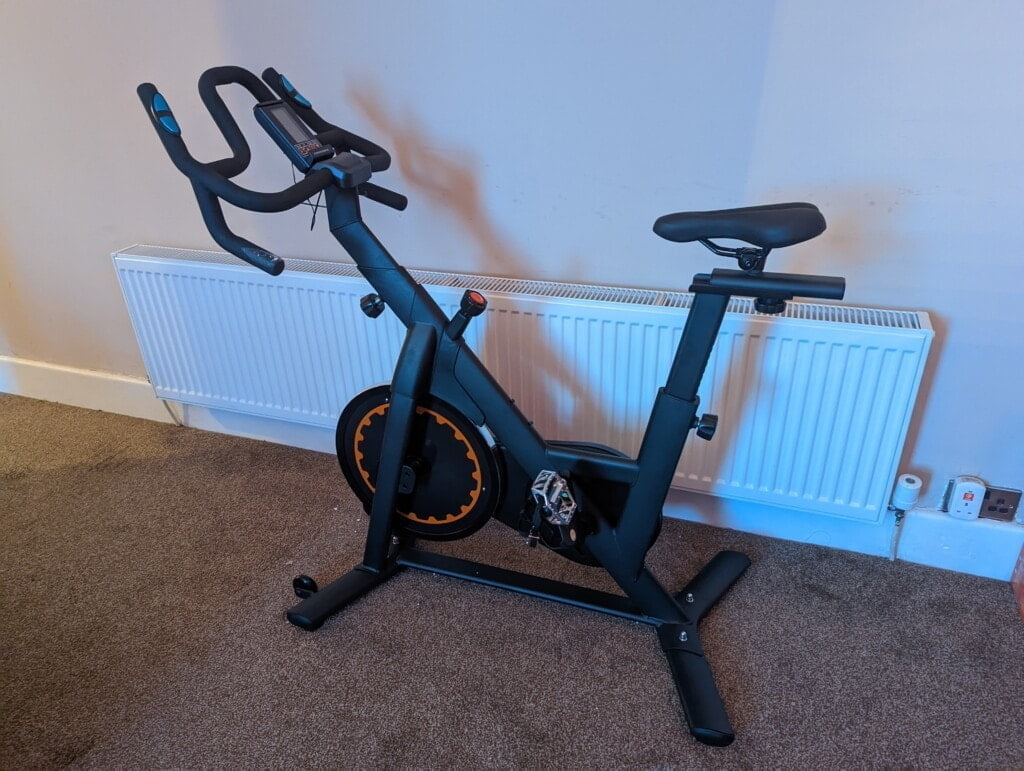 I am 6ft 1 inches or 185cm, and coming from a road cycling background, the overall fit is not ideal for me. The bike feels quite small, with a significant bend in my knee at full extension.
Moving the seat back as far as possible and sitting more upright does provide a somewhat comfortable cycling position for low-intensity cycling. You can then obviously come up off the seat for any HIIT bursts.
Cycling in Zwift & Power Accuracy
Resistance is controlled manually via a dial, the same as most spin bikes. This has magnetic resistance, which gives a more natural feel to the resistance the mechanical found on many other bikes.
Unfortunately, the magnets don't provide a great deal of resistance or range or resistance. I found that to get any reasonable amount of resistance, I had to turn the dial all the way up until the magnets were very close to the wheel but not close enough that the felt stopper touched it.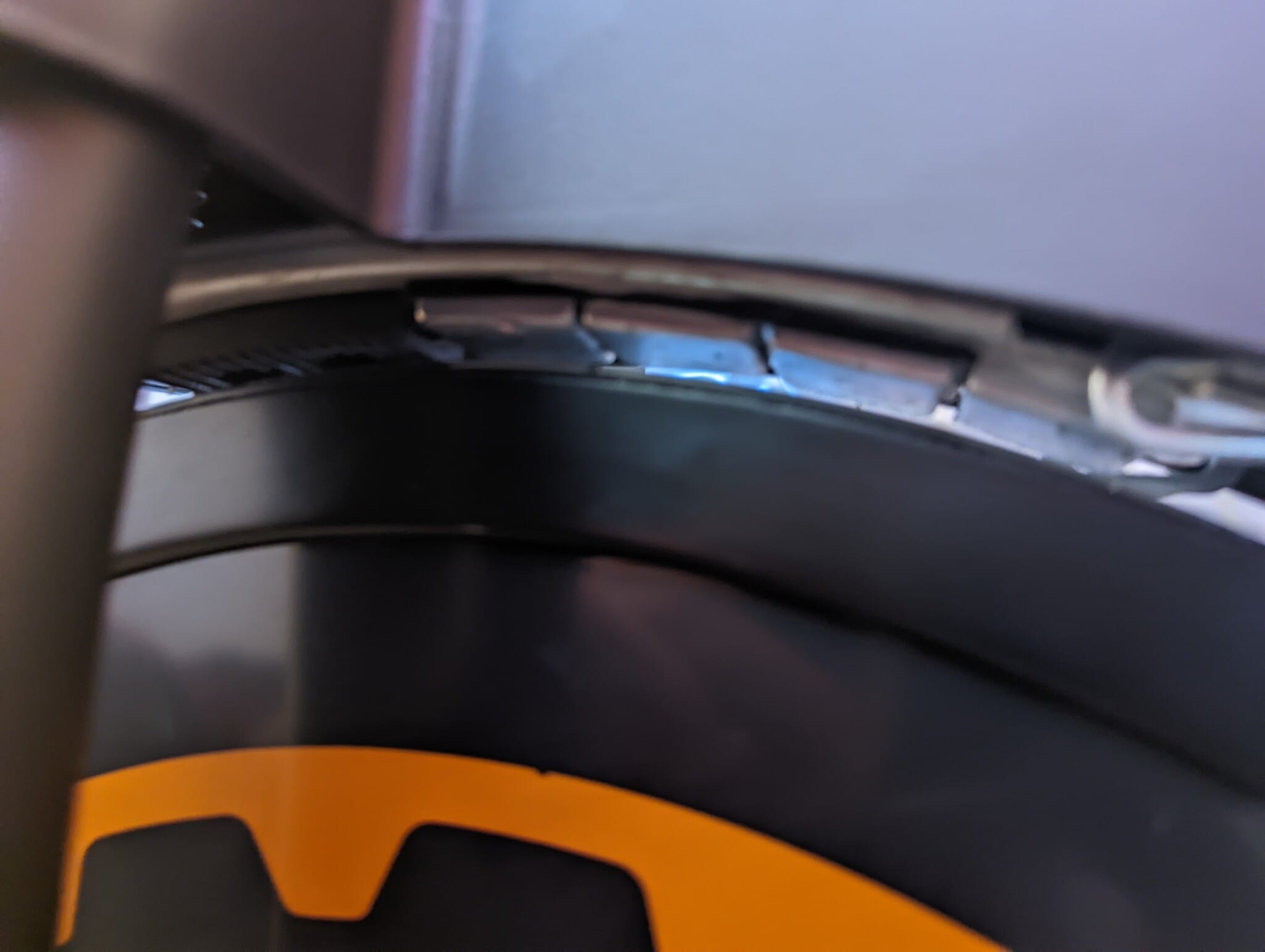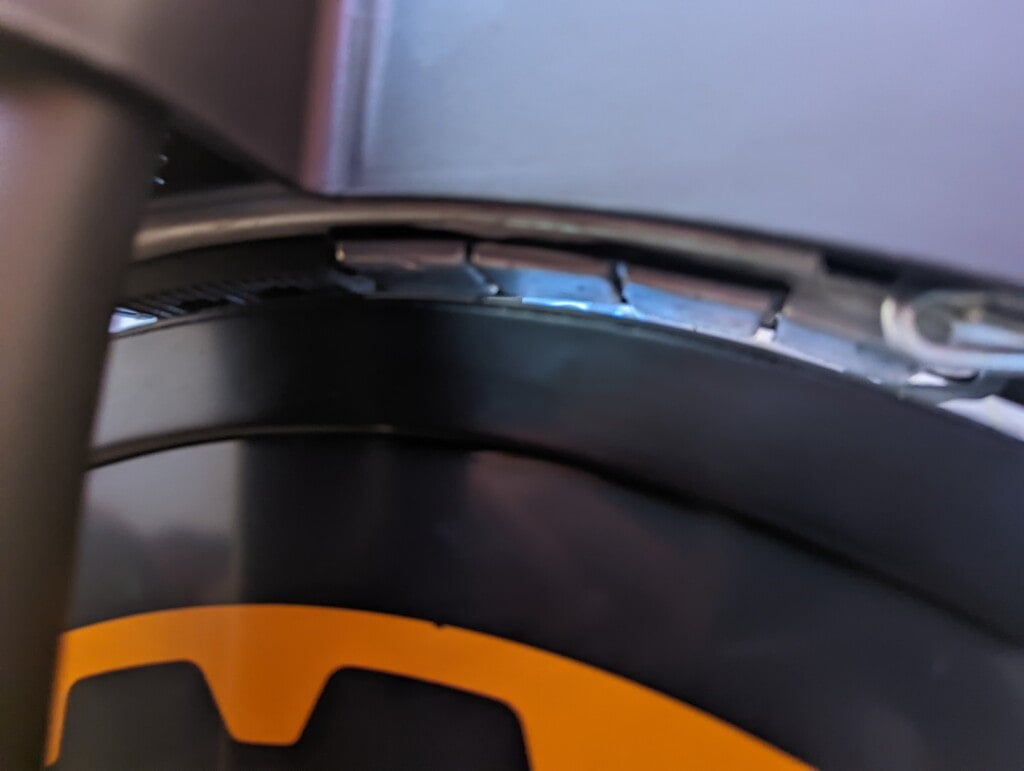 Subjectively, this doubles the level of effort maybe more. It basically went from no feeling of resistance to some light resistance, with very little perceivable difference in between.
While that doesn't sound overly positive, I doubt anyone is buying this, thinking it is aimed at users with a high level of fitness. It should be more than adequate for most people wanting to do low-intensity cardio or who has a relatively low level of fitness.
I think it would have been possible to install my power pedals on these to compare the power accuracy, but it didn't really seem worth it. It probably comes as no surprise that the power accuracy of this bike is poor.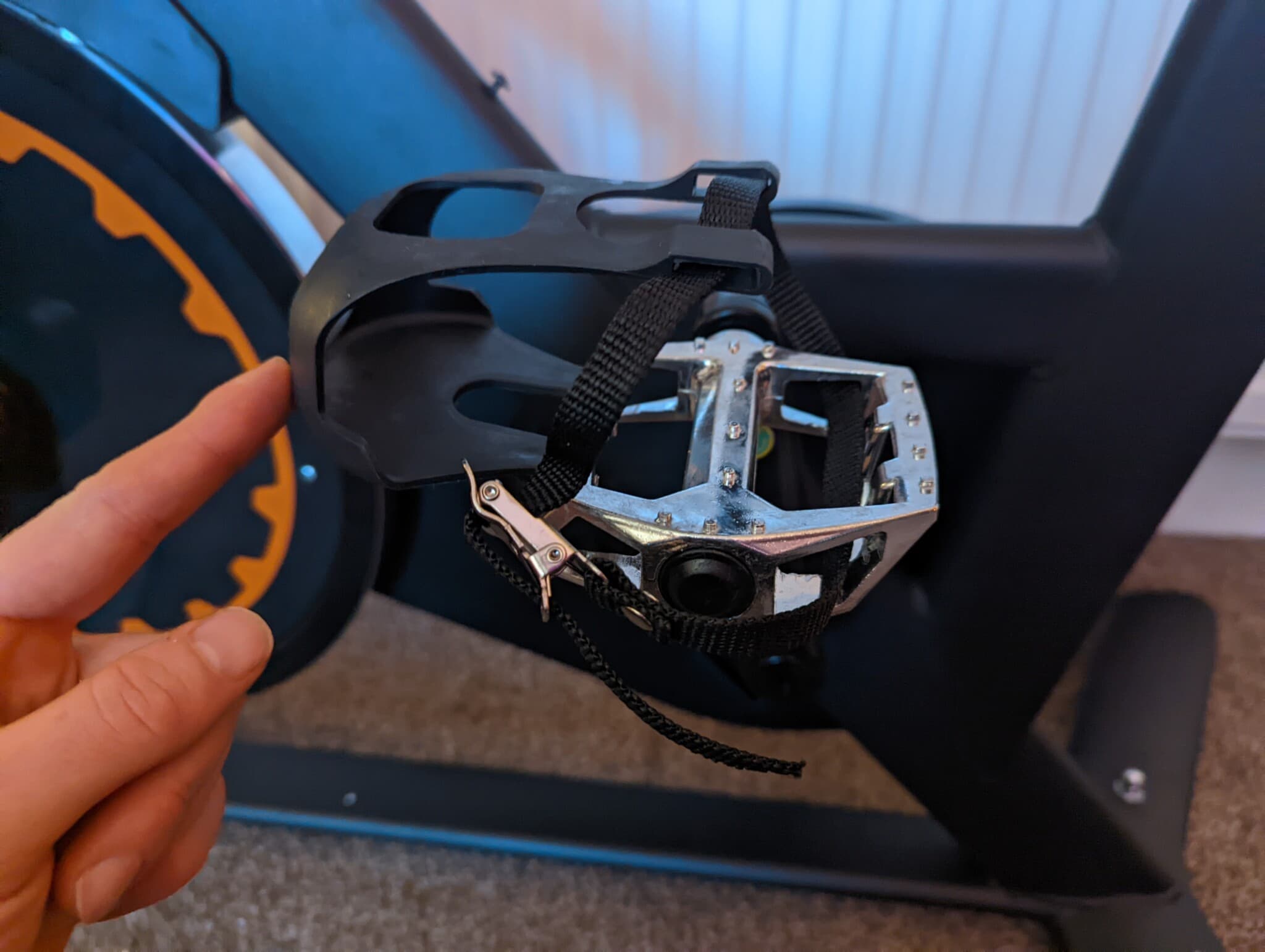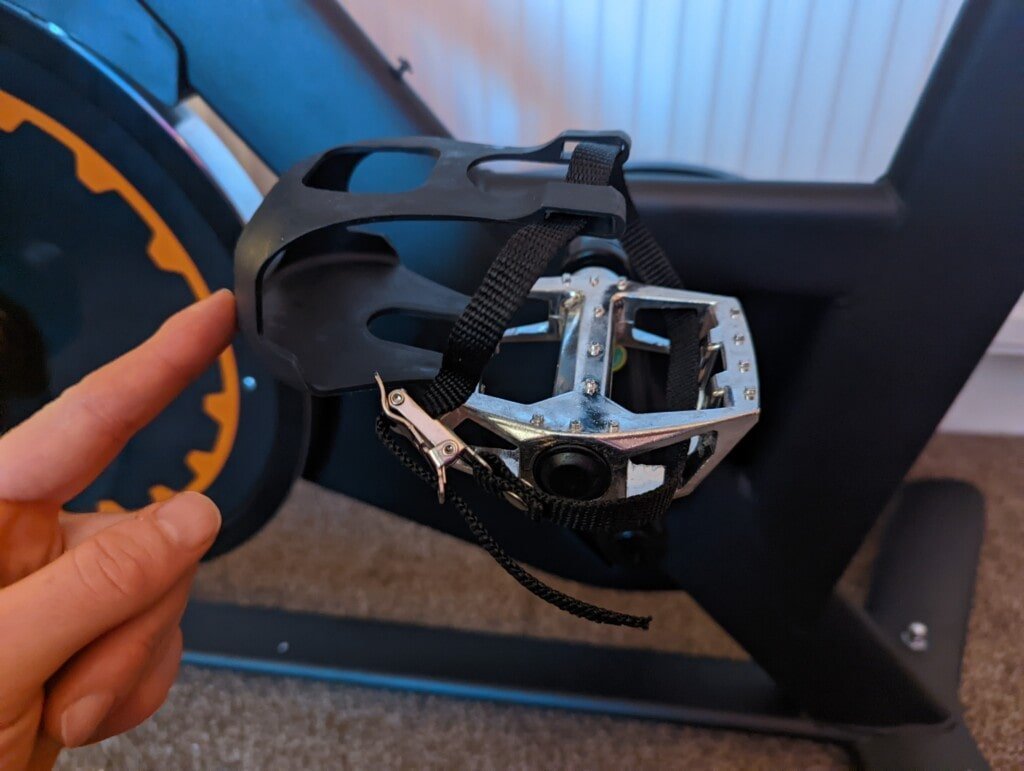 The power reading has a tendency to bounce around a lot. I assume it is worked out by cadence; dialing up the resistance while maintaining cadence yields little to no improvement in power. Conversely, at its lowest setting, if I sping my legs fast enough, I can easily exceed 300W. I don't think my legs are capable of moving fast enough to hit 400W or higher.
This may or may not be a problem for you. I'd have thought that anyone buying a £300 spin bike is not quite as bothered about accuracy as someone like myself with £400 Favero Assioma UNO power meter pedals (which are cheap for this kind of pedal).
You are unlikely to be winning any Zwift races with this, but being able to cycle in a virtual world does help alleviate the boredom. Even if it is not very accurate. The caveat here is that Zwift will cost you £13 pcm after the free trial, which is perhaps quite expensive when you have only spent £300 on a spin bike.
There are cheaper Zwift alternatives, which I expect will work the same. RGT Cycling has a free option, and the premium option is only £7 pcm
Price and Alternative Options
The UREVO Kardio T1 is £300 normally, and there is currently £15 off available on Amazon.
The Kardio E1 is lowered specced, lacks Bluetooth but is only £25-40 cheaper, so I think the T1 is a better buy.
There are dozens of spin bikes available on Amazon for varying prices. The vast majority lack smart features.
The Nero Sports bike is cheaper at £220 with Zwift compatibility but has a lighter 12kg flywheel.
The RENPHO AI Smart Exercise Bike is much more expensive at £699 (£599 with voucher) but it appears to be a proper smart bike with a magnet brushless servo motor providing both self and auto-adjusting resistance. I assume it will work properly with Zwift by automatically adjusting the resistance.
The OVICX Exercise Bike is more expensive at £370, it has a similar flywheel but they have their own app on top of the Zwift functionality.
The JLL Velox 2 costs a lot more at £530 and only has a 9Kg flywheel but it has a digital gearing system to replicate cycling more accurately.
The Bluefin Fitness TOUR SP Bike is again more expensive at £360, but they claim to have a massive 25Kg flywheel.
Overall
The UREVO Kardio T1 is a good option for anyone with a low to medium level of fitness that is looking for an affordable indoor bike with some smart functionality that will alleviate the boredom of indoor cycling.
As a tall person and keen cyclist, I didn't find that the fit was ideal for me. There is not enough range of motion for my liking. For low-intensity cycling, this probably won't be too much of an issue, but for harder efforts, it is not very efficient and not ideal for your knees.
Looking at the rest of the market, there doesn't seem to be many, if any, competing products that have a comparable specification for the price. Therefore, the UREVO Kardio T1 appears to offer good value for money.
Last update on 2022-06-19 / Affiliate links / Images from Amazon Product Advertising API