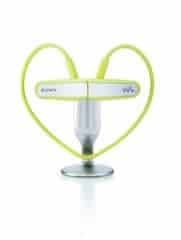 While we impatiently wait for the release of the OLED packing NWZX1060 we have been getting our Sony fix by review the Wearable NWZ-W202.
The NWZ-W202 is quite a unique MP3 player that is worn around your head with all the electronics built into the strangely shaped earphones.
At first it seems like a gimmick that will fail miserably, however the design means the need for wired earphones is completely negated which means this new MP3 player appeals to a very specific niche of sporty types.
While I generally avoid exercise at all costs I have quite frequently had my earphones yanked out due to my chronic clumsiness, which can be both painful and damaging to my sometimes expensive earphones. These accidents occur during everyday activities so I can imagine this issue is amplified when you start running and using gym equipment, so these freakish looking earphones soon start gaining some appeal.
The actual device itself is really well designed, I found they were very easy to put on and fitted comfortably within my ear. When you are not wearing the earphones they attach together with a magnet, this also conveniently stops the music player.
When attached together you can plug them into its USB stand which makes the whole thing look quite neat and attractive. In comparison my iPod is normally thrown on the floor in a heap of wires.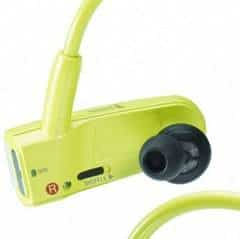 When it comes down to transferring your music Sony have learnt a lot of lessons with the miserable failure that was Sonic Stage. For quite a while now everything has worked as a mass storage device, and this unit even has software stored on the MP3 player rather than on a CD. While iTunes is a decent piece of software I just don't think that you can beat a device that works as soon as you plug it into your computer!
With most Sony devices you are lucky enough that they include decent quality earphones and this tradition holds true with the NWZ-W202, which is just as well as you cant swap them for a new pair!
I listened to a bunch of tracks including the Prodigy, FlyKiller, Mars Volta and the Arctic Monkeys. The earphones happily handled all the tracks, the bass was solid with the treble nice and clear. I wouldn't say the sound quality was the best I have ever heard, but I have also spent more money on a pair of earphones in the past than the entire cost of this MP3 player.
Due to the lack of a screen Sony have come up with a Zappin mode which basically plays a small sample of the song then zaps along until you find the track you want. Personally I am the kind of guy that finds the album he wants then just leaves it to play through however it is a reasonably decent way of finding tracks.
Unfortunately storage capacity isn't great at 2GB, though these are not really designed to store your whole music library in fact it would be bloody annoying trying to find a song using Zappin if you had 16GB worth of tracks on their.
You can get the NWZ-W202 for £59.99 from Amazon which I think is a decent price, especially considering the quality of the earphones.
As much as I like them I do feel they have limited appeal, I just can't imagine me getting on a bus or walking around town wearing these (especially the bright lime green pair I reviewed!). However If you are looking for a decent MP3 player to use at the gym or just doing anything physical these are a perfect solution for you.
Sony Walkman NWZW202B W Series 2GB Wearable MP3 Player – Black – £59.99
Last Updated on