I was recently provided a sample of the SanDisk Sansa Fuze, the new reasonably priced MP3 player. The player comes in 3 sizes of 2, 4 and 8GB at prices of approximately £55, £70, and £90 respectively (prices taken from play.com). The product also has an option of colours including blue, pink, red, silver, and black. Though Play and Amazon only appear to stock the black version, I am not sure if us Brits are restricted to this colour or not.
One of the first things to note is that this is clearly in the iPod Nano territory. The Fuze is very similar in size to the Nano but is slightly narrower and a little taller, while the nano is more short and wide. It is quite as slim as the Nano (6.5mm) being 7.3mm but I doubt 1mm is going to make a huge difference to the average Joe.
In my mind one of the most important comparisons is price. An 8GB iPod Nano will set you back £134 on Play and is £169.99 RRP. The Sansa Fuze is £89.99 and £99.99 RRP. £44 is quite a large difference, making the iPod Nano around 49% more expensive than the Sansa Fuze. Ouch
It doesn't look any better for Apple when we look at the 4GB versions. The iPod Nano is £94.99 or £99.99RRP with the Sansa Fuze being £69.99 or £79.99RRP. £25 difference which makes the iPod around 36% more expensive. That does not look to good for Apple.
So anyway lets look at the Sansa Fuze specification:
Plays videos, music, photos and audio books
Digital FM radio
Up to 24 hours for audio playback and 5 hours of video playback with internal rechargeable battery
Voice recording
Built-in microphone
MicroSD/microSDHC slot for additional content expansion
Videos (MPEG-4) Music (MP3,WMA, secure WMA and audio book file formats), Photos (JPEG).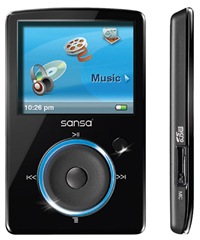 This makes it a similar spec to the iPod however there are a few additions the iPod lacks. The Fuze comes with a Digital FM radio, voice recording via the built in microphone and also a MicroSD/microSDHC slot for additional storage.
It is worth noting that the Nano has a better screen resolution of 320 x 240 pixels compared to 220 x 176 pixels.
The MicroSD/microSDHC slot is probably one of the main selling points for the Sansa Fuze, and I think it is genius. Basically you can expand the storage of your device using MicroSD cards. Most MicroSD cards come in sizes from 512MB to 8GB, though larger cards are being made, but there is a big price jump. A quick scan on the net and I found an 8GB SanDisk card with adapter for £17.95. So basically you can turn the Sansa Fuze into a 16GB player at a total cost of less than £110. Oh look, even with the extra 8GB storage the Sansa is still cheaper than a 8GB iPod Nano.
Now it is only right that I should warn any potential buyers of one big drawback of using the MicroSD card. When you add new content to the device+MicroSD it takes quite a long time to build the index or library when disconnecting. This really is quite frustrating, however I assume it is unavoidable and it is only needed after you add new content.
I found the actual device quite attractive, the front has a polished black coating while the back is a sort of matt black rubberised coating. Probably not quite as nice as the Nano, but still nice.
The controls are quite iPod esque as well, there is a mechanical clickwheel with a centre button for selecting the item. It is actually very nice to use and combined with the excellent user interface it is a very easy device to use.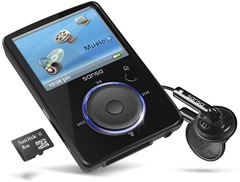 As with most MP3 players the supplied earphones are a bit crap. However using some Sennheiser CX500 earphones I found the sound quality excellent.
The radio works excellently, I found no issues with reception.
Video was less promising, files are limited to MPEG-4 files at native screen resolution, which is not eexactly very good support. The quality wasnt amazing either, most likely due to the reduced resolution of 320 x 240 pixels compared to the iPods 220 x 176 pixels.
Connecting the device to the PC is very easy. It works perfectly with WMP 10 or 11 or you can drag and drop as it also acts as a mass storage device. Photos and videos need to be transferred using the Sansa Media Converter. My issue with the connection is the proprietary connector. It really grinds my gears that companies do not use a standard connector link mini-usb, however this is not an issue limited to SanDisk.
Overall I find the player an excellent little device. Yes there are a few issues, but what player is perfect? Its weakest area is probably its video capabilities, but I do not really see this as a huge problem, I would never dream of watching a video on a device with a screen as small as this.
The issue with the device taking ages to merge the MicroSD and main memory is annoying, but I think it is worth it for the flexibility. I am not sure I would want to spend £90 on the 8GB version, I think it maybe better just getting the 4Gb or 8Gb version and buying the 8GB MicroSD card.
If I had to rate this device I would give it a solid 7/10.