Over the past 7 years, Roku has established themselves as the top providers of streaming devices on the market. With the exception of the Apple TV there are not really any standout devices apart from Roku prior to 2013. However, with the launch of the Chromecast, Fire TV, and generic Android boxes, as well as Smart TVs, Roku has been facing some stiff competition in the past couple of years.
To keep up with the competition Roku announced the original Roku 3 which had a CPU 5 times as fast as the Roku 2 XS. This year Roku has updated the Roku 3 once again and have updated it with a new remote control, with a microphone for voice search. Though there are no other changes and the remote still includes a 3.5 mm port to connect the included earbuds for private listening.
The Roku 3 adopts a set-top box form rather than the increasingly popular stick form, but this gives one huge advantage and that is physical networking. It has quite a small footprint of 89mm square footprint by 35mm tall and is generally unremarkable in appearance. As well as an ethernet port you have HDMI, USB, power, reset, and microSD.
Setting up the Roku is extremely simple, though logging into your streaming services can be a bit of a nightmare (as with all devices like this). One of the reasons why Roku because so popular is its vast collection of services, which includes:
Netflix
Amazon Instant
iPlayer
C4
Demand 5
Google Play
Plex
Plus considerably more, there really is every streaming service you could think of. The biggest omission is the lack of Kodi which you can get on the FireTV. This should not affect most people and Plex is normally a more than acceptable alternative.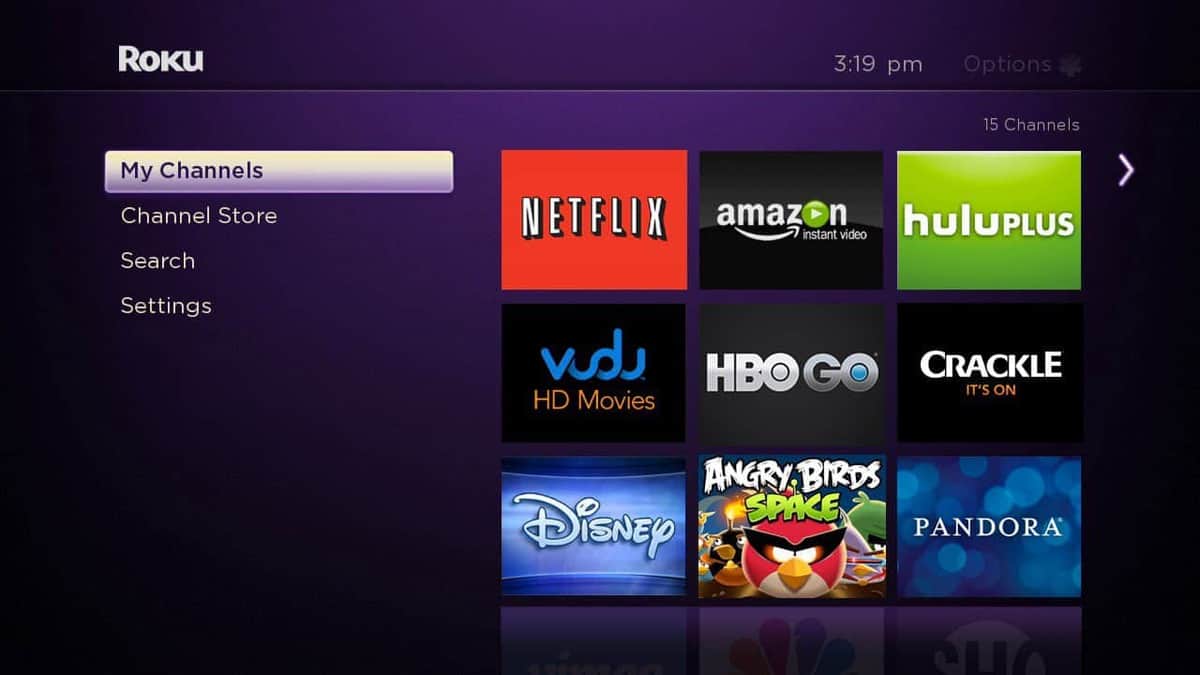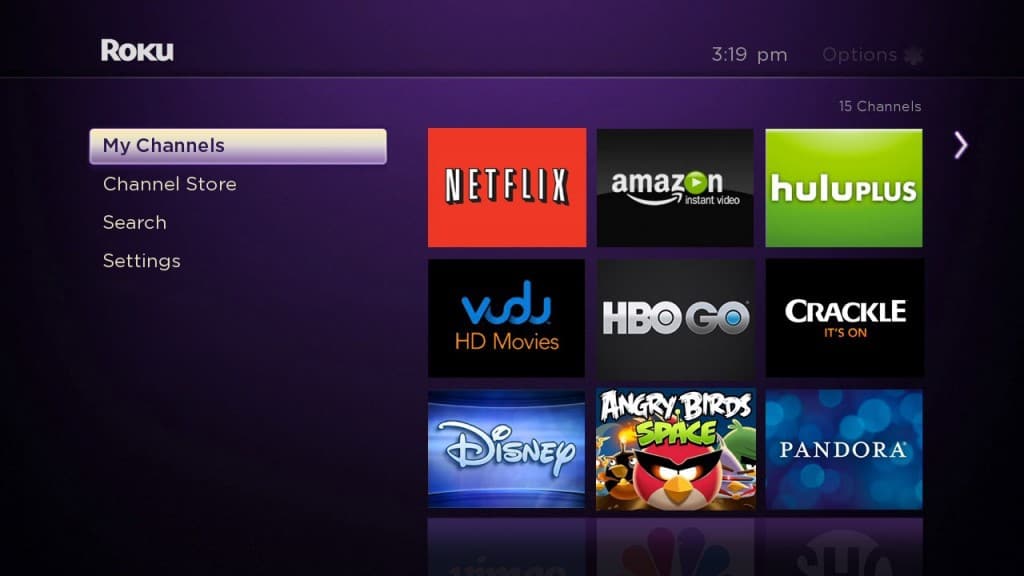 The big selling point for the new Roku is the voice search via the included remote, and there are two ways to do it. You can press and hold the search button, speak into the remote, and then release the button. Or, simply press and release the button, speak into it, and then stop speaking.  Unlike Amazon, the Roku does not favour service and will happily search all your streaming services which is a huge bonus. For me, the voice search on the Amazon FireTV is completely useless as I rarely use their service.
The search feature worked as advertised using the remote and mobile app, provided you enunciate clearly and don't speak too fast. You can search for movie titles, actors, directors, and even specific channels that Roku offers. It won't launch channels for you, but does bring them up onscreen so you can select them.
The big thing for me was the overall performance of the Roku. I have used several streaming devices including the FireTV, FireTV Stick and Roku stick. All three devices are fantastic but I find stick based devices a bit sluggish and I would prefer not to use them. The FireTV is my current device of choice as I acquired it cheap when it was released and it is nice a quick. Over the course of a week I found the Roku 3 to perform reasonably well. I would say that there are longer load times for apps compared to the FireTV but overall navigation is nice and quick, and for general use you will have no problems what so over.
Unfortunately playing local content isn't that great. Roku has also improved its free mobile app for Android, iOS, and Windows Phone, which lets you use your tablet or phone as a remote control. It has an updated interface and also includes support for Roku's new voice search and discovery feature. I don't think this is a massive issue as it is advertising itself as a streaming player, and you can use streaming apps such as Plex, DropBox or MyMedia to play networked content.
Overall this is a fantastic device and if you buy one you won't be disappointed. At this very moment you can buy the Roku 3 for £91.73 from Amazon, the Nexus Player is £79 and the FireTV is not currently available but it is normally about £90. Technically the Nexus player should be the better option as it has more options for Apps, local playing and is cheaper, but it has received lukewarm reviews all round. The FireTV is unavailable so that rules that out. Android boxes might be a good option if you are willing to put up with their various quirks.
If you want a streaming box that just works and don't have to worry about complex set ups then this is currently the best option. It also has the best voice search, and the private listening is a great, useful and unique feature. It would be nice if it was priced a little lower but at the moment this is probably still the best device on the market.
The Roku 3 2015 is available from Amazon for £91.73