Realme GT 2 Review Rating [RMX3311]
Summary
Ther Realme GT 2 is an incremental improvement from last year, but the focus on photography now makes this a well-rounded phone that is ideal for any buyer that wants the performance of a flagship chipset and a good camera
Pros
50MP IMX766  is excellent and makes this much more appealing for anyone interested in photography
Attractive unique design
Cons
Not that different from last year
Price increase
The Realme GT 2 series was announced in China earlier on in the year but is now getting a global launch.
The Realme GT 2 is the more affordable of the two models, being very similar to the Realme GT from last year and uses last year's flagship Snapdragon 888 chipset.
As the title suggests, I have only had this phone for a few days. While I have a good impression of the phone, and I doubt my overall opinion will change much, I can't guarantee that I have witnessed every glitch or quirk on the phone.
Specification
Display: 6.62 inches, 120hz AMOLED, 1300nits, 2400×1080
Chipset: Qualcomm Snapdragon 888 5G
RAM: 8GB / 12GB
Storage: 128GB / 256GB
Rear Camera:

50 MP Sony IMX766 with OIS

Front Camera: 16 MP IMX471
Battery: 5000 mAh with 65W SuperDart wired charging (18W PD)
Connectivty: WiFi 6 (not 6E), Bluetooth 5.2, no HDMI out (USB 2.0)
Speakers: Dual
Design and Display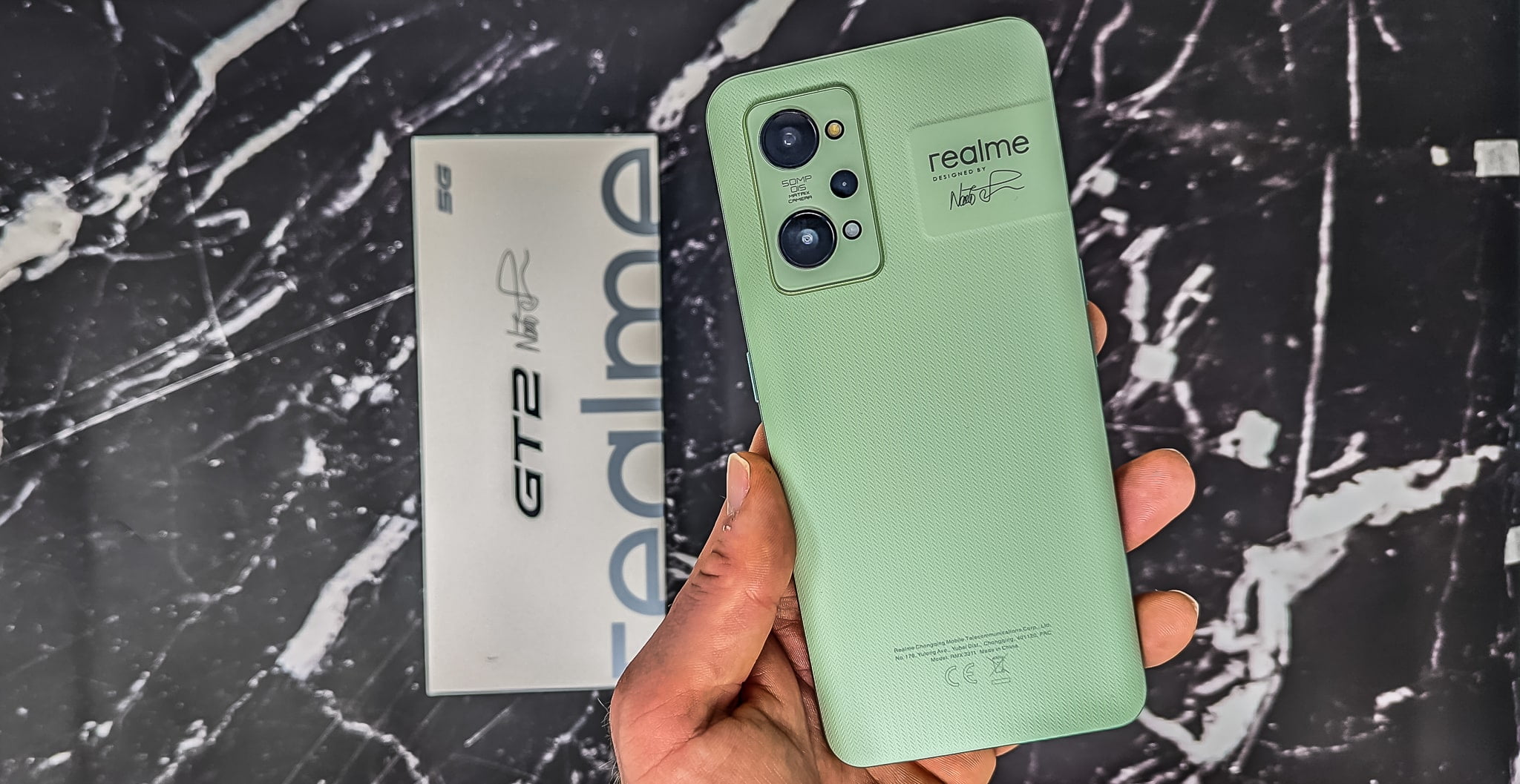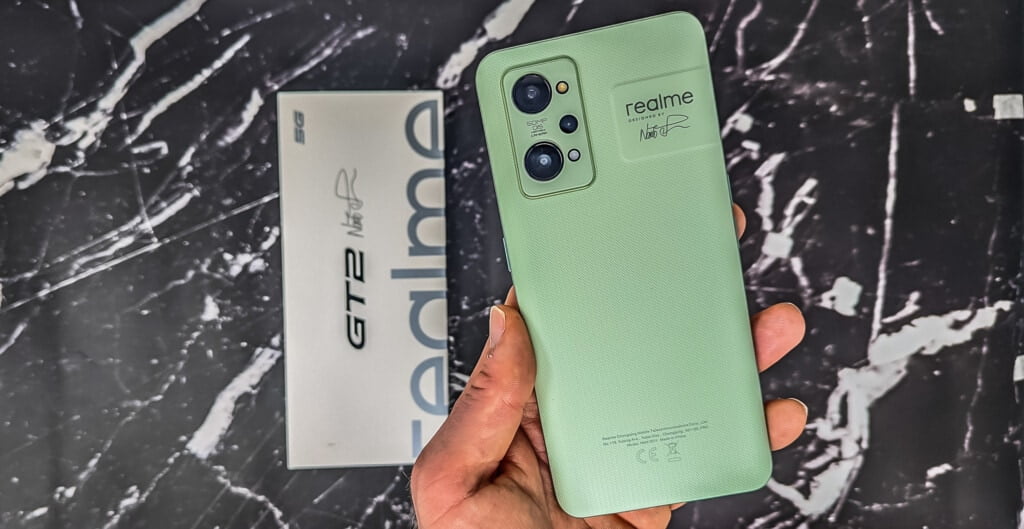 On the Realme GT 2 Pro, you have the world's first flat 2K LPTO AMOLED display, whereas this has a flat 1080p display that runs at either 60Hz, 90hz in gaming, or 120Hz.
The display is larger this year, being 6.62-inches vs 6.43-inches on the Realme GT 5G, and I personally prefer a larger phone. However, opinion on this trend is divided, and we have seen brands start to shift back to offering slightly smaller phones recently.
The display is good, It hasn't been very sunny in the north of England recently, so I haven't had to worry too much about screen brightness, but it has been good so far. Colours look excellent, and the screen is ultra-responsive.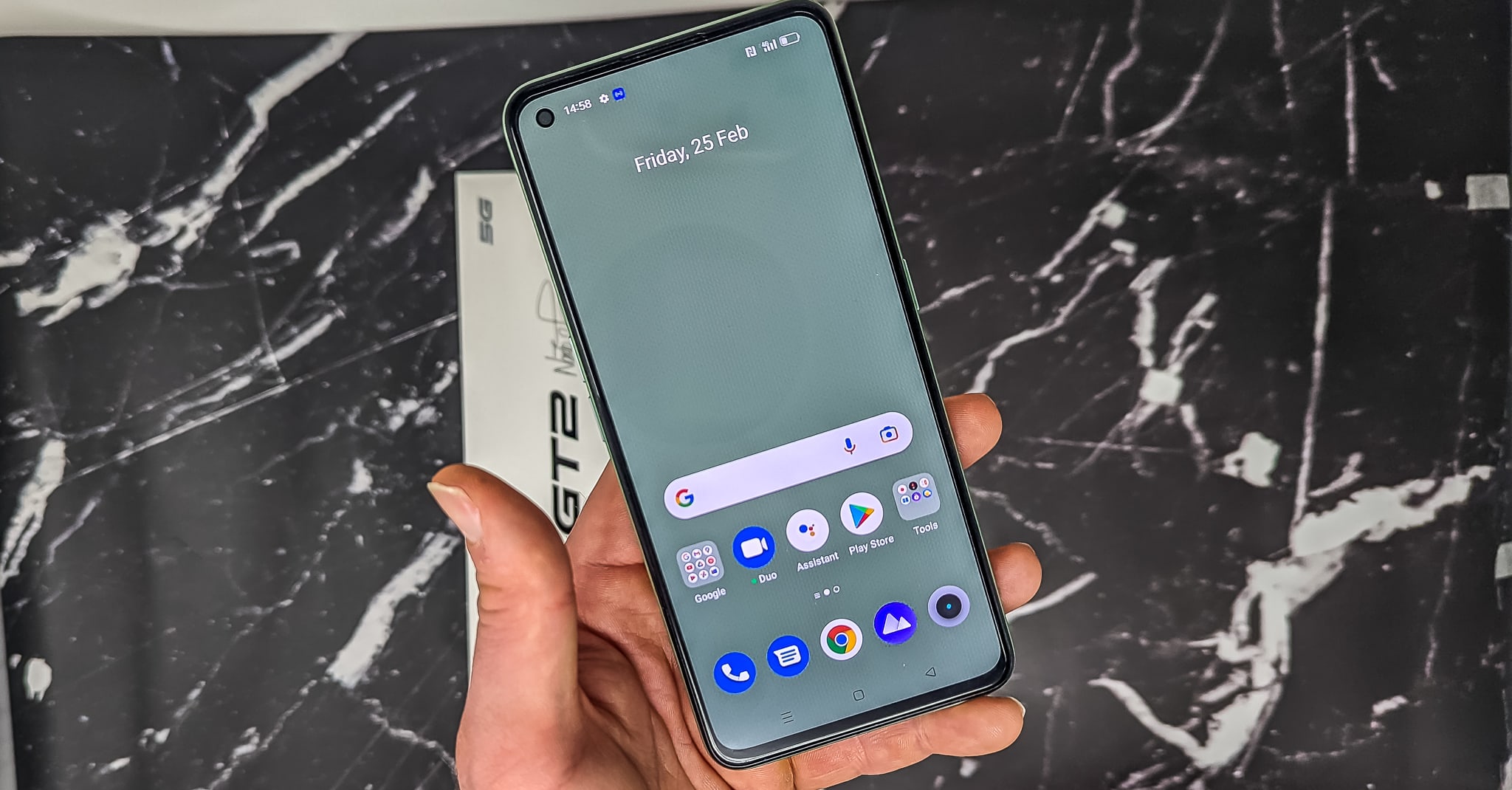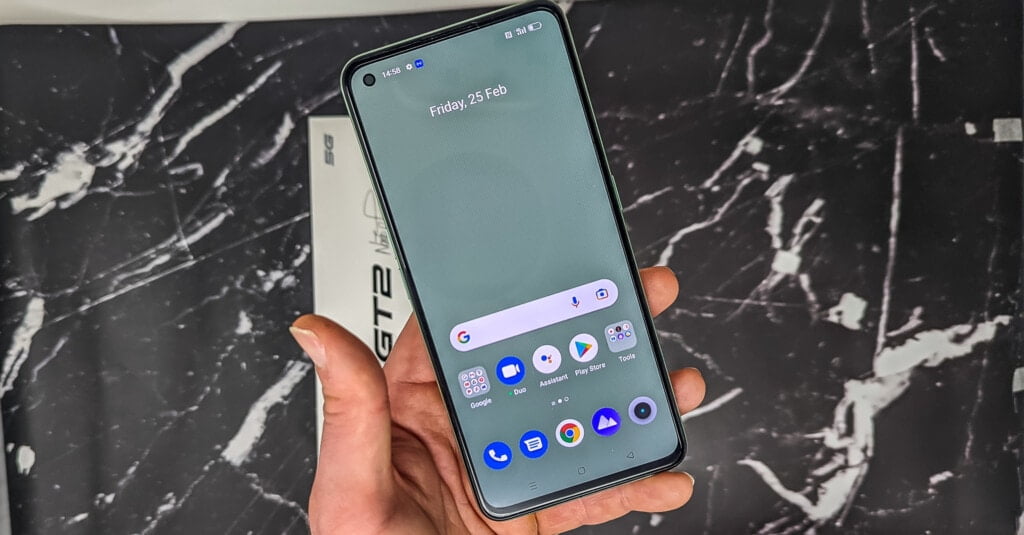 Realme ditched the car inspired colour theme this year in favour of a fetching Paper Green colour which I'd describe as mint green.
The textured rear feels less like vegan leather from last year and does have a sort of plastic paper feel.
Realme have also been trying to improve its green credentials, and the shell of the phone is made from a bio-based polymer that has 35.5% fewer carbon emissions.
One gripe I have is that Realme has made the back of the phone in this attractive green fake leather, but the included case is a solid matte grey. Normally Realme supplies a clear plastic case, so you can at least show off the colour of your phone. It is not a massive issue, at least they still include a free case, it just seems like a strange thing to do.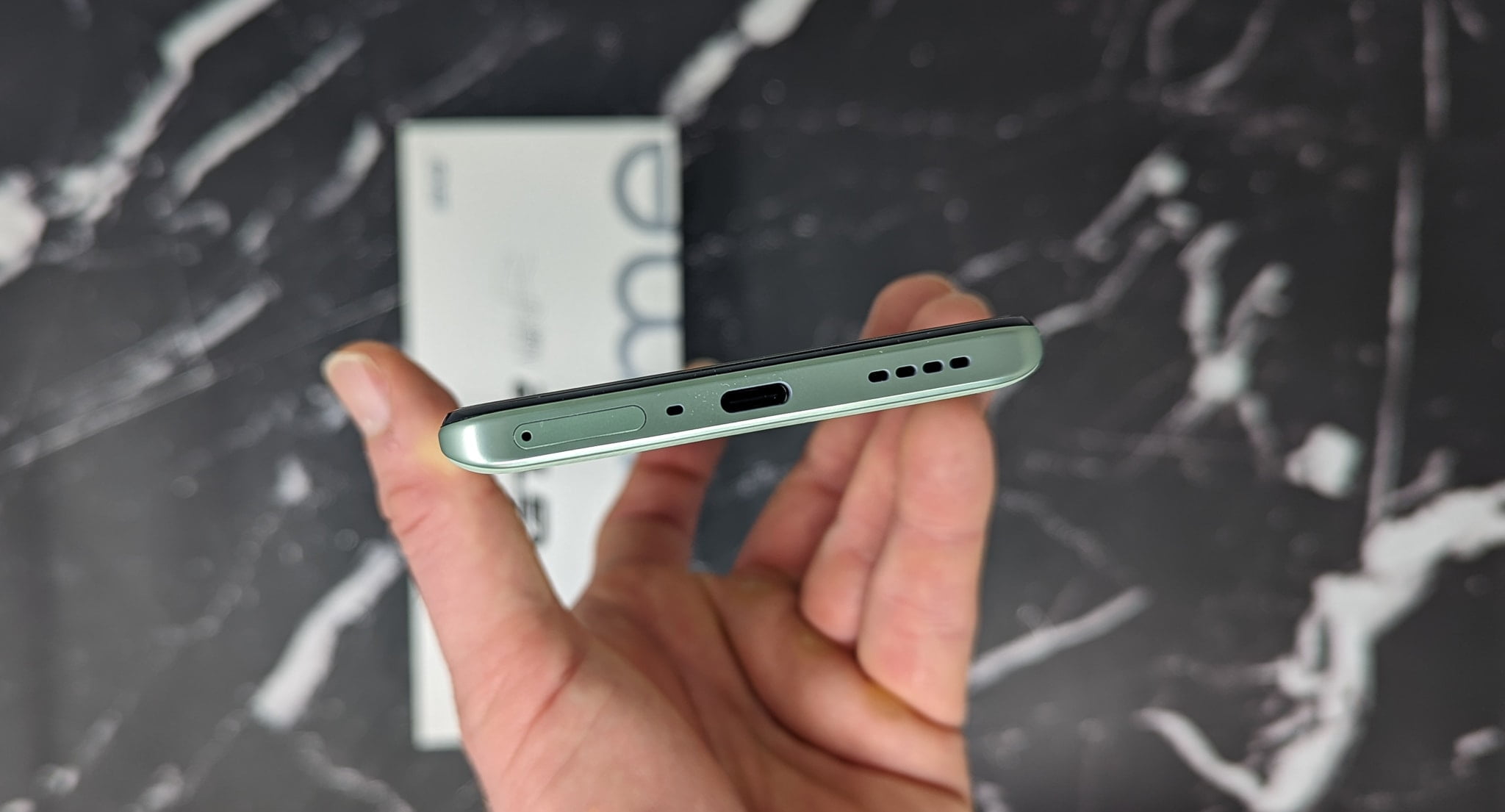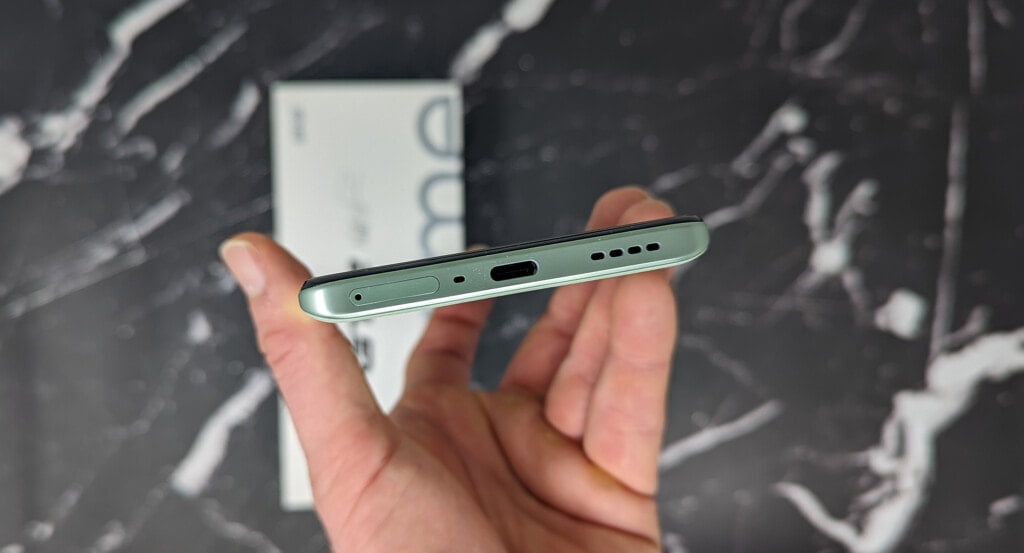 Beyond that, everything is pretty much standard for a phone nowadays. The fingerprint scanner is significantly better than my Pixel 6, and I have always been a fan of face unlock, even if it doesn't provide the best security. There is no 3.5mm jack or microSD support, just like most mid to high-end phones. There is also no HDMI out as the phone is limited to USB 2.0.
Camera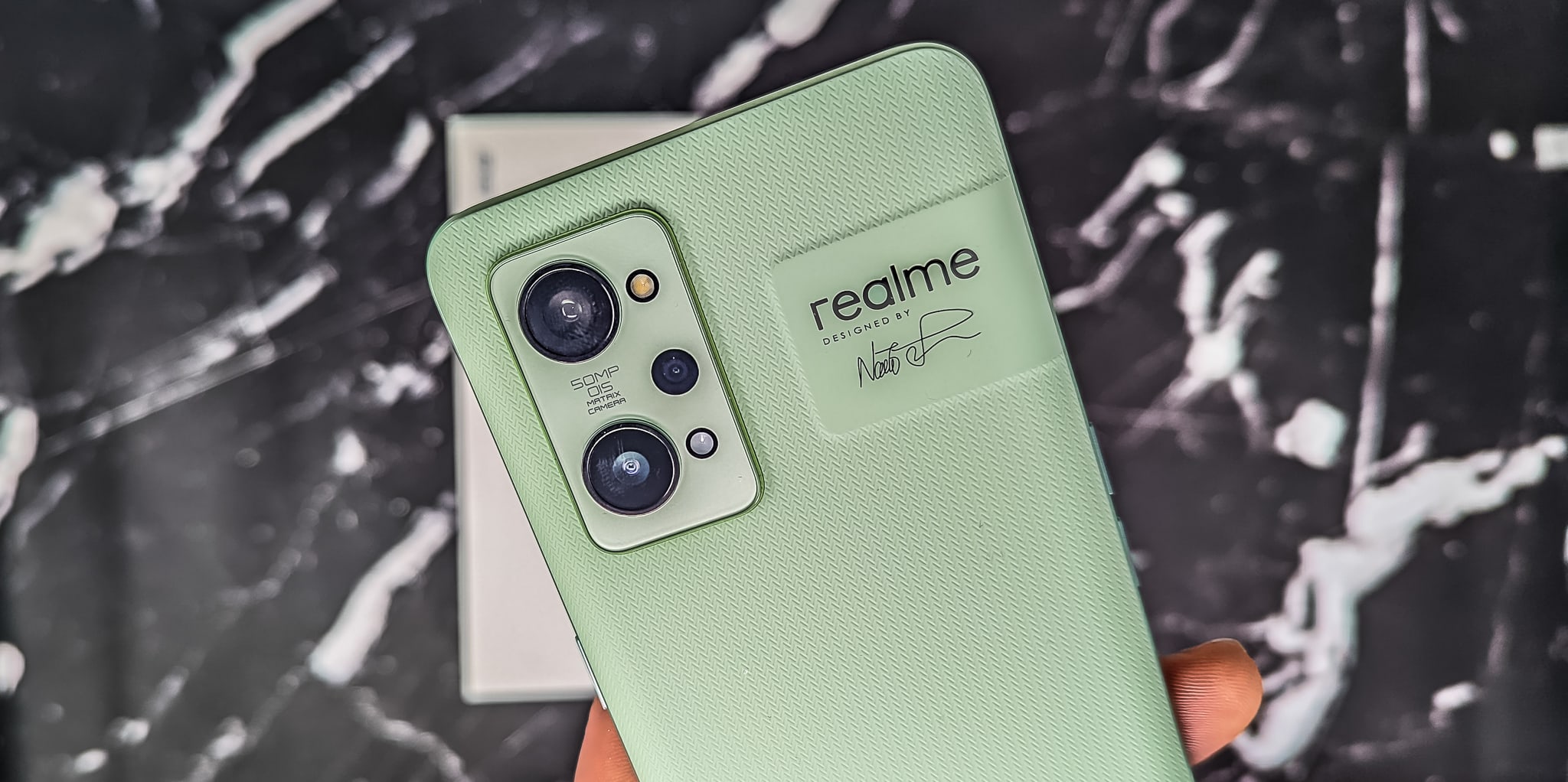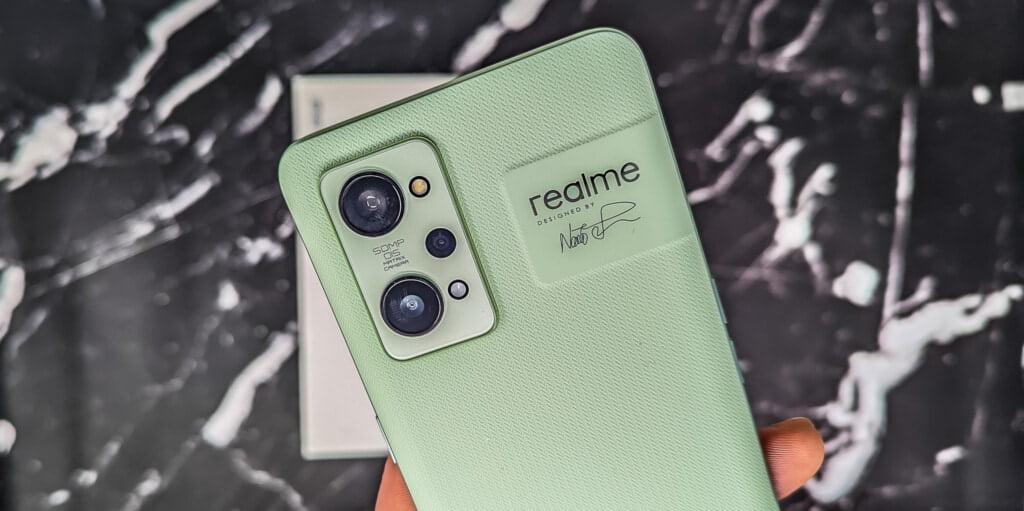 With the standard Realme GT2, it is the primary camera that has had a big upgrade, shifting from the 64MP Sony IMX682 to the 50 MP Sony IMX766. This is the main difference from last year.
The IMX766 has a 1/1.56 giving it a pixel size of 1.0 μm, and it has been used on several flagship phones now, including the Oneplus 9 series and OPPO Find X3/X3 Pro and the new X5/X5 Pro. The IMX682 had a much smaller sensor size of 1/1.73″. It was capable of producing good photos, but it was ageing and used on many affordable phones, including the Poco X3.
Performance from the main camera is excellent, and it feels like the first time Realme has produced a phone that's good for photography. It is never going to compete with the best of the best, OPPO has superior processing with their Find X series, and Google Pixel phones have always been up there with the best. But I think the upgrade for the main camera makes this much more well-rounded phone than previous years.
The ultra-wide and macro sensors remain the same. As always with macro, it is completely forgettable, and the ultra-wide does an adequate job, but nothing particularly impressive.
If you get the Realme GT2 Pro, you will have a much more impressive 50MP Samsung ISOCELL JN1 150-degree ultra-wide lens which is also the world's first mobile camera capable of producing fish-eye photos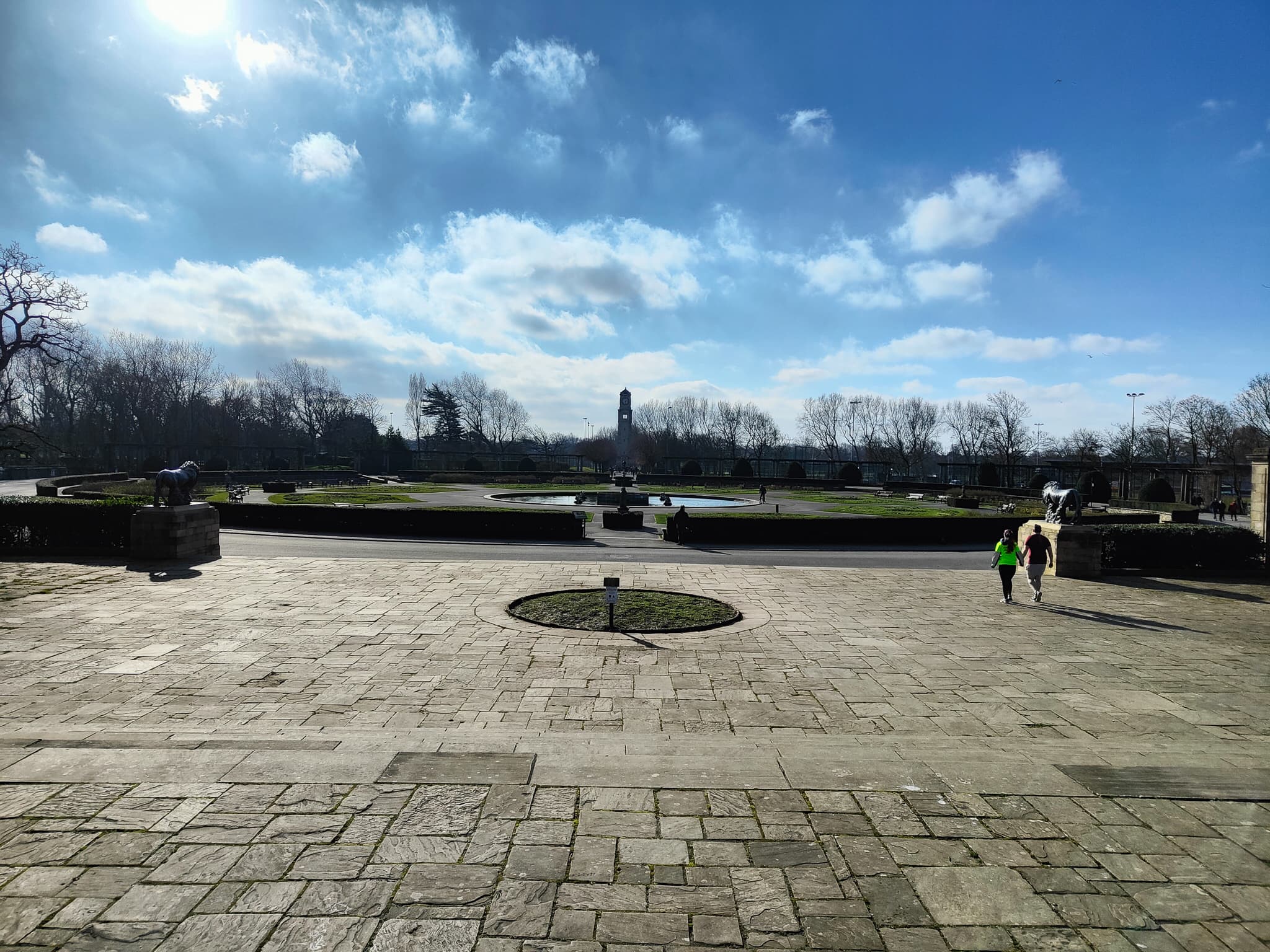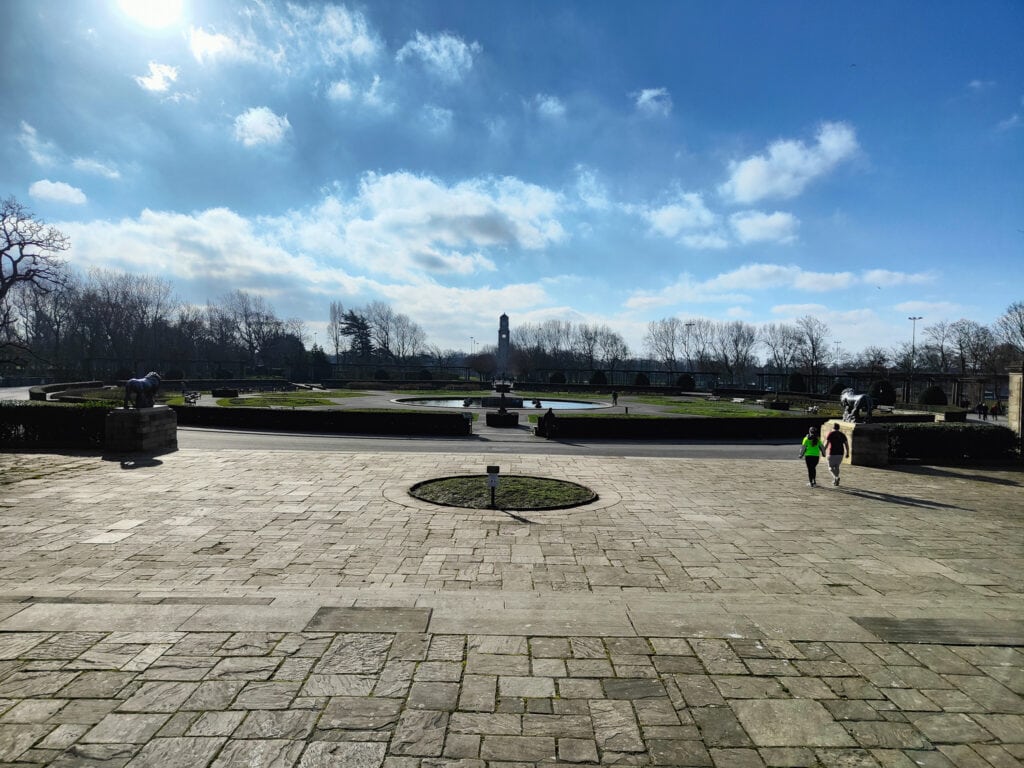 Performance and Benchmarks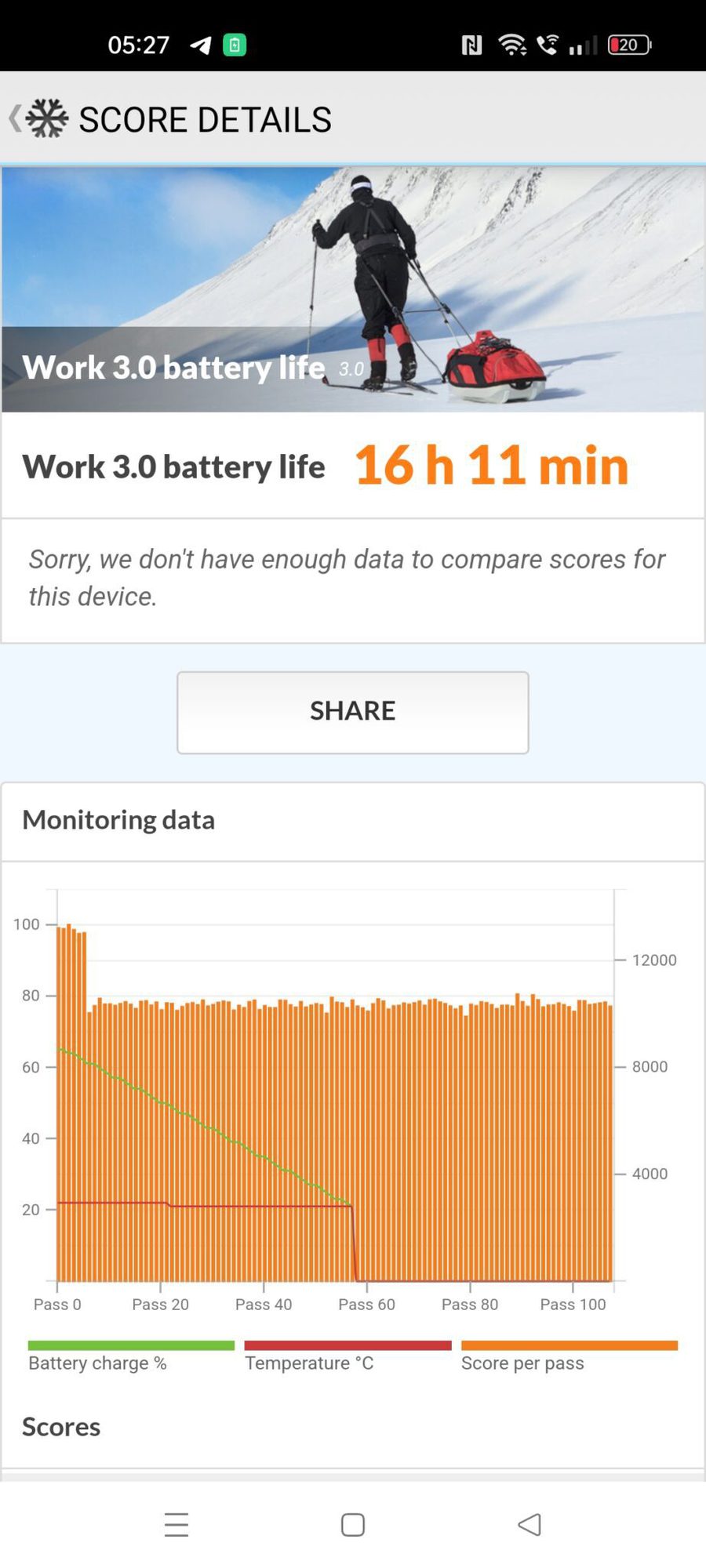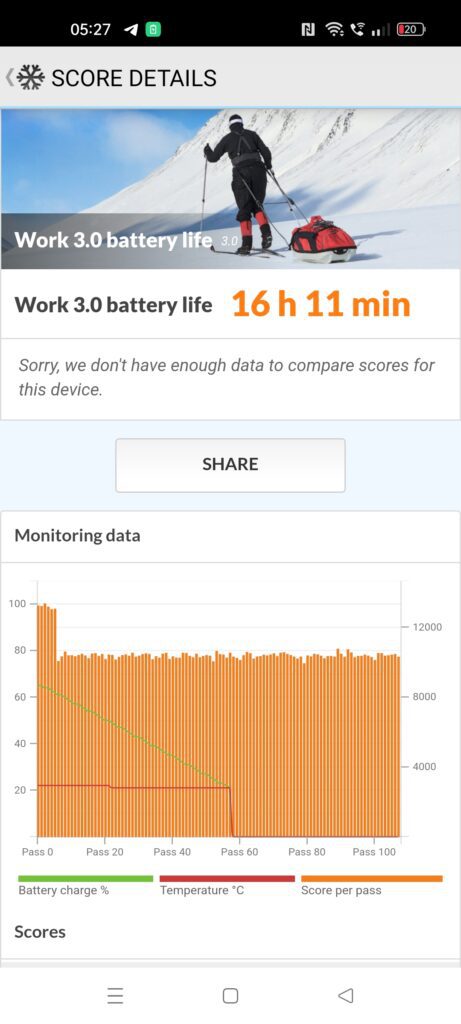 Normally I'd write a post dedicated to the benchmarks, but considering this uses the same chipset as last year, there seemed to be little point. The overall performance isn't exactly the same, it looks like Realme has made some tweaks here and there. At the very least, the benchmarks look better, but I haven't had the phone long enough to ascertain if there has been a positive improvement in real-life performance. At the end of the day, it's the SD888 with a 120Hz 1080p display; you are not going to experience any serious performance issues.
For 3DMark stress testing, the phone does quite a bit better than the Realme GT. The best loop is fractionally higher at 5915, but it managed to achieve a stability of over 80%, with the lowest loop being 4762. The phone manages to do this with the same 20 degrees C temperature increase too, so it looks like Realme have considerably improved the cooling of the phone, minimising thermal throttling. The marketing literature indicates this has the industry's largest heat dissipation area but it is not clear if this includes the standard GT or just the GT2 Pro.
As impressive as the improvements are with 3DMark, it is worth noting that the new Snapdragon 8 Gen 1 is capable of hitting scores close to 10K. So if you are a serious gamer wanting the best chipset, the GT2 Pro is worth considering.
Looking at PC Mark, the score has actually decreased from last year. Realme has toned down the performance for basic day to day tasks, likely to try and improve battery life.
Battery Life
I have certainly not had the phone long enough to decide how good the battery life is in real-life scenarios. During my time with it, it has easily got through the full day and outperformed phones with a similar spec from last year, such as the OnePlus 9 Pro.
The PC Mark 2.0 Battey benchmark gives an incredible 16h+ battery life, up from the already impressive 14hours from last year. However, I'd take this with a big pinch of salt. After the first 6 runs of 12k+ scores, the phone reduces the performance to sub-10k, giving you an average performance score of 10476. Last year it did similar, but the average was 11638.
Just like last year, you have 65W SuperDart charging which can do a full charge in about 30 mins.
Software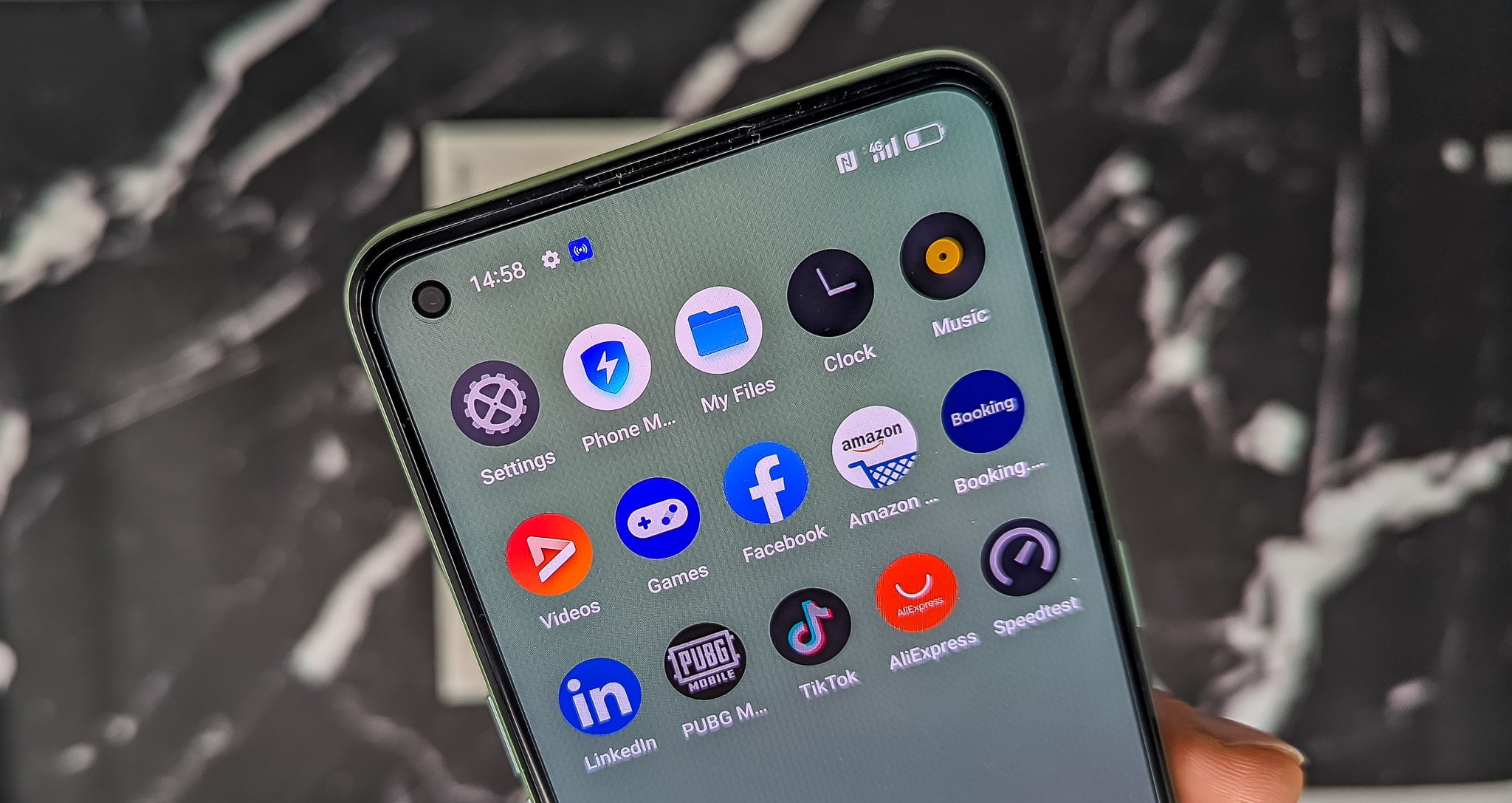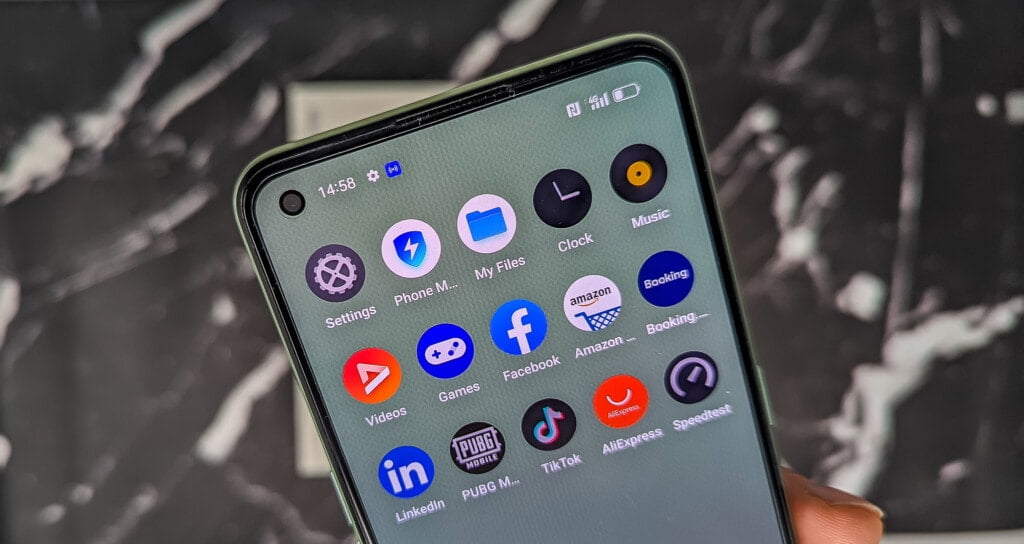 The phone runs Realme UI 3.0, which is based on Android 12. Realme, OPPO and OnePlus all use almost the same UI, and I have become quite familiar with it over the years and have no major problems with it.
The main problem I have is that Realme preinstalls quite a lot of apps that I have no intention of using, including AliExpress, Booking.com, LinkedIn and TikTok. These are all easily uninstallable.
Price and Alternative Options
At the time of writing, I don't have the official prices of the Realme GT 2. However, leaks have stated that the device will start at €549 (£450) for the base model with 8GB of RAM and 128GB of storage.
EDIT – Pricing is confirmed as €549 for 8GB/128GB and you can get it for €449 with an early bird discount.
The Realme GT 2 Pro will only come in 12GB/256GB, and this will be €789 (£665).
The Realme 9 Pro+ has launched for £100 less at £349, but launch day pricing will be £299. It uses the same Sony camera as the GT2 but the Dimensity 920 doesn't have that flagship level of performance.
The OnePlus Nord 2 launched at £399 but has been £349 on Amazon recently, currently £370.
Last years Realme GT launched at €449 with an early bird discount of €369 (£385 or £320).
The Pixel 6 is £599.
Overall
I like the Realme GT 2 quite a lot, perhaps more than I should. On paper, it may be doesn't look that impressive, it is barely improved from last year, and it costs €90 more.
However, the improved camera and bigger battery make this a much more well-rounded phone. Previously it was only really appealing to buyers that wanted a flagship chipset. Now you have a superb affordable all-around phone, high performance with an excellent camera.
The OnePlus Nord 2 has been one of my favourite phones recently, and I'd say the Realme GT 2 is worth the extra £80-ish for the bigger 120Hz display, better chipset and bigger battery.
It is hard not to draw a comparison to the Pixel 6, too. The camera performance is much better on the Pixel, but I hate the fingerprint scanner and the lack of face unlock. Then there is a noticeable difference in performance with the Google Tensor and SD888. Plus, the Pixel is £150 more, which is significant.
In conclusion, the Realme GT 2 feels like a much more mature phone, and it is good to see Realme start to become more competitive with the quality of the photography on its phone.