[Update] This is now official and better than expected with a GPU boost too
I have given MediaTek a lot of grief for their relentless and pointless chipset launches the past few months. The MediaTek Dimensity 820 is set to launch on the 18th of May just two weeks after the announcement of the Dimensity 1000+ SoC. That launch was peak pointlessness for Mediatek, they essentially enabled 144Hz compatibility on the Dimensity 1000 and claimed it was a new chipset.
I was expecting another dud from MediaTek with reports that the launch would be a Dimensity 800+ which then would have likely been a tiny tweak leading to a new chipset name.
However, it looks like that may not be the case, it could be that Mediatek is responding to the recent launch of the Qualcomm Snapdragon 768G which offers a moderate 15+% boost in performance to their existing Snapdragon 765G.
It is believed the new chipset, which will be called the Dimensity 820, will offer higher frequencies than the older Dimensity 800.
It is claimed the CPU will reach clock speeds up to 2.6GHz, up from 2.0GHz on the Dimensity 800. This would represent a massive 30% boost in clock frequencies – if this is true it would be quite impressive, the recent launch of the  MediaTek Helio G85 offered just a 5% increase in the GPU frequency whereas the SD768G offered a 16% and 9% improvement for its two main cores.
The MediaTek Dimensity 800 was already a potent mid-range chipset offering a CPU configuration of:
4x Cortex A76 @ 2.0GHz
4x Cortex A55 @ 2.0GHz
Arm Mali-G57 MC4
This has now been upgraded to
4x Cortex A76 @ 2.6GHz
4x Cortex A55 @ 2.0GHz
Arm Mali-G57 MC5
In comparison, the Qualcomm Snapdragon 765G and 768G use just two Cortex A76 cores with each core clocked differently with:
Snapdragon 768G

6x Cortex-A55 @ 1.8GHz
Adreno 620 + 15%

Snapdragon 765G

6x Cortex-A55 @ 1.8GHz
Adreno 620
MediaTek Dimensity 820
MediaTek Dimensity 800
Qualcomm Snapdragon 768G
Main CPU
4x Cortex A76 @ 2.0GHz
4x Cortex A76 @ 2.6GHz
1x Cortex A76 @ 2.8GHz
1x Cortex-A76 @ 2.4GHz
Efficient CPU
4x Cortex A55 @ 2.0GHz
4x Cortex A55 @ 2.0GHz
6x Cortex-A55 @ 1.8GHz
GPU
Arm Mali-G57 MC5 (25% increase?)
Arm Mali-G57 MC4
Adreno 620 (15% boost in performance vs SD765G
The new chipset has now been made official ,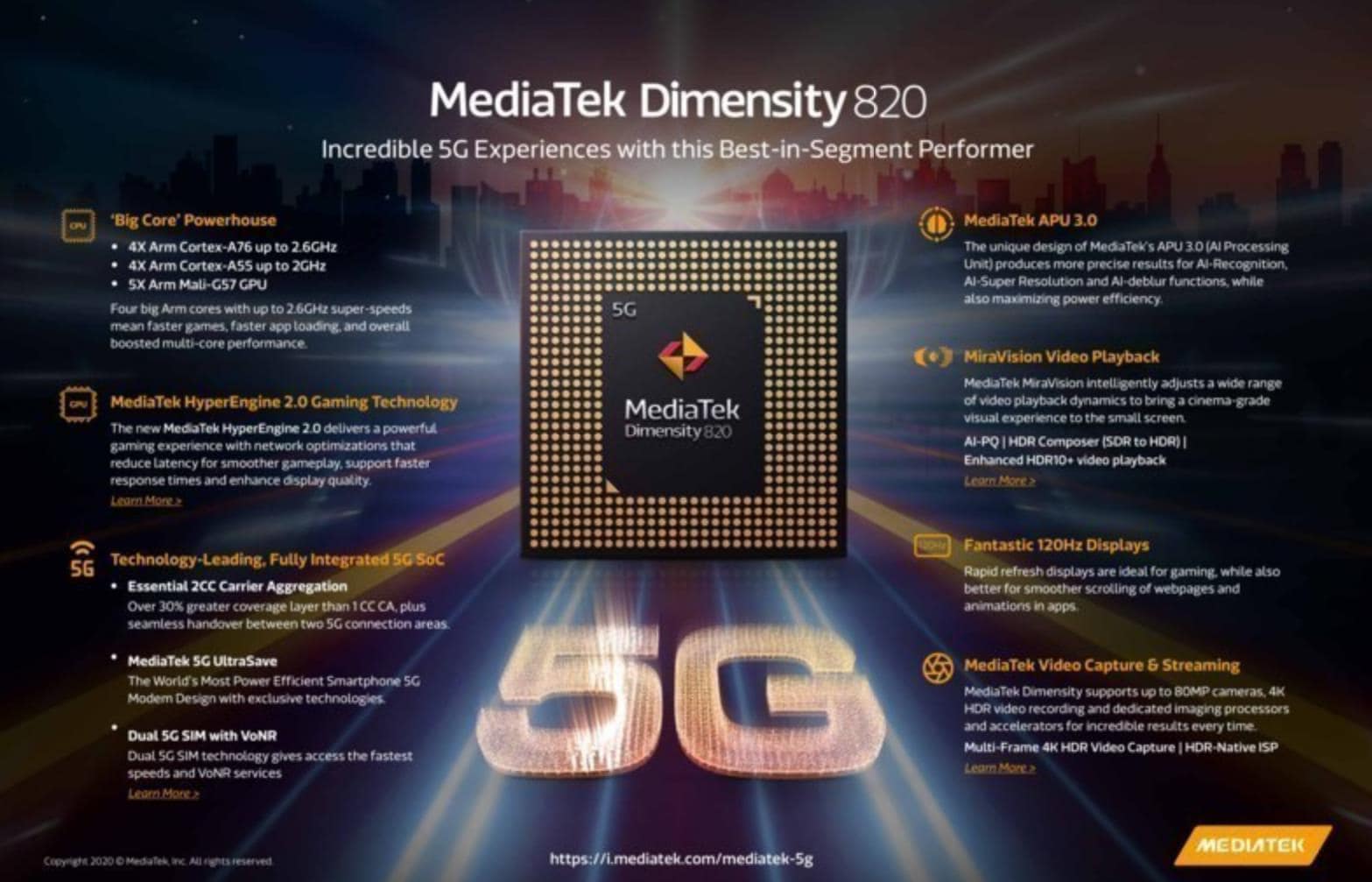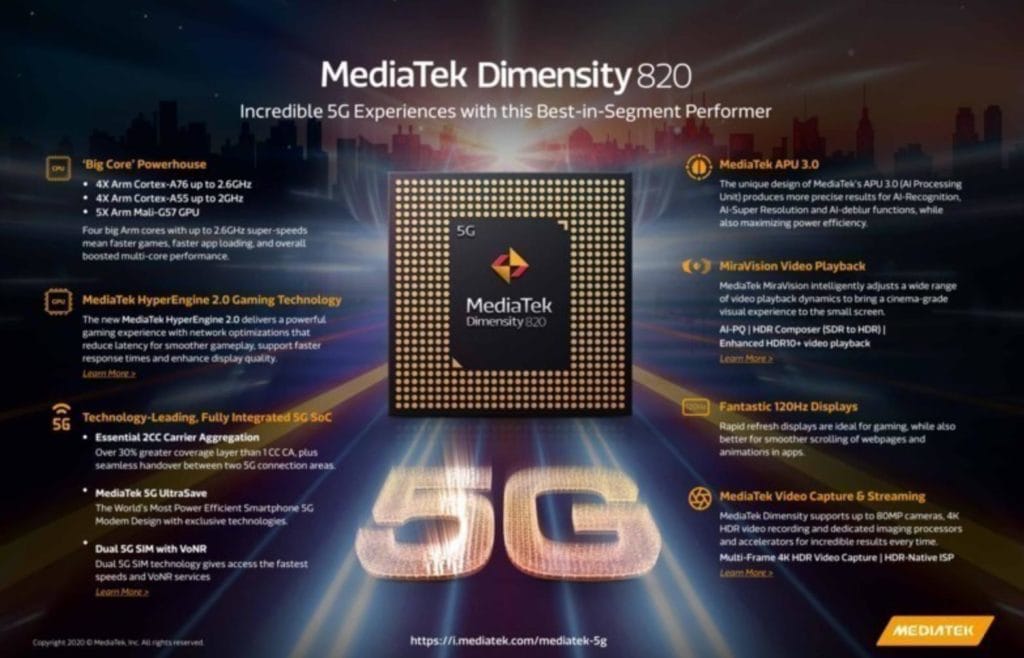 MediaTek Dimensity 820 Benchmarks