[Update 21-07-2020] MediaTek have now made the Dimensity 720 official. Details are a little thin at the moment, but this is a brand new chipset, rather than a tweaked existing design.
The Dimensity 720 is based on the 7nm fabrication process featuring an integrated 5G modem, and MediaTek's UltraSave technology, leveraging both network and content awareness intelligence and operating mode in real-time.
Following on from the previous Geekbench leaks, it is confirmed that this is using two Arm Cortex-A76 big cores operating at 2GHz, with the remaining cores being Cortex A55. It is then equipped with a Arm Mali G57 class GPU, fast LPDDR4X memory and universal flash storage (UFS) 2.2.
This will also support 90Hz displays, MiraVision HDR10+ and support for up to 64MP or 20+16MP dual cameras.
I will update this post with a more details specification when available.
–
At the end of last week, I revealed the new Mediatek Dimensity 720 chipset, which showed up on the Mediatek website briefly. No information was revealed about it at the time, and they have since taken the logo down.
Other news sources are reporting the Mediatek Dimensity 600 will launch any day now. It is possible that one of both will launch. The Dimensity 720 image may have been a placeholder or just an error in general, but I am inclined to say that it is the Mediatek Dimensity 720 that will launch this month.
There is still nothing particularly new to report, but I thought I would put together my thoughts of how this may be positioned within the market.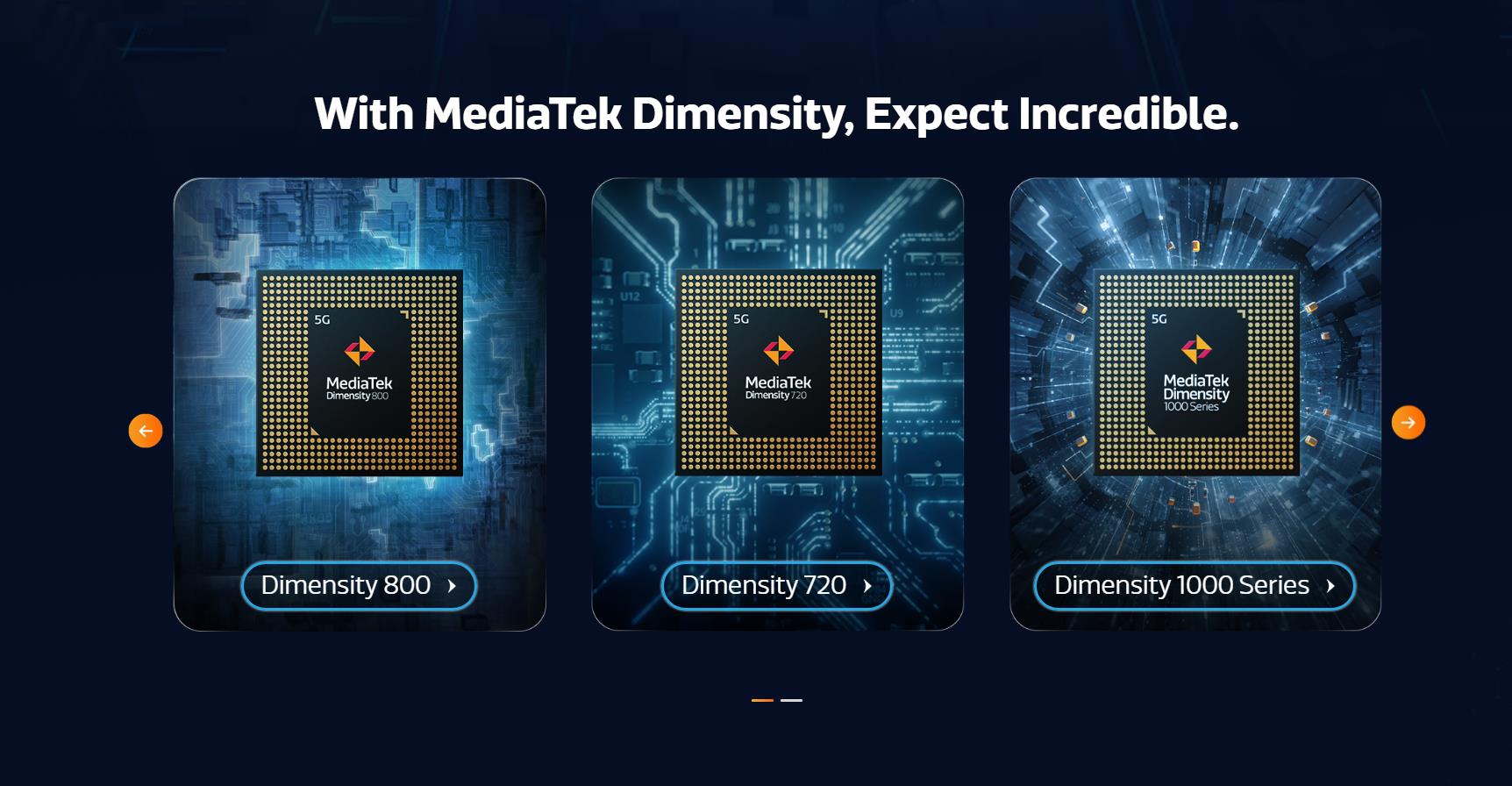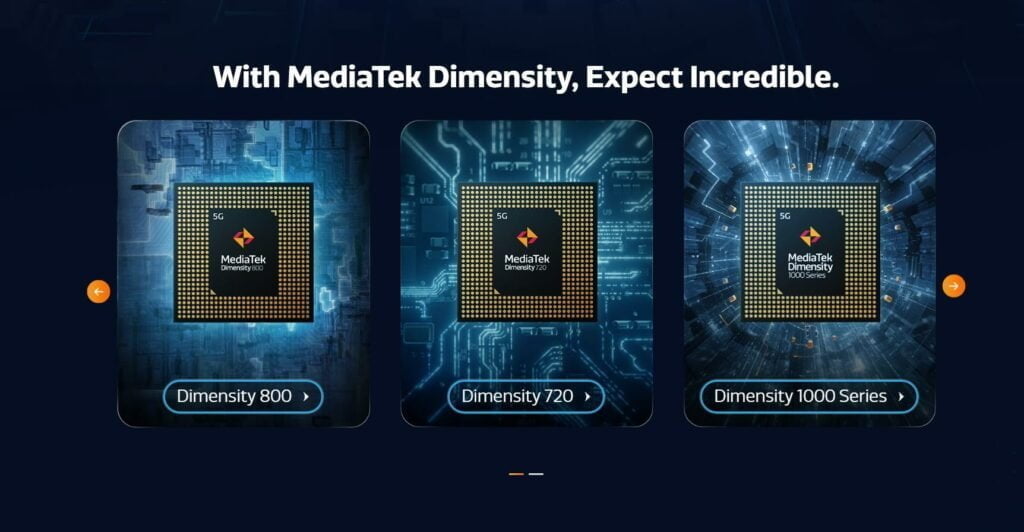 Announcement Date
The chipset was announced on the 23rd of July 2020.
Specification
Mediatek has a tendency to reuse chipset designs, for better or worse. Sometimes this involves tiny frequency changes and seems like a marketing gimmick. Others, like the Dimensity 820, offer a significant upgrade that justifies the launch of a new chipset.
I had speculated previously that this is highly likely to be a cut down version of the Dimensity 800. However, the naming convention may suggest that it is more than just a small step down compared to how the Dimensity 800 and 820 compare.
[Updated with correct information] I was wrong to assume this was a cut down Dimensity 800. This is a brand new design based on 2×6 CPU layout.
CPU
We have no idea about the spec yet, I still think it will be based on the Dimensity 800 design, but it is likely being positioned against the Qualcomm Snapdragon 690, so they could develop a brand new chipset adopting a similar design.
This is likely to be positioned beneath the Qualcomm Snapdragon 690 which feature two Arm Cortex A77 cores.
The Dimensity 720 is now confirmed to have two Arm Coretex A76 cores running at 2.0Ghz that are combined with six Arm Coretex A55 cores which be running at 2.0Ghz.
GPU
The Mediatek Dimensity 800 uses the Arm Mali-G57 MC4 with the 820 bumping it up to 5 cores.
It is now confirmed this will also feature a Arm Mali-G57, however they core count is reduced down to 3.
Qualcomm uses the Adreno 619L.
The Hisilicon Kirin 820 5G also uses a Arm Mali G57 but this has 6-cores.
Then the Samsung has the older, but higher up Mali G76 with 5-cores.
Price Point
I don't think there is any phone that has launched in the UK or EU with the Dimensity 800 yet. However, prices range from around £215 for the Honor X10 Max (in China) to around £300 for the OPPO A92s 5G.
The Redmi 10X with the MediaTek Dimensity 820 is available from around £200 too.
No phones have launched with the Qualcomm Snapdragon 690 yet either
The Vivo Y70s is the first with the Exynos 880 which is available on AliExpress for a bit less than $300
Benchmarks – Antutu & Geekbench
At the moment we have no idea of the specification.
The Redmi 10X managed to achieve over 400k in Antut, which is close to what many flagship phones achieved last year.
Geekbench benchmark for MediaTek Dimensity 720 similar to Helio G90t
The latest tidbit of information about the MediaTek Dimensity 720 is a new Geekbench benchmark listing of the OPPO A72 which will be the first phone to feature the chipset.
The phone manages to achieve a score of 513 for the single core and 1659 for the multi core results with the CPU clocked at 2.00Ghz.
This is very similar to the MediaTek Helio G90t, indicating that it may use the same design as that.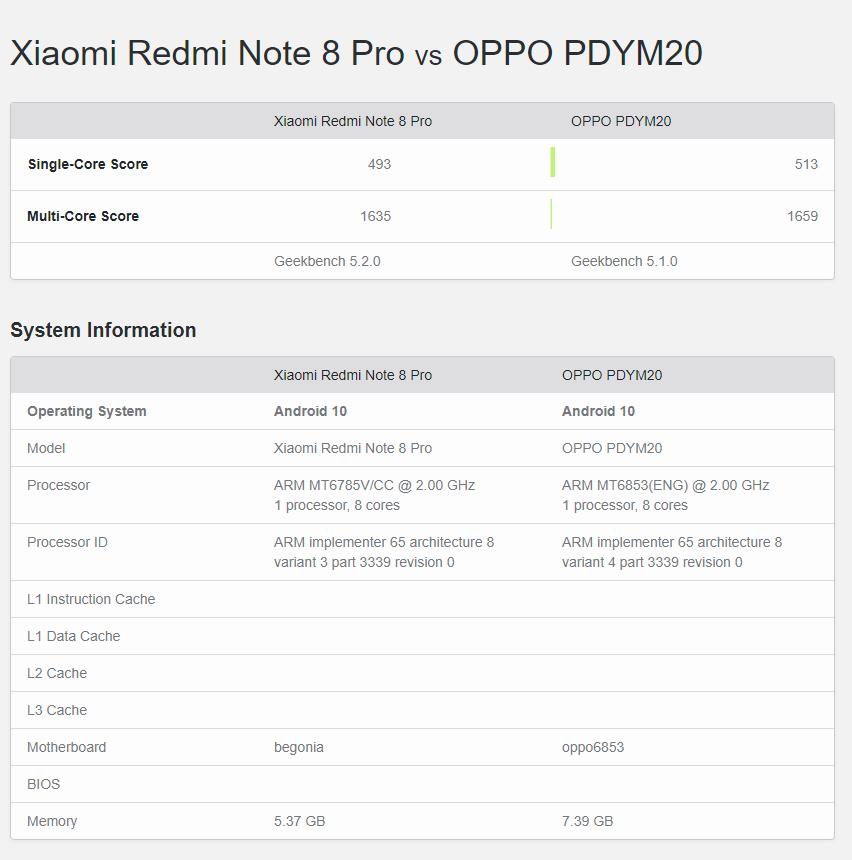 Specification Comparison Table
Mediatek Dimensity
720
Qualcomm Snapdragon 690
Mediatek Dimensity 800
Kirin 820 5G

Exynos 880

Manufacturing Process
7nm
8nm LPP

7nm
TSMC 7nm
8nm LPP

CPU
2x Cortex-A76 @ 2.0GHz
6x Cortex-A55 @ 2.0GHz

2x Cortex-A77 @ 2.0GHz
6x Cortex-A55 @ 1.7GHz
(Kryo 560)
4x Cortex A76 @ 2.6GHz
4x Cortex A55 @ 2.0GHz
1x Cortex-A76 @ 2.36GHz
1x Cortex-A76 @ 2.22GHz
6x Cortex-A55 @ 1.85GHz

2x Cortex-A77 @ 2.2GHz
6x Cortex-A55 @ 1.8GHz

GPU
Arm Mali-G57 MC3
Adreno 619L
Arm Mali-G57 MC4
Arm Mali G-57 MP6
Mali G76 MP5

RAM
LPDDR4x 2133MHz
LPDDR4X 1866MHz
LPDDR4x 2133MHz
LPDDR4x 2133MHz
LPDDR4x 2133MHz
Modem
Mediatek M70
Snapdragon X51 5G NR Sub-6 (no mmWave)
LTE
DL = 1200 Mbps
UL = 210 Mbps
5G
DL = 2500 Mbps
UL = 1200 Mbps
Mediatek M70

Balong 5000 5G
dual-mode SA/NSA 5G
Shannon Integrated 5G
(LTE Category 16/18)
DL = 1000 Mbps
5x20MHz CA, 256-QAM
UL = 200 Mbps
2x20MHz CA, 256-QAM

(5G NR Sub-6)
DL = 2550 Mbps
UL = 1280 Mbps


AI
Integrated
Hexagon
692
HVX + Tensor
NPU 1 big core
Integrated
Integrated
Phones with Mediatek Dimensity 720
At the moment we don't know of any phones that will launch with the new chipset. Xiaomi has been reported as working with Mediatek directly to develop a chipset, and in recent months they have been one of the early adopters of new Mediatek chipset.
Overall
Nearly all of the above is pure speculation apart from that the Mediatek Dimensity 720 exists, and even that may not be 100%, the Dimensity 600 maybe the chipset that launches after all. As soon as I know more information, I will update the content with accurate information