This past week Kayak was kind enough to invite me to attend Tech Open Air in Berlin, where they were one of the main sponsors and showing off some of the new technology they have been working on in recent months.
As part of the event, I got a tour of their fabulous industrial style offices and attended a Pitch event for startups held at the Kayak offices. But the main reason to be there was to see how Kayak are evolving as a company and moving with the times from being just a travel search based website to a cross-platform search engine focussing on natural human language searches rather than being reliant on just their website.
The new features that Kayak were keen to show off to me were:
Amazon Alexa Integration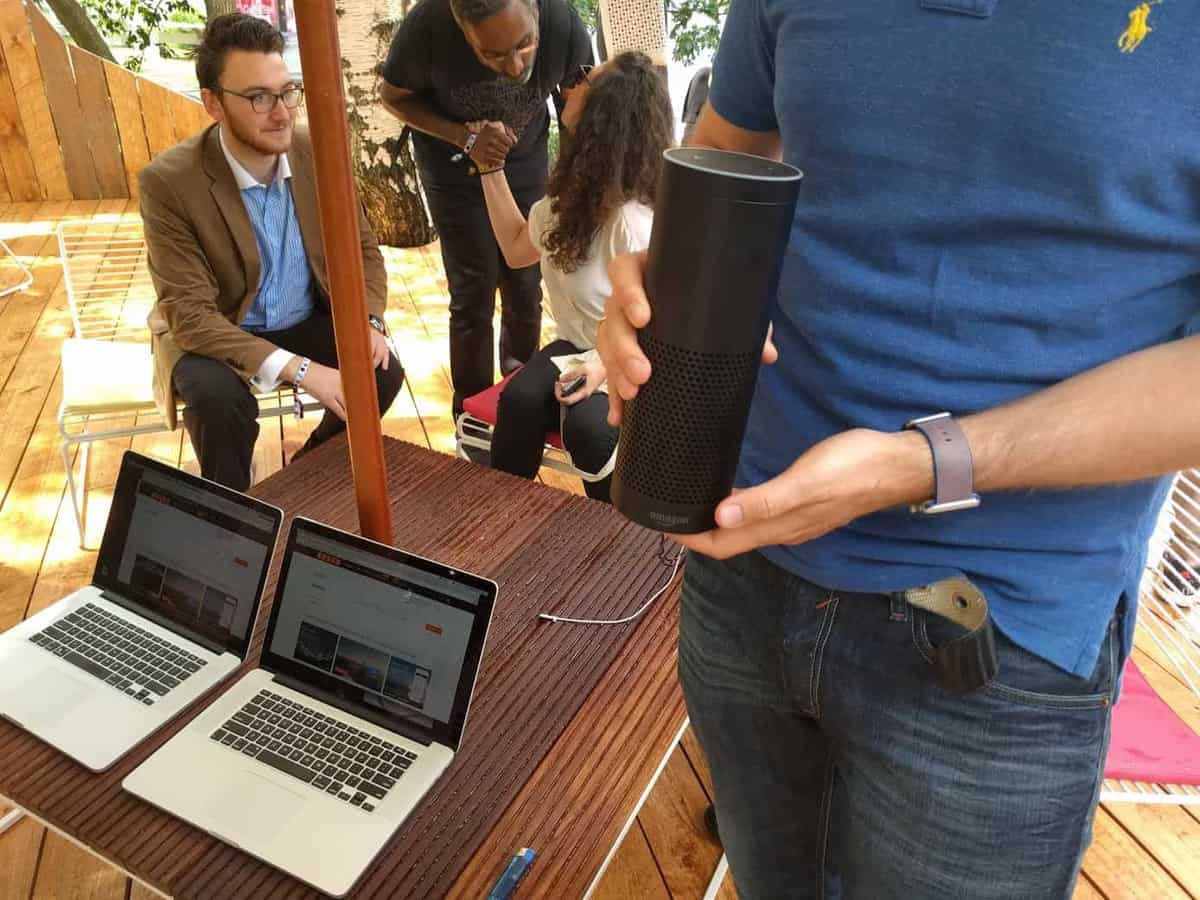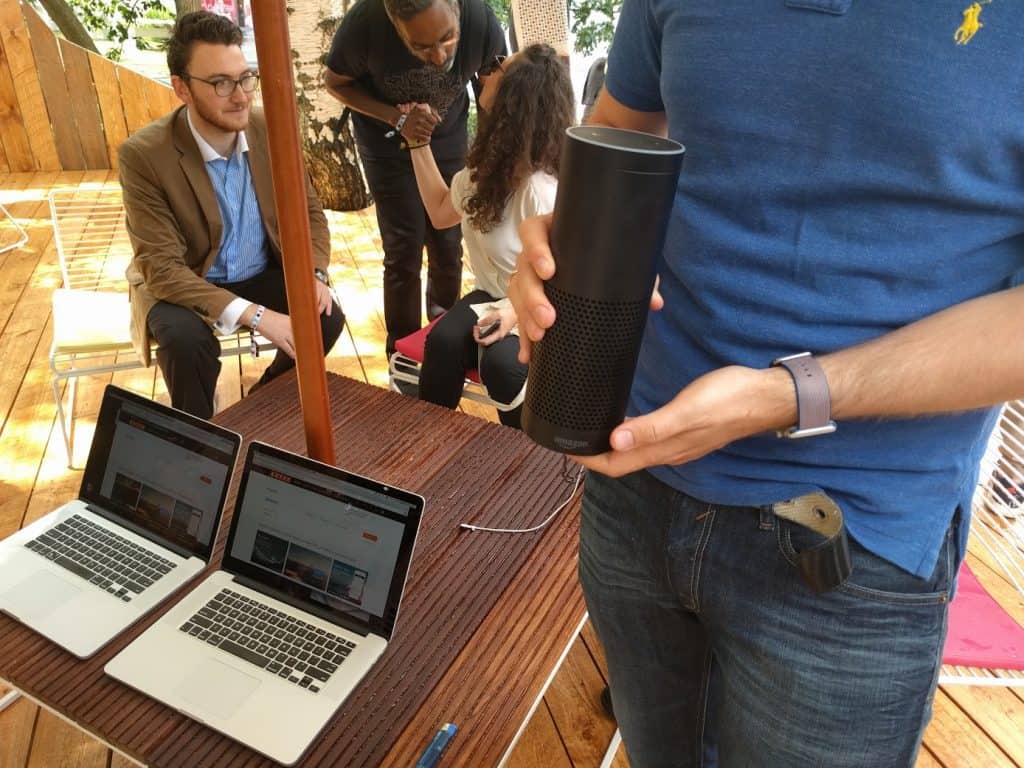 Amazon Alexa has been a big hit in the US, with a lot of companies releasing Apps for it.Kayak has been keen to get on board with this and their App seems to work really well. Using Alexa, you can carry out a multitude of searches using natural language. For example, you can track your flight or when the next flight from New York arrives at your (pre-defined) airport.
You can also use Kayak's explore function to carry out more fun searches. So you could say "Alexa, ask Kayak where I can go for £1,000.", and Alexa will provide you with a list of popular destinations that fit your price. You can do generic broad searches and Alexa will provide you approximate prices, you can then whittle down this to a more accurate price providing Alexa with more specific data and time requirements.
The implementation of this worked really well during my testing, and this was outside in a busy environment. Inside you home Alexa should have no issues picking up your commands at all.
At the moment the searches you make are not synced over directly to your Kayak account, which is the main drawback at the moment. You can pick up the data from the Alexa app, but having to copy and paste data from one app to the other seems a bit convoluted. It is also not possible to do booking directly for the time being, so it does feel like a bit of a party trick at the moment. I was informed that some of the issues they have faced are due to the Alexa API itself, for example, you need to manually set your location, Alexa cannot provide your location data to the Kayak App.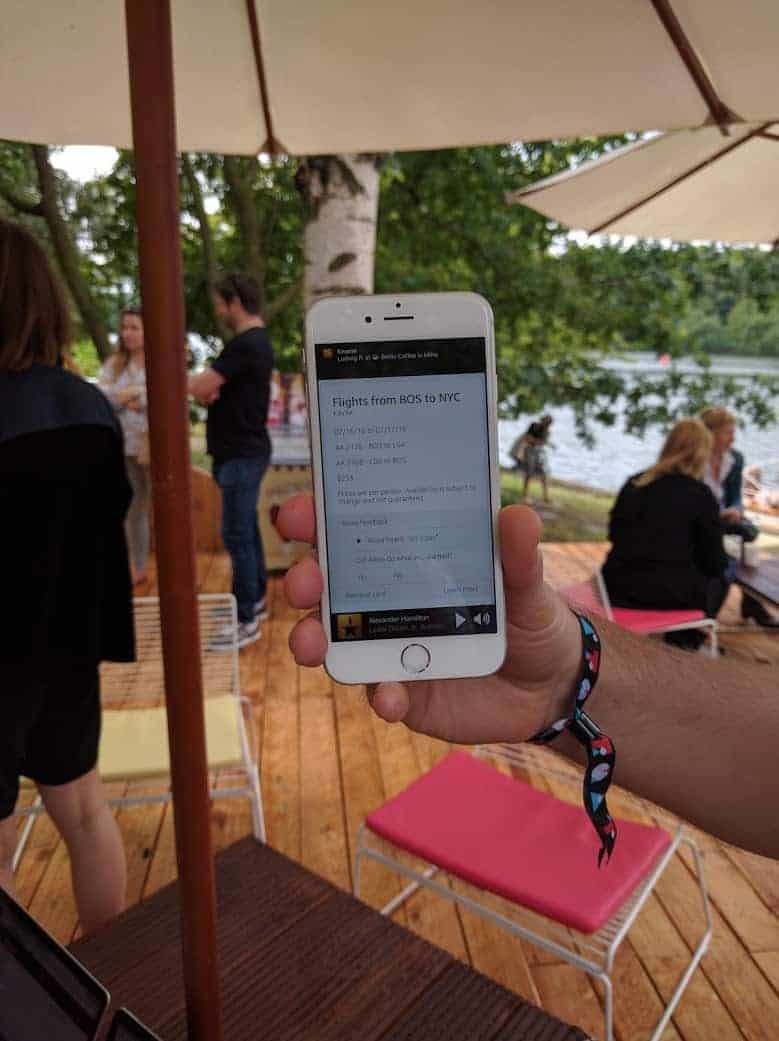 Giorgos Zacharia, the CTO of Kayak, says a lot of the features you would expect, such as data synchronisation, should be available in the near future.
It is also worth noting that Amazon Alexa devices aren't even available to buy in the UK yet, so hopefully, when they are, the Kayak App will be even more functional.
Facebook Chat Bot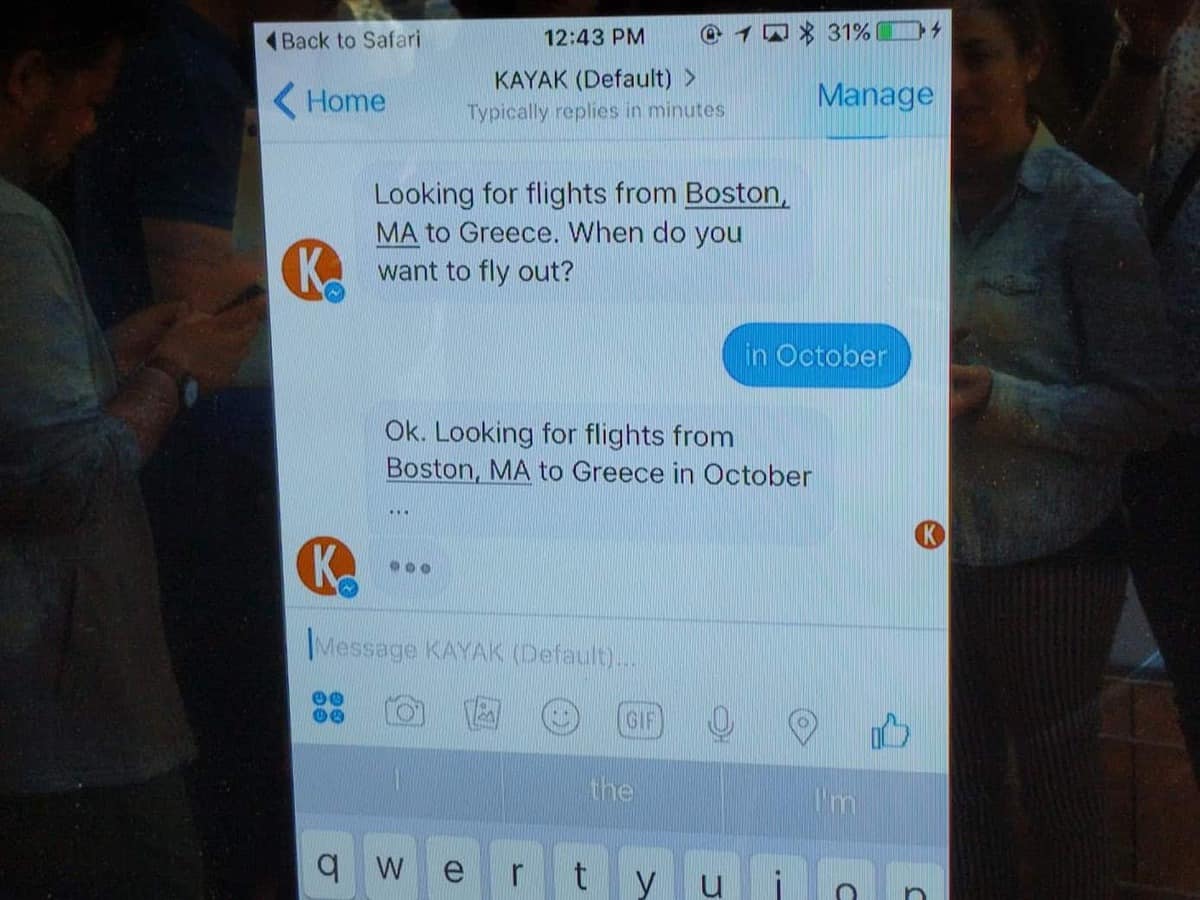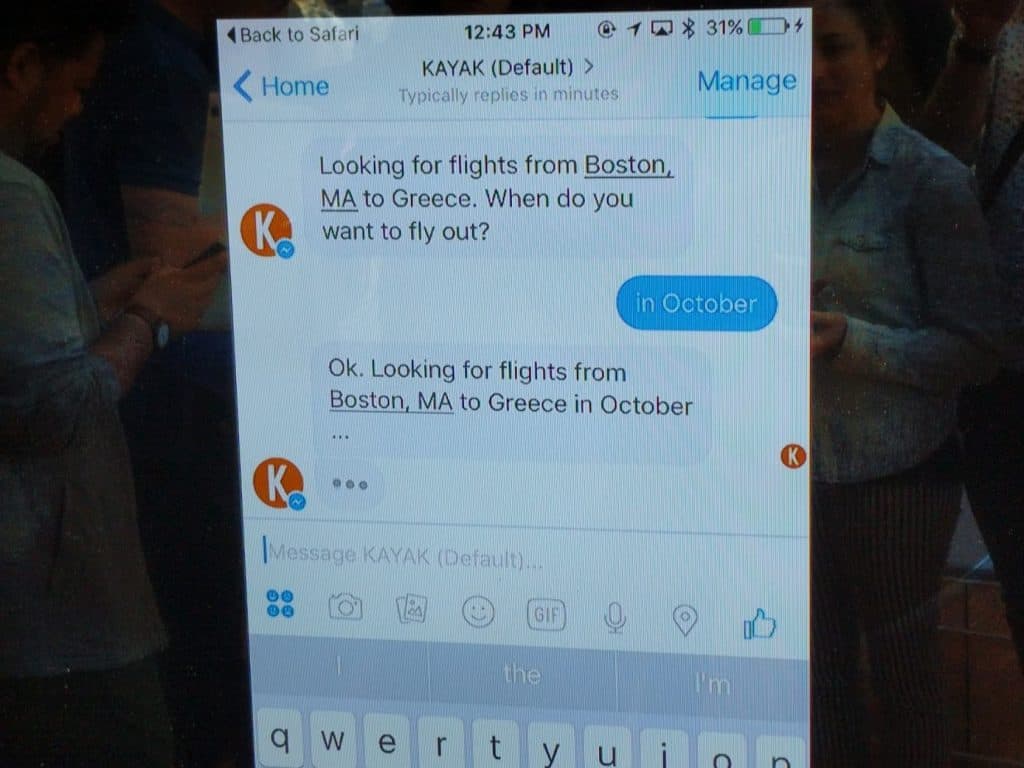 A similar, but more complete implementation is the Facebook Chat Bot, that allows you to use natural language to carry out travel related searches. So, just like the Alexa APP, you can ask how much will a flight from Manchester to New York be, then whittle down the prices based on the date etc.
However, with this, once you are happy with your search you can then go on to book through Kayak directly. The implementation of this appeared flawless during my brief time with it, the bot understood all sorts of language quirks, and you can even search using emojis.
Kayak + Slack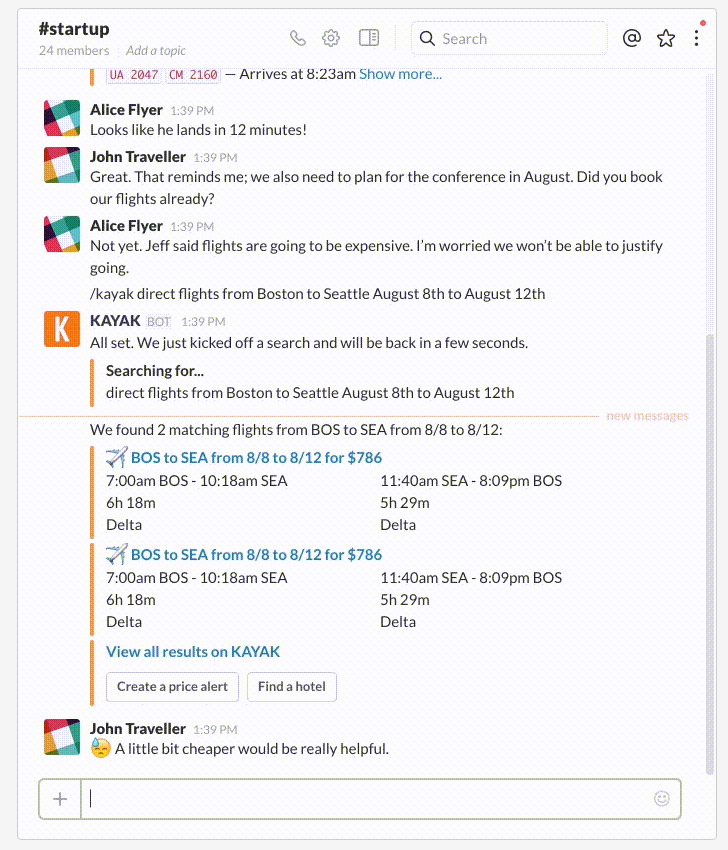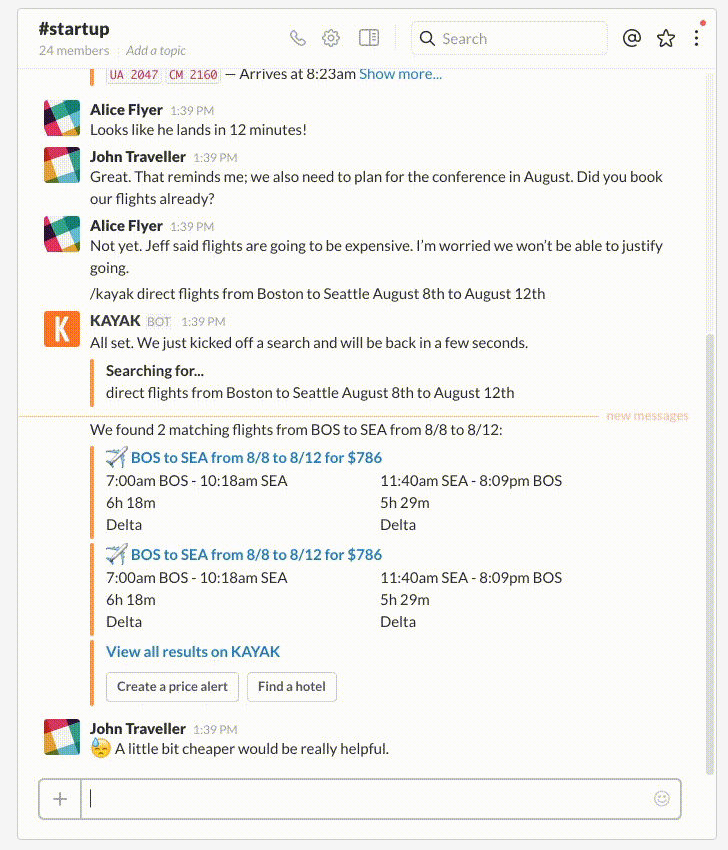 Almost exactly the same integration as Facebook Bot. Kayak have added a chat bot into the cloud-based team collaboration tool Slack. The Slack page on Kayak has video demoing its potential use within a working environment, and as you can see it has lots of potential for use during these collaborative chats.
Kayak Trips
Kayak Trips is probably the least exciting but the most useful product of the three that I saw. It is basically a travel assistant that keeps all your itinerary in one location. You are not restricted to using Kayak either. If you were to book a flight via another search provider you can forward the details via email to Kayak and it will add it to your itinerary.
Within the app, you can get real-time alerts for check-ins, gate information, flight delays and more.
You can there share your trips and have other users collaborate with them. Perfect for couples planning a trip away.
Overall, it is great to see how a tech company such as Kayak is constantly innovating, they seem to have a great working environment that really harbours creativity, and everyone seems to love working there. The products they are developing show a clear shift from being website based to more chat orientated, and it will be interesting to see if these trends go mainstream over the next few years.