Inventor Magic 12000BTU Portable Air Conditioner Review Rating
Summary
The Inventor Magic 12000BTU portable air conditioner works as advertised, it was capable of cooling my moderately large 40m3 office. The cool air it blows out provides a pleasant cooling sensation immediately, so it works particularly well in my office. Like all air cons, it is very loud and was impossible for me to sleep with it on (very light sleeper). 
The main problems this suffers from apply to all portable air conditioning units, they are big, loud, relatively expensive to run, not very efficient and awkward to fit the exhaust for many windows. 
Pros
Works as advertised, with portable air cons being the only practical air con solution for many homes
Rollers allow you to easily move it around the same floor
Reasonably priced vs big brand names
Not as expensive to run as people might make out
Cons
Awkward and messy looking exhaust pipe installation through many types of windows (sash should be easy)
Loud
Heavy & large
Expensive to run
Bedroom Performance
My bedroom is smaller than my office, so cooling is a little easier. The issue is that I am a terrible sleeper, and the air con is far too loud for me to ever sleep with it on.
My plan is/was to cool the room down and switch it off when I go to sleep. Switching it on a couple of hours before bedtime, my bedroom was gloriously cool when I got in bed. I left it on while I read, with the air con providing a pleasantly cool breeze rather than my fan blowing hot air at me.
I switched my light off when the temperature was 20-degrees, and when I woke three hours later, it had increased back up to 25-degrees. At this point, I resorted back to my fan.
According to my Minut, it took around 2 hours for the temperature to go from 20-degrees to 24-degrees. So the room warmed up faster than I had hoped, but the important thing is that it remained cool enough for me to fall asleep in the first place.
Noise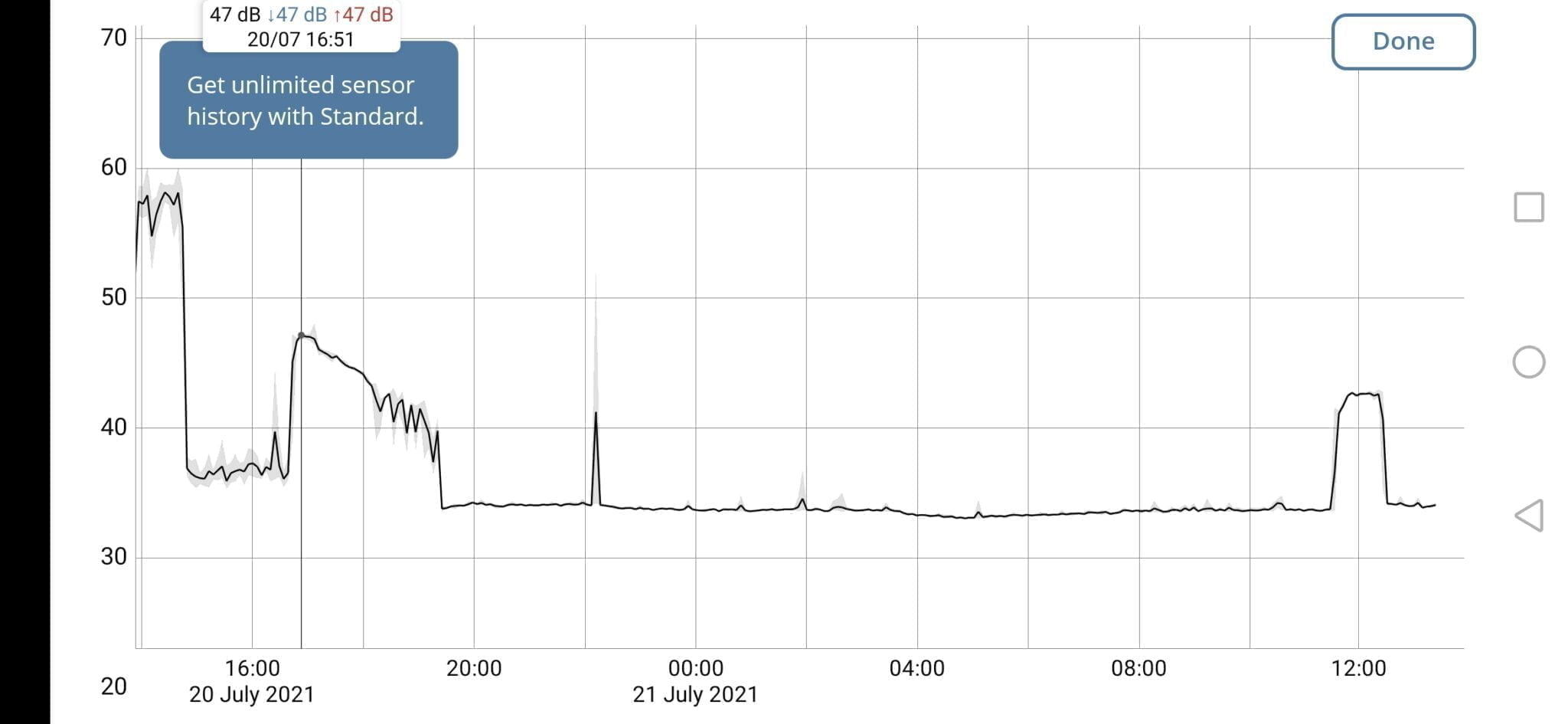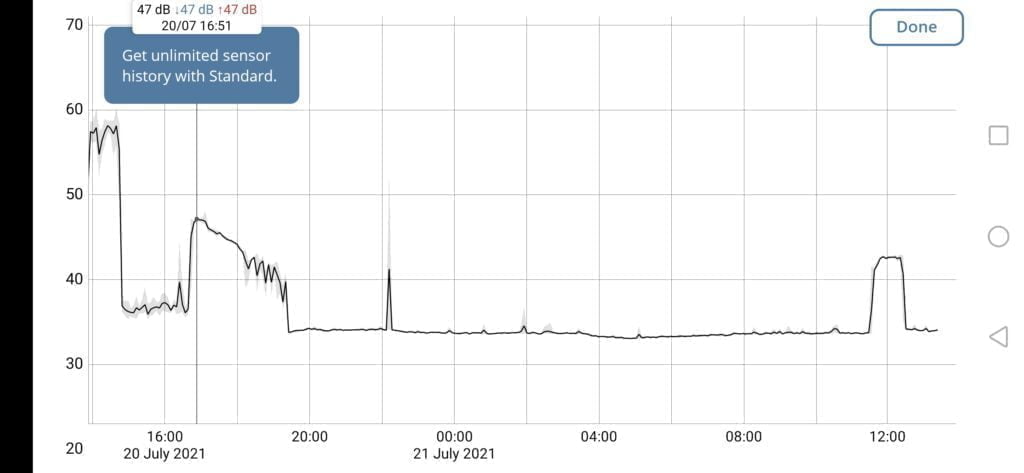 It is really loud, like all portable air conditioners. My phone recorded around 50dB when in use in the office. When I left it on in the bedroom, my Minut Smart Home Alarm/Sensor recorded 47dB, which dropped down to 33dB when I went to sleep.
Neither of those readings will be accurate, but it gives you a rough idea in terms of dB. In terms of perceived noise, it is loud enough that I need to turn the TV/music up in my office. Not as loud as a vacuum cleaner but probably louder than most fans at full speed. The sound profile is OK with a general low to mid-end whooshing sound, so if you don't mind noise, it may not be too bad.
Switching the unit to manual with the fan setting as low made hardly any perceived difference.
Running Costs
My Inventor Magic is rated at 1350W per hour for cooling. Actual usage appears to vary between 1100W and 1300W, and this seems to average out at 1200W while it is running full blast.
Depending on how you use an air-con, this can be less expensive than expected, or it will make a significant difference to your electricity bill
I am currently with SO Energy which has a unit rate of 13.6476p/kWh (I chose them because of the cheap electricity due to me running a lot of computers). You can sign up for SO Energy here.
This then works out at 16.38p per hour to run, which seems quite cheap, really.
I used 6kW when I used it for a few hours in the office then a couple of hours in the bedroom, which works out as 82p. So, in the grand scheme of things, this seems insignificant, especially if it means I can work longer and sleep better on very hot days. I wouldn't recommend running it all the time, though.
Price and Alternative Options
I paid £439 for the Inventor Magic 12000BTU, but it has jumped up to £469 and is now out of stock.
Prices have increased or stock run out for many sites during the current heatwave. Alternative options include:
Jack Stonehouse Conditioning Unit Portable Air Conditioner for £349 –  This has the same cooling rating, but doesn't do heating.
Air Conditioning Centre 12000 BTU KYR-35GW/X1C for £459.99 – I am fairly confident that this is the identical hardware just rebranded,
Electriq 12000 BTU Portable Air Conditioner for £499 – same cooling capacity, lacks heating but weighs a bit less
The De'Longhi Pinguino PACEX100 Silent is worth mentioning, it costs much more at £730 and has a lower cooling capacity of 10,000 BTU, but it's A++ energy rating means it only drawers 700W of power, about half what the Inventor does. It should also run quieter, with a reported 49-53dB(A), though that's still loud.
For smaller rated units, there is the Inventor Chilly which is well reviewed on Amazon. Currently out of stock but ranges between £310 and £360
Overall
While I don't have a huge amount of hands-on experience with air conditioners, the Inventor Magic performs well, as in, it does the job I expected it to without apparent problems.
The 12000BTU rating should be enough to accommodate most rooms in a home, and the closed-loop refrigerant means there should be no maintenance.
I paid £439 for the unit, which is attractively priced compared to competing brands, but this has now gone up to £469.99, which is still reasonable, especially when you compare it to big brand names.
The main issues I have with this are fundamental problems with portable air conditioning units, which I discussed at the start of this review.
Last update on 2021-09-19 / Affiliate links / Images from Amazon Product Advertising API