Inventor Magic 12000BTU Portable Air Conditioner Review Rating
Summary
The Inventor Magic 12000BTU portable air conditioner works as advertised, it was capable of cooling my moderately large 40m3 office. The cool air it blows out provides a pleasant cooling sensation immediately, so it works particularly well in my office. Like all air cons, it is very loud and was impossible for me to sleep with it on (very light sleeper). 
The main problems this suffers from apply to all portable air conditioning units, they are big, loud, relatively expensive to run, not very efficient and awkward to fit the exhaust for many windows. 
Pros
Works as advertised, with portable air cons being the only practical air con solution for many homes
Rollers allow you to easily move it around the same floor
Reasonably priced vs big brand names
Not as expensive to run as people might make out
Cons
Awkward and messy looking exhaust pipe installation through many types of windows (sash should be easy)
Loud
Heavy & large
Expensive to run
This year I finally caved and bought a portable air conditioner. Ideally, I'd like a multi-split air conditioner, but that requires someone it install it, and ideally when I finally get my loft converted.
For many people, a portable air con is the only realistic solution for proper air conditioning.
Inventor may not be the biggest name in the business, but they are not some random Chinese brand. They are a Greek company that specialises in air-con and refrigeration, and they have been around for 50 years. They are also very well-reviewed on Amazon.
Inventor have two models on Amazon and they are two of the highest rated air con units on the site. This model with 12000BTU cooling, plus heating, or the Inventor Chilly 9000BTU air con which just does cooling.
Page 2 has bedroom performance, noise, running costs and price comparisons with alternative units
Specification
Inventor Magic
M2GHP290-12
Cooling Capacity (Btu/h)
12,000
Cooling Capacity (kWatt)
3.52
Heating Capacity (Btu/h)
10,000
Heating Capacity (kWatt)
2.93
Energy Class (Cooling/Heating)
A/A+
EER
2.6
COP
2.8
Voltage / Frequency / Phase (V/Hz/Ph)
220-240/50/1
Curent Input (A)
Cooling
5.9
Curent Input (A)
Heating
5.0
Power Input (W)
Cooling
1,350
Power Input (W)
Heating
1,045
Air Flow Volume (High/Medium/Low) (m3/h)
420/370/355
Dehumidifying Volume (L/h)
3.25
Noise Level (Low/Medium/High) (dB(A))
54/54.3/54.5
Sound Power Level (dB(A))
64
Compressor Type
ROTARY
Dimensions WxHxD (mm)
467x397x765
Net Weight (Kg)
34.4
Refrigerant /Mass (Kg)
R290/0.23
Are portable air Conditioners good? What are the downsides?
Portable air conditioning units are a sub-optimal solution for home cooling. This is true for every model on the market, so I feel it is important to highlight early in the review rather than make it seem like I am criticising the Inventor Magic specifically. Each year I think about buying one, then read many comments saying they are not worth the money. You will have to factor in the various issues these face vs either being hot or having multi-split air con fitted.
All portable air conditioners are:
Quite an expensive investment if you only use them a few days per year
Expensive to run when you do use them
Very loud – Any light sleeper will NOT be able to sleep through the noise
Physically large and heavy making them difficult to store when not in use
The single house design blows out warm air exhaust air causing negative air pressure, drawing back in warm air from windows/doors etc
Most UK homes with uPVC windows will need to use an awkward to fit window seal is both ugly and can be difficult to fit depending on your window. They are also not exactly airtight, so the overall performance will be reduced vs venting through a dedicated hole.
A long list of caveats would normally be enough to put me off a product, but as I sit here at 7 am in the morning, my office is already 27-degrees and going to sleep when the temperature is 25+degrees in the bedroom is torturous. Unless I fork out for the installation of a split air conditioning unit, this is the best solution you can have for cooling a room.
Installation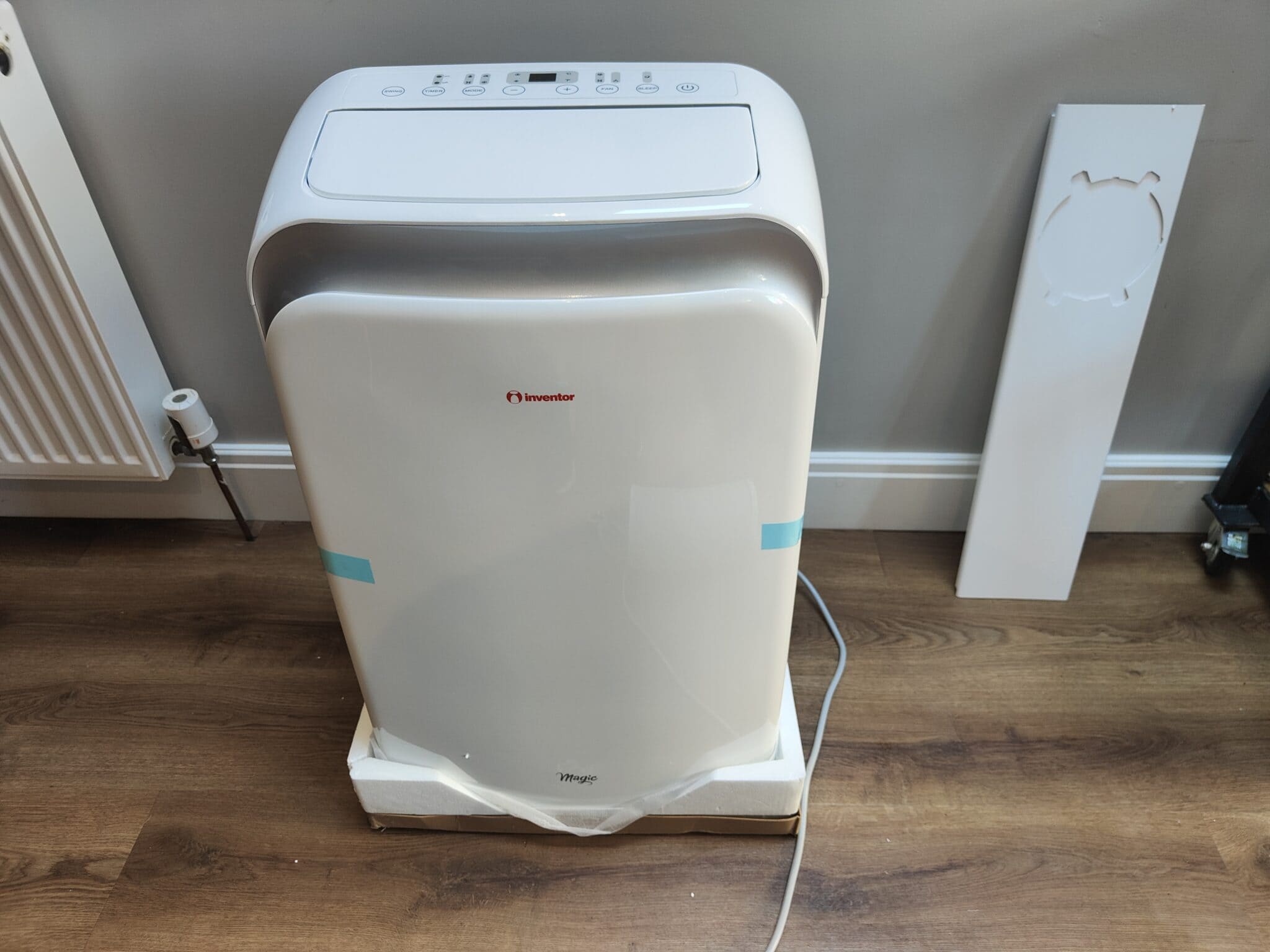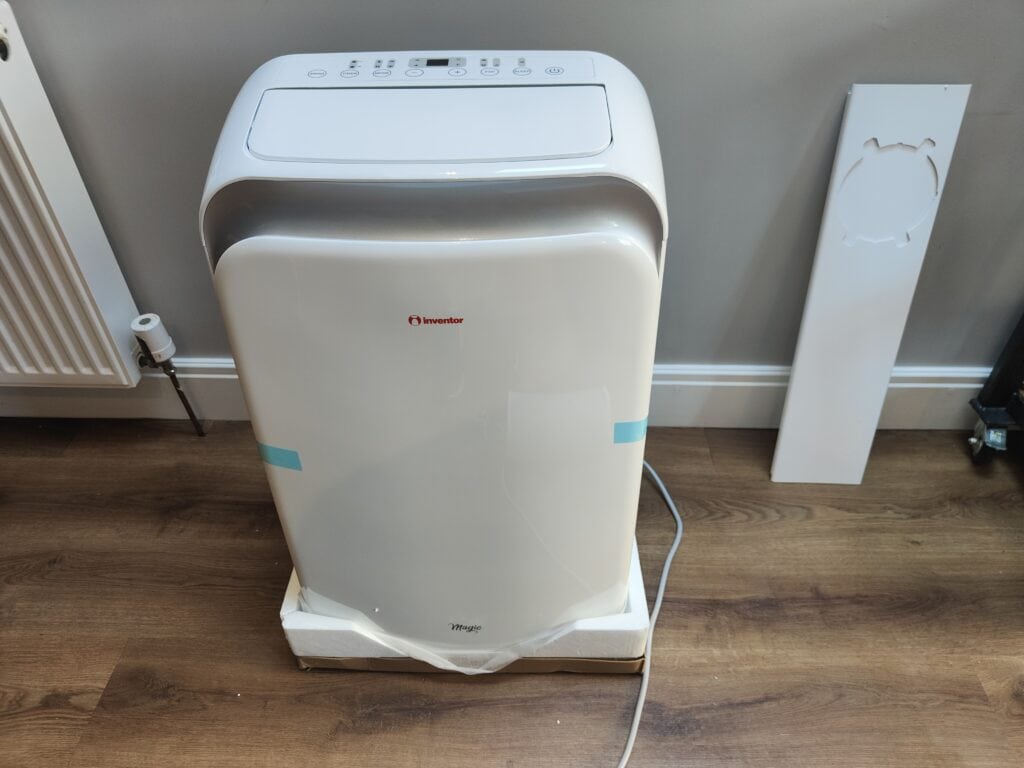 This weighs 35kg, so you will want to factor that in when you get your delivery. I carried it upstairs myself, but I wouldn't recommend it for most people.
The unit comes with an exhaust pipe plus a window conversion kit. However, the window kit is for sliding sash windows which most UK buyers in moderately priced homes do not have.
The exhaust pip comes with various fittings but, if like me, you only need the part that attaches it to the air con. You will then need to buy a window seal kit, or DIY yourself some sort of window seal.
Being an expert DIYer, in my office, I ran the exhaust pipe through the small upper window of my office (sitting the air con on a table) and used bin bags duck taped around it to seal it all off.
When I moved it to the bedroom, I used a window seal kit, but it was crap, so I ended up using more duck tape to fix it all down. It was a bit of a disaster, and it is probably the biggest reason NOT to buy a portable air con.
Office Performance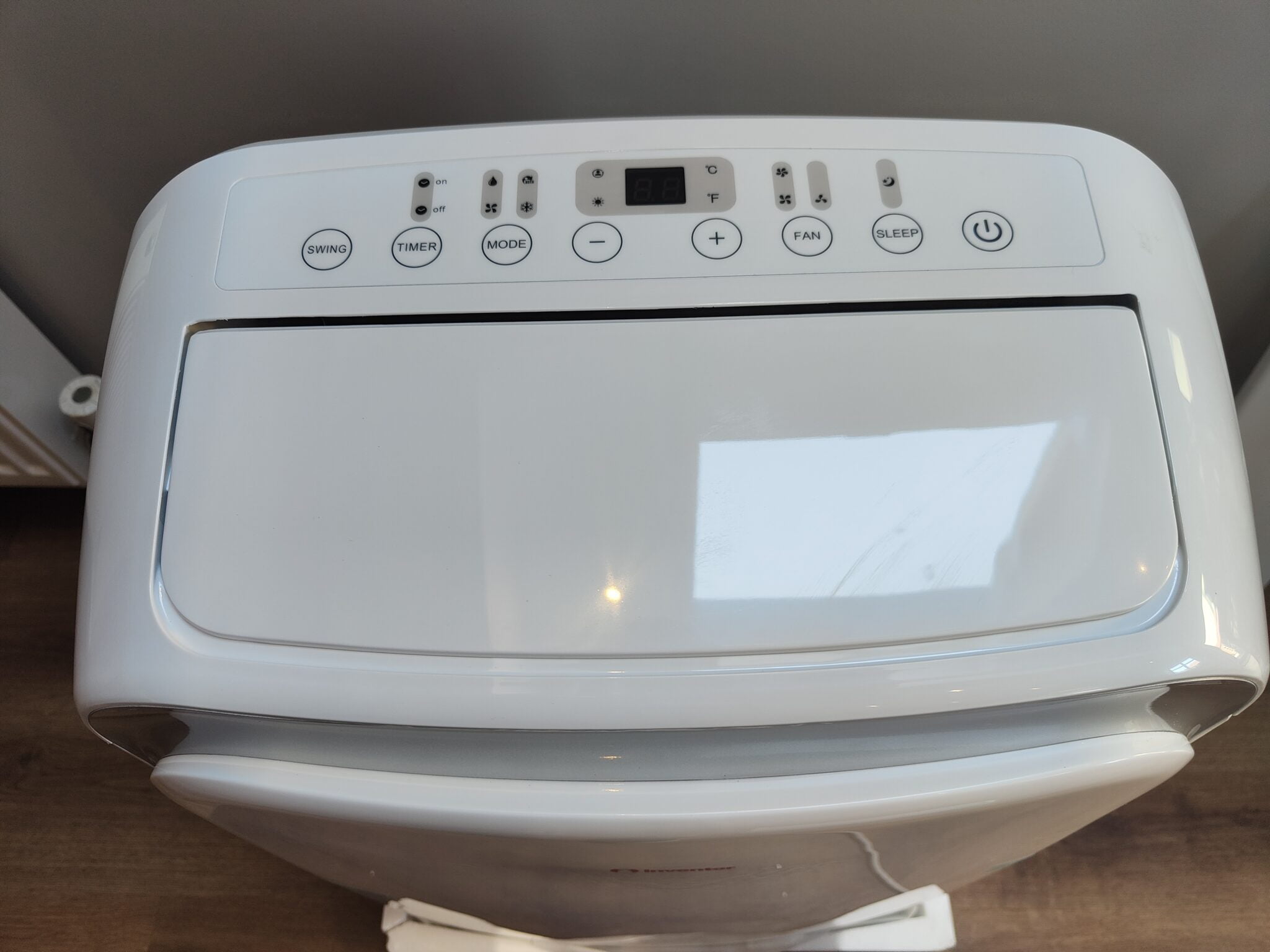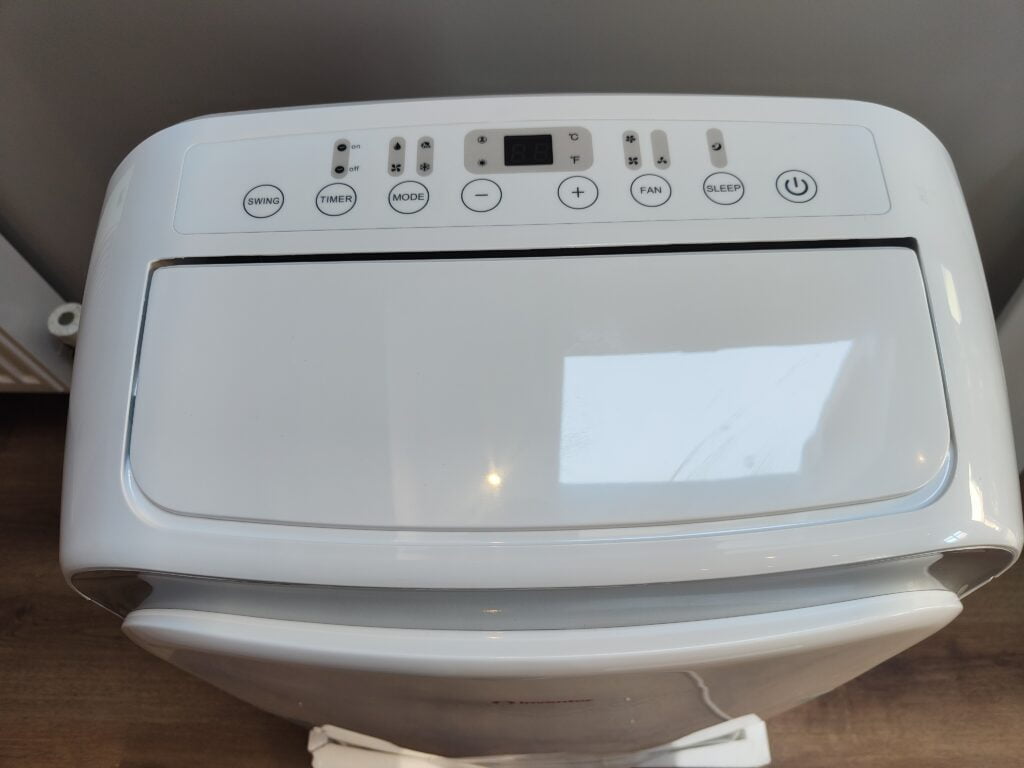 Performance was surprisingly good. There seems to be two aspects to it, the overall temperature of the room and the perceived temperature.
The air con blows out cold air, so while the overall room may not be that cold, you immediately feel the cooling effect. Unlike a fan that just blows warm air at you.
This worked quite well in my office because I didn't mind too much working with the air con on, so it made the room bearable to work in quite quickly.
The room then obviously cools down in general too. My office is 4.5m x 3.5m and is 2.5m high, so just shy of 40m3. Online calculators suggest around 8000BTU, so I should have gone for a smaller unit, really.
In a little over two hours, the air-con cooled my room down from 27-degrees to 21-degrees and used 2.5kW of electricity.