In a few days, Huawei will announce the new HiSilicon Kirin 990 chipset which will power all the flagship phones from Huawei and Honor for the next year.
This will then be followed by the Huawei Mate 30 Series, which will this year, launch in Munich on the 19th of September, a little earlier than last years schedule.
The Mate series always represents one of the best phones of the year, with its brand new chipset it always feels more like a phone launching in the year ahead, rather than something comparable to the current year's phones. With that in mind, this is the phone that will set the benchmark for all phones coming in 2020.
Sadly, at the moment, Huawei's woes continue thanks to President Trump and his childish tantrums. At the moment, we are not sure how the Mate 30 will launch, it has been revealed that it can't be launched with any Google services, this includes the Play Store, Maps and more.
How this plays out remains to be seen, Huawei has been quiet on the subject and it could be that they get a last-minute reprise and Google magically appears on the day. If not there appears to be several scenarios including:
It doesn't get launched in the EU until the issue is resolved – launching in China only.
It launches with all Google apps stripped out of it

So some form of AOSP, the may or may not mean that the Huawei overlay has to be removed.

HarmonyOS is launched
Out of those options, I am inclined to think the EU launch will be delayed, which would be a huge blow for Huawei, but probably better than launching a phone without Google.
It is all a bit depressing really, whatever you may think of Huawei, I don't think there is any denying that they have been at the front of hardware development for the past few years, pushing other brands to better themselves. In particular, camera and battery performance seem to have increased exponentially in recent years in the industry, and I think Huawei is the driving force behind this.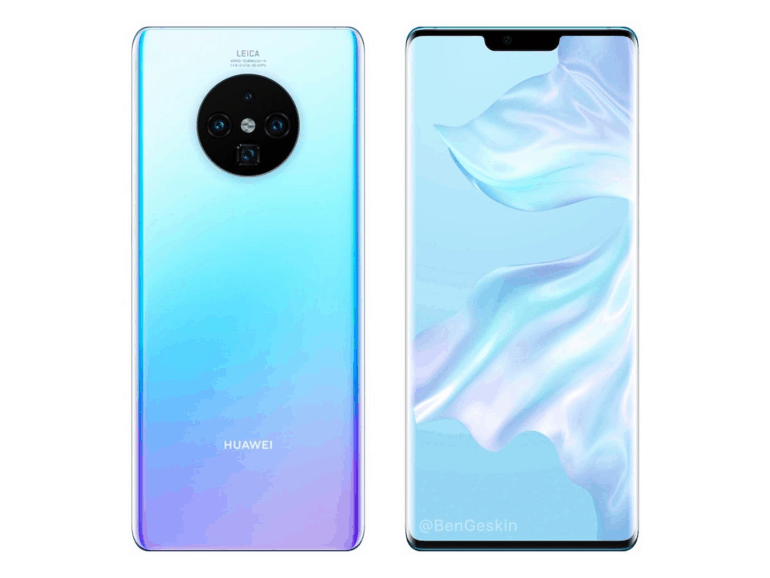 The device itself looks set to continue the spectacular hardware improvements from Huawei. Not only do we get a new chipset but it is believed that the phone will feature two large sensor 40MP lenses plus another two lenses, a new waterfall-style display and a wireless charging that goes up to 25W.
The phone will definitely have at least a 5G variant, but we will have to wait and see if the Kirin 990 has a 5G modem built-in by default.
Interestingly, it looks like Huawei are ignoring the trend of no notches for this model, it, in fact, could have the largest notch of the year integrating an IR sensor for 3D face unlock. It is expected that the phone will adopt a 90Hz refresh rate screen similar to that found on the OnePlus 7 Pro.