FS S3150-8T2FP 8-Port Gigabit POE Fanless Switch Review Rating
Summary
The FS S3150-8T2FP POE switch is generally good, offering plenty of management features, a fanless design and a decent 130W POE budget. However, VAT & import fees drives the price higher than brands such as Ubiquiti and Zyxel 
Pros
Well featured switch that can compete with big brand names
Fanless POE with 130W budget – ideal for homes and small office
Cons
Priced a little high in the UK
FS, formerly Fiber Store, has quickly grown expanding into producing their own networking hardware including switches, access points and even video conferencing solutions.
The range of switches is particularily impressive with options starting out at £115 for an 8-port POE switch. It is the higher end stuff that is perhaps more noteworthy, the S5860-24XB-U is a 24-port 10GBASE-T POE switch with an additional 4 x 10Gb SFP+ and 4 x 25Gb SFP28 for just £2,551. While my knowledge of enterprise networking gear is limited, I am not aware of any competing product that comes close to that in pricing.
Sadly, I didn't get to review that one, instead, FS sent me the more SOHO friendly S3150-8T2FP which has 8 POE gigabit ethernet ports plus 2 x gigabit SFP. It is a fanless design so this will work well in any home or office environment where you may live/work in the same room as your hardware
Specification & Features
| | |
| --- | --- |
| Specification | S3150-8T2FP |
| Ports | 8x 10/100/1000BASE-T RJ45, 2x 1G SFP |
| Switching Capacity | 20 Gbps |
| Forwarding Rate | 15 Mpps |
| RAM | 128MB |
| Flash Memory | 16MB |
| Max./Min. Latency | 20.02us/18.15us |
| Packet Buffer | 0.5MB |
| Power Supply | 1 Built-in |
| Fan Number | Fanless |
| Rack Space | 1U |
| Dimensions (HxWxD) | 1.77"x11.02"x7.05" (45x280x179mm) |
| Total Number of IPv4 Routes | 128 |
| MAC Address | 8K |
| ARP Table | 384 |
| Input Range | 100-240VAC, 50/60Hz |
| Output Voltage | 48V DC |
| Max. Power Consumption | 150W |
| Power Budget | 130W |
| PoE Standard | IEEE 802.3af/at |
| Operating Temperature | 32°F to 122°F (0ºC to 50ºC) |
| Storage Temperature | -4°F to 158°F (-20ºC to 70ºC) |
| Warranty | 4 Years |
In the Box & Photos
The switch is physically quite large for a fanless 8 port POE switch being bigger than the Zyxel, Enginius and Netgear I have reviewed recently.
The power supply cable is in the rear along with a grounding cable terminal while the ports are on the front. It comes with rack ears so easily mounted.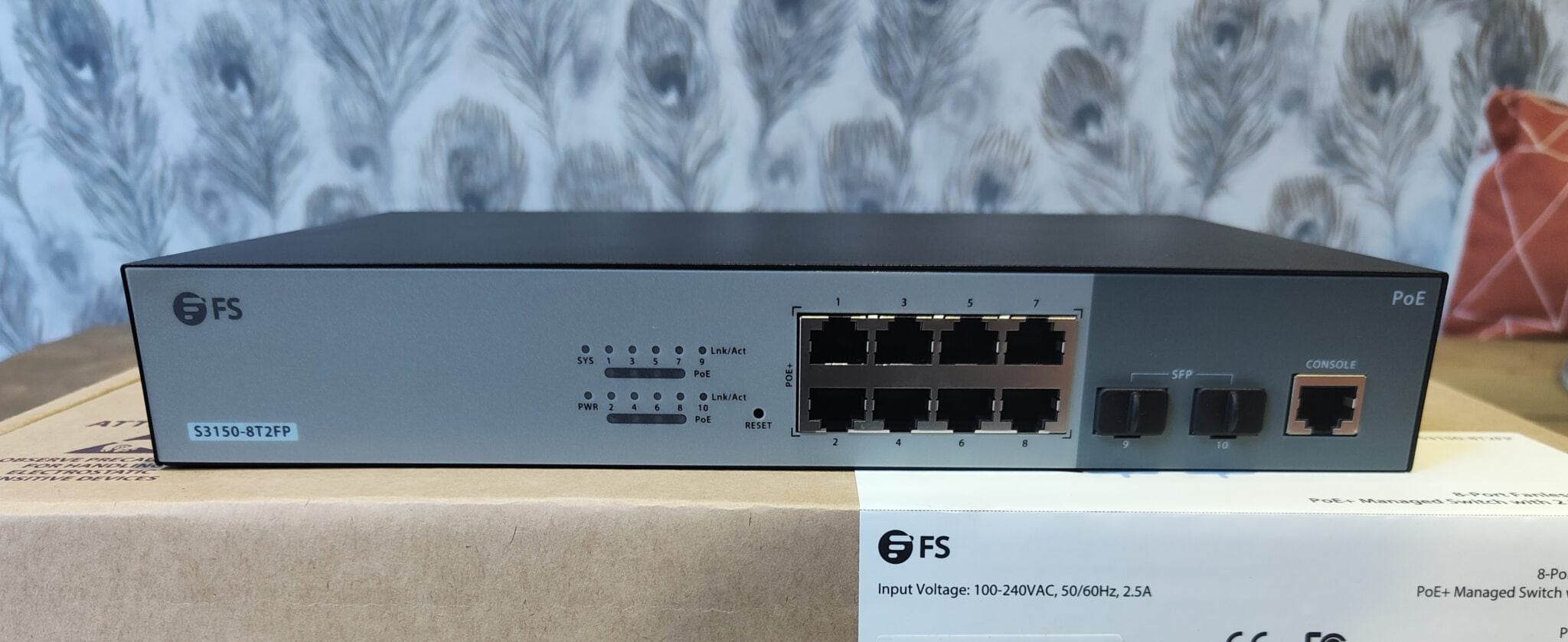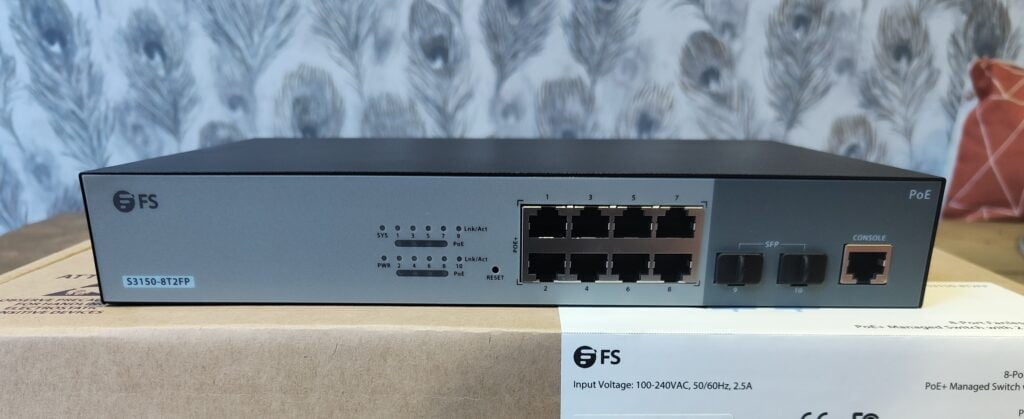 Set Up
It is worth noting that this defaults to 192.168.1.1, so if your router is on that you will have some issues. The default username and password is admin/admin which is not ideal but quite common for locally managed devices.
Most of the switching hardware I have reviewed recently has been for cloud-managed devices. This is a little more old fashioned using a web interface. It is possible to monitor FS switches using Zabbix via SNMP so you can get some sort of unified management system if required.
This switch also comes with SSH/Cli, however, but I managed everything via the browser.
Unlike some big brand name switches, you are free to use any transceiver you like on the SFP ports.
Web Interface & Performance
FS has developed their own switch OS, or at least skinned one. It is easy to navigate and has all the features your want for a smart-managed switch.
In my scenario, which I guess will be similar to many home/SOHO and small business environments, is the ability to set up VLANs allowing me to separate certain parts of the network away from each other.
For me, I only use this for my CCTV, with everything being fed back to a Blue Iris server.
In my SOHO environment, the switch has worked well. I have it powering up an access point plus a couple of IP CCTV cameras then attached to some computers. The POE budget is 130W which is more than enough, the max power consumption of most POE cameras is around 18W and about 20W for a Wi-Fi 6 access point.
I have experienced no problems with throughput or POE connectivity and has been performing well ever since installation.
Price and Alternatives
FS.com lists this switch as £162.00 with shipping from their German warehouse. Shipping is free but you will be on the hook for import fees (assuming you are importing to the UK). I had a couple of items delivered so not sure on the final import feels but VAT would be £32.4 and bring this up to £194.40.
The Zyxel GS1920-8HPV2 cloud managed switch is around £190
The Ubiquiti US-8-150W cloud manage switch is £190
The Ubiquiti ES-8-150W EdgeSwitch is £188
The DrayTek P2100 VigorSwitch managed switch is £157.50
All the above switches offer the same 2 port SFP and a similar if not better POE power. They are all fanless, too.
So, the FS.com switch is reasonably priced but doesn't really undercut some of the big brand names. Obviously, the VAT import charges hike things up quite a bit.
Many of the switches FS.com sell are more geared towards business that would invest in the likes of Cisco, Aruba, HP, etc. So, you will likely find significant cost savings in those comparisons.
I suspect most companies looking for 8 port POE switches are not really bothered about big-name enterprise gear.
Looking at the 24 port 10GbE POE switch from before, the closes competitor I can find is the cloud-managed Meraki MS355-24X2 which is close to £9k.
Overall
The FS S3150-8T2FP is a good switch with nothing significant to complain about. It has performed reliably since I installed it and has worked silently, which includes a lack of electrical noise.
Pricing is good, not great. The various import issues we now face in the UK makes importing products from the EU less appealing than it once was. This is obviously not the fault of FS.com. EU buyers will likely find the pricing a bit more attractive.
Last update on 2022-06-19 / Affiliate links / Images from Amazon Product Advertising API