Update – FlexiSpot will be celebrating FlexiSpot's Day this May 25th. FlexiSpot's Day will be marked with special flash sales Up to 32% OFF Flash Deals from 24th May to 30th May. Get 15% off for other products SITE WIDE. 
Sit-stand desks have been all the rage for a few years now, and I have previously covered some of the tabletop adaptors.
In recent years the range of full-electric sit-stand desks has increased considerably, and prices are surprisingly reasonable.
Flexispot has always been one of the big players in the game, and they recently sent me the Flexispot Electric E5 Standing Desk Frame to try out.
The Flexispot Electric Standing Desk product range is extensive, with options starting out at £219.99 for the E1 model, going up to £399.99 for the E8 and L-Shaped.
With this range of products, you also can optionally buy the desktop or supply your own. So the model I was sent is the E5 with black legs and a mahogany colour desktop which would cost £439.98.
You can buy the Flexispot E5 direct from the manufacturer here.
Building the Desk
I loathe flat-pack furniture, so assembling this was not my favourite. Things went reasonably easy to start off with by I inevitable fitted things the wrong way around.
The instructions were not very clear, and it was not immediately obvious you could extend the width of the base to accommodate the tabletop.
This led to more confusion when fitting the supplied tabletop. It has pre-drilled holes, but they didn't line up at all. When I did work out that you can widen the frame, it still only had holes that aligned with half the holes of the frame. I also mounted the tabletop the wrong way around, realising later than the holes on the lengthways horizontal part of the table we for the controller.
Flexispot has some installation videos, which I didn't notice until after I built the tablet. It will make it much easier if you want one first.
Nothing about building the table is difficult, so once you watch the video, it should be easy.
In Use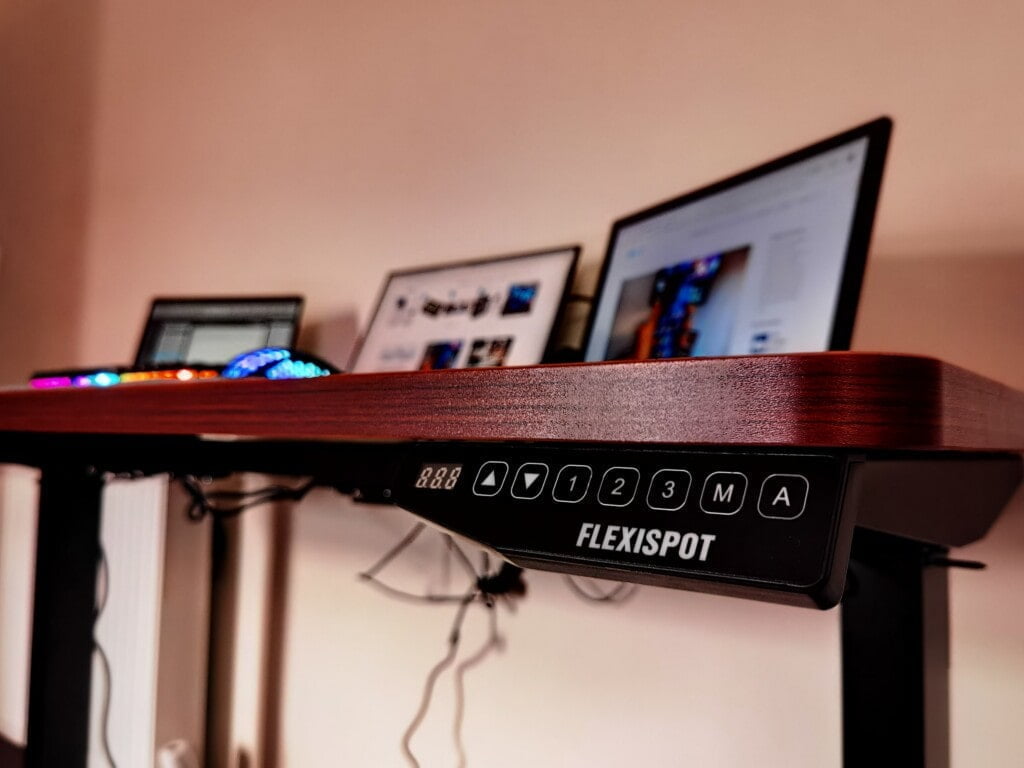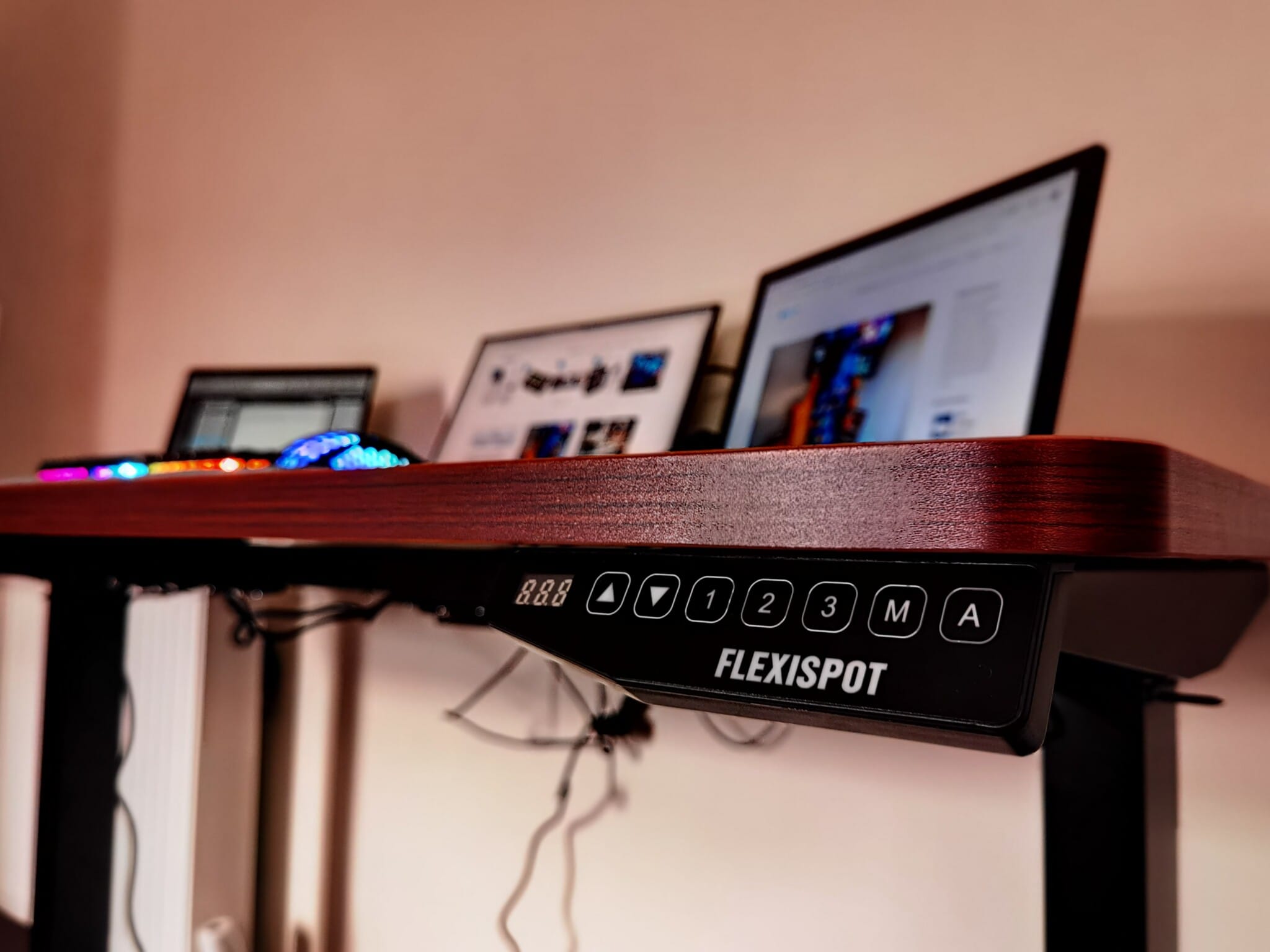 As someone that uses multiple monitors, the older sit-stand desktop converters were never suited to my needs. An electric sit-stand desk is much more capable of my demands.
This can handle up to 125KG, so it should be able to handle almost any multi-monitor set up.
I was very surprised at how high this goes. I am 6'1 / 185cm, and at full height, it would be too high for me to comfortably use a keyboard/mouse on.
You can buy an optional CPU holder, which should help with the cable clutter but the design of this case holder is a little restrictive. It should be OK for traditionally shaped or sized PC cases, but I suspect many of the ones I have reviewed from Thermaltake would no fit so well. The holder also has a 15KG weight limit.
Cable management could be a challenge, though it always is for me. The table has cable management sections, but these are predominantly filled with the controller for the height adjustment. If you are not using a CPU holder, you then have to make sure you everything routed neatly but with enough slack to accommodate the rise of the table. This will obviously be an issue for all tables like this.
Once fully set up, everything works as I hoped. The table is much more stable than I expected. The electric motor provides a smooth motion going up and down. It is not particularily noisy, nor do I care, it is only activated occasionally.
Price and Alternatives
[amazon box="B074V73C62″]
The FlexiSpot E5 is £359.99 for the frame only with a weight capacity of 125KG and adjustable height of 62-125cm with tabletop fitting in a range from 120-200 cm (W), 60- 80cm (D).
FlexiSpot has options going down to £219.99 for the E1, but the height range, support weight and supported desk size are all lower.
Amazon lists several frames which appear to be clones from random brands.
The MAIDeSITe 3-stage frame is the closest I can find, looking like a clone of the FlexiSpot, it works out a bit cheaper with almost identical specs
If you look at more well known brands, such as Vonhous. Their Stand Desk Frame is £250 but can only support 80KG with a height range from 73-123cm
The Fully Jarvis frame will set you back £429, though it does have a slightly higher carry capacity. The none electric crank arm option is £279
Overall
Electric sit-stand frames are, without a doubt the superior solution compared to the older converters. It is far more aesthetic and provides much more space for monitors, phones, etc.
The Flexispot E5 sits close to the top of the range from the Flexispot lineup, it is not cheap, but I certainly wouldn't regard it as expensive. You can easily spend a couple of hundred on a generic static office desk, so I don't feel like all the electronics of this add an unreasonable cost.
For me, the load capacity is important, and at 125KG, this should easily handle anything.
The tabletop works out as £80 and is laminated coated chipboard. If you were to buy the Flexispot Mahogany Wood Table Top 120 x 60 cm from Amazon, it would be £96.53 and weighs 10kg
So you could save some money by getting an alternative product; Ikea tabletops are quite a bit cheaper. Alternatively, there are plenty of solid wood tabletops; these will obviously cost more and weigh more, but they look better and are more durable.