EPOS H3 Hybrid Gaming Headset Review Rating
Pros
Compatible with all consoles and devices
Dual connection feature enabling Bluetooth chat via Discord etc
Cons
Glitchy volume control dial
EPOS has taken the existing, excellent H3 headset and bumped up its connectivity options for their latest H3 Hybrid gaming headset.
Rather than being limited to 3.5mm, the EPOS H3 Hybrid now has USB-C and Bluetooth while retaining the 3.5mm option. This massively expands the convenience and compatibility with devices allowing you to use any console on the market without issue.
EPOS has also introduced a dual connectivity option allowing these to be used in gaming via a wired connection but connect to your phone wirelessly via Bluetooth. This can then be used for in-game chat via third-party apps such as Discord etc.
Specification / Features
Sale
Long Lasting Battery Life with Bluetooth – A single charge provides up to 37 hours of Bluetooth audio and up to 24 hours when playing on a 3.5 mm console cable connection. Dual connectivity (3.5 mm cable and Bluetooth) provides up to 19 hours of play.
Simultaneous Bluetooth Connection for Audio Mixing – When paired with a smartphone via Bluetooth, simultaneous connectivity allows players to chat with friends using their favourite third-party app while gaming on their preferred platform via USB or 3.5 mm cable. Separate intuitive volume control enables players to balance each audio stream.
Convenient Magnetic Detachable Boom Arm – Gamers can easily detach and reattach the microphone with a magnetic connection in the boom arm. When the boom arm is removed, a cover plate protects the connectors and keeps the H3 Hybrid's sleek, seamless look.
Dual Microphones – The H3 Hybrid includes a secondary microphone in the ear cup that allows gamers to pick up calls when wearing the headset on-the-go without the main boom arm microphone attached to the headset.
Multiple Connection Options – The H3 Hybrid allows for multiple connection options with included USB cable for PC, 3.5 mm cables for consoles and Bluetooth for mobile devices
EPOS Gaming Suite – When connected to a PC through USB, players can download the EPOS Gaming Suite to unlock 7.1 surround sound and tailor audio and microphone preferences
Design & Comfort
The overall design and comfort are much the same as the existing H3, but with more buttons, ports and the microphone is detachable.
The microphone pops easily off the headphones allowing these to transition into a more portable headphone, and there is an included plastic cover to fill in the gap it replaces. Similar to the other EPOS headphone, the microphone mutes when it is raised. You also have a secondary mic in the earcup, allowing you to take calls when on the move.
The headphone pads have a cloth/velour surface and plenty of padding, making these comfortable to wear and less clammy than a UPVC surface. The earpads are replaceable, unlike many other brands, so you don't have to worry about them wearing out.
Overall comfort is excellent, there is not too much head pressure exerted from the headband and the earcups cover all of my ear rather than resting on top of them.
Software
The EPOS gaming suite had some issues detecting these at first, I think you need to make sure you are running the latest version. Once they are detected, you have the same features available to you as the other EPOS headphones
This includes the virtual 7.1 surrounds, and EQ and a wide range of mic options helping you get the best performance possible.
Performance
When using the 3.5mm jack, you need to power the headphones up, however via USB they will auto start.
The sound quality is basically the same as the wired H3.
The bass has slight emphasis, mid-range is accurate and high frequencies are lifted, giving a slightly U shaped sound profile. Nothing is overbearing, the bass doesn't drown out the finer details or the mids or highs, which is good for music but beneficial for gaming too, keeping dialogue and ambient noises clear and audible. While the highs have a slight emphasis, there is no harshness or any noticeable issues with sibilance.
There is currently a small glitch with the volume dial, it jumps about 20 when using it with my windows PC and requires about a quarter turn before it does anything. A firmware update is expected that will fix the issue.
Microphone & Bluetooth chat while gaming with a wired connection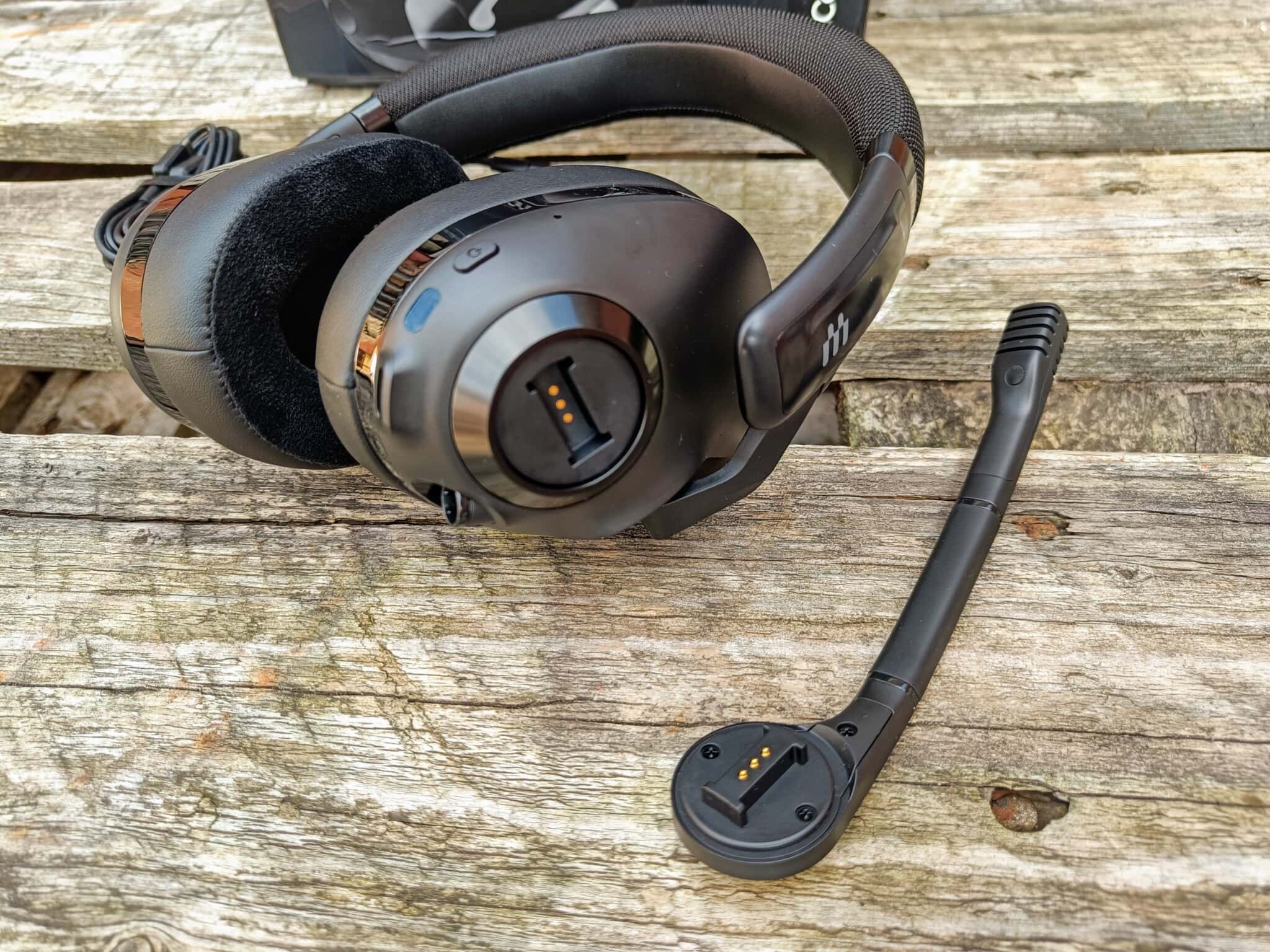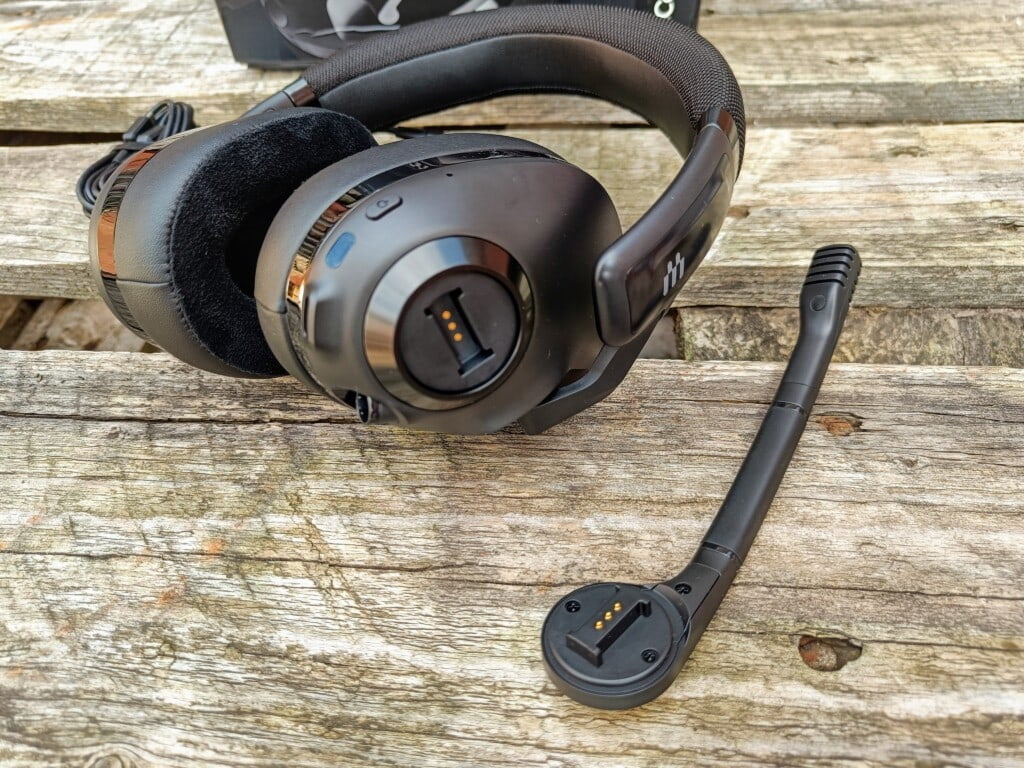 The dual connectivity features work exactly as you would expect. The audio and microphone work simultaneously between connections, so notifications, phone calls and everything will come through as normal while you continue to game. You can then, of course, use this to set up your own ad-hoc in-game chat using apps such as Discord.
The detachable microphone appears to have a different specification than the H3 wired headset. Frequency response has gone from 20–20,000 Hz to 100-7,500 Hz and the sensitivity from -39 dBV / Pa @1kHz to -20 dB FS / Pa @1kHz. I can't say I notice that much difference, but I don't use the microphone that much in the first place.
Price and Alternative Options
The EPOS H3 Hybrid gaming headset is available now at eposaudio.com/gaming and from selected retailers at a suggested retail price of £149.
The standard wired EPOS H3 are currently £89
The SteelSeries Arctis 9 have 2.4Ghz wireless and Bluetooth with dual connection functionality and is priced at £168, available from Amazon. I expect the EPOS H3Pro launching in the near future will offer 2.4GHz & Bluetooth.
EPOS H3 Hybrid vs Creative SXFI AIR Gamer
I have previously reviewed the Creative SXFI AIR Gamer. They have the same sort of connectivity with Bluetooth, 3.5mm and USB. They can also do dual connectivity for Bluetooth GamerChat. They have the added bonus of the SXFI audio processing, and they have microSD. Pricing is similar to, at £125.
I personally prefer the sound quality of the EPOS, and these are what I would buy myself. However, the SXFI features of the Creative offer improved soundstage, and they are probably better for movies.
Overall
The EPOS H3 Hybrid is an excellent headset being much more versatile than the wired H3 model.
There is quite a big price jump from the H3, but I think this is justified. The dual connectivity functionality will be great for gaming where there is no inbuilt chat functionality. You can then use them as general headphones for when you are on the move.
Last update on 2022-06-19 / Affiliate links / Images from Amazon Product Advertising API