Creative Sound Blaster Z SE Review Rating
Summary
The Creative Sound Blaster Z SE is a good soundcard offering improved audio vs on board options and more control over the way your audio sounds with dozens of game specific profile for both output and microphone. 
Pros
Affordable way to upgrade your PC audio
Superior audio control than competing options 
Cons
Not much different from the original Sound Blaster Z
External USB options are more convenient and should offer
The original Creative Sound Blaster Z was launched around 8 years ago, and it is so good that Creative have effectively re-released it with a couple of minor tweaks.
With a launch price of £89.99, is this still a good buy compared to the more popular option of an external DAC?
Sound Card vs External DAC
The last time I bought a soundcard was the Auzen X-Meridian 7.1 back in 2011. Back then, sound cards were an essential purchase for many people, the onboard audio of motherboards was regarded as poor. Then a lot of people also claimed that a soundcard would improve PC performance by offloading the processing to the dedicated chip on the card. PCs are much more powerful now, so it is unlikely to offer any benefit nowadays.
Things have changed a lot in recent years; surround sound PC speakers are less popular, headphones are much more popular, and the quality of audio from motherboards has improved.
Many people have also shifted to USB DACs, they are generally more convenient to use, especially for headphones, then they also move the electronics away from your motherboard, reducing noise.
I have previously reviewed the Sound BlasterX G6, which is a superb external DAC supporting multiple devices. It is an excelelnt gaming focussed DAC; however, it only supports virtual 5.1/7.1 with headphones rather than proper 5.1 surround on speakers. The Sound Blaster X3 would be the closest external DAC that supports surround speakers.
Sound Blaster Z SE vs Sound Blaster Z vs Sound Blaster X3 Specification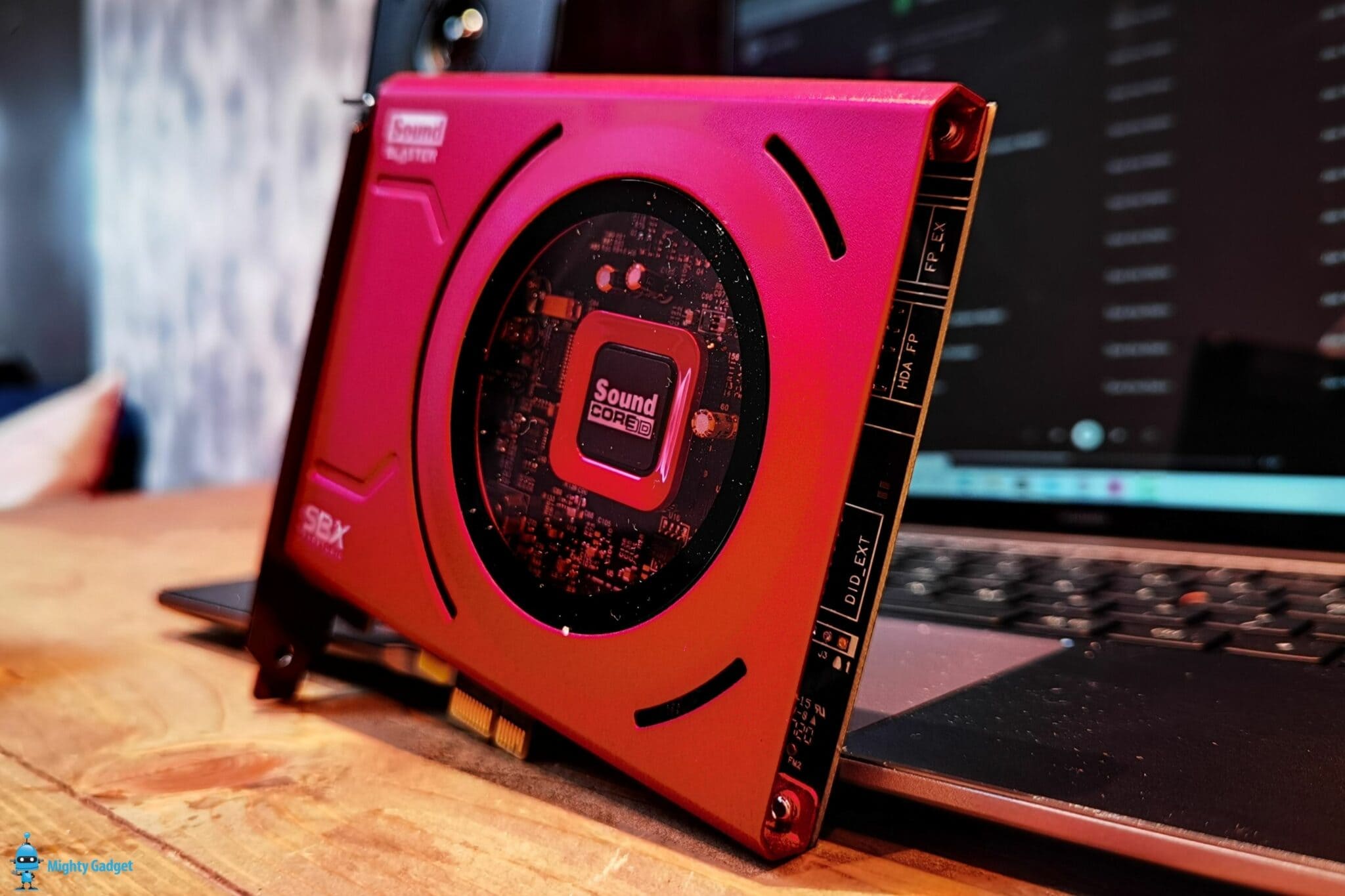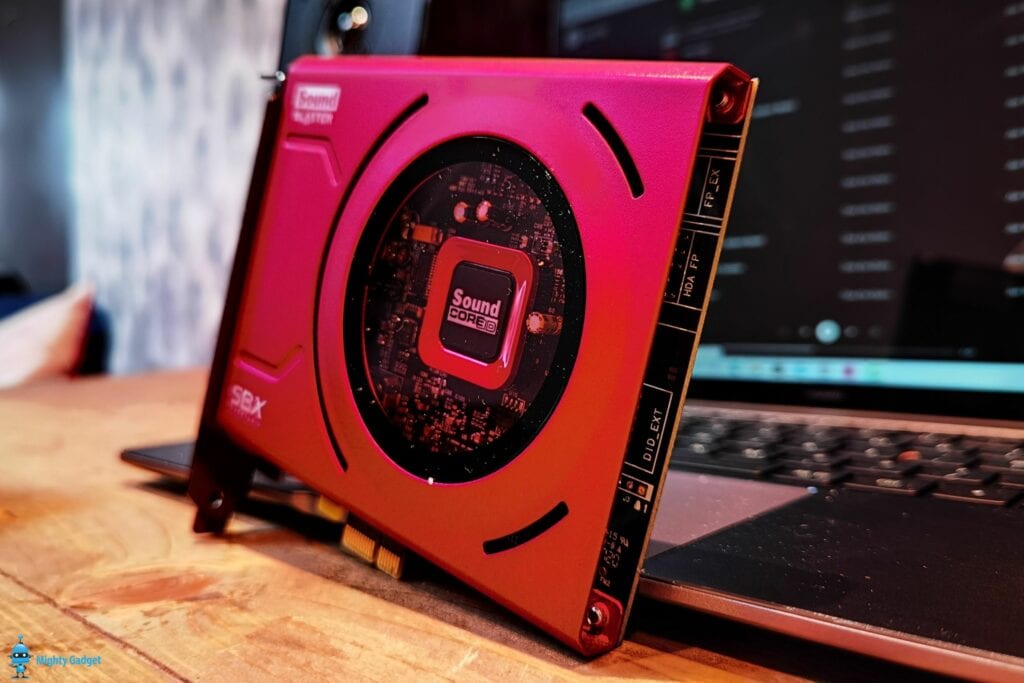 Sound Blaster Z SE
Sound Blaster Z
Sound BlasterX G6
Sound Blaster X3
Audio Processor
Sound Core3D
Sound Core3D
Super X-Fi
Super X-Fi
DNR / SNR
116 dB
116 dB
130 dB DNR
115 dB
Max Playback Resolution
24-bit / 192 kHz Stereo Direct
24-bit / 192 kHz Stereo Direct
32-bit / 384 kHz
32bit / 192.0 kHz
Swappable Op-amps
No
No
No
No
ASIO Support
2
2
Surround Sound
5.1 Discrete (Speakers)

7.1 Virtual (Headphones)
5.1 Discrete (Speakers)

7.1 Virtual (Headphones)
7.1 Virtual (Headphones)
5.1 Discrete (Speakers)

7.1 Virtual (Headphones)
Encoding
Dolby Digital Live / DTS
Dolby Digital Live / DTS
Supported Operating Systems
Windows 7, 8 & 10
Windows 7, 8 & 10
Windows & Console
Windows & Console
Software
Sound Blaster Command
Sound Blaster Command
Sound Blaster Command
Sound Blaster Command
Mic EQ Presets
Yes, 11 presets via software
No
Included Accessories
N/A
Beamforming Microphone Array
N/A
N/A
Price
£89.99
Around £82
£130
£110-£130
Set-Up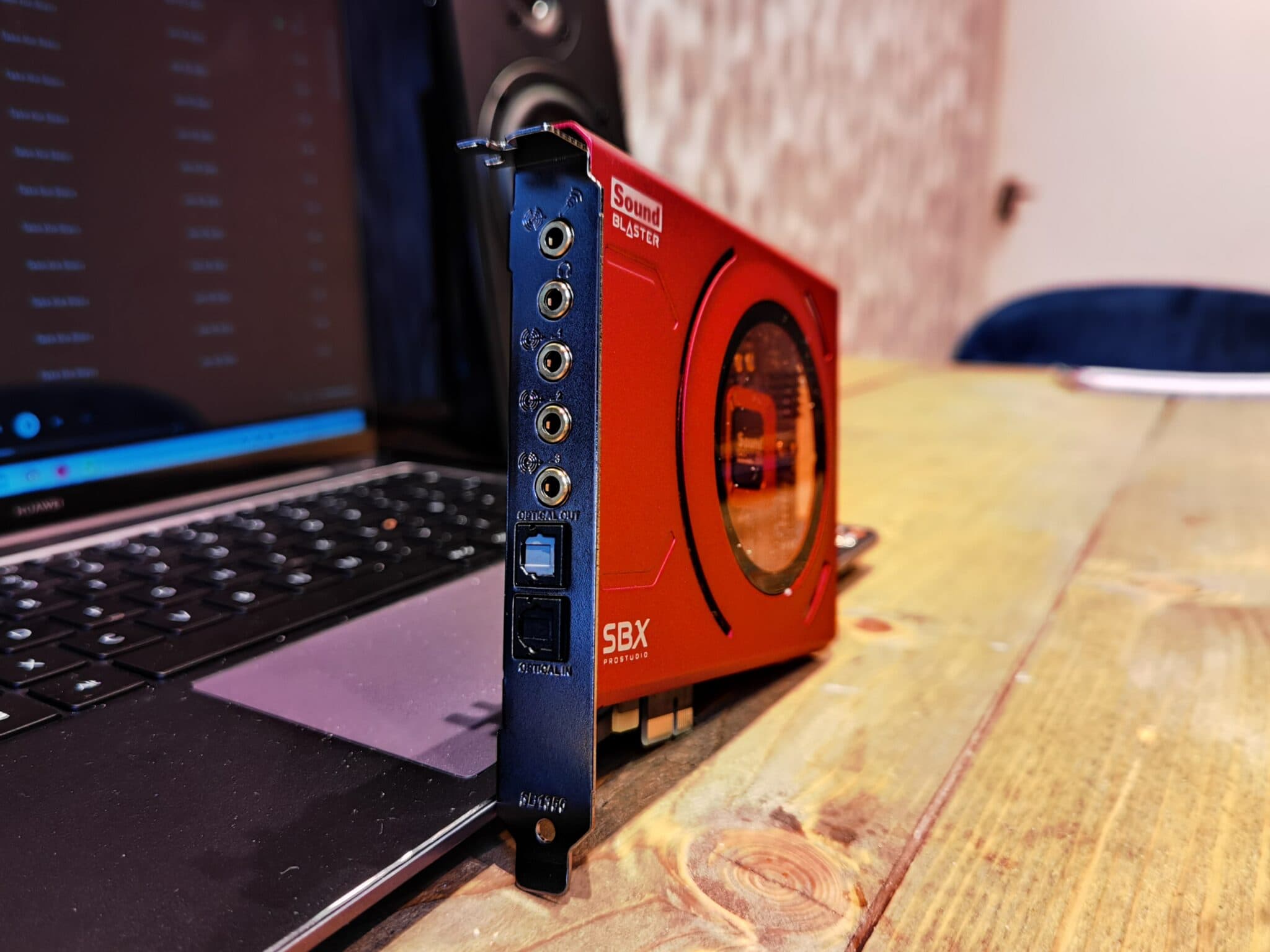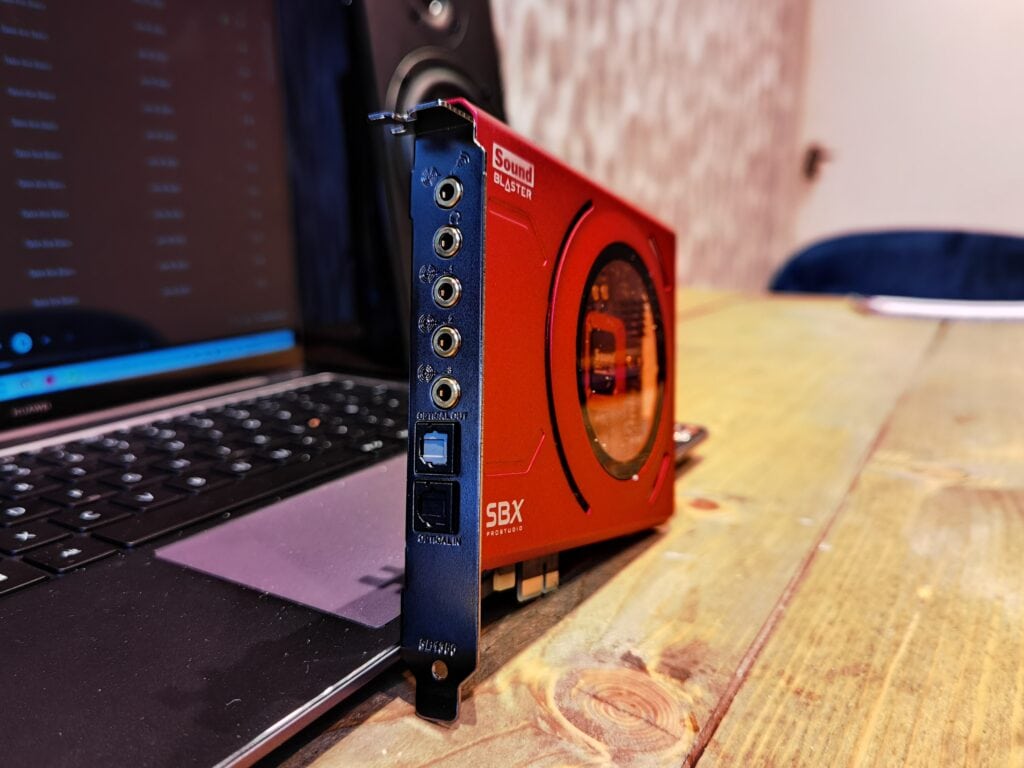 The Soundblaster Z SE uses PCI-E x1, and most motherboards should have a free slot with all but mini-ITX boards featuring them. The main issue with modern gaming PCs is the massive GPU getting in the way, and this can also frequently cause interference when located close to a soundcard.
In my case, I have an ATX MSI Unifi X570 pared up with a Ryzen 7 5800X and a Zotac RTX3080. So finding space to fit it wasn't too much of an issue.
With the physical installation done, you will also need to install the Sound Blaster Command software, this will handle all the advanced features of the soundcard as well as keep the drivers up to date.
In Use
Unfortunately, I don't have 5.1 speakers for my PC, so I paired this up with the 2.0 Edifier R2000DB speakers. I then also tested the soundcard with the Final Audio A3000 IEMs and the EPOS GSP 600 gaming headphones.
The MSI X570 Unify has Realtek ALC1220 with 7.1 support, but day to day I use the FiiO K5 Pro Desktop DAC.
The biggest difference I experienced immediately is the software. The FiiO doesn't offer much, and the MSI Nahimic software is poor, bordering on awful.
Sound Blaster Control offers a significant number of customisations, including the SBX profile, an equaliser with presets, settings for the playback device, scout mode for gaming, encoding options and a mixer for playback and recording.
The SBX Profile tweaks the acoustic engine based on various presets; you can then optionally set up your own. The acoustic engine will optimise certain elements of the audio; this can include boosting the virtual surround sound, normalising volume levels, boosting the bass or boosting the dialogue. There are various game-specific profiles. I am not sure how useful all the game-specific ones are, I found myself having a few profiles that I preferred for different scenarios or just manually tweaking the setting for whatever I am doing at the time.
The equaliser is nice to have, offering the usual standard settings but with lots of game-specific profiles again. When using headphones, I did experience an unpleasant cracking sound when switching equaliser profiles, it is only a minor issue though.
I first experienced scout mode with the BlasterX G6, in my set up I found this works best with headphones. It is a subtle difference, but it does seem to help accentuate certain noises such as footsteps or gunfire.
While I couldn't test true 5.1, the virtual 7.1 sound works reasonably well. I am not sure how effective the virtual rear speakers are, but sides, left, and centre all work very well and the performance seems to be superior to the EPOS Sennheiser GSX 300, which is designed for headphones only.
Sound Blaster Command also has more microphone options than competing brands, this includes various voice morph options which give various creepy effects. I am indifferent towards the morph options, the various voice clarity features offer a significant improvement in recording quality.
Price and Alternatives
The Creative Sound Blaster Z SE is £89.99 direct from Creative Labs, while the original Creative Sound Blaster Z is £81.64 from Amazon. There doesn't seem to be much of a meaningful difference between the two options, at least not based on my preferences. However, for the sake of 7 quid, I'd opt for the newer card.
While I haven't personally used it, the Creative Sound Blaster X3 will likely be a better buy for most people. It is more convenient to use, especially if you use headphones as well as speakers, and it has less chance of picking up electrical interference than an internal card. I am also a big fan of having a volume knob on my desk. That being said, the X3 costs 33% more and doesn't appear to offer much of an improvement in audio vs the Z SE.
Overall
At £90, the Creative Sound Blaster Z SE offers a more affordable way to improve your PC audio compared to equivalently specced external soundcards/DACs. While I would personally prefer an external option, I suspect overall performance will be similar to the X3 and the £20-£30 price difference will make a big difference to some people.
Both the performance of the card itself and the Sound Blaster Command software are considerably better than the onboard audio of my MSI motherboard.
I have also not experienced any issues with electrical interference with my RTX3080.
Last update on 2022-06-19 / Affiliate links / Images from Amazon Product Advertising API