Today, COROS has introduced their latest flagship watch, the VERTIX 2 adventure watch.
This is specifically marketed as an adventure watch, not sports watch, due to the premium build quality and materials used to achieve extreme durability.
The press release is a little thin on the ground, but the original VERTIX was the only GPS watch that was rated for 15 ATM, allowing it to withstand pressures equivalent to a depth of 150 meters.
It uses a titanium shell and sapphire glass screen and would work down to -4°F/-20°C with less than a 30% depreciation in battery performance.
Battery life was also exceptional with 45 days regular use, 60 hours full GPS mode and 150h UltraMax mode. When exposed to -22°F/-30°C the GPS performance drops to 21 hours, you don't see that stat listed for a Garmin watch.
This mountain/ice climbing focus also means this is one of the few watches on the market that will make use of the blood oxygen monitor properly. This has a 24/7 monitor and will provide daily acclimatization evaluation and suggests when it is safe to climb higher.
The new COROS VERTIX 2 does much the same but more of it. One criticism the last watch received was a lack of storage that has now been fixed with 32GB of internal storage, including onboard music storage allowing it to compete better with the Garmin Fenix series.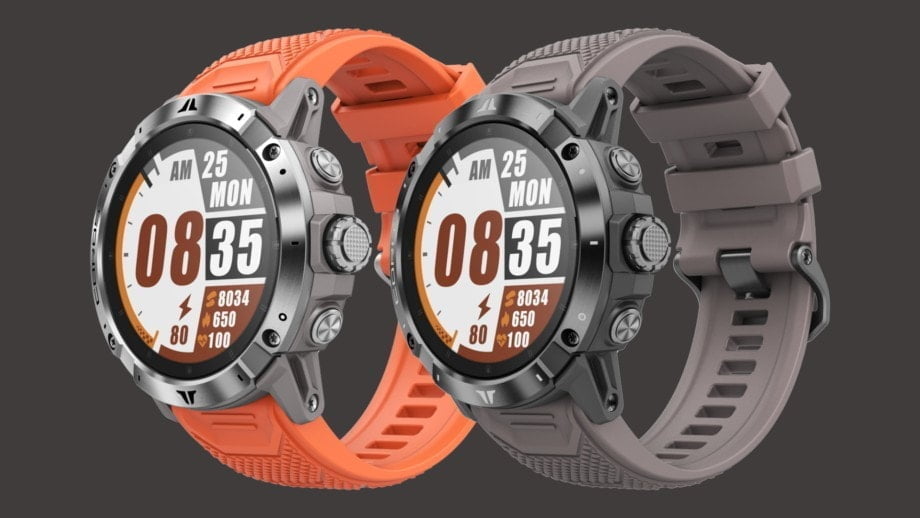 You then get:
Equipped with Dual-Frequency GNSS Chipset for best-in-industry accuracy
Communicates with all 5 major global satellite systems simultaneously
Global Offline Maps including Landscape, Topography and Hybrid Views
140 hours – full GPS battery life
60 days daily use battery
Insta360 Action Camera integration
1.4-inch sapphire glass screen with touch screen capabilities
New and Improved user interface
Special reusable hard/protective water-resistant case.
Unique watch carabiner available for climbing and other activities (sold separately)
COROS VERTIX 2 vs Garmin Fenix Price
The downside to the premium build quality and durability is you pay a premium for it. This comes in at a massive $699.99/£599
That's the same RRP as the Garmin Fenix 6X Pro (standard model) and $50 less than the Fenix 6 Sapphire. With the Garmin watch being on the market for a while now, you can also get them lower than RRP. In the UK the Fenix 6 Sapphire is just £539 or the Solar model just £489. The Garmin Fenix 6X Solar Titanium is £670.
However, if you specifically need the durability and endurance of the COROS VERTIX 2, is about your best bet and will be available now from selected retailers in either Obsidian and Lava
COROS VERTIX 2 Full Specification
COROS VERTIX 2 Spec Sheet
Model
COROS VERTIX 2 GPS Adventure Watch
Display Size
1.4 inch
Display Resolution
280 x 280 (64 colors)
Display Type
Touch Screen Always-On Memory LCD
Screen Material
Sapphire Glass
Bezel Material
Grade 5 Titanium Alloy with PVD coating
Cover Material
Titanium Alloy with PVD coating
Watch Band
26mm Quick Fit Band
Band Material
Silicone/Nylon
Physical Size
50.3 x 50.3 x 15.7mm
Weight with Silicone Band
91g
Battery Life
Standard Full GPS (every second) (GPS/QZSS): 140 Hours
Standard Full GPS (every second) with Music Playing (GPS/QZSS): 35 Hours
All Systems On (GPS/QZSS+GLONASS+Galileo+BeiDou): 90 Hours
All Systems On with Music Playing (GPS/QZSS+GLONASS+Galileo+BeiDou): 30 Hours
All Systems + Dual Frequency On (GPS/QZSS+GLONASS+Galileo+BeiDou w/ Dual Frequency): 50 Hours
UltraMax
(GPS+PDR): 240 Hours
Daily Use: 60 Days

Wireless Connection
Bluetooth® 5.0 Dual Mode, Wi-Fi®
Accessory Connection
Bluetooth®
Memory
32 GB
Satellite Chipset
All-Satellite Dual-Frequency GNSS Chipset
Sensors
Optical Pulse Oximeter Optical Heart Rate Sensor Electrocardiogram Sensor Barometric Altimeter Accelerometer
Compass Gyroscope Thermometer
Water Resistance
10 ATM
Working Temperature
-22°F to 122°F (-30℃ to 50℃)
Storage Temperature
-22°F to 140°F (-30℃ to 60℃)
Charging Time
Less than 2 hours
Map/Navigation Support
Global Offline Street and Topographical Maps
Touchscreen and Digital Dial-enabled Breadcrumb Navigation Checkpoint
Back to Start Elevation Profile
Distance to Destination GPS Coordinates Storm Alert
Music Support
Internal Storage and Bluetooth Streaming for Offline Content
Music Format
MP3
Supported Workouts
Run, Indoor Run, Trail Run, Track Run, Hike, Mountain Climb, Bike, Indoor Bike, Pool Swim, Open Water, Triathlon, Gym Cardio, GPS Cardio, Ski, Snowboard, Cross-country Ski, Ski Touring, Multisport, Strength, Training, Speedsurfing, Windsurfing, Whitewater, Flatwater, Rowing, Indoor Rower