International Student's Day is on November 17th and Targus have put together an essentials kit perfect for the student on a move. With Black Friday soon upon us, I would also recommend looking out for deals on the following products.
The highlight product is the CityLite Security bag, which is currently priced at £63.99 with free shipping– it's the perfect bag to carry your laptop, textbooks and lecture notes comfortably, but also to protect your tech and valuables from drops, spills, or even thieves. Thanks to RFID lined pockets and hidden, lockable zips, students can feel extra safe travelling to and from campus.  
Bag thefts have become a growing problem in recent years and this would be a great investment for anyone, not just students, commuters would also be a perfect fit for this bag.
With so many portable laptops adopted just 1 or 2 USB-C ports, it has become increasingly important to have a way to improve your connectivity. The USB-C Travel Dock is priced at £99.99 and makes life easier by expanding your laptop into a workstation by plugging in peripherals into the two USB-A ports, or easily connect to conference room displays when you set up for the big presentation. You can connect to a laptop or monitor, wireless keyboard, or mouse into the dock. It also passes power from your power adapter to the host computer.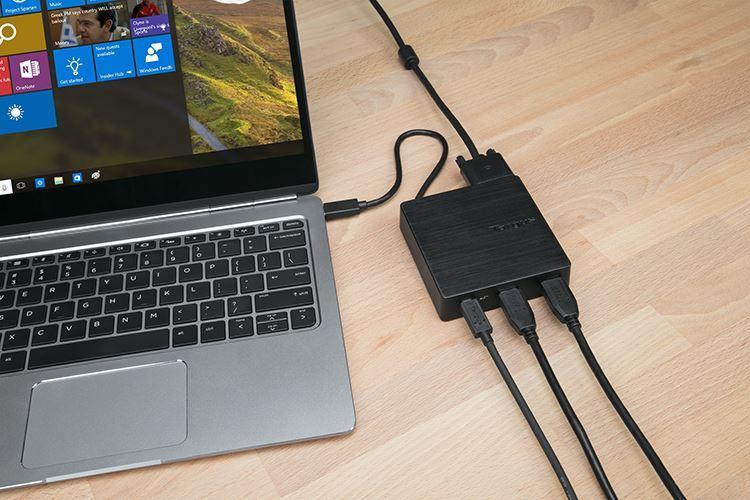 The universal monitor stand allows you to make extra desktop space by ergonomically positioning your monitor and storing your notes, computer and docking station in the same place.
Both the compact multimedia keyboard and wireless blue trace mouse allow you to improve your productivity when you are on the move allowing you type comfortably rather than use a cramped keyboard.