Azio Retro Classic Bluetooth Mechanical Keyboard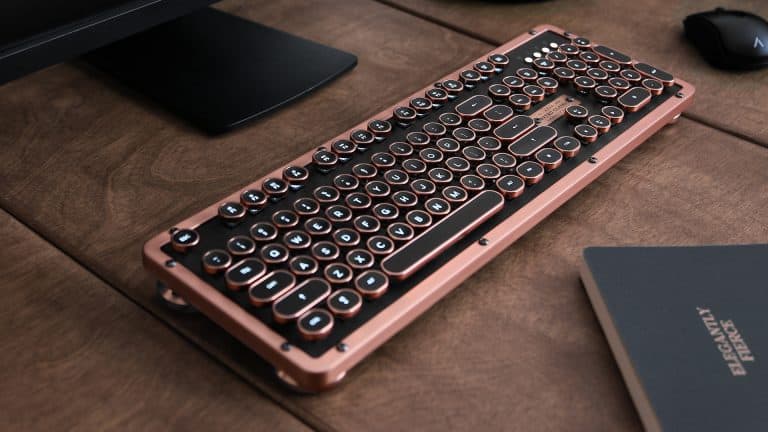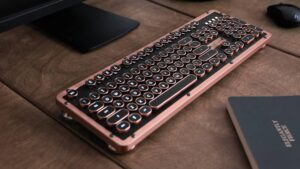 Product Name: Azio Retro Classic Bluetooth Mechanical Keyboard
Offer price: 189
Currency: GBP
Availability: InStock
Design -

95%

Build -

95%

Performance -

70%

Price -

75%
I have reviewed some amazing mechanical keyboards in the past year, and this week I have been given the task of reviewing possibly the most unique keyboard on the market, the Azio Retro Classic.
If the thought of an all-black keyboard with RGB bores you, then this could be the perfect option for you. This is a vintage typewriter themed mechanical keyboard, the particular model I was sent is the artisan model which uses a copper style matte frame and keys with black leather between the keys.
Its appearance is striking and will no doubt appeal to steampunk fans as well as many other users alike.
Design and Build
When you first receive this keyboard, you will immediately notice this is something a little different. The box is massive and weighty, as you open it everything has an ultra-premium look, even the warranty card is presented nicely on a leather business card.
Taking the keyboard out you can immediately feel where the weight comes from, this is physically larger than all my other keyboards, and the zinc chassis and keys add a decent amount of weight. For the sake of comparison, the Logitech G810 weighs 1.18kg, and this weighs 1.587k.
What is not immediately noticeable is how high this keyboard sits, the metal frame is quite thick, then there is a significant plastic casing beneath it along with 4 circular feet. As mine is the Bluetooth version, the plastic case will likely have the large 6000mAh battery inside it. Due to this height, you can immediately tell there are going to be some adjustments to your typing style. Looking at the specification the listed height is 40mm, and the Logitech G810 Orion Spectrum is 34.3mm which isn't a huge difference. However, the Logitech sits high at the back with its legs out, whereas the Azio is both high at the front and back due to the plastic casing.

The keys are also vastly different to that of a regular keyboard, sticking to the vintage typewriter style the keys are relatively small and circular. This doesn't use the popular Cherry MX series that you find on many of today's boards. Instead, t is listed as "AZIO Typelit Mechanical Switch (by Kailh)". Looking at the Amazon listing of these keyboards and they are classed as Blue switches, which will likely be a comparison to Cherry, and the Blue classification means these are the most common style of a mechanical switch with a sizeable tactile bump and click. They also require a bit more force to activate them being classed as 50cN. Generally speaking, these are not classed as gaming keys, but your mileage may vary if you are a competitive FPS player maybe not, but for everyone else, I am sure they are fine.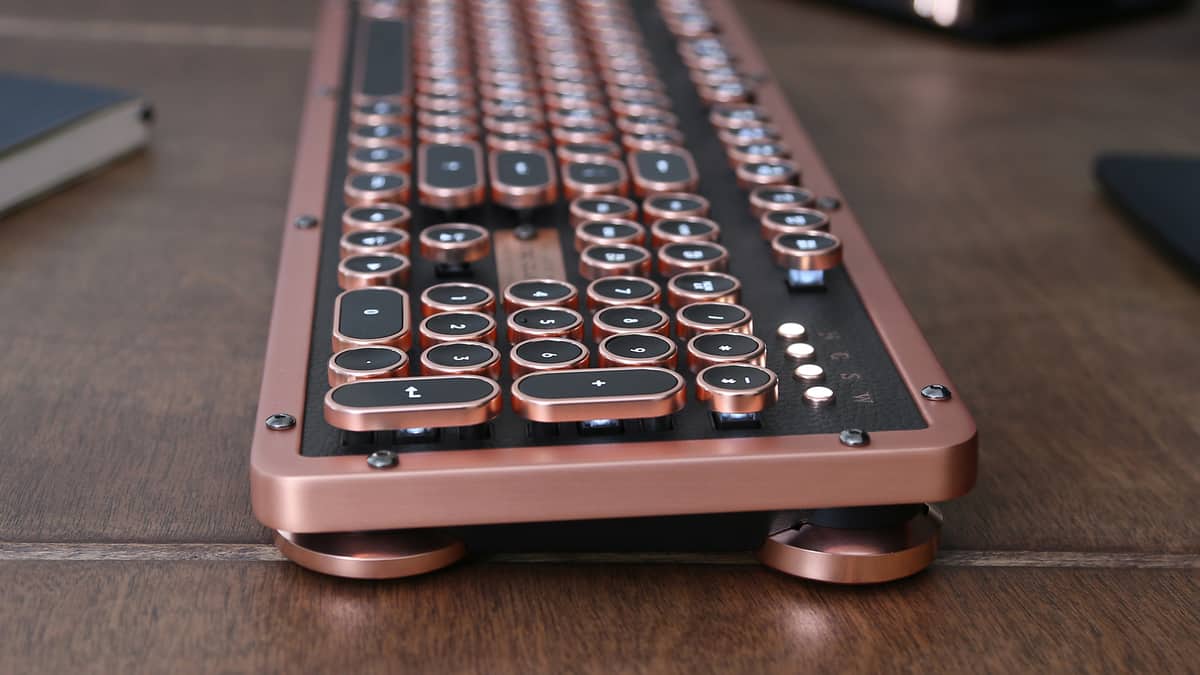 The space around the keys is classed as genuine leather which is a cheap leather, but it actually smells of leather, not something I would ever have thought my keyboard would smell of.
The sample I was provided is the Bluetooth keyboard, but you can use the keyboard in Bluetooth mode or wired via the included USB-C cable, which then also charges your batteries. It is a thoughtful feature that can make the difference between this being usable as a daily keyboard or just a gimmick.
Included within the box is a set of extra keycaps for Mac specific functions. Not something I have ever seen included before, and it is another impressive addition to this keyboard.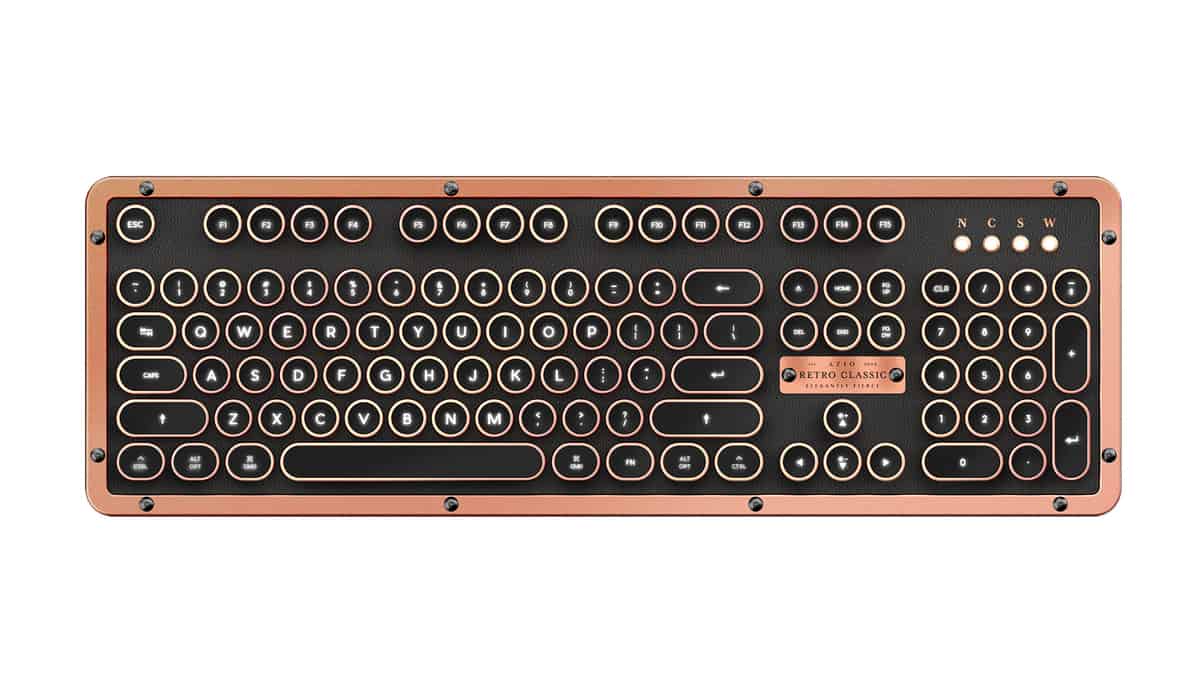 Performance
So far, my experience with all mechanical keyboards whether they are cheap or expensive is that you plug it in and away you go with little difference in typing speed. This wasn't quite the case with the Azio. The various design differences between this and a standard keyboard meant I had quite a long adjustment period to typing on it. The height of the keyboard requires a little getting used to but mainly the circular keys. They don't look smaller than my regular keyboard, but they definitely feel smaller when typing and there were issues with accuracy to start. The keys just don't feel as responsive as usual either, this could be due to the Blue switch nature, but I have used Blue switches on cheap boards before such as the Aukey KM-G9 and they did feel more responsive.
After about an hours' worth of use, I did get to grips with the board and found I was typing almost as fast ass usual. If I continued to use it as my primary keyboard, I think I would eventually get back to full speed.
During gaming there are similar issues, it isn't quite as responsive as other brands. I am far from a competitive player, so it wasn't a massive issue for me, but I am not sure how well this would cope In very fast paced FPS games.
Overall
With the popularity of mechanical keyboards and RGB it is nice to test something unique. Looking online there isn't anything exactly like this to compare it against. There is another brand that is more expensive offering slightly different aesthetics, but if you want a steampunk style keyboard, then this is it.
Performance isn't bad, but it is not great either, I think you sacrifice a bit of the performance in favour of looks, as often is the case.
Build quality, and overall presentation is exceptional, this isn't some cheap gimmick, a lot of time and effort went into building this keyboard, and you have to admire Azio for that.
In my messy office it doesn't quite fit in, but if you have a stylish hipster working space, this will sit beautifully on your table, and the Bluetooth function means you can get rid of the ugly cables.
Overall, if you like the look of this, there is no other competing brand on the market, so it is the best option available. This all does come at a cost though, in the UK the USB version is available on Amazon for £189.99, there does not appear to be any availability for the Bluetooth model. You can buy it directly from Azio in the States for $219.99 which works out at around £160, but you will get stung with import fees of around £25 (I did).