Anda Seat T-Pro Series Gaming Chair Review Rating
Summary
The Anda Seat is well made with plenty of adjustments allowing you to achieve a level of comfort more affordable brands fail to achieve. The fabric cloth is more pleasant to sit of for prolonged periods of time either in the office or when gaming
Pros
Excellent build quality
Plenty of adjustments
Cloth material is more pleasant for extended use
Cons
Memory foam can still be warm
Gaming chairs have become insanely popular in recent years, and I get why, they look good, fit the gaming aesthetic and are generally comfy
However, for many, the combination of PU leather and memory foam with long days gaming or working in the chair can have some unpleasant side effects. I am sure everyone has got up from their chair at some point this warm summer with a clammy, if not fully wet back.
I suffer from overheating quite a bit so may daily chair is a Herman Miller Mira. It has a perforated plastic back with a mesh cloth seat, and I have never suffered from unpleasant sweatiness from it. It is insanely expensive, so not a viable option for most people.
Fabric vs PU Leather
The Anda Seat T-Pro is unusual compared to most chairs in that it ditches the PU Leather in favour of a fabric cloth surface.
PU Leather is the least breathable material ever, it is basically just plastic. Andaseat actually uses PVC leather on their other chairs and for the detailing on this, it's harder wearing but has the same lack of breathability.
Fabric, on the other hand, is far more breathable, some materials are better than others, but the weave of a fabric is vastly superior for breathability vs PVC or PU leather. The specs state this is linen fabric which is one of the better options.
There is still 65kg/m³ moulded foam on the back, this itself is not the most breathable, but memory foam is incredibly comfortable for long periods of time, so it has become popular for chairs and mattresses.
Of course, if you don't find yourself overheating or getting clammy during gaming sessions, then there is nothing wrong with the fake leather options. They tend to look nice and are easier to clean when you inevitably spill something on it.
Features and Build Quality
Along with the linen fabric cover and 65kg/m³ memory foam, this is made out of 22mm diameter Enhanced Steel Frame with ergonomic design to contour the human body.
You then have a 5-star aluminium base with wide PU rubber wheels which can handle a dynamic load of 600Kg. Back when I was fat, I had the star base snap from office chairs, which led me to buy the Herman Miller. So affordable chairs offering this level of build quality is excellent.
To control the height is a class 4 hydraulic piston which offers a range from 130mm to 138mm seat height to
One of the main features that stands out about Andaseat is the size of user they cater for. This is recommended for up to 130Kg so 286lbs or a bit over 20 stone with a recommended height up to 200cm or 6ft 5″. The actual loading weight it is capable of with the rocker enabled is 160kg
If you are larger than that, they have the Throne series which can accommodate 210cm / 6ft 8″ and 180Kg / 396lbs / 28 stone.
Building the Chair
All gaming chairs require some form of assembly and from the ones I have reviewed they are all quite easy to do even if you are rubbish at that sort of thing (me included).
It took me 30-minutes to assemble the chair by myself, you would likely benefit from a second person helping you, holding the backrest up to align with the bolt holes and screwing them in can be a little tricky.
To some extent, this is easier to assemble than others. The arms are already bolted in place. All but two bolts you need are loosely screwed in place, so you need to remove them to put them back in, so that takes a little longer, but at least you don't get bolts mixed up.
In Use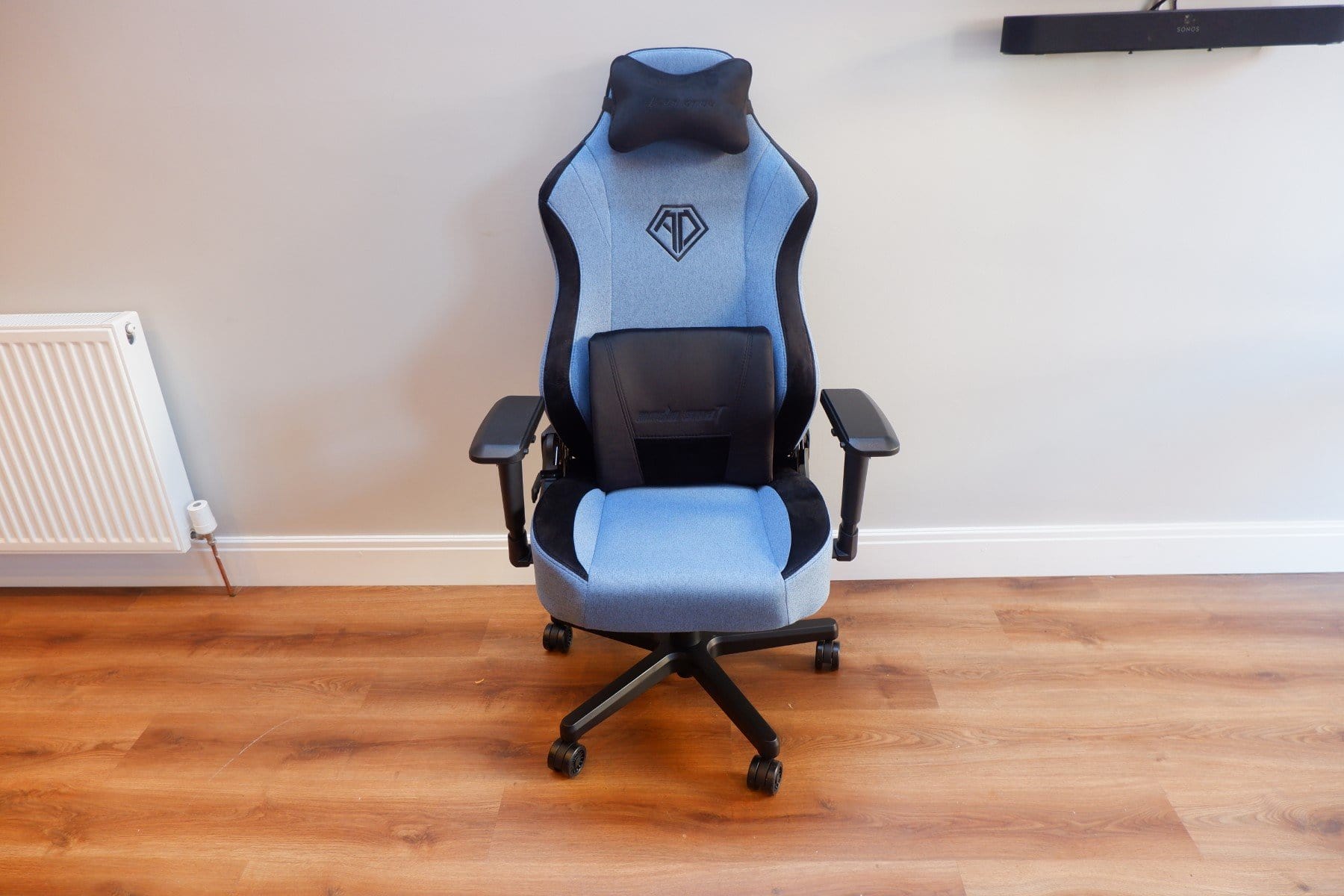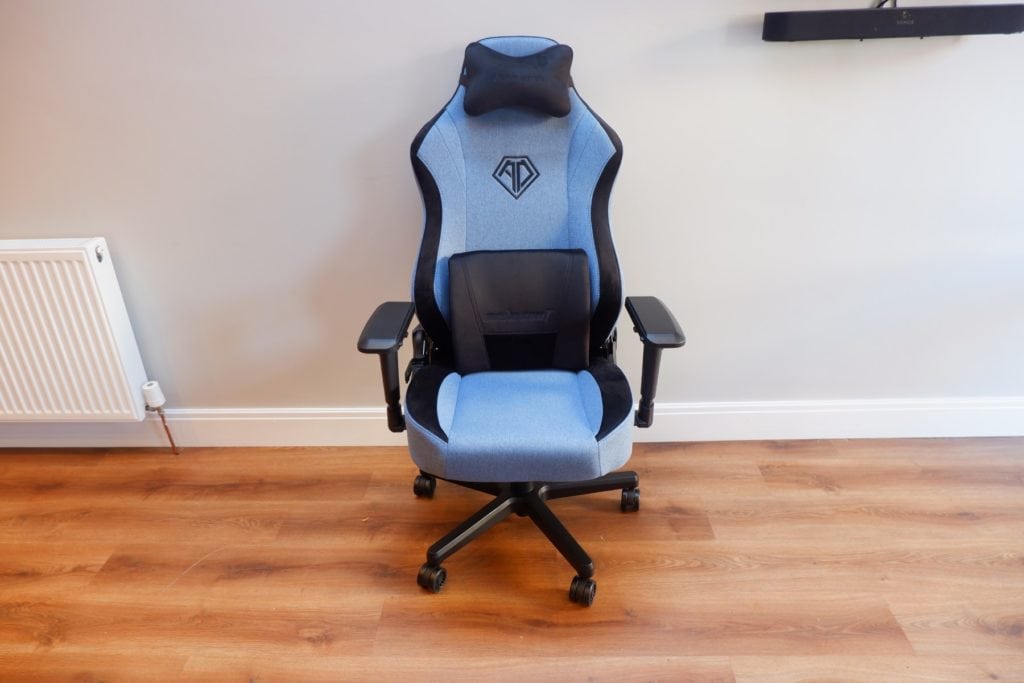 You get the standard range of customisations for gaming chairs. This includes height adjustments via the hydraulic piston.
The back has extensive tilt range going from 90-degrees to 160-degrees, so you can almost lie flat.
Then the rocker function can be adjusted for a wider range of motion.
For the armrests, you get full 4D movement allowing you to move them up and down left or right.
You can then customise your comfort with the neck pillow and waist support.
I am quite thin and light nowadays, so there is quite a lot of room between my body and the armrests. They can also be adjusted to shift out a little bit further and pushed forward, so if you have a wider build, it should be able to accommodate you.
At first, I wasn't sure about the lower back pillow but once I started to use the chair at my desk, I began to appreciate it. I have the back lean farther back than is advisable for good posture, without the back pillow I am sort of slumped in the chair with a curved back, which is not ideal.
The past couple of weeks have been quite warm, so it was a good chance to see if I suffered from the same clamminess I get from PU leather chairs. So far, so good. It will never compete with the Herman Miller, but I have never felt uncomfortably hot on it, even when sitting at my desk for several hours.
Overall comfort is excellent too, the level of adjustments have allowed me to find the perfect fit. The rocker functions works well on it too, I have to push down with my feet to get it to fully rock back, but in my normal seating position, it is slightly weighted down, giving a pleasant floaty feel.
Price and Alternative Options
This sits at the mid to high end of pricing. The RRP is £350, but Amazon has available with a £50 off voucher.
Amazon is saturated with affordable gaming chairs, and I have reviewed the BraZen Puma in the past. You generally get what you pay for, the BraZen lacked the customisation levels and wouldn't have been suitable for a larger person. You also didn't get the back and next pillows.
The E-Win Gaming Chair was good, and similarly priced to this with a similar level of customisations, but they don't seem to have much if any stock in.
The Secretlab OMEGA has a SoftWeave Fabric option which makes it very similar to this. It costs more and lacks the pillows, but it has a slightly longer warranty with the option for a free upgrade to 5 years.
You then have other premium brands such as NobelChairs, HyperX, Corsair and Asus. All of which come in around the same price or higher. Then for those with a bottomless pit of money, you could get the Logitech G x Herman Miller which is based on their beautiful Embody and will set you back £1,195.00 (the normal Embody is over £1k depending on spec).
Overall
Overall this is an excellent charming chair, it is not cheap, but you get what you pay for, the increased level of adjustments guarantees you will find that sweet spot.
The fabric material adds a little more breathability to the chair compared to its PU leather counterparts. It also provides a different aesthetic that I think is suitable for a more professional environment, such as the office.
Last update on 2022-05-24 / Affiliate links / Images from Amazon Product Advertising API