AMD is due to announce a range of new products at CES next Wednesday which almost certainly will include the latest AMD Ryzen 3000 series processors and possibly a GPU announcement.
Listings for the AMD's Ryzen 3000 series processors have appeared on e-katalog, a Russian retailer, revealing what could be the specifications of AMD's upcoming Ryzen 3000 series lineup. If the specifications are true then this could be looking like an amazing new CPU launch from AMD.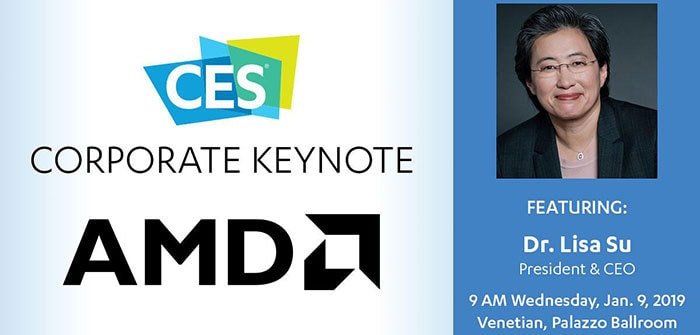 These listing indicate that AMD will release a 16-core Ryzen 9 3800X processor which will offer a base clock speed of 3.9GHz and a boost clock speed of 4.7GHz, a full 400MHz boost over the Ryzen 2700X's boost clock while shipping with 2x as many cores and a TDP of 125W. 
More interesting however is the 12-core Ryzen 7 3700X, which is said to ship with twelve cores and base/boost clock speeds of 4.2/5GHz. Yes, that's a boost clock of 5GHz on an AMD processor, which when combined with AMD's Zen 2 architecture should make a potent combination. 
| | | | |
| --- | --- | --- | --- |
| CPU | Cores/Threads | Base/Boost Clock | TDP |
| Ryzen 3 3300 | 6/12 | 3.2/4.0GHz | 50W |
| Ryzen 3 3300X | 6/12 | 3.5/4.3GHz | 65W |
| Ryzen 5 3600 | 8/16 | 3.6/4.4GHz | 65W |
| Ryzen 5 3600X | 8/16 | 4.0/4.8GHz | 95W |
| Ryzen 7 3700 | 12/24 | 3.8/4.6GHz | 95W |
| Ryzen 7 3700X | 12/24 | 4.2/5.0GHz | 105W |
| Ryzen 9 3800X | 16/32 | 3.9/4.7GHz | 125W |
These specifications match up with previous leaks about the new range of CPUs so there is a reasonable about of confidence in them.
Other details that have previously been leaked is that the new
 Zen 2 architecture will have at least a 13% IPC improvement from Zen+. In comparison Zen to Zen+(Ryzen 2000) offered just 3% increase.
Zen 2 is also aiming to fix and improve upon the memory controller by reducing the memory delay and allowing better support for higher frequency, lower latency DDR4 memory.
Another leak indicated that the new X570 chipset could feature
 support for PCIe Gen4, however, this has only been mentioned in one leak so the confidence in this is a little lower.
PCIe Gen4 will double the bandwidth available compared to the previous generation providing a 16 GT/s bit rate while maintaining backwards and forward compatibility in both software support and used mechanical interface.