With many people facing the prospect of working from home in the coming weeks, a lot of us will be trying to put together a home office. Larger companies will no doubt provide the hardware, but small business owners will be facing some unwanted and very much unneeded costs at this time.
Peripherals
I will preface my laptop and desktop recommendations by recommending buying a keyboard and mouse. Assuming you can find a desk to set up a working environment, a keyboard and mouse will make working from a laptop considerably easier. Almost any will do, such as the Logitech MK270 which is £18.94 for a wireless keyboard and mouse. A decent mechanical keyboard and a better quality mouse will improve things further, but they cost more, and not really appropriate for this post.
Used
If you need to buy the hardware yourself or if you are a small business with limited funds, used hardware is going to be your best bet. I suspect prices may rise due to growing demand, but you can still get a very usable PC or laptop on the cheap.
Desktop
You can comfortably spend under £200 for a workable desktop, though around £200 and a little over can get you a decent PC. I have personally been looking at older Intel PCs for my Blue Iris CCTV server.
Opting for the older Intel chips such as the i7-4790 which used DDR3 will get you some big savings while offering way more processing power than you need for office work
This Dell Optiplex 9020 listing gives you some excellent options to suit different budgets – Buy from eBay
Alternatively, this HP ProDesk 600 G2 PC which has a more modern i5 i5-6500 is just £174.85 when you spec it with 8GB of RAM and 240GB SSD, which is more than enough for office work – Buy from eBay
There are a lot of Amazon Renewed options too, these are backed with a 1-year guarantee and the sellers have been authorised by Amazon. A lot of them use slightly older CPUs but they should still be fine for office work.
Laptops
Laptops are obviously a little more appealing, offering everything you need to work in one small portable solution. If you focus on used business laptops, there are some excellent bargains to be hard.
This HP ProBook 640 G1 is a good price at £199.99
This Lenovo Thinkpad X250 is also excellent at £170 but it has a tiny 12-inch screen so you will probably want a monitor to work comfortably.
Then the Lenovo Thinkpad L460 which a semi-modern i5 6300U is just £199
With all the above, just make sure you are buying from a well-reviewed seller.
Again Amazon Renewed have a lot of options, the below link is for a general search of laptops up to £300 with a screen size over 13-inch
New
Things are less of a minefield with new devices, but obviously you are going to be paying a lot of money.
laptops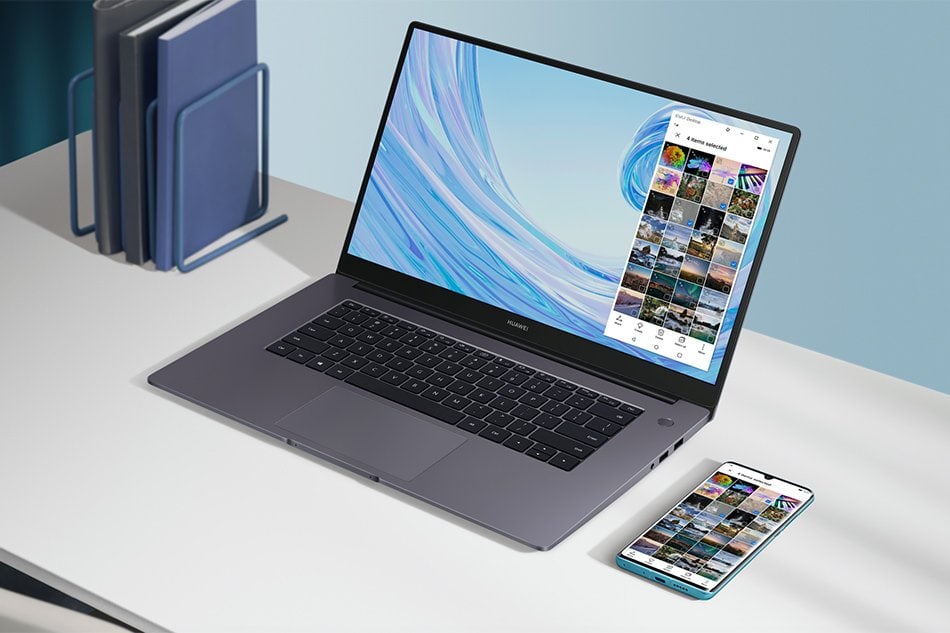 With the recent AMD based mobile chipsets there have been some superb laptop deals, it is still a lot of money to spend if you are just working at home temporarily, but all of the below will last you several years
The recently launched Huawei MateBook D is a great buy for a 15-inch laptop it is a decent size to work off comfortably, has way more processing power than you need for regular office work and it is also light and portable should you need it for work and commuting in the future. The below deal includes the Watch GT which if you don't want, you could sell for £100-ish
Similarily the Acer Aspire 5 offers a similar level of performance for the price albeit with the latest Intel Core i5-1035G1 – I previously reviewed the more expensive Acer Swift 5 with the same CPU and found it to be excellent.
The Asus VivoBook X712FA is also worth considering, it is a bit of a strange laptop with a relatively lower powered i3 -10110U Processor but then a massive 17-inch screen. I am not normally a big fan of big-screen laptops due to their lack of portability, but in the scenario of working at home, it could be preferable.
Desktops
Again, thanks to AMD, there are some great buys for new desktops, many of which are based on the AMD Ryzen 3 2200G which is more than adequate for office work, but don't try and play any serious games on it.
The Lenovo IdeaCentre 510A-15ARR is a well-specced desktop for just £350
This ADMI Gaming PC is slightly better and £369.95 for the cheapest model
And for a little bit more money is this Fierce Apex Legends RGB Gaming PC at £389.90. As the name suggests it should be capable of light gaming if you have kids (or you) that play Apex Legends/Fortnite,
No products found.
Monitors
Desktop PCs will obviously need to have a monitor, but I would also strongly recommend one for laptop too, so you are not trying to work off a tiny screen for the next few weeks.
Again, use monitors will be the cheapest. 24-inch 1080p is the minimum I would recommend, but 27-inch is more pleasant to work off. Higher resolutions are nice but the price creeps up then.
Amazon Warehouse products offer some good savings and have a 30-day guarantee along with the usual excellent Amazon customer service. This AOC Q3279VWFD8 offers a huge 31-inch screen running at QHD (2560×1440) with a used like new price of just £195
Last update on 2022-06-19 / Affiliate links / Images from Amazon Product Advertising API