TerraMaster F4-421 NAS Review Rating (2021 Model)
Summary
The TerraMaster F4-421 is an excellent affordable NAS that is ideal as a backup solution for both small businesses and home users. There are also a wide range of apps that offer most of the features you may want from more expensive brands. With a little work, you can use Docker and Nextcloud to replicate all the functionality from Synology.
Pros
Affordable 4-bay NAS with plenty of backup options
Decent specification that can handle transcoding or other tasks
A good selection of installable apps
Cons
Not really an upgrade from the older F4-421
Limited apps compared to Synology
The TerraMaster F4-421 was launched back in 2019, but a couple of months ago, I was sent a press release with an F4-421 announcement.
The announcement was especially confusing as there was no mention of the 2019 model, and at a passing glance, all the specifications looked the same.
It turns out that it is a new model and there has been a very small spec change. As I never reviewed the original TerraMaster F4-421, I have been testing this out the past couple of weeks.
I have previously reviewed the excellent TerraMaster F4-422 and I continue to use it as my backup NAS. I have covered the overall TerraMaster experience a bit more thoroughly in that review, including all the apps you can install.
TerraMaster F4-421 2019 vs 2021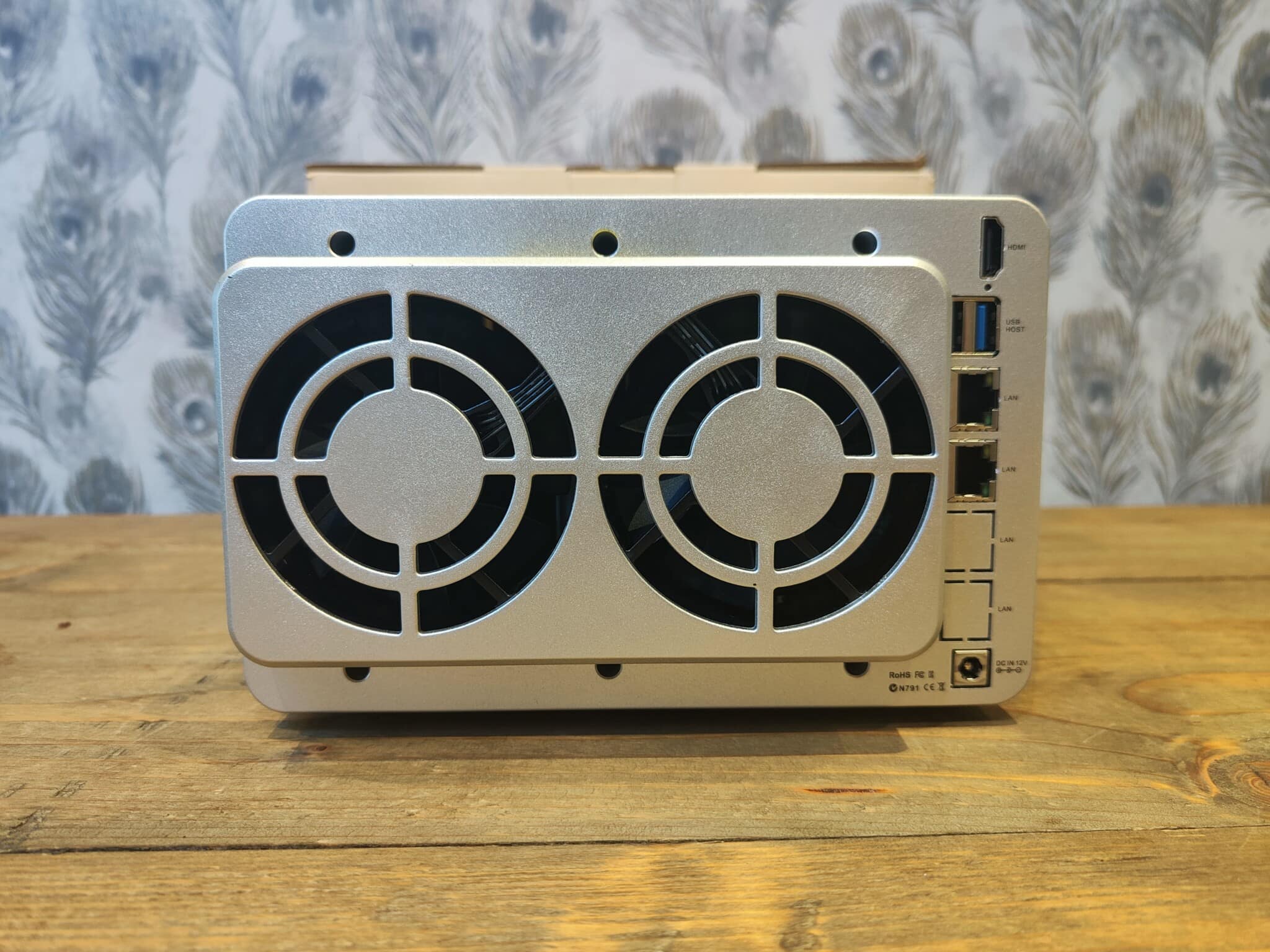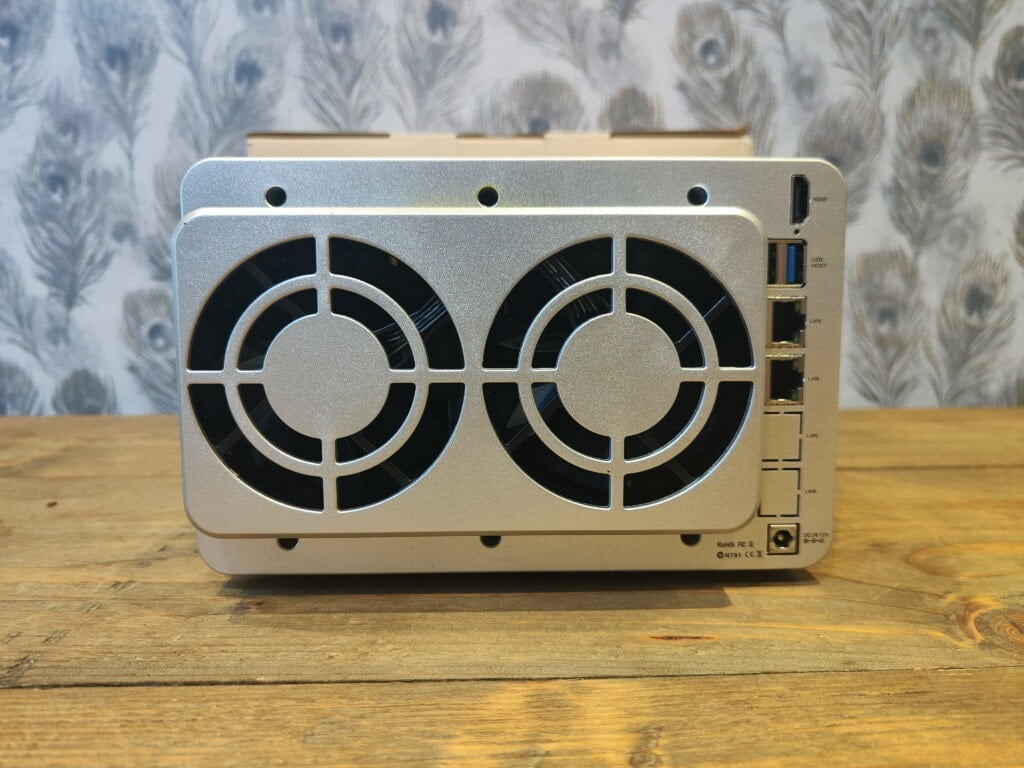 The main difference is that the previous four 1Gb network ports have been replaced by two 1Gb network ports, which supports network aggregation and failover.
It looks like the older model lacked link aggregation. That's about it!
TerraMaster  F4-421 vs F4-422
To the best of my knowledge, these NAS devices are identical apart from two exceptions:
F4-421 – has a working HDMI port that outputs the linux debugger
F4-422 – lacks the HDMI, but has an additional 10GbE port as well as the two 1GbE which can be bonded in the same way as the F4-421
Features and Specification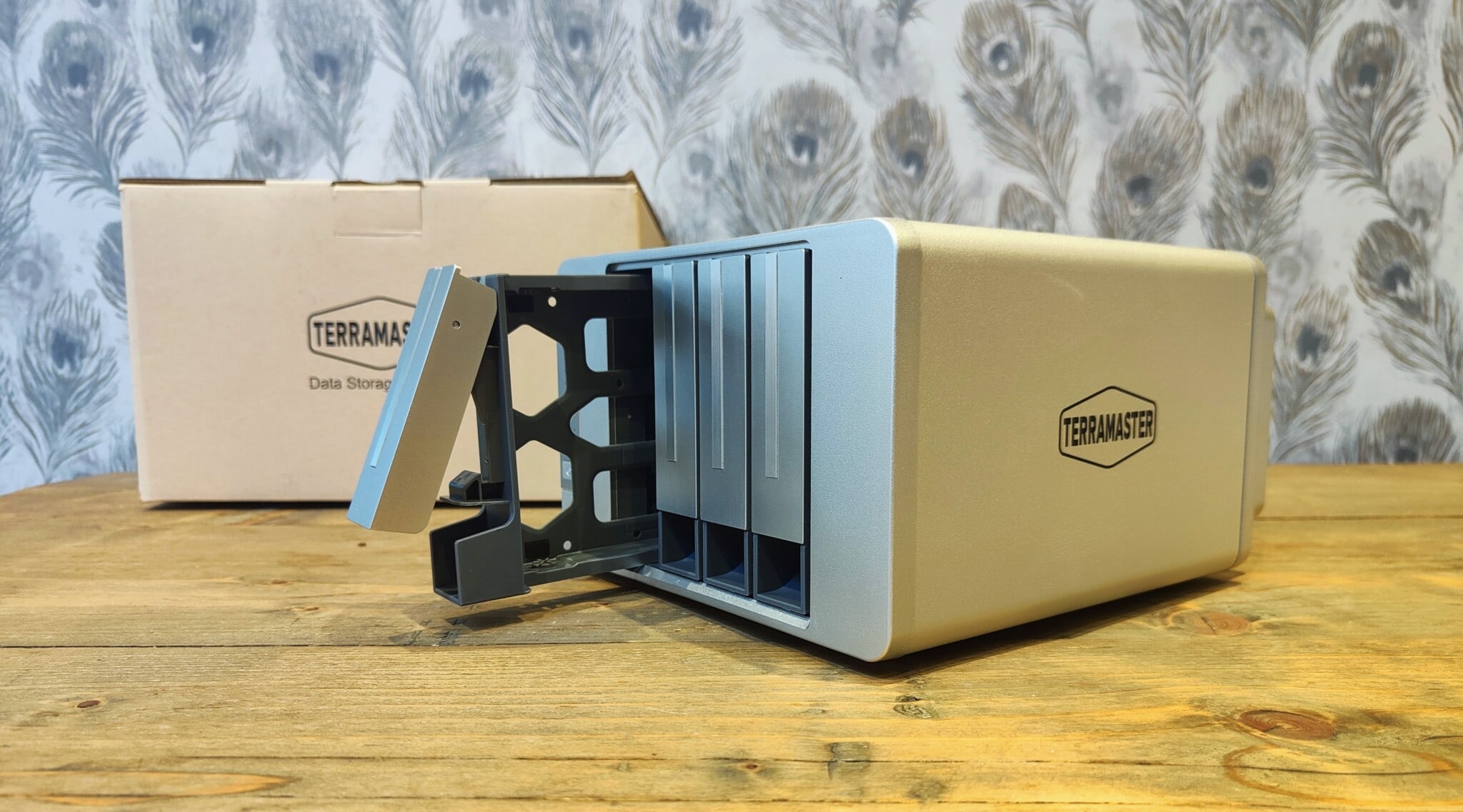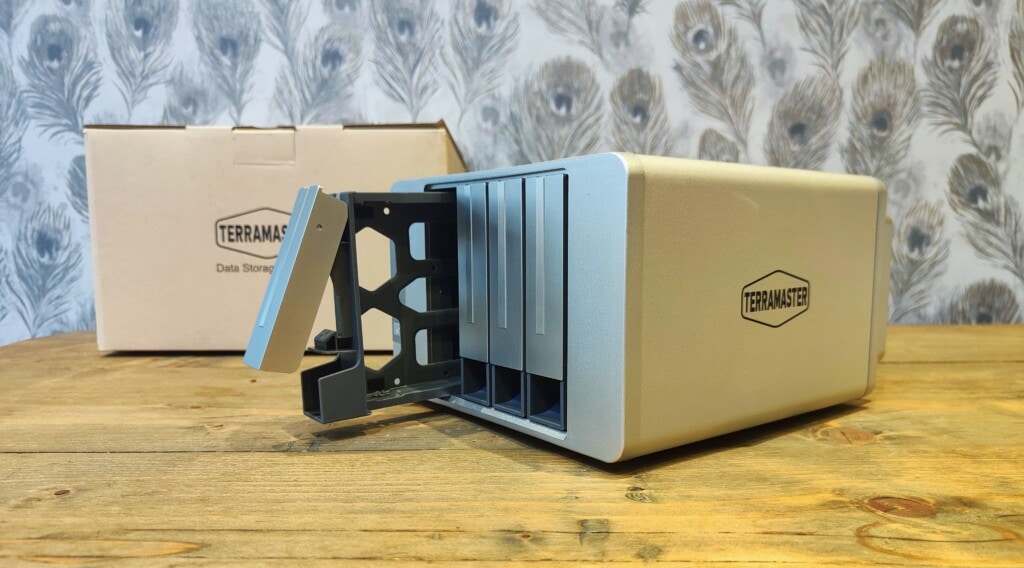 Processor: Intel Celeron J3455 – Quad Core 1.5GHz (Max burst up to 2.3GHz) X.86 64-bit
Memory: 4GB (expandable to 8GB)
Drives: 4x 3.5-inch and compatible with 2.5inch.
Max Single Volume: 108TB
Drive Formats: EXT4, BTRFS
RAID compatability: RAID 1,RAID5,RAID 6,RAID10
RJ-45 1GbE Network Jack: 2 with link agregation
USB 3.0 Port: 2
HDMI: Yes
System Fan: 80mm x 2 with a noise level of 19.8dB(A)
Power Supply: 90W
Setup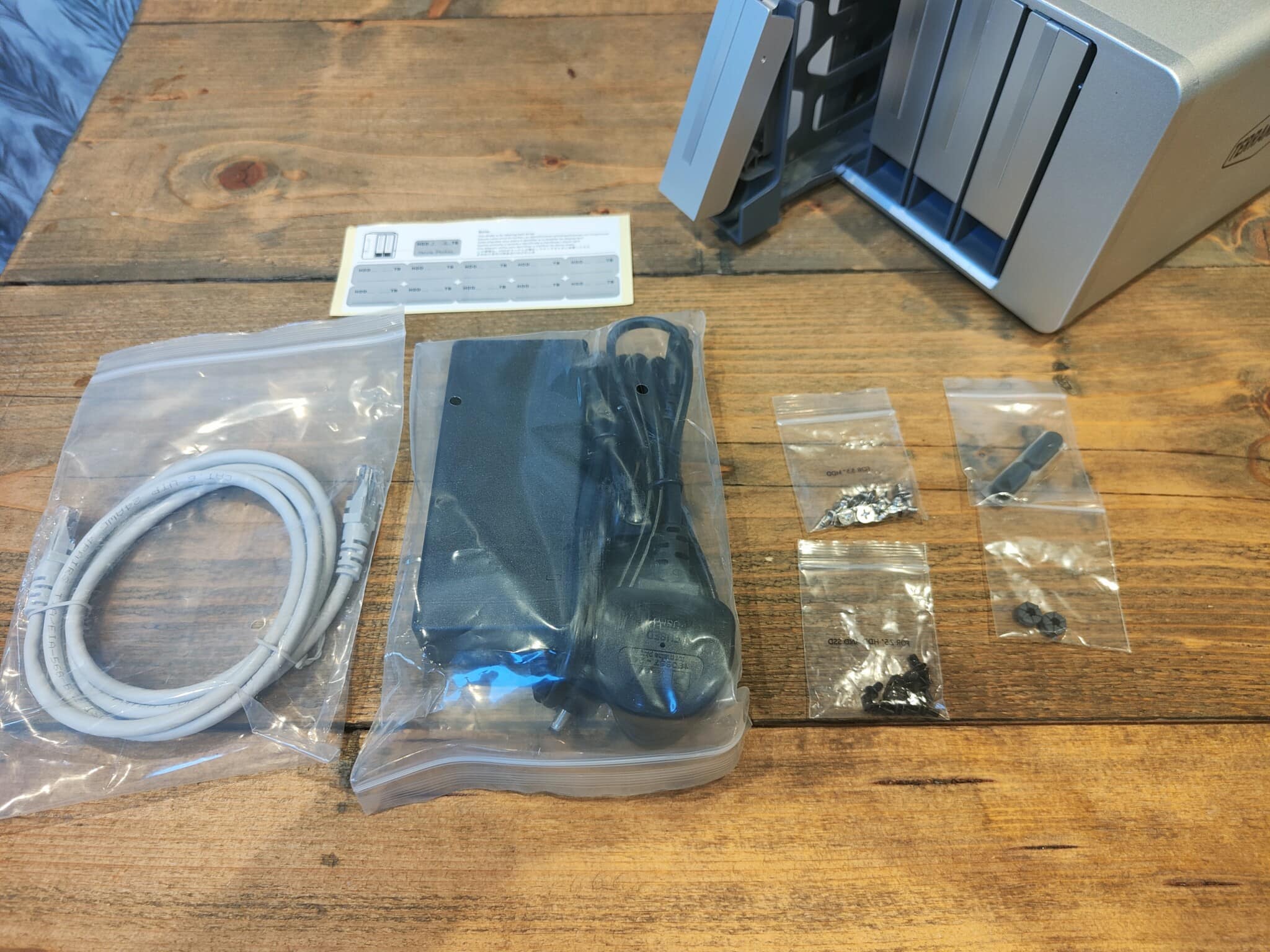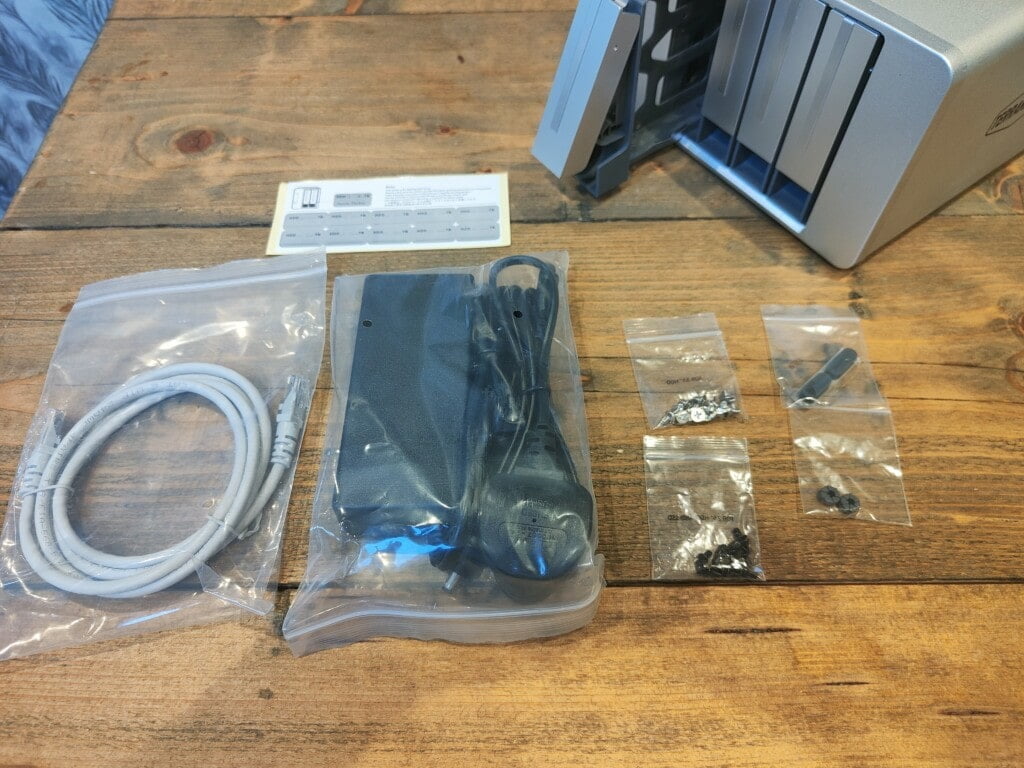 The setup is identical to all the other TerraMaster NAS machines, including the F2-210 and F4-422.
The drive bays slot of without tools, and you place the drives in them and can screw them down with the supplied screws. Then just plug everything in, and you are done.
I normally scan my network for the IP of the NAS then go to the IP via my browser, but you can also use the TNAS PC application, which will point you to the right place.
From there, it is a simple guided GUI where the NAS will check the health of the disks and allow you to set up the system as you want.
The NAS supports the BTRFS and EXT4 filesystems, with BTRFS being the preferable option. You then have a choice of Single, RAID 0, RAID 1, RAID 5, RAID 6, RAID 10, and JBOD disk arrangements.
The NAS has 4GB RAM installed, but this is expandable to 8GB which is quite rare for a NAS at this price point.
TerraMaster OS / Software Features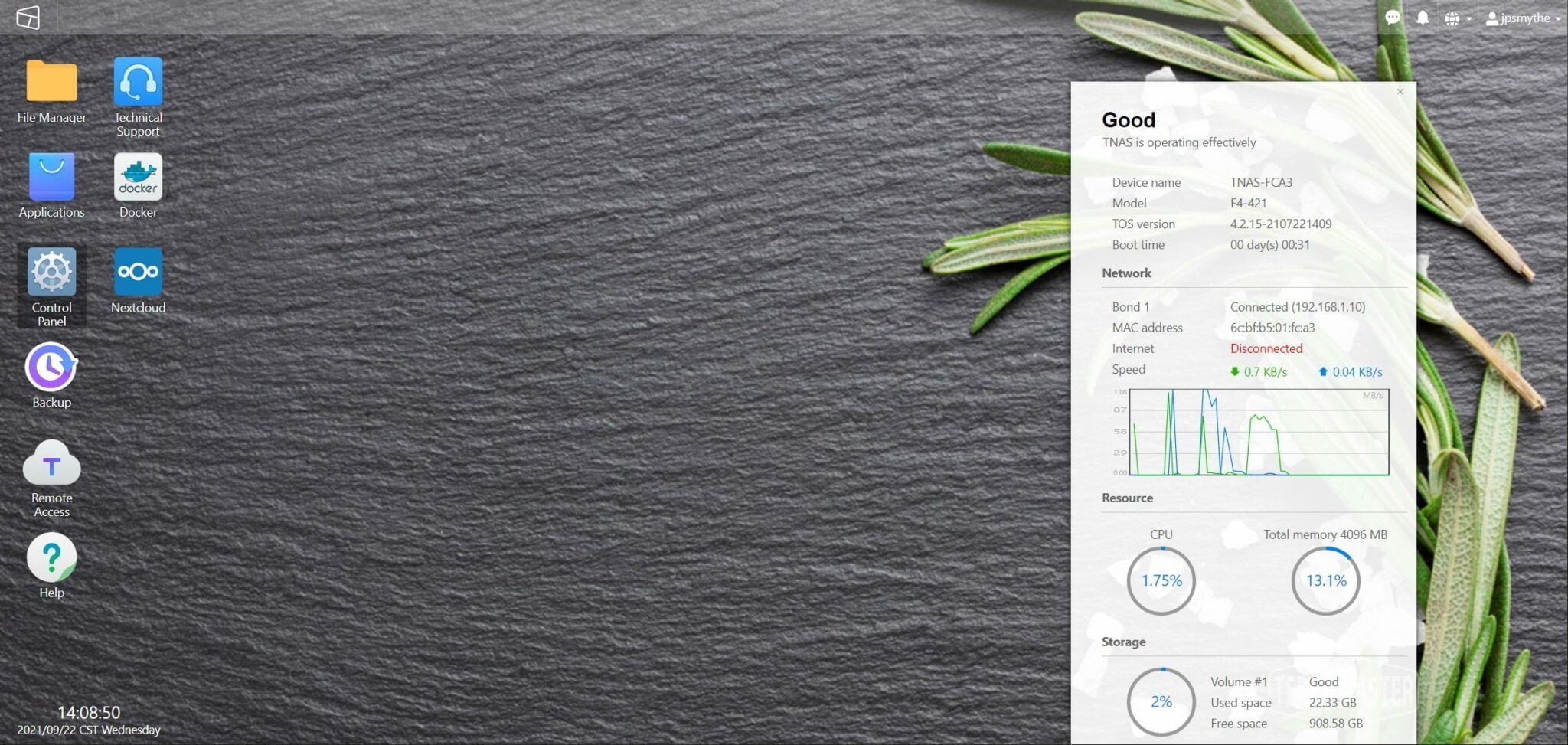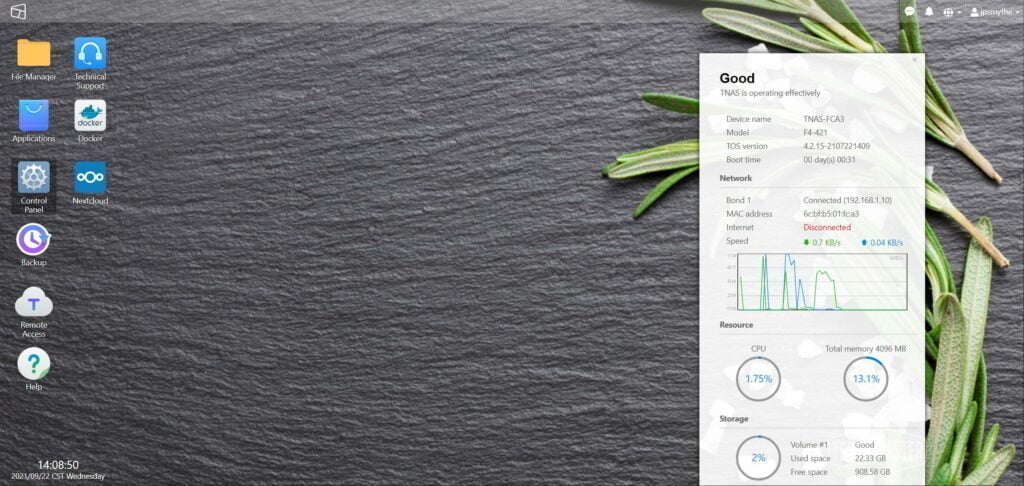 I have become quite familiar with the TOS in the past year. Just like Synology and others, you get a Windows-like GUI in the browser that is quite user friendly to manage.
The interface runs smoothly, and you get a handy resource monitor so you can see the current CPU and memory usage.
Within the control panel you can set up users, share folders, remote folders and all the various file services. You can also enable/disable telnet and SSH.
The NAS natively supports Apple Time Machine, and there is also an Rsync backup service.
You can then set up remote access.
Basically, it does all the stuff you expect a NAS to do.
Installable Applications – What is new since 2020?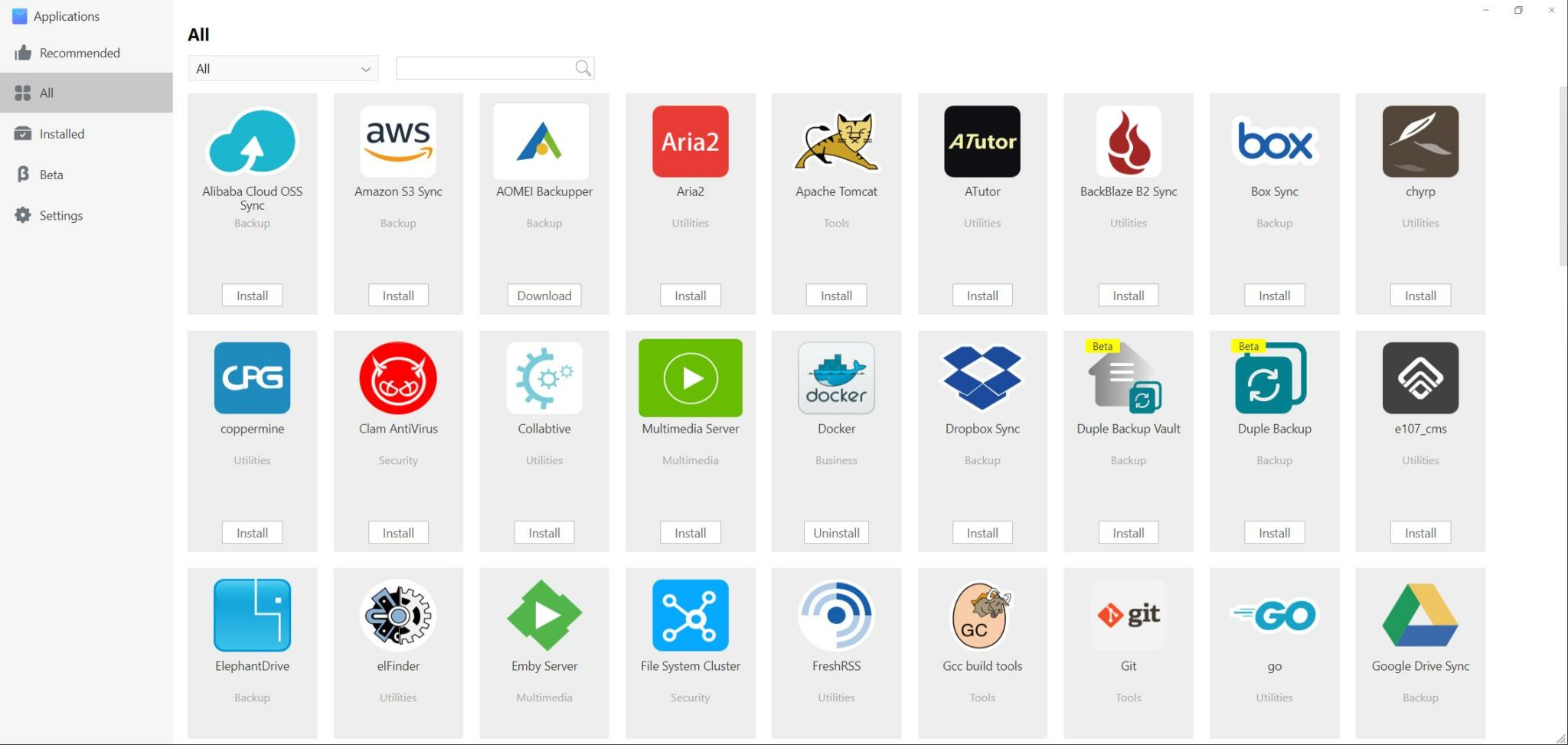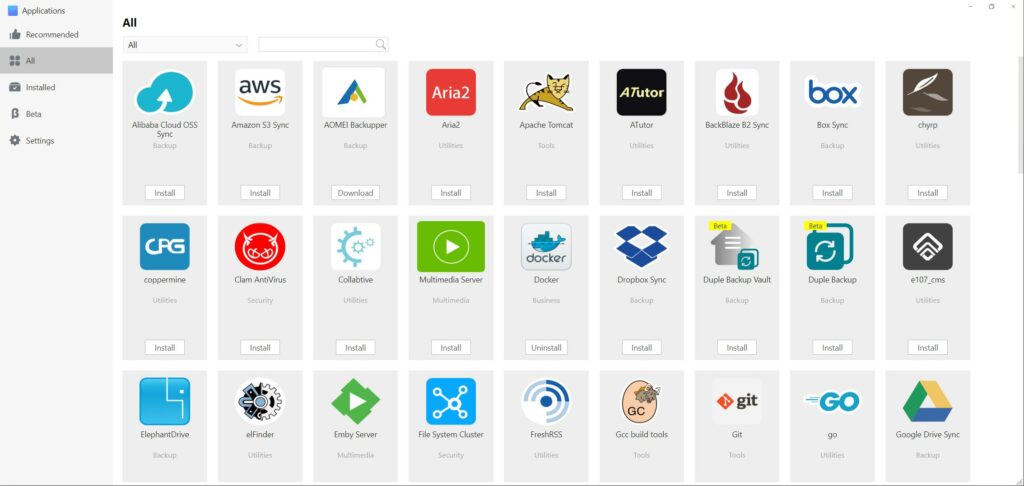 When I reviewed the TerraMaster F4-422 last year, there were under 80 available apps. There now appears to be 88, if I can count properly. So the app repository is slowly growing.
Last year I highlighted useful utilities including:
Multiple backup options – Amazon S3, BackBlaze, Box, Google, Dropbox
Multimedia server for DLNA
Docker to instal apps within containers
Emby Server
FreshRSS feed aggregator
GIT
Headphones for NZB and Torrents (but no Sonarr/Radarr)
iTunes Server
Lazy Librarian
Mail Server
MariaDB
Net2FTP
phpMyAdmin
Plex Media Server
QBittorrent and Transmission
Snapshot
Web Server
VirtualBox
VPN Server
And I point out that the missing apps I'd like to see where
NZB download application
Other download options (similar to DownloadStation)
Sonarr/Radarr
DNS Server
Something similar to Synology specific applications especially Surveillance Station, Moments, Photo Station
I can't be sure exactly what has been added, but there is now a DNS server, and Portainer has been added to manage your docker containers easily, and I think a proxy server utility is new.
HDMI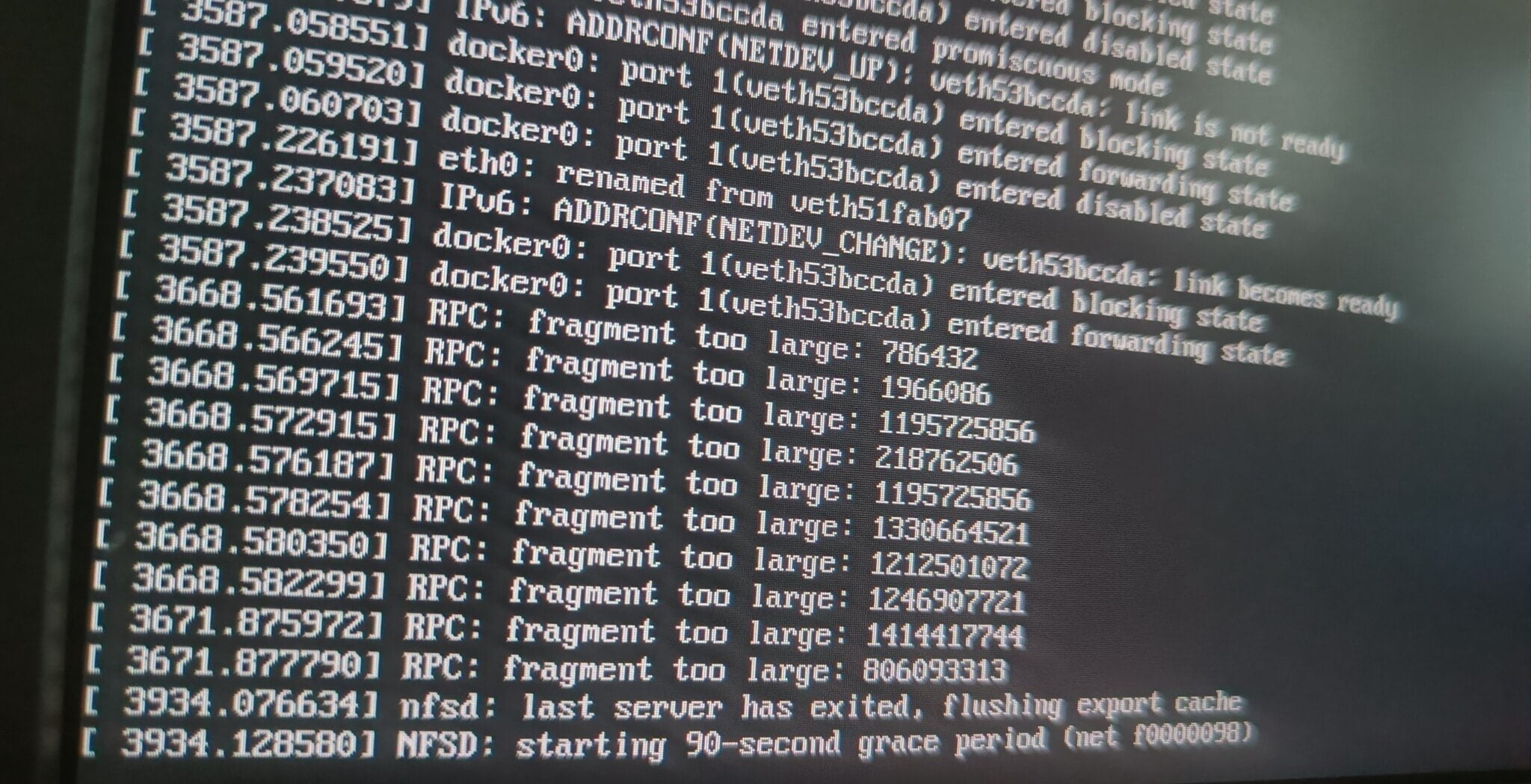 It is unusual to have a working HDMI port on a NAS, and in this case, it may not work as expected. You don't get access to the TOS desktop GUI, but instead, it is the underlying Linux debugger. While this may seem pointless, it can still be handy if you lose connectivity and need to work out what is going on.
Performance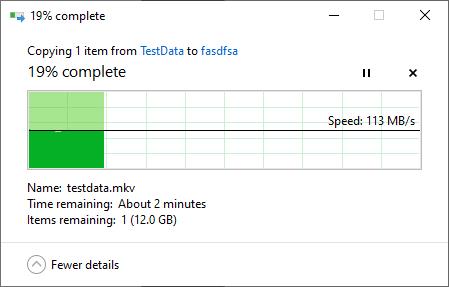 Similar to the other TerraMaster reviews, the F4-421 offers good network throughput performance.
Read and write performance maxed out my gigabit connection with 117MB/s in Crystal Diskmark, Windows File Explorer showed speeds of 113MB/s.
You can then enable port aggregation, giving you a theoretical 2000MB/s connection. There seems to be mixed opinions about if this offers any throughput benefit it a single user, but it will offer improved overall throughput for multiple users. In my case, creating a bond with the two interfaces and enabling LAG within my Mikrotik switch yielded the same throughput results.
The NAS has two 80mm fans for cooling at TerraMaster claim this generates 19.8dB(A) worth of noise. In a silent room, they are audible within a close range, but any additional background noise drowns them out. I used this in my office, and my quiet office PC was easily louder.
Plex & Emby
Just like the F4-422, all TerraMaster NAS devices running the J3455 CPU can handle hardware transcoding up to H.264 2160p in SDR only. They can then do HEVC SDR 2160p & HEVC UHD 2160p decoding. The main differences are that H.264 2160p has a bitrate of 20Mbps while HEVC is 60Mbps then the SDR uses the Main / bt709 colour space, and UHD uses Main 10 / bt2020.
Most of my content is in 1080P, but a lot of it is at a high bitrate with 7.1 audio. During my time testing, I experience no issues with playback. Most of my regular use is within the LAN, so it is rare that I require any transcoding, so my testing here was limited.
Local streaming to an Nvidia Shield had no issues regardless of file type or size.
Price and Alternative Options
The TerraMaster F4-421 currently sells for £399.99 which is available from Amazon.
At the time of writing, the TerraMaster F4-422 with 10GbE and dual 1GbE Ethernet is just £439.99. Personally, I think this is well worth the extra £40 for the 10GbE interface. Even if you are still using 1GbE, it will help future proof the NAS, and 2.5GbE switches are now available quite cheaply.
The cheapest 4-bay Synology options are the DS418 with 2GB RAM at £377 or the DS420j for £369.69. So, you get a lot more hardware for your money with TerraMaster, but Synology still has the best OS.
Overall
TerraMaster makes some great value for money NAS options. The TerraMaster F4-421 is no different. It has a good hardware specification, and it is cheaper than brands such as Synology and QNAP.
While the features and overall software experience can't match Synology, it is still pretty good. You have most of the important apps you might want, including home user-friendly apps such as Plex and BitTorrent Clients. NextCloud is in the app store, and this can replicate many of the built-in Synology apps.
For those with a bit more technical knowledge, you have docker, which opens up the system to as much customisation as you want.
As a backup solution, TerraMaster is excellent, with a wide range of backup features built-in combined with good network throughput.
Last update on 2022-05-23 / Affiliate links / Images from Amazon Product Advertising API