Shokz OpenRun Pro Bone Conduction Sports Headphones Review Rating
Summary
The Shokz OpenRun Pro are perfect for any athlete that wants the environmental awareness of bone conduction headphones but doesn't want to sacrifice audio quality
Pros
Best sound quality of any bone-conducting headphone
Less sound leakage / greater volume vs open-air headphones
Cons
Quite expensive
IP55 vs IP67 on Openrun
I was impressed with the Shokz OpenRun when I reviewed them at the start of the year. Now, during MWC 2022, the Shokz OpenRun Pro has launched in the UK.
These new headphones up the audio quality but cost a bit more and are not quite as waterproof.
Specification
Battery life: 10 Hours
Charge time: 1 Hour
Charger: Magnetic Induction Cable
Compatible codecs: SBC
Frequency response: 20Hz~20KHz
Microphone: Dual Noise-Canceling Mic
Microphone sensitivity: -38dB ± 3dB
Multipoint pairing
Sensitivity: 105 ± 3dB
Full-Wraparound Titanium band and frame
Bluetooth 5.1
IP55 Water-resistance (Water-resistant)
Weight: 29 g
OpenRun Pro vs OpenRun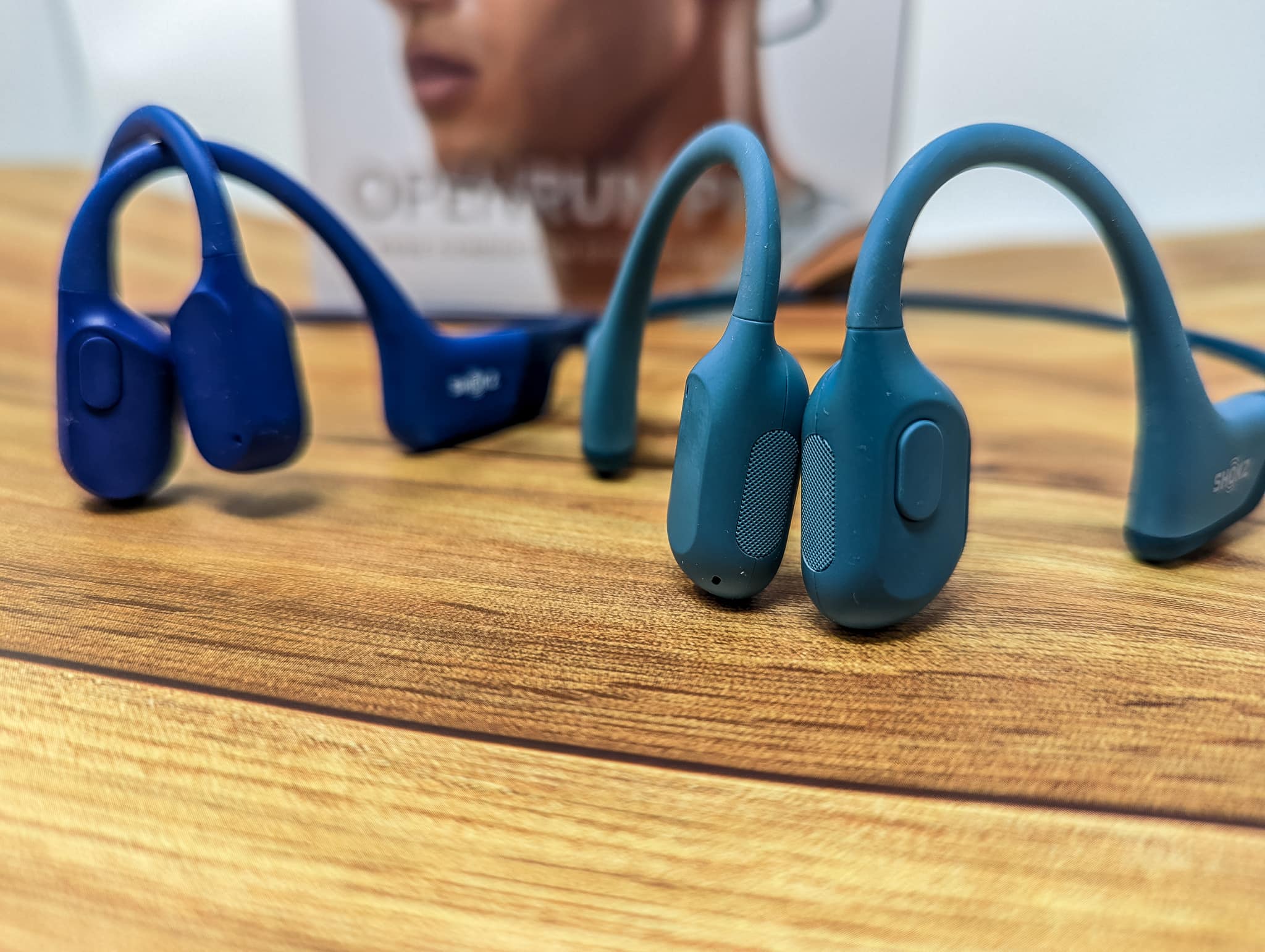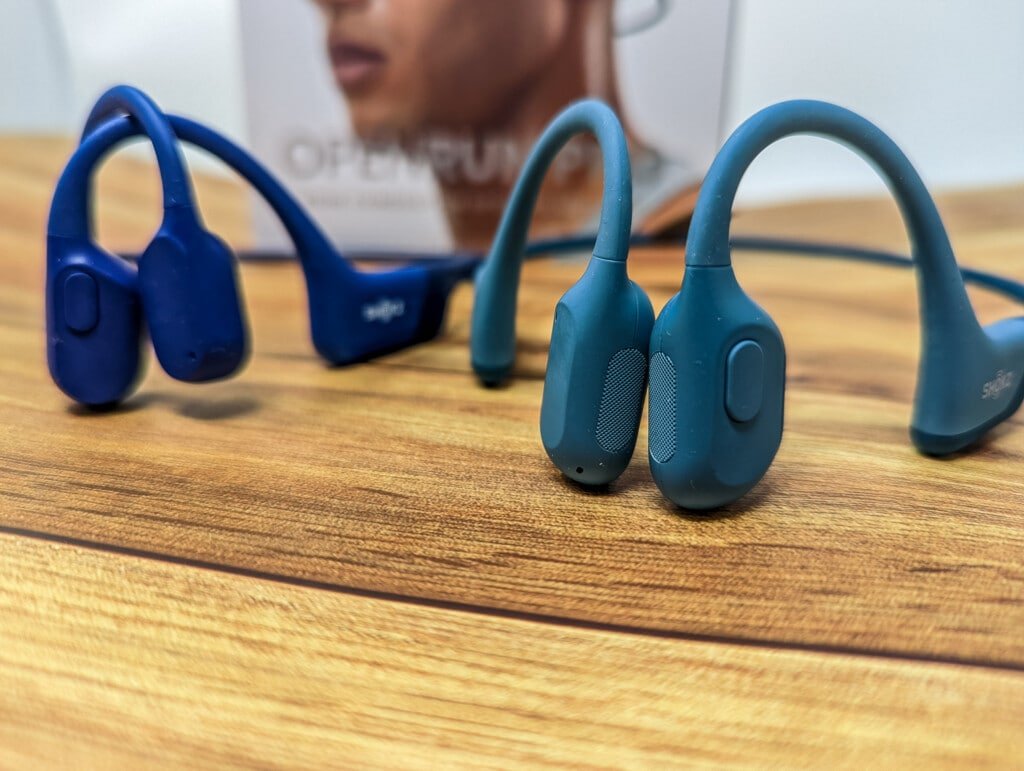 From the official spec sheet on the Shokz website, the differences are:
OpenRun Pro uses 9th Generation Bone Conduction Technology vs 8th
Pro weighs 29g vs 26g
Pro is only IP55 (Water-Resistant) vs IP67 (Waterproof)
Pro come sin one size rather than two
Priced at $180/£159.95 vs $130/£129.95
Basically, these sound better, but as a result, they are slightly less water-resistant
Design & Fit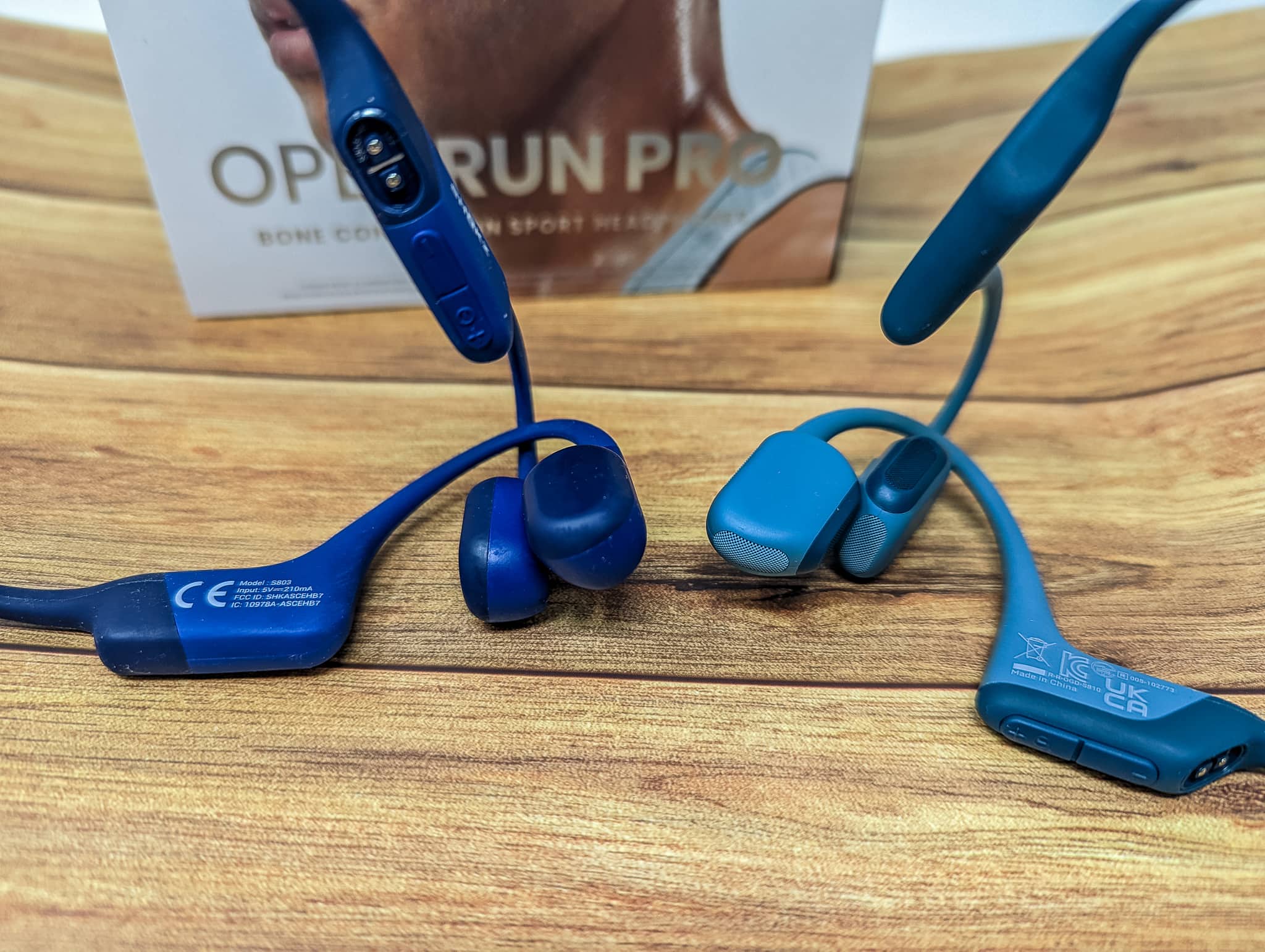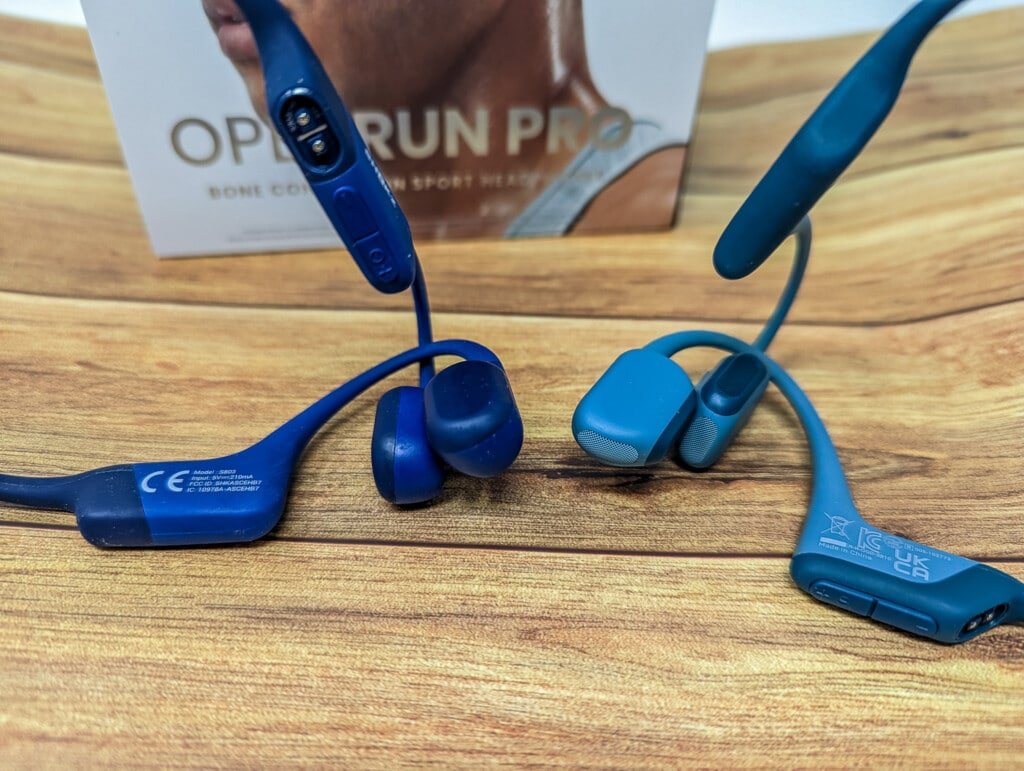 These have visible speaker grilles with a grill pointing directly into your ear and one on the other side pointing directly away. I suspect the driver is faced into your ear, so you are getting a bit more than just bone conduction. The outwards facing grill should allow the driver to vent, which will likely help with bass reflex.
While this grilled design will improve the overall audio quality, it is most likely the reason why these only have an IP55 rating rather than IP67, which the standard OpenRun achieves. With these being specifically targeted towards athletes, it is quite an important thing to consider. From my own experience, in all the years I have reviewed TWS earbuds, I have yet to have any IP rated earbuds fail due to water ingress regardless of the level of IP rating. I am the sweatiest person I know by far and regularly run marathons and live in the north of England, so my earbuds get exposed to a lot of sweat and rain.
As far as comfort and fit go, these are excellent. They are ultra-lightweight and sit comfortably in the correct spot without adjustments. I have recently been getting frustrated at in-ear TWS headphones falling out during weightlifting, but due to the design of these, you will never have them fall off during any exercise.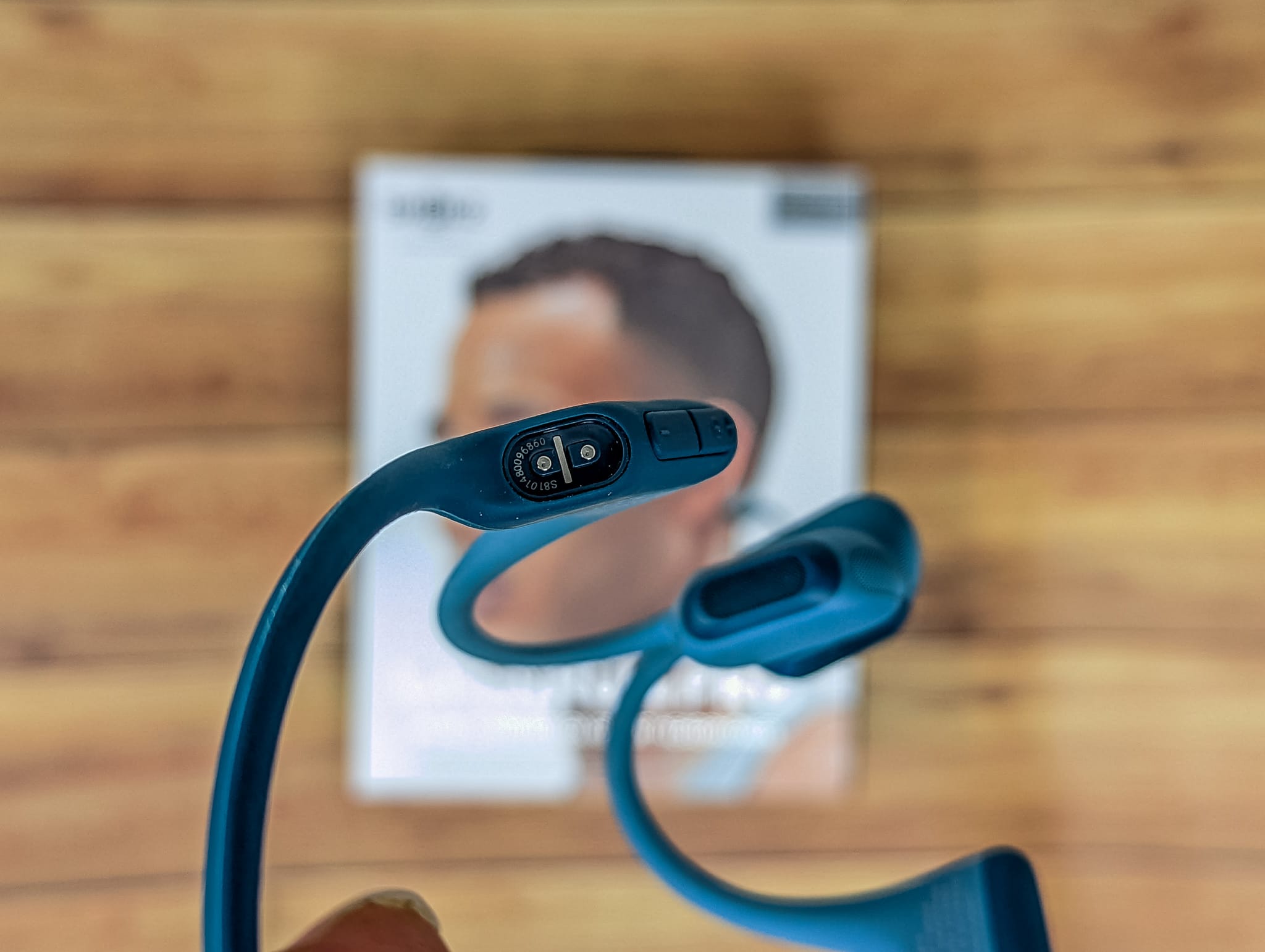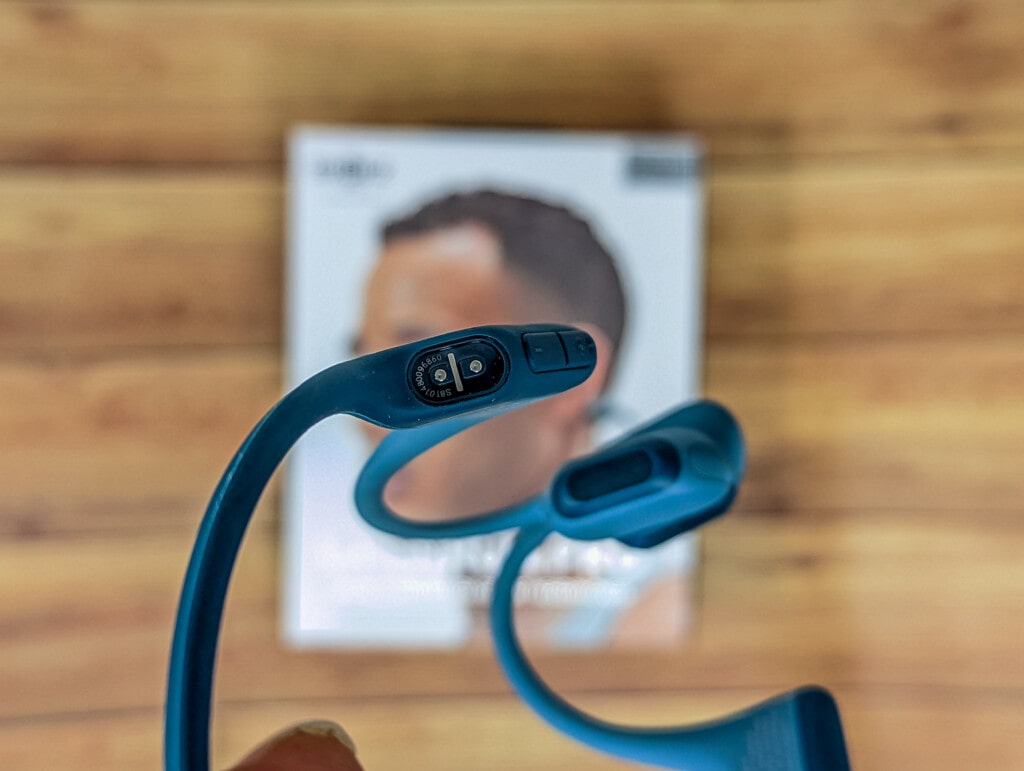 Sound Quality – How is the bass & what do they feel like?
These are easily the best alternative to in-ear headphones I have used.
Bone conduction headphones have a tendency to have a relatively unpleasant feel to them due to the vibrations they create. This is especially true at higher volumes and when the bass kicks in.
With my Pixel 6 volume dialled up to about 70% there is no vibration or head feel for any music that is predominantly mids and highs. When bass kicks in, there is only the slightest of vibration.
The bass itself is good, but it will never be as good as in-ear options. There is a slight amount of distortion at higher volumes or with the lowest of lows. Bass heads probably won't want this as a daily headphone but
Mids and highs are superb. In particular, vocals are perfectly clear, and I'd say the overall performance is on par with in-ear options
Price and Alternative Options
The Shokz OpenRun Pro are priced at £159.95, and the standard OpenRun are £129.99. If audio quality is important to you, I'd say the £30 is worth it, but they are both superb bone conduction headphones.
I have only just come across the Philips Audio TAA6606BK bone conduction headphones, which have an RRP of £130 and are currently available for a bit over £100, which I think might be the first time I have seen a big brand try and compete with Shokz with bone conduction headphones.
Apart from the Philips headphones, Shokz have no worthwhile competition for bone conduction headphones, the only viable alternatives are from Shokz themselves.
The old AfterShockz branded models are still widely available on Amazon. If you are on a budget, you have either the Trekz or OpenMove. I was fond of the OpenMove because they were affordable, but the sound quality of these is on a different level.
Overall
The Shokz OpenRun were superb, and it is no surprise that these are better.
For me, the sound quality is good enough that I could happily use these instead of in-ear options for many scenarios. While they will never be quite as good as in-ear options, For any form of fitness, these are outstanding, you have all the benefits of environmental awareness and the security of a wrap-around design, but you are not sacrificing the audio quality too much.
Last update on 2022-05-27 / Affiliate links / Images from Amazon Product Advertising API