Samsung has officially announced their flagship phone chipset for 2022, the Samsung Exynos 2200.
At the moment, they have only provided a small amount of information, they have not released detailed frequency specifications, so this comparison is a little bit vague.
Samsung Exynos 2200 vs Qualcomm Snapdragon 8 Gen 1 vs Mediatek Dimensity 900 Specification Table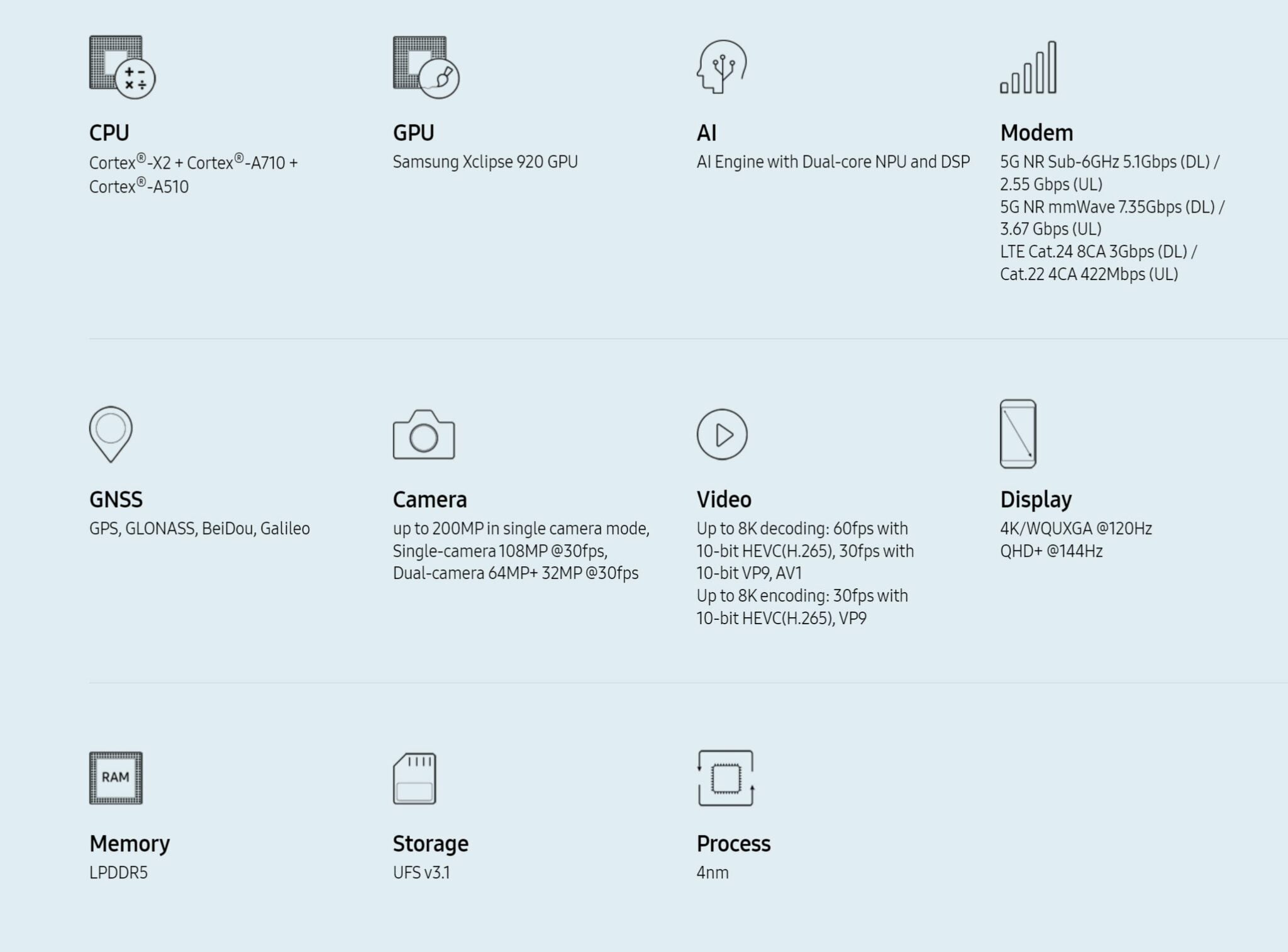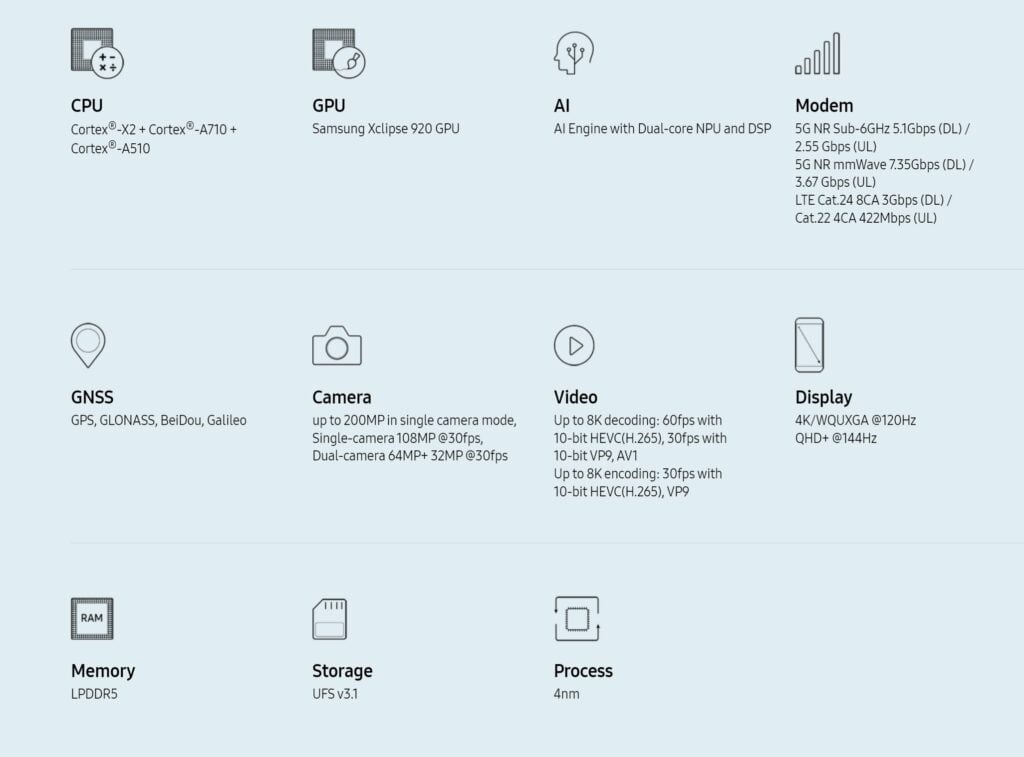 Samsung Exynos 2200
Qualcomm Snapdragon 8 Gen 1
Mediatek Dimensity 9000
Fabrication Process
4nm Samsung
4nm Samsung
4nm TSMC
CPU
1 x Arm Cortex-X2 @ 3.0 GHz
3 x ArmCortex-A710 @ 2.5 GHz
4 x Arm Cortex-A510 @ 1.8 GHz
1 x Arm Cortex-X2 @ 3.0 GHz with 1024KB pL2
3 x ArmCortex-A710 @ 2.5 GHz with 3x512KB pL2
4 x Arm Cortex-A510 @ 1.8GHz with 2x unknown sL2
1 x Arm Cortex-X2 @ 3.05 GHz
3 x ArmCortex-A710 @ 2.85 GHz
4 x Arm Cortex-A510 @ 1.8 GHz
GPU
Samsung Xclipse 920 GPU
Adreno
ARM Mali-G710 MC10
Memory
LPDDR5

4x 16-bit
3200MHz LPDDR5 / 51.2GB/s
4MB System Cache
4x 16-bit
3200MHz LPDDR5 / 51.2GB/s
3750MHz LPDDR5X / 60.0GB/s = 7500Mbps support
6MB System Cache
ISP
up to 200MP single camera mode
Single camera 108MP @ 30FPS
Dual Camera 64MP+32MP @ 30FPS


Triple 18-bit Spectra ISP
1x 200MP or 108MP with ZSL
64+36MP with ZSL
3x 36MP with ZSL

8K HDR video & 64MP burst capture
Imagiq790
New-gen Triple 18-bit ISP
9GPix/s processing throughput
Single Sensor up to 320MP
Triple Sensor 32+32+32MP
NPU
AI engine with dual-core NPS and DSP

Hexagon
5th Gen 4+2 core APU
Media
Upto 8K decoding:
60FPS with 10-bit HEVC,
30FPS with 10-bit VP9, AV1

Up to 8K encoding:
30FPS with 10-bit HEVC VP9


8K30 / 4K120 10-bit H.265

Dolby Vision, HDR10+, HDR10, HLG

720p960 infinite recording

No AV1 decoding
8K30 & 4K120 encode &
8K60 decode

H.265/HEVC, H.264, VP9

8K30 AV1 Decode
Connectivity
Bluetooth 5.2?
Wi-Fi 6E

Bluetooth 5.2
Wi-Fi 6E

Bluetooth 5.3
Wi-Fi 6E

Modem

5G NR Sub-6 + mmWave
up to DL = 7350Mbps
UL = 3670Mbps
Integrated X65
5G NR Sub-6 + mmWave
DL = 10000 Mbps
UL = 3000 Mbps
LTE Category 24/18
5G NR Sub-6
CPU & Fabrication
The chipset was developed on the 4nm Samsung fabrication process and used the same CPU cores as both Qualcomm and Mediatek.
They have not revealed the core count but it is safe to assume it will be 1x3x4 just like the other two chipsets.
They also have not stated the frequencies, but early Geekbench revealed that they would be 3Ghz, 2.5Ghz and 1.8Ghz, which is identical to the Qualcomm chipset but a touch behind Mediatek.
GPU
The key feature of the Samsung Exynos 2200 is the Samsung Xclipse 920 GPU. As expected, this is a new GPU that has been developed with AMD RDNA 2 architecture as its backbone. The Xclipse inherits advanced graphic features such as hardware-accelerated ray tracing (RT) and variable rate shading (VRS) that were previously only available on PCs, laptops and consoles.
Qualcomm continues to use their Adreno based GPU, while Mediatek is using the latest ARM Mali-G710 MC10.
The Xclipse 920 GPU could be a make it or break it moment for Samsung. The flagship Exynos chipset has been floundering behind Qualcomm for the past few years, and now Mediatek is catching up to the big boys.
NPU
Interestingly, Samsung has dropped down to a dual-core NPU.
However, Samsung state that the NPU's performance has doubled compared to its predecessor, allowing more calculations in parallel and enhancing the AI performance.
The NPU now offers much higher precision with FP16 support in addition to power-efficient INT8 and INT16.
Both Qualcomm and Mediatek continue to make improvements with their NPU's and recently the Snapdragon 8 Gen 1 shot to the top of the charts of some AI benchmarks scoring 86% higher than the recently launched Google Tensor and 172% higher than the previous generation Snapdragon 888.
Overall
At this point the specification doesn't reveal a great deal of information. We knew most of this information anyway.
The Qualcomm has already been benchmarked and I am hoping to review a Snapdragon 8 Gen 1 phone next month to provide my own set of data.
It is the Samsung Xclipse 920 GPU performance that is important. Not just the peak numbers but its ability to sustain performance and also the impact on the battery.
It is worth mentioning that the Exynos 2200 supports AV1 decoding, this is something Qualcomm does not support, but Meditek does.
The Samsung Galaxy S22 series is due to launch in early February. Currently, it is expected to be either the 8th or 9th.