Qualcomm has finally unveiled the full specification of their flagship chipset for 2020, the Snapdragon 865.
The big surprise was that they have decided not to integrate a 5G modem with it, however, companies must pair this with the 5G X55. So you Qualcomm based phone will definitely have 5G next year, and questions remain on how this will affect pricing, and why did Qualcomm not just integrate the X55 in the first place?
External 5G modem
The logic behind this seems to be to simplify 5G implementation for vendors. Companies have had access to the X55 modem for a year now with many of them developing solutions based on the X55 and Snapdragon 855, so this should allow them a simpler integration over an integrated 5G modem.
It is worth noting that Samsung also did this with their Exynos 990 chipset, Huawei opted to launch 2 versions of the Kirin 990, one with and one without 5G. So that leaves Mediatek as the only company with an integrated 5G modem as standard on their flagship chipset.
Fabrication Process
Qualcomm has gone with TSMC this year using the improved 7nm "N7P" node which is the same used by Apple on their A13 chipset.
It had been expected to use the Samsung 7nm EUV process (7LPP). Currently, it is only Huawei using the N7+ (Extreme ultraviolet lithography) process which is slightly better.
CPU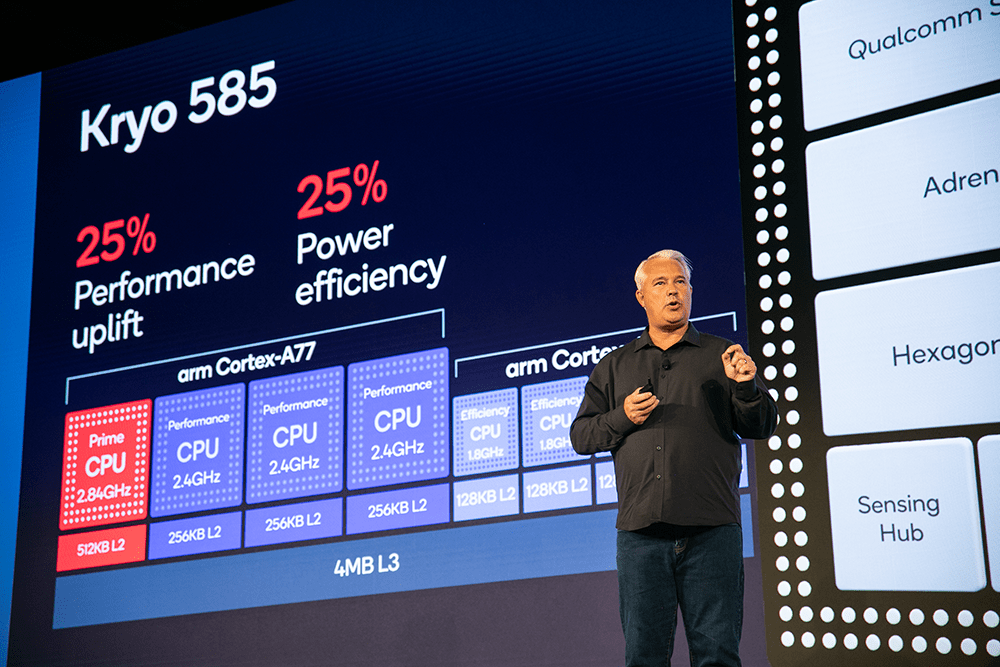 As expected Qualcomm have used same 1+3+4 CPU configuration as found on the Snapdragon 855, and upgraded these cores to the new Arm Cortex A77 which is then customised and renamed to Kryo 585 Prime and Gold.
They have kept the frequencies the same as the previous generation using the same 2.84GHz, 2.4GHz and 1.8GHz clock frequencies, and the same 512KB, 256KB and 128KB L2 cache configurations.
Qualcomm claims a 25% power efficiency gain for the new SoCs and also claims a 25% performance uplift this year.
Qualcomm, as with other companies, continues to use the Cortex-A55, with them being clocked the same, they will offer the same performance.
The L3 cache has now been bumped up to 4MB from 2MB.
GPU
Qualcomm has stuck with the 600-series architecture upgrading it from the 640 to 650. This is the third year of using this architecture which is unusually long.
No frequencies ave has been revealed but Qualcomm claims that there is a +25% performance upgrade as well as being 35% more power-efficient. They made some interesting comparisons against the Xbox One: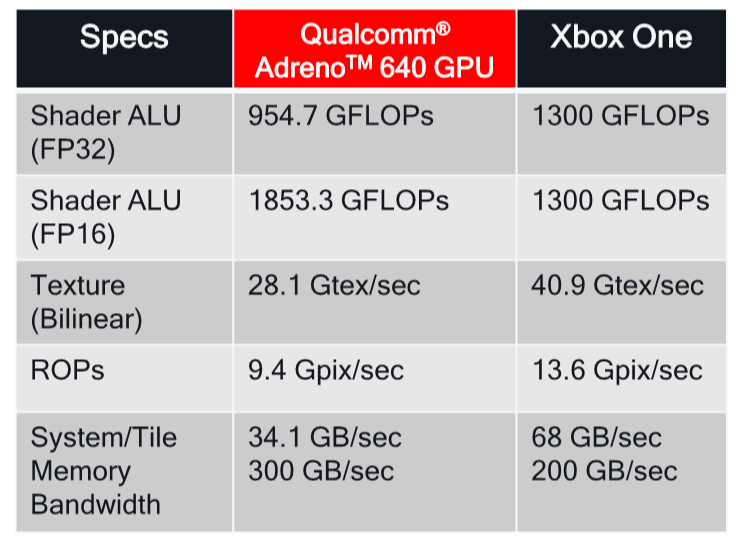 Qualcomm will now push graphics drivers updates through the Play Store on a quarterly basis.
Memory
Qualcomm is the second company, after Samsung, to announce LPDDR5. The new memory standard promises to improve the power efficiency per bit transferred by roughly 20%.
However, Qualcomm uses a hybrid memory controller, supporting both LP4X and LP5 memory standards. LPDDR4X is supported to up to 2133MHz, while LPDDR5 memory is supported 2750MHz (5500MHz effective considering DDR). The bandwidth improvement here is 31%, and Qualcomm notes that the two technologies will roughly offer the same memory latency, meaning no improvement nor degradation.
AI
Imaging has had a big improvement, the new Hexagon 695 DSP has had its processing power quadrupled which in turn has doubled the SoC's aggregate AI processing ability up from 7 TOPs to 15 TOPs.
Imaging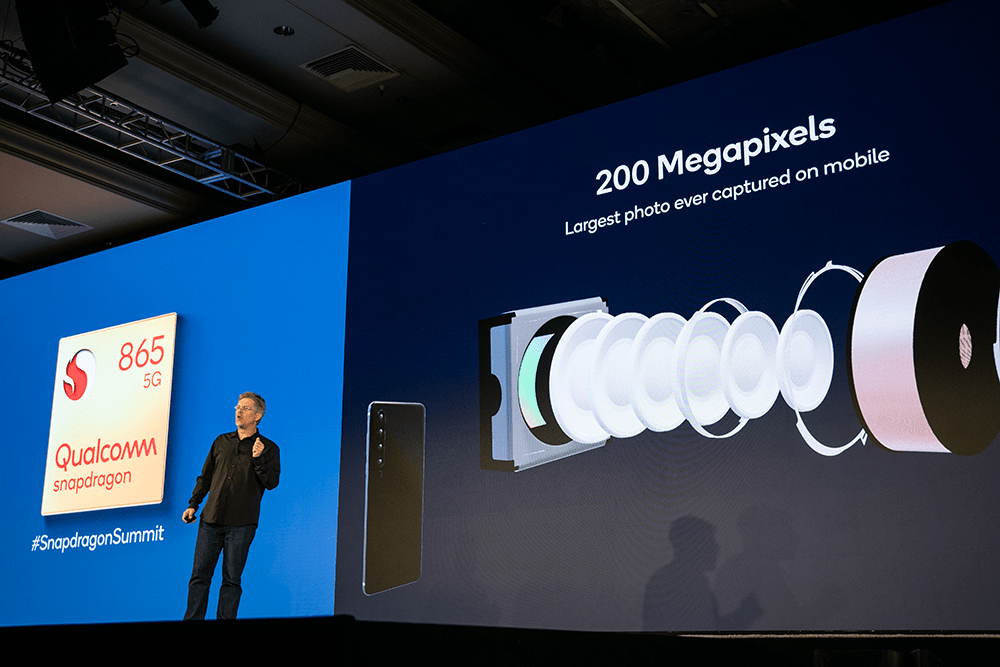 The new Spectra 480 also claims power efficiency upgrades being 35% more power efficient and it can now process 4 pixels per clock instead of just only 1 PPC as in the previous generation allowing it to process up to 2 Gigapixels/second.
The new SoC is able to now record in 4K HDR while simultaneously capturing up to 64MP still shots at the same time. It can even support 4K120 and 8K30 video recording and you also have the option to record using the Dolby Vision HDR standard.
Slow-motion footage can be recorded at 960fps, but unlike other chipsets, this can be recorded indefinitely.
Many people had wondered if the Snapdragon 865 will support AV1 codec for video decoding, unfortunately, it won't, and if you want this you will need the Dimensity 1000.
As for your photos, this now supports sensors up to 200MP but zero shutter lag (ZSL) is limited to 64MP.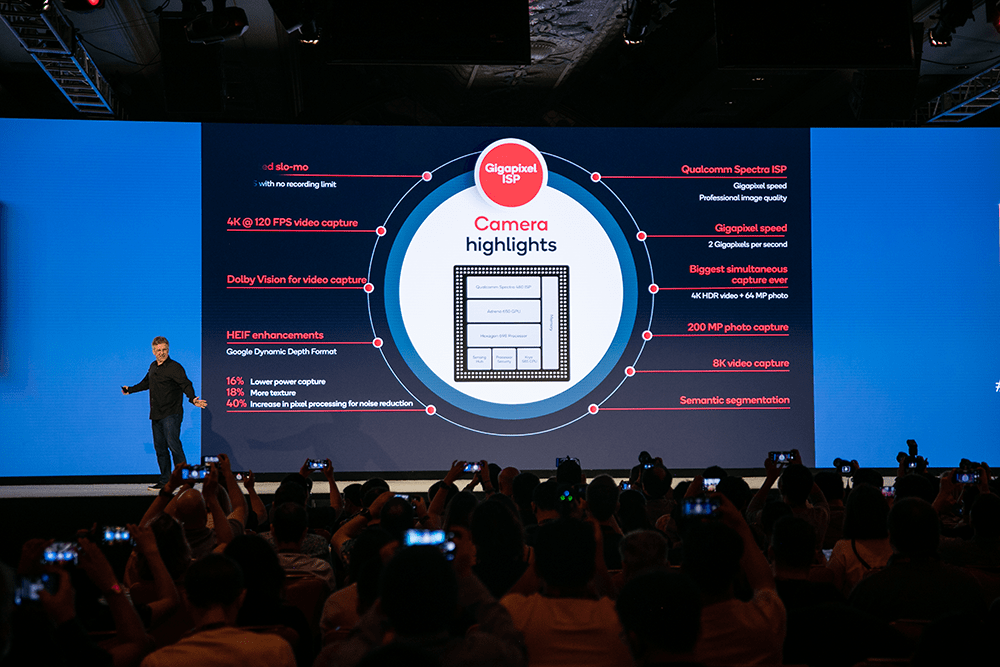 Other Features – 144Hz displays
High refresh rates have become more popular this year, and you can expect this to be a big trend next year. The SD865 will allow phones to go all the way up to 144Hz, which I am sure will be good for your battery.
Specification Comparison Table
Snapdragon 865
Snapdragon 855
Snapdragon 855+
Process
TSMC
7nm (N7P)
7nm (N7)
7nm (N7)
CPU Cores
Octa-Core, 64-bit
Octa-Core, 64-bit
Octa-Core, 64-bit
CPU
1x Cortex A77
@ 2.84GHz 1x512KB pL2

3x Cortex A77
@ 2.42GHz 3x256KB pL2

4x Cortex A55
@ 1.80GHz 4x128KB pL2
4MB sL3 @ ?MHz
1x Kryo 485 Gold (A76)
@ 2.84GHz 1x512KB

3x Kryo 485 Gold (A76)
@ 2.42GHz 3x256KB

4x Kryo 485 Silver (A55)
@ 1.80GHz 4x128KB
1x Kryo 485 Gold (A76 derivative)
@ 2.96GHz 1x512KB pL2

3x Kryo 485 Gold (A76 derivative)
@ 2.42GHz 3x256KB pL2

4x Kryo 485 Silver (A55 derivative)
@ 1.80GHz 4x128KB pL2

2MB sL3
GPU
Adreno 650 @ ? MHz

+25% perf
+50% ALUs
+50% pixel/clock
+0% texels/clock
Adreno 640 @ 585MHz
Adreno 640 @ ~672MHz
NPU
Hexagon 698

15 TOPS AI
(Total CPU+GPU+HVX+Tensor)
Hexagon 690

7 TOPS AI
(Total CPU+GPU+HVX+Tensor)
Hexagon 690

7 TOPS AI
(Total CPU+GPU+HVX+Tensor)
RAM
4x 16-bit CH

@ 2133MHz LPDDR4X / 33.4GB/s
or
@ 2750MHz LPDDR5 / 44.0GB/s

3MB system level cache
4x 16-bit CH

@ 1866MHz LPDDR4X 29.9GB/s

3MB system level cache
4x 16-bit CH @ 2133MHz
LPDDR4x
34.1GB/s

3MB system level cache
ISP
Dual 14-bit Spectra 480 ISP

1x 200MP or 64MP with ZSL
or
2x 25MP with ZSL

4K video & 64MP burst capture
Dual 14-bit Spectra 380 ISP
1x 48MP or 2x 22 MP
Dual 14-bit Spectra 380 ISP
1x 48MP or 2x 22MP
Video Playback & Codecs
8K30 / 4K120 10-bit H.265

Dolby Vision, HDR10+, HDR10, HLG

720p960 infinite recording
4K60 10-bit H.265

HDR10, HDR10+, HLG

720p480
2160p60 10-bit H.265
HDR10, HDR10+, HLG
720p480
Modem
none
(Paired with external X55 only)

(LTE Category 24/22)
DL = 2500 Mbps
7x20MHz CA, 1024-QAM
UL = 316 Mbps
3x20MHz CA, 256-QAM

(5G NR Sub-6 + mmWave)
DL = 7000 Mbps
UL = 3000 Mbps
Snapdragon X24 LTE
(Category 20)
DL = 2000Mbps
7x20MHz CA, 256-QAM, 4x4
UL = 316Mbps
3x20MHz CA, 256-QAM
Support for WiFi 6 standard (802.11ax) as well as the new 60GHz "Wi-Gig" 802.11ay, enabled by an external WiFi combo chipset.
Wi-Fi
?
Support for WiFi 6 standard (802.11ax) as well as the new 60GHz "Wi-Gig" 802.11ay, enabled by an external WiFi combo chipset.
Wi-Fi ad, Multi-gigabit Wi-Fi ac/b/g/n with MU-MIMO
Charging
?
Quick Charge 4+ (USB PD Compatible)
Quick Charge 4+ (USB PD Compatible)