Jackery Explorer 500 Portable Power Station & SolarSaga 100 Solar Panel Review Rating
Summary
The Jackery Explorer 500 Portable Power Station & SolarSaga 100 Solar Panel work as advertised offering reliable performance and providing plenty of power to keep phones and a laptop going for hours, or even small appliances. The solar panel worked well, even during October up North and it should be a superb addition for the summer months. 
Pros
Most reputable brand in the business
Works as advertised with flawless performacne
Solar panel works better than I had expected
Easy to use.
Cons
No USB-C / Power Delivery 
1 UK plug socket vs 2 on competing brands
Occasional fan noise 
I am not much of a camper, instead preferring city breaks in hotels and Airbnb, and my days of festivals were over about 20 years ago. I knew you could get power banks with 3-pin UK plug sockets, but the world of portable power stations has eluded me.
When Jackery asked if I would like to try their Explorer 500 Portable Power Station and the SolarSaga 100 Solar Panel, I was eager to try it out, impressed with its specs and excited by its potential.
This is not cheap gear, the Explorer 500 itself costs around £500, and the SolarSaga 100W is about £230, but this seems to be the most reputable and best-reviewed brand on the market.
Most of the expense of these things is for the lithium batteries that they use, and the price tracks reasonably accurately with portable power banks. This has 518Wh vs 20,000mAh of a battery pack, a 25 fold difference.
This has all the outputs you need to keep you going when you are off the grid, and to extend the battery as much as possible, you can use the SolarSaga solar panel to charge the Jackery during the day.
Specification & Features
518 watt-hour (24Ah, 21.6V) lithium-ion battery pack and a pure sine wave inverter.
MPPT controller for safe charging
1*AC Output:1*230V, 500W (1000W peak)
Car Port: DC 12V, 10A
USB: 3xUSB-A 5V, 2.4A
2*6.5mm*1.4mm DC outputs: 12V, 7A( for DIY)
Input: 8mm DC, 12V~30V (100W Max)
Weight: 13.3lb6kg
Unboxing / Pictures
There isn't much to do to set this up. Everything is self-explanatory, and you get all the cables you need which includes charging cables for a UK power socket or your car lighter socket.
The solar panel has its own cable built-in, and this plugs straight into the charger and will start charging immediately.
Solar Charging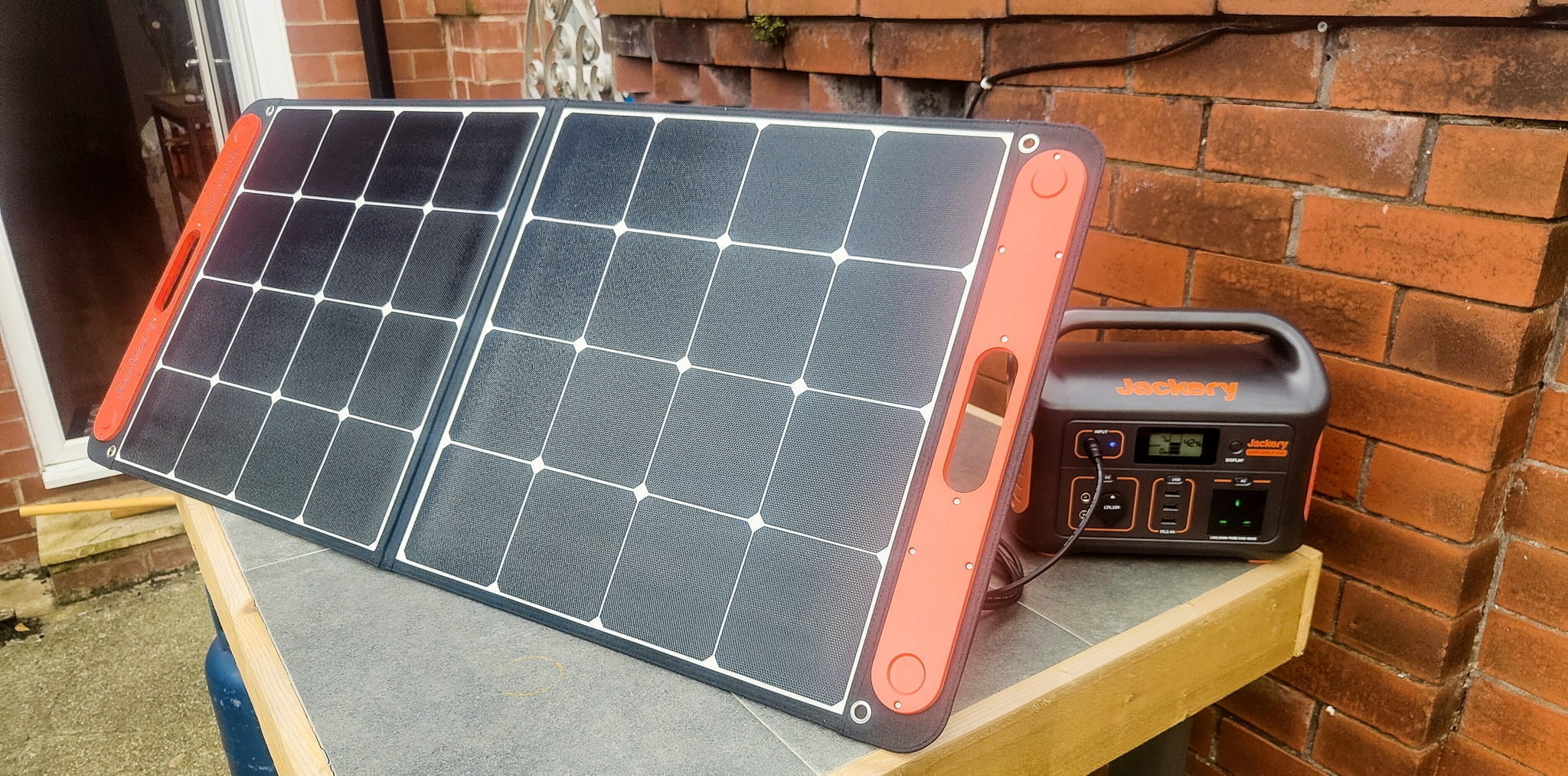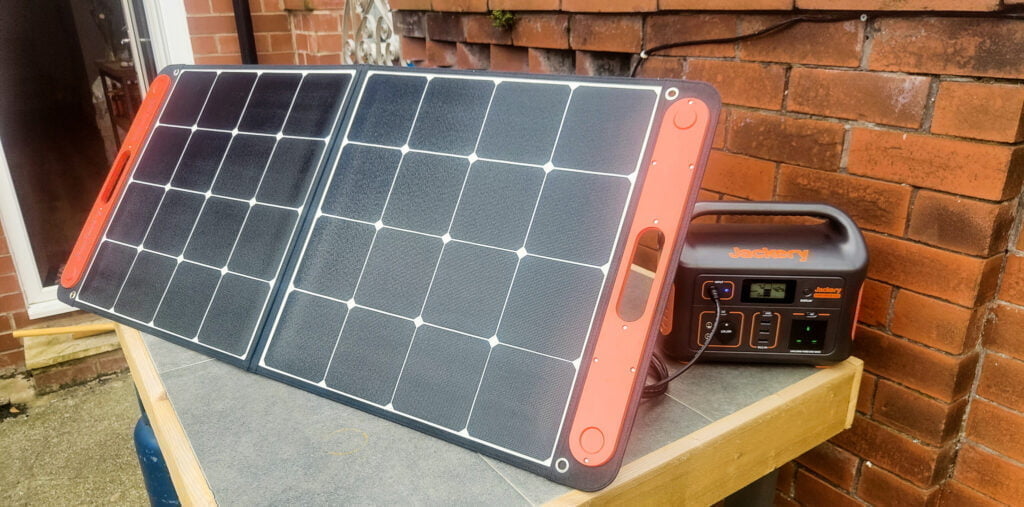 The solar charging was quite an interesting element for me during this review. I have a basic knowledge of solar power; I know what it is capable of and how it works, but I have never actually reviewed anything related to solar power.
Physically seeing how much, or how little, the solar panel could charge the battery was very interesting.
Setting it up couldn't be easier, the panel has a built-in cable that plugs into the input of the Jackery, and as soon as the Jackery detects a charge, it powers up its LCD to show you the battery capacity and the input/output wattage.
The solar panel conveniently has a USB-A and USB-C port, so it is possible to charge your phone or a power bank separately without the need for the Jackey.
Reviewing the solar charging for the Jackery in the North of England in October is sub-optimal to say the least. To make things worse, my back garden is easterly facing, and the house blocks the sun in the garden for a large portion of the day. I didn't fancy leaving £730 of equipment out in my front garden for the day unattended, so I had to make do with my shaded back garden.
However, with the odds against it, I still came away impressed with what the solar panel achieved.
In my initial set up it was in the morning on a relatively overcast day. Therefore the solar panel performance was a bit lacklustre with a charge of just 4W to 7W. This is about enough to very slowly charge a phone.
Determined to get better performance I relocated the solar panel onto the roof of my garage, putting it in a slightly more exposed position. However, this only increased the charge to 10W.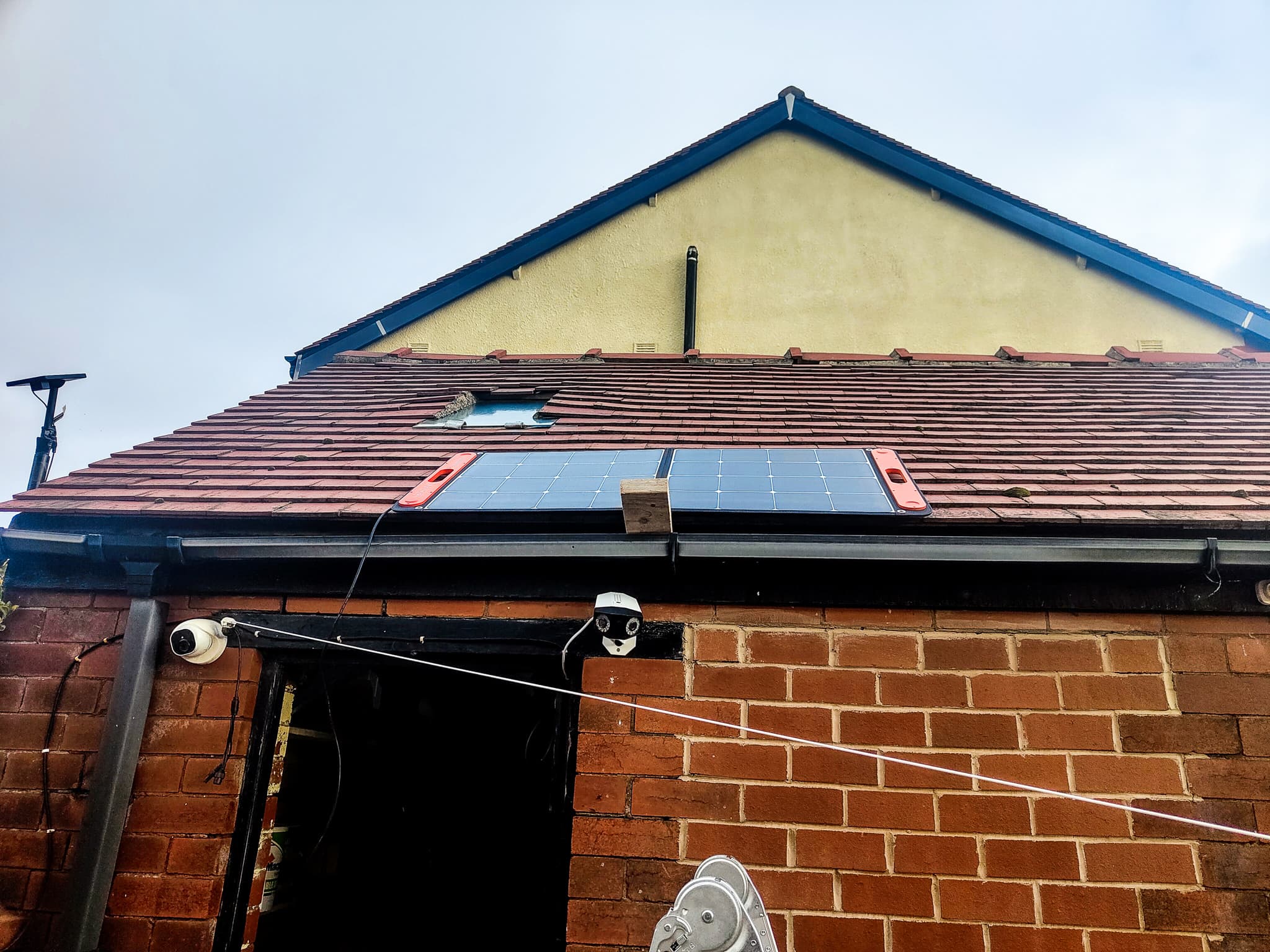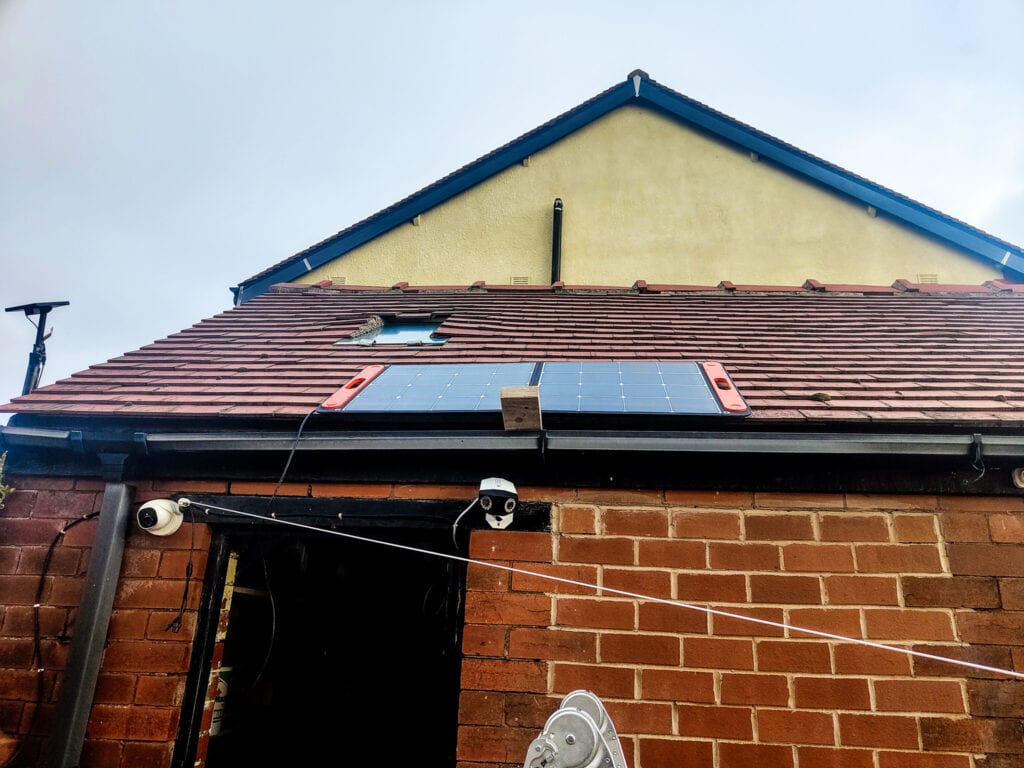 As the sun broke through the clouds and touched, the side of the panel, things shot up to 40W and improved up to over 60W when fully exposed. That's enough to keep my laptop going without discharging and almost enough to charge my OPPO Find X3 Neo using its 65W SuperVOOC charging from flat to full in 35mins.
The Jackery started the day at 42% and ended the day on 70%, which I think is quite good considering the conditions. Mid-summer on with long sunny days, it should be able to charge significantly more.
In-Use
The Explorer 500 itself does exactly as you'd expect. The main things being the three USB-A ports and the UK plug socket that can do 230V and 500W.
The USB-A ports are a little slow with a 12W output capacity, but it is enough to charge your phone at a half-decent rate. The flagship Explorer 1000 has two USB-C sockets, and that supports Qualcomm Quick Charge 3.0, which supports up to 36W
If you are desperate for a faster charge, you could always use the plug socket with a faster-charging plug, such as the SuperVOOC plug supplied with my phone, or alternatively many of the high wattage power delivery plug sockets available now.
I tested this with one of the TP-Link HS110 Kasa Smart Plugs, which measures the power draw. I then kept my Huawei Matebook 13 on charge while using it and running benchmarks. The laptop easily drew 65W peak, which is the limit of its charger. Running the charger from full to flat showed 520W of usage, matching the specification.
It is worth noting that the power station has a fan built-in. This kicked in after about 2 hours worth of use for a couple of minutes when my office was 20-degrees, then cut off again. I think all competing devices will have fan noise too.
Price and Alternative Options
The Jackery portable Power Station Explorer 500 is £529.99 RRP with a £30 off voucher currently available. Then the Jackery SolarSaga 100W is £259.99 with £20 off currently available.
Even though Amazon reviews are not always trustworthy (for cheap Chinese products at least), Jackery is by far the best-reviewed portable power station brand on the market. Nothing comes close the Jackery popularity, which should be enough to convince you this is the best brand. Some of the alternative options do look attractive but with things like this you probably want reliability and longevity over features.
The alternative options include:
PowerOak BLUETTI AC50S is cheaper at £424.99 and has a better selection of outputs, including 45W power delivery USB. It has two UK plug sockets, but these are limited to 300W. If you got the solar panel with it, this would be £705, which is not much cheaper than the Jackery.
POWEROAK also have a gigantic 2000Wh AC200P Power Station for around £1800
ALLPOWERS Portable Generator 606Wh is cheaper at £441.99 and has a slightly larger capacity with better output options, including power delivery 60W/100W. They then have solar panel options, including 100W at £160 and 200W for £290.
Ecoflow River Max is £599 with 576Wh, 2-plug sockets and 100W USB-C PD.
Anker has the PowerHouse II 800 with 777Wh with a good selection of outputs and a reasonable price, but it doesn't appear to have been launched in the UK
Overall
The Jackery Explorer 500 portable power station and the SolarSaga 100 solar panel are superb options for anyone needing power when off the grid for extended periods of time.
It has all the outputs I need for the devices I use, and I could always use an extension lead to add more, as long as I stayed within its power limits.
While I am not into camping in a tent out in the wilderness in the slightest, I have contemplated getting a campervan, so I can drive out to locations for cycling, and this would be perfect for anyone who owns a camper or who has committed to the van lifestyle of living.
This is priced a little bit higher than some of the competition, and the ports are less impressive, but I think I'd prefer to spend a little extra on a reliable brand.
Last update on 2022-06-19 / Affiliate links / Images from Amazon Product Advertising API