Intel has not officially announced the 9th generation of their laptop CPUs yet the basic details of these updated chips have been released. The information for these CPUs come from listings for export compliance.
The new processors will be featuring the same 14nm++ node as used by the desktop variants while offering higher cores and clock speeds to those who demand the best gaming performance on mobility platforms.
There will be six new CPUs launched as part of the 9th Generation Core H-Series family. There will be two Core i5, two Core i7, and two Core i9 models. Currently, these processors look like they would offer higher cores and clocks compared to their predecessors which is exactly what we got on desktop platforms. All SKUs have the same architecture as Skylake.
The flagship Core i9-9980HK 8 cores and 16 threads. The chip will run at clock speeds of up to 5.00 GHz while featuring 16 MB of L3 cache. The other Core i9 chip is the Core i9-9880H which will also feature 8 cores and 16 threads but with slightly lower max clocks of 4.80 GHz. The K moniker of the top model indicates that it is unlocked and will allow users to overclock the chip. The i9 CPUs will have 16MB L3 cache.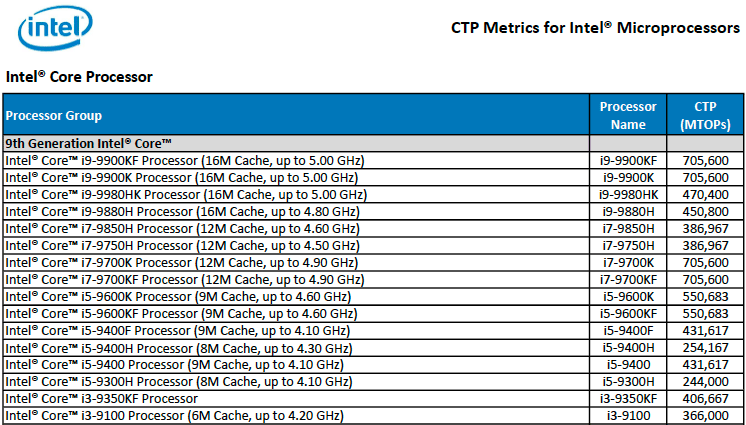 Moving down the rand to the i7 models removes hyperthreading with the i7-9850H capable of 4.6 GHz and the i7-9750H with 4.5 GHz turbo frequency. Both chips will feature 12MB L3 cache.
WIth the i5 models hyperthreading is then re-enabled but these chips will have 4 cores and therefore 8 cores for hyperthreading. The
i5-9400H will have a turbo of 4.3ghz and 8MB L3 while the i5-9300H will be 4.1ghz and 8MB L3
| CPU Name | CPU Cores | CPU Threads | Max Clocks | Integrated Graphics | L3 Cache |
| --- | --- | --- | --- | --- | --- |
| Core i9-9980HK | 6 | 12 | 5.0 GHz | UHD 630 | 16 MB |
| Core i9-9880H | 6 | 12 | 4.8 GHz | UHD 630 | 16 MB |
| Core i7-9850H | 6 | 6 | 4.6 GHz | UHD 630 | 12 MB |
| Core i7-9750H | 6 | 6 | 4.5 GHz | UHD 630 | 12 MB |
| Core i5-9400H | 4 | 8 | 4.3 GHz | UHD 630 | 8 MB |
| Core i5-9300H | 4 | 8 | 4.1 GHz | UHD 630 | 8 MB |