Cleer Audio are on a roll with their product launches recently. I have already reviewed the Cleer Enduro ANC and Cleer Goal TWS Sports this year.
This time around is they have announced the Ally Plus II , building on the well revied first generation from last year.
The new Ally Plus II offer improved noise cancellation, going from 30dB to 34dB and improved battery with 11 hours of playtime vs 10 hours as well as a bump in case battery from 20 hours to 22 hours. You can now also charge your earbuds with QI wireless charging.
Audio quality should also be improved. These now have a 10mm graphene dynamic driver compared to 10mm neodymium drivers, though I am not sure if or how much that will make a difference!
However, the new earbuds use a new Qualcomm chipset, which Cleer has confirmed as being the QCC5141 which is designed for low powered premium earbuds. Hardly any options on the market use this chipset and it is about as advanced as you get, unlike many of the cheaper alternatives using lower-spec chipsets. Interestingly, it appears that Cleer Audio was the company behind the reference Qualcomm design for this chipset.
This upgrades the earbuds to Bluetooth 5.2 and the new aptX Adaptive. The Qualcomm aptX Adaptive codec will vary the bitrate and latency depending on usage and the connection quality, allowing you to have the best performance all the time without manually switching between Low Latency and HD.
Price and Availability
The new Cleer Audio Ally Plus II come in at a lower RRP than last years model at £129.99 vs £149. However, you can now buy last years model for a reduced rate of around £100.
Full Press Release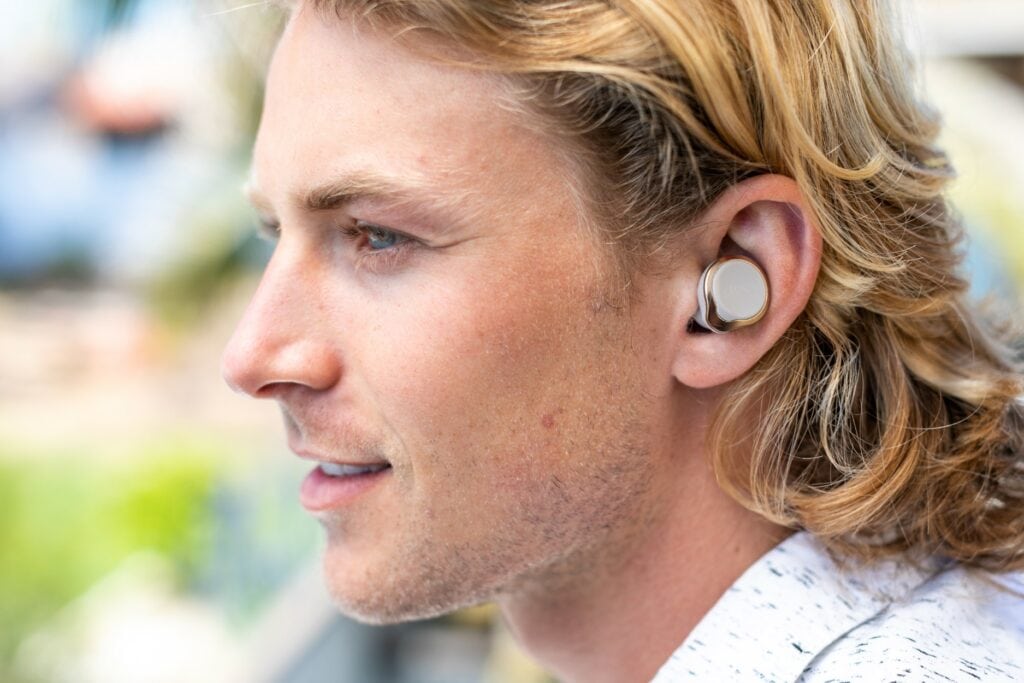 Cleer Audio, industry-leading headphone and smart speaker manufacturer introduces new True Wireless Headphones with noise cancellation – the Ally Plus II – certain to shake the competition with new technologies, features and affordable True Wireless pricing.
The new ALLY Plus II noise cancelling true wireless headphone delivers industry leading hybrid noise cancellation, and battery life for up to 11 hrs. of playback. Its strong wireless connectivity, enhanced call quality with dual-microphones and Qualcomm cVc 8th generation noise reduction technology makes these a perfect companion for on-the-go lifestyles. Complemented by the new Cleer+ app, users can customize both the noise cancelling and sound performance of the Ally Plus II. Its small jewel box style charging case offers both USB-C and Qi wireless charging options for an additional 22 hrs. of playback, ¾33 hrs. of total playback. The wireless charging case showcases the earbuds with its see-through window helping confirm that the earbuds are charging when stored.
The Ally Plus II provides the latest in noise cancellation technology, Adaptive Noise Cancellation,specially tuned for optimal effect. Cleer custom filters are applied along with ergonomic features with the sound pipe angling the eartip as well as specialized silicon eartips that reduce pressure in the ear canal for extended wear. The adaptive noise cancellation senses your surroundings with the Feed Forward and Feed Back mics to provide optimal suppression of environmental sounds. In addition, we optimized our Cleer+ app to further customize ambient noise levels. The app also provides EQ levels and a custom option to personalize your listening experience even further.
From its breath-taking design, sonic performance and noise cancellation capabilities this true wireless earbud provides the features and performance of products 2x its cost. The Adaptive Noise Cancellation makes the ALLY PLUS II the first true wireless headphone to provide this functionality at this price point. In addition, its custom tuned 10 mm dynamic drivers and custom sound pipe provide a wonderful listening experience. (Ally Plus II MSRP: £129.95/$129.99, available in Midnight Blue and Stone. For sale now on Cleer (US & UK), Amazon and selected retailers)