Are you seeking the answer to the following question: What is the best OBD II code reader? If so, we have gathered all the information that you need and reviewed the top Hyundai OBDII scanners below. These important diagnostic tool systems are used to check every element of your car's functioning, helping to flag any issues that need attention.
Before we reveal the best Hyundai scanner options, read through our considerations section to get a better idea of what you should be looking out for in one of these scanners. You are guaranteed to find the best scanner for your needs below in our comprehensive guide.
Considerations choosing Hyundai Tucson OBD 2 Scanners
Below, you will find all the considerations for an OBD 2 scan tool for a Hyundai vehicle. With so many g scan tools to choose from, the information below should help you to decide. From the renowned Launch Creader diagnostic system to lesser-known options, each of these scanners should have very specific capabilities for automobiles.
Vehicles Compatibility
If your car was manufactured before 1996 it will not be compatible with this type of scanner. All cars manufactured after this date, however, need to be. Thanks to the range of scanners available today, you are guaranteed to find a suitable tool for Hyundai vehicles, Our recommendation is to always check car compatibility beforehand to ensure that the scanner tool you select is the right fit and more info on this can be found on obdstation.com.
Display
Every handheld scanner has its display screen which can be plugged into the Hyundai car's OBD port. The display quality is going to affect how you read the software displayed, so we recommend choosing a Hyundai OBDII scanner model that has a good display inclusive of brightness and pixel quality. You can also find wireless scanner models for a Hyundai car which offers more convenience as more modern systems.
Ease of use
Scanners should do all the difficult work for you, from checking your Hyundai engine to putting forward another diagnostic recommendation. For this reason, outside of car compatibility, you should make sure you are comfortable using the tool if a mechanic is not doing the job for you. For help why not check out this guide on "using a Diagnostic Car Code Reader".
The model you choose should be able to access all the crucial info that needs reviewing via a diagnostic menu and it should be easy to navigate the rest of the menu too.
Capabilities
Some scanner models offer more capabilities than others. Depending on your needs for your Hyundai, you should look at the capabilities of each scanner before buying. While you will want a top user experience, a good quality Hyundai OCDII scanner will allow you to access the engine, retrieve DTCs, and much more.
Launch Creader VII+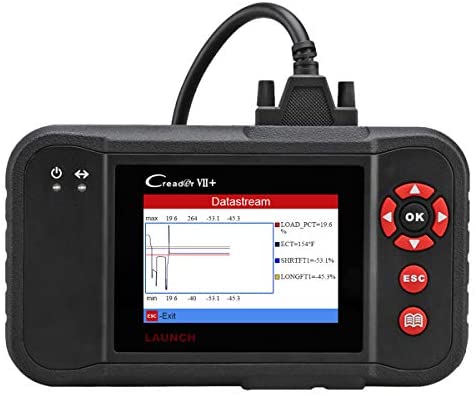 First up on our list, we have the Launcher Creader VII+ which is highly rated as one of the top scanners and is popular due to its reliability too. It can be used to easily access the engine to run a diagnosis which will reveal any diagnostic problems that require fixing. This model is particularly compatible with SUVs making it ideal for a Hyundai.
It comes fully equipped with various scan tools and features the latest software for fast loading and easy navigation of the obd2. It also supports advanced data for focusing on data specific parameters, meaning you can get a detailed idea of where a mechanic may be required.
To add to this, the addition of a 02 sensor allows you to detect faults to avoid any emission problems within the engine. If you're seeking a quality product in this category, this choice could be the best bet. Suitable for larger vehicles and compatible with Hyundai SUVs, it's affordable and has everything you'd expect.
Pros
This obd2 scanner allows you to control the engine light and other parts
It uses advanced software for a complete diagnosis
Ideal for SUV vehicle making it highly compatible with a Hyundai
Cons
Slightly slower to load codes though this doesn't affect overall satisfaction
Autel MaxiDAS DS808K Automotive Diagnostic Scanner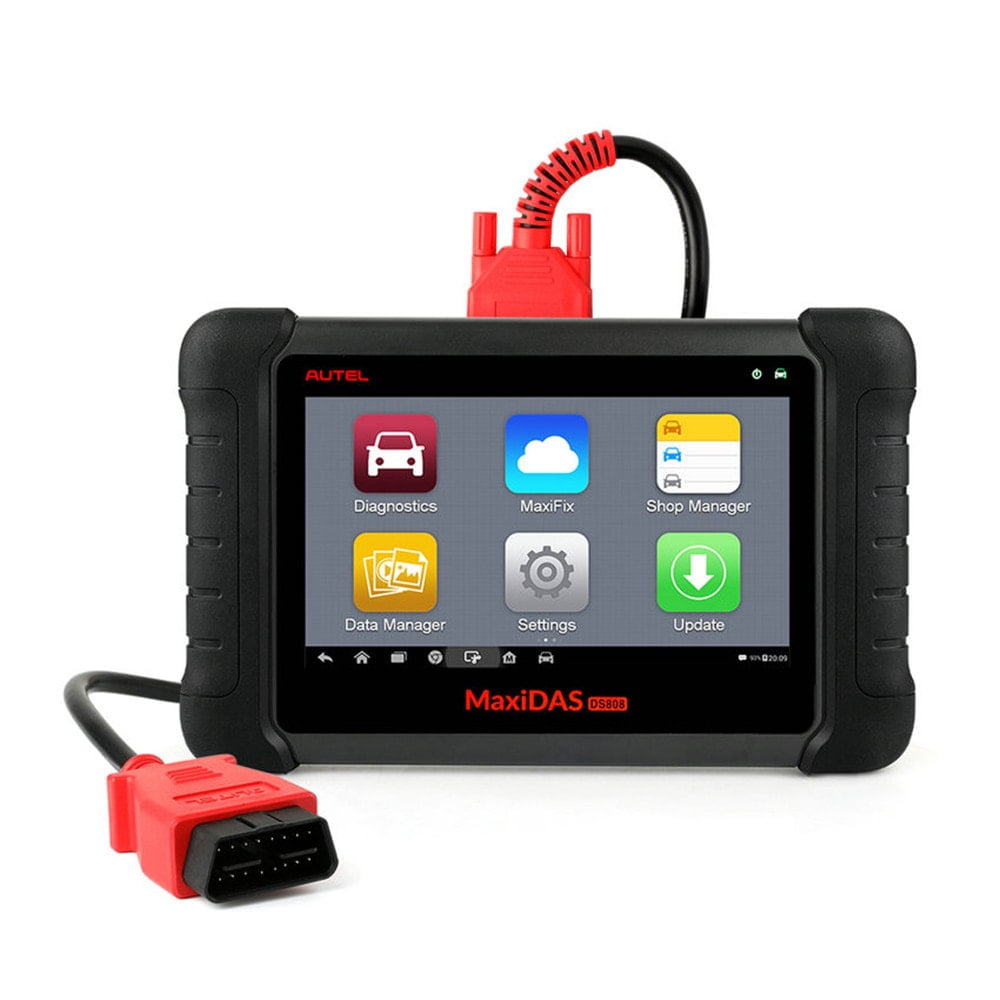 The next OBD2 scan tool in our review is the Autel MaxisDAS DS808K scanner which is capable of 23 service functions. The functions included feature oil reset, SAS calibration, battery registration, and much more using its advanced data stream system. This scanner can access all ECU modules which makes it a highly versatile option and one of the best ob2 scanner tools for a Hyundai,
Allowing you to clearly identify a diagnostic and resolve the issue efficiently, this OBD2 scanner is a must-have for any car owner. The active test function allows different tools to launch simultaneously and it has bi-directional control capacity.
Using multiple sensors, this diagnostic scanner shows graphing across all aspects of the stream so that you can quickly and accurately review what needs addressing.
Pros
Features an active test function for better accuracy
Able to assess all ECU modules
Speedy at loading codes due to innovative design
Cons
Higher in price than other OBD2 scanners but is worth the extra
FOXWELL NT301 OBD2 Scanner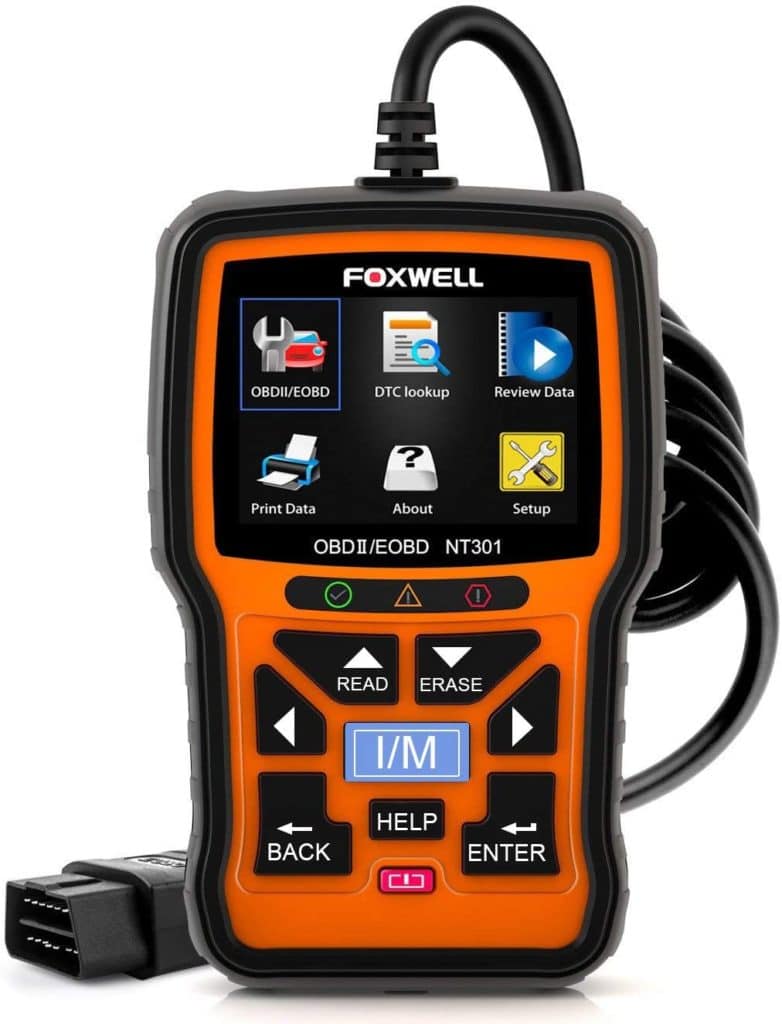 With the Foxwell NT301 0BD2 scanner, you will be able to read DTCs, turn off the check engine light, as well as retrieve your Hyundai vehicles VIN. Using live graphing, this quality OBD2 scanner is a reliable scan tool that will help you to identify where attention is needed on your car.
You can use the g scan easily thanks to the convenient user face that utilizes readiness hotkeys and trouble codes. The addition of the vehicles sensors allows you to focus on any specific trends you notice and live data. Using an innovative design, this scanner is one of the best models out there and is highly suitable for Hyundai vehicles.
Of all the scanners in this category, this model has an edge when it comes to both speed and quality display. Whether you need to check engine light on your Hyundai or investigate another area using the innovative software, this scan tool is going to impress.
Pros
Uses live graphing and scanning to flag up mechanical issues
Comes with a large color screen
This product is extremely affordable providing great value for money
Cons
The user manual could be laid out better with some crossovers
Conclusion
We've come to the end of the guide and you may be asking yourself which code scanner is best for Hyundai Tucsons? Our top OBD2 scanning system is the Foxwell NT301 which is perfectly compatible with these types of Hyundai vehicles. You will be able to thoroughly identify any issues with all aspects of the car with the product that can check engine light functionality. The product uses innovative software inclusive of a steering angle sensor, and much more. Overall, this scanner's program options are going to give you a complete and accurate diagnosis whenever it is time to assess your vehicles mechanics.