Updated – 04/07/209 – More benchmarks leaked indicate that the Ryzen 5 3600 can outperform the Intel's i9 9900K in single-threaded performance
Another day another AMD Ryzen 3000 leak. Today this leak comes from  Spanish site El Chapuzas Informatico who possibly hit their publish button a little too early.
In their review, they have used an X470 so the accuracy of the performance figures may be up for debate as there is not a final BIOS for the motherboards.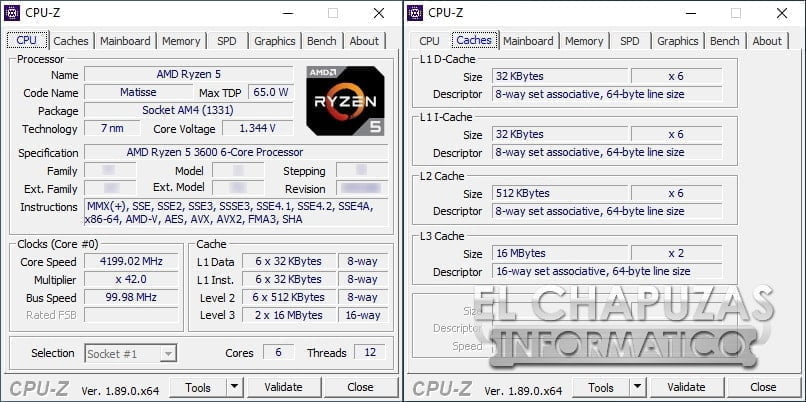 That being said, if we take ignore any sceptasim all things are looking good for the new Zen 2 chips. In particular, for gaming, the new AMD Ryzen 5 3600 trades blows with the expensive Intel i9-9900k, while it certainly doesn't beat it the performance is close enough that the i9-9900k does not look like a good buy in terms of value.
Moving away from gaming things are a little different, the i9-9900k comfortably beats the R5 3600 in many tests especially multi-threaded applications where its 6 cores can't compete with the 8-cores of its rivals. Far Cry 5 is one game where there is a considerably different between the i9-9900k and any other chip tested. The Intel achieved just shy of 30 fps more than the R5 3600, which itself scored 21 more than the R5 2700X
However, the R5 3600 is able to compete with last years Ryzen 7 2700X in many tests, beating it in several of them. This includes several gaming benchmarks such as 3DMark Fire Strike and Time Spy. For the gaming comparisons, it beats the 2700X in most tests, albeit only be a couple of fps most of the time.
To recap, the Ryzen 5 3600 sits at the very bottom of the announced chips from AMD and is set to cost $199 whereas the i9-9900k costs nearly 2.5 times more at $490 and the 2700x costs approximately 50% more at $295 (prices from Newegg).
Updated Benchmarks
More benchmarks have been leaked to show the R5 3600 beating the Intel i9 9900K in some tests, specifically single threaded tests.
This leak comes via the official CPUBenchmark.net database showing the Ryzen 5 3600 leading every single other CPU on the market on the database's single-threaded performance leaderboard, including Intel's 5GHz i9 9900K.
Similar to the previous leaks the 6-core CPU can't quite keep up in multi-threaded tests but it does a very good job of competing, getting very similar scores even with two fewer cores.
While we won't know for certain just how good this chip is until a few more days, it will almost certainly impress and it is looking like the budget CPU of choice for the next year.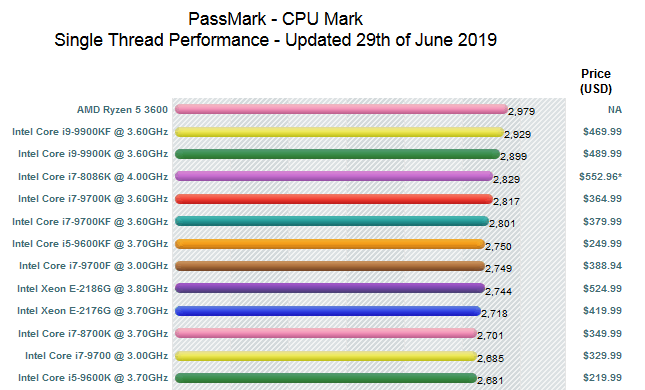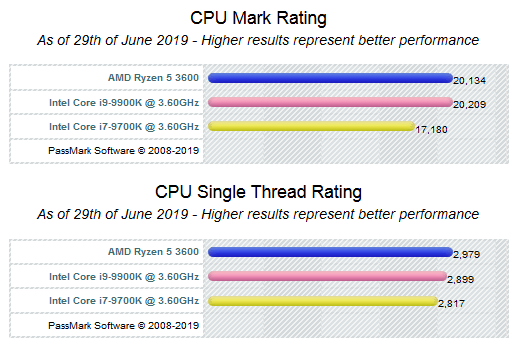 [ninja_tables id="23506″]