Acer Swift 1 SF113-31-P5CK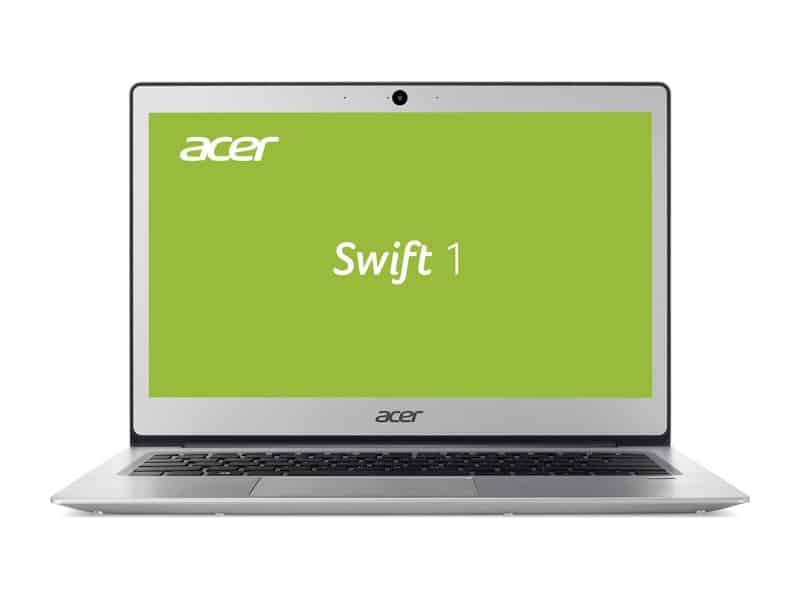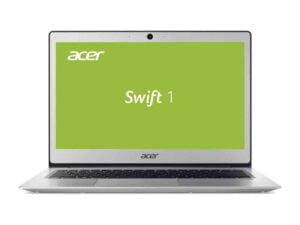 Product Name: Acer Swift 1 SF113-31-P5CK
Offer price: 360
Currency: GBP
Availability: InStock
Price -

85%

Build -

90%

Portability -

80%

Performance -

75%
I have reviewed some excellent Acer laptops recently from the paper thing 2-in-1 Spin 7 to the wallet-friendly Acer Chromebook R11.
The Acer Swift 1 sites in the middle ground, being an affordable lightweight full Windows 10 notebook. The model I was sent is the SF13-31 model which comes with the following specifications
| | |
| --- | --- |
| CPU | Intel Pentium N4200 |
| Operating System | Windows 10 |
| RAM | 4GB |
| Hard Drive Size | 64GB eMMC |
| Display Size | 13.3 |
| Native Resolution | 1920x1080 |
| Graphics Card | Intel HD Graphics 505 |
| Wi-Fi | 802.11ac |
| Ports | 2x USB 3.0, 1x USB 2.0, HDMI Output, 1x USB 3.1 Gen 1 Type-C |
| Size | 13.4 x 9.2 x 0.7 inches / 34x9.2x1.8cm |
| Weight | 2.87 lb / 1.3kg |
There are several Swift 1 models, this is one of the newer ones and costs about £360 on most sites. However, there is also a slightly better-specced version that has a 128GB SSD for £399.99 on Amazon.

Design
Compared to the more expensive Spin models the design and build are a bit more traditional. It is perfectly fine though, and the overall build quality is excellent, far superior than the price would suggest. It can't quite compete with the likes of the XPS 13 2-in-1 for portability due to the thicker build and relatively large screen bezels, but at around 1.2kg in weight, it is about the same weight. It is small and light enough to be able to comfortably carry it around for long periods of time in a moderately sized bag.
Unlike some of the ultra-thin laptops I have reviewed, you get a decent number of ports including 2 USB 3.0 and one USB 3.1 Gen 1 Type-C. So you have plenty of ports to use an external HD, which you will likely need with the limited 64GB of built-in storage.
The keyboard and trackpad don't suffer from the low price. The chicklet style keyboard is well sized and comfortable to type on for prolonged periods of time. The trackpad is also well sized, centrally places and not over responsive.
Strangely enough, Acer has also included a fingerprint scanner to the right of the keyboard, it is a nice addition but seems like an unnecessary expense for a cheap laptop.
The Swift 1 packs a surprisingly well-specced screen, using a 1080p IPS LCD. If anything, I would have liked a little more processing power on a lower resolution screen, though I am not sure a better CPU could be used at this price point regardless of the screen.
The IPS panel does help the overall quality of the display to be superior to low-quality TN panels found on other cheap notebooks.
Performance
The biggest compromise you are always going to make on a cheap laptop is the processor. This one is equipped with the Intel Pentium N4200 processor running at 1.1GHz with 2.5Ghz boost. Thankfully gone are the days where an Intel Atom chip could barely run Windows. The newer generation chips, with Windows 10 optimisations means this laptop feels quite responsive for most tasks.
I did find some laggy-ness following my initial install, I didn't pin down the cause specifically but in particular, Chrome was very laggy. After removing Norton and trying out Firefox things did improve quite a lot. I have a lot of extensions installed as part of my job, and Chrome is known to be a bit of a resource hog, so I think this was the culprit.
Once I got past this issue the Swift 1 performed admirably I was able to have multiple tabs open while streaming from things like Netflix, YouTube or Spotify.
Using office apps such as MS Word and Excel provided no challenge for the N4200.
I was also able to play high-bit rate 1080p files with no jitteriness or artifacting.
The Intel HD Graphics 505 isn't designed for gaming at all, so I would not recommend this laptop if that's your intention, but in 3DMark – Ice Storm Extreme it gets a score of 22880. So if you really need to get a gaming fix, it should be able to do some light gaming in low settings. Things like Sims 4, WOW and Counter-Strike should all be playable above 30FPS
The 64GB eMMC drive is possibly the most disappointing aspect of this laptop, apart from being a bit on the small side it runs slower than your typical SSD, though faster than an old-fashioned hard drive. The drive managed to achieve 217/83MB/s read/write speeds with 4K speeds dropping off significantly. Unless you are transferring a large number of small files regularly, the speed shouldn't affect the day to day performance too much. However, it is another reason to buy the slightly more expensive 128GB model.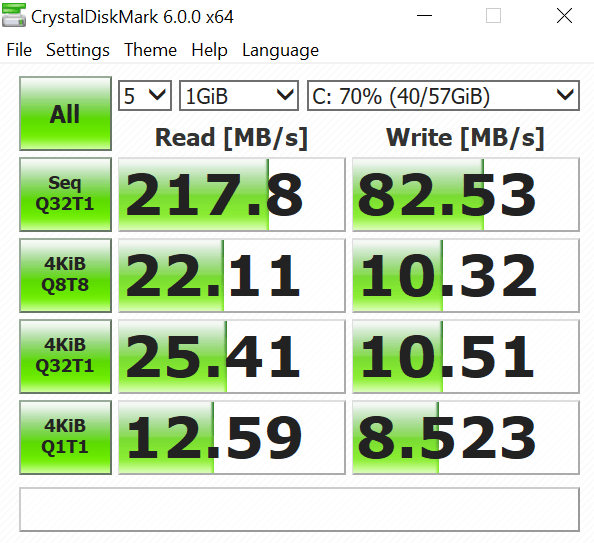 Using the laptop during a full office day I was comfortably able to get over 8 hours use light use. This was achieved with low brightness and primarily using it as my side screen for email and communications. Acer rates the batter for 10 hours, so it is probably not far off. This should allow comfortable handle any commute or most long-haul flights.
Overall
If you have realistic expectations about what a sub £400 laptop can achieve then the Acer Swift 1 is a great little laptop. It is the perfect size for anyone that likes to travel or even just lounge about with at home; I find 15.6" laptops a bit cumbersome for this.
It is not something I would use as a primary working laptop for anyone that needs a cheap laptop for occasional work or regular web browsing this offers a perfect balance between cost, performance and portability.
However, if I was buying this laptop myself I would opt for the 128GB model which is about £40 extra and will provide much more usable space and quicker file transfers.