The widely rumoured Samsung Exynos 9825 chipset has been announced ahead of the Galaxy Note10 later today.
Unlike the Snapdragon 855 refresh with the 855 Plus, the Exynos 9825 is a bit more than just a clock bump. The new Exynos 9825 SoC is now manufactured on the Samsung 7nm LPP (EUV) fabrication process which should bring a range of advantages.
The Exynos Galaxy S10 was criticised by many reviewers for its poor battery life compared to the SD855 variation, one reason for this is that the SD855 is made on 7nm silicon from TSMC vs the 8nm of Samsung's. As well as the power disadvantages, this also means that the die area was physically larger on the Exynos at 127mm² versus the smaller 73mm² competition.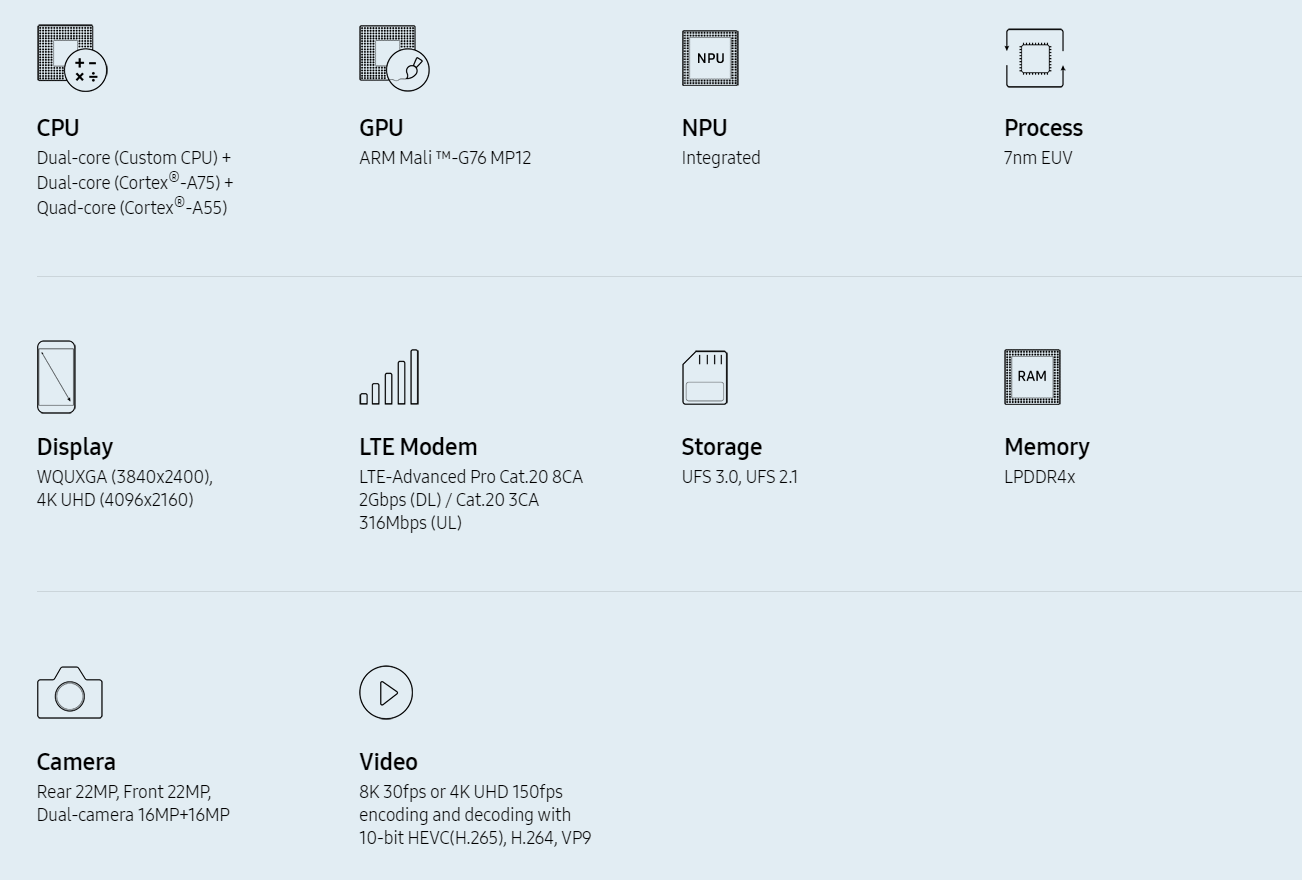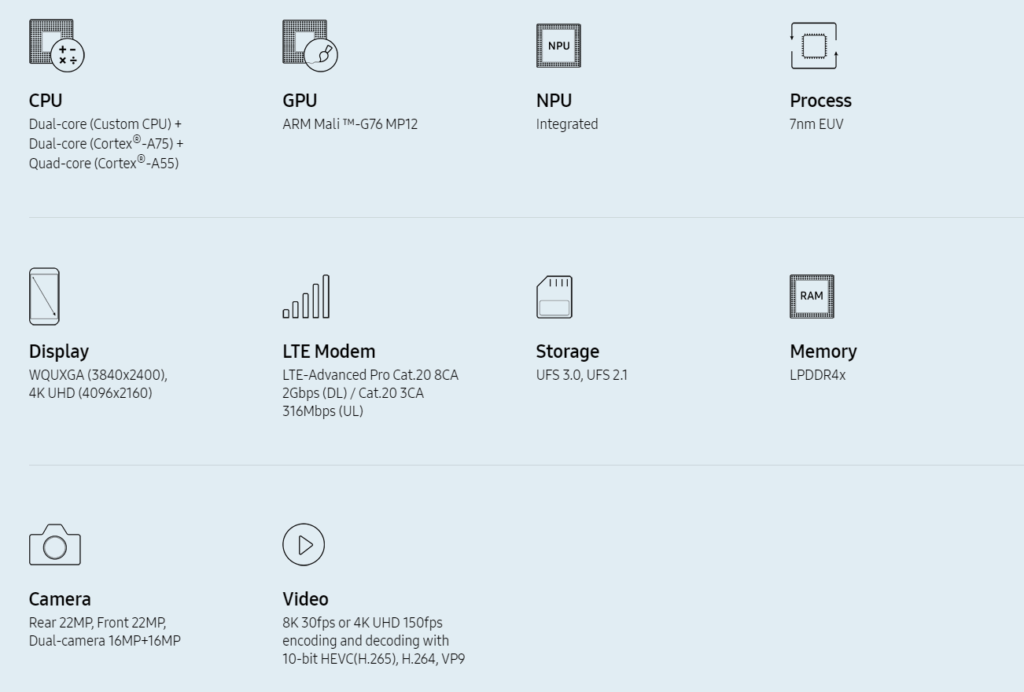 So, in theory, the Snapdragon 855/855+ and Exynos 9825 should now be level pegging in terms of power efficiency from the fabrication process, though other factors will affect this.
On top of the improved fabrication process, Samsung has bumped up their core clocks similar to the Qualcomm, at the moment it is unclear on how the GPU is affected, but the two Cortex A75 cores have gone from 2.31 GHz to 2.4 GHz which represents a 3.9% improvement.
In comparison the Snapdragon 855 Plus raised the clocks of the Prime CPU core by 120Mhz from 2.84GHz to up to 2.96GHz, giving a 4.2% boost. So it will be interesting to see how the increase in frequency across the middle, not top cores, will affect the Samsung performance.
On the GPU side, Samsung has also stuck with the same GPU configuration as with 9820, using a MP12 configuration of the Mali G76. According to the company, the 9825's GPU is clocked higher – so it will outperform its predecessor, however, the company has yet to disclose specific clock speeds.
Qualcomm raised their GPU clocks by 87Mhz from 585MHz to 672MHz which represented a 15% improvement, so I wouldn't be surprised to see a similar increase here.
Previously there were rumours that the new Note10 would feature the Snapdragon 855 Plus but it now looks like this is not the case and the Exynos 9825 SoC will allow them to have performance parity or better than the SD855+.
Exynos 9825

Exynos 9820
Snapdragon 855+
Process
7nm LPP (EUV)

8 nm LPP (Low Power Plus) FinFET
7nm (N7)
CPU Cores
Octa-Core, 64-bit
Octa-Core, 64-bit
Octa-Core, 64-bit
CPU
2x M4 @ 2.73 GHz
2x Cortex A75 @ 2.4 GHz ?
4x Cortex A55 @ 1.95 GHz ?

2x M4 @ 2.73 GHz
2x Cortex A75 @ 2.31 GHz
4x Cortex A55 @ 1.95 GHz


1x Kryo 485 Gold (A76 derivative)
@ 2.96GHz 1x512KB pL2

3x Kryo 485 Gold (A76 derivative)
@ 2.42GHz 3x256KB pL2

4x Kryo 485 Silver (A55 derivative)
@ 1.80GHz 4x128KB pL2

2MB sL3
GPU
Mali G76MP12 @ ? MHz

Mali G76MP12 @ 702 MHz

Adreno 640 @ ~672MHz
NPU
Yes
Yes
Yes (Hexagon 690 DSP)
RAM
4x 16-bit CH LPDDR4X @ 2093MHz

4x 16-bit CH LPDDR4X @ 2093MHz

4x 16-bit CH @ 2133MHz
LPDDR4x
34.1GB/s

3MB system level cache
ISP
Rear: 22MP
Front: 22MP
Dual: 16MP+16MP

Rear: 22MP
Front: 22MP
Dual: 16MP+16MP

Dual 14-bit Spectra 380 ISP
1x 48MP or 2x 22MP
Video Playback & Codecs
8K30 & 4K150 encode & decode
H.265/HEVC, H.264, VP9

8K30 & 4K150 encode & decode
H.265/HEVC, H.264, VP9

2160p60 10-bit H.265
HDR10, HDR10+, HLG
720p480
Modem
Shannon 5000 Integrated LTE
(Category 20/13)
DL = 2000 Mbps
8x20MHz CA, 256-QAM
UL = 316 Mbps
3x20MHz CA, 256-QAM
Shannon 5000 Integrated LTE
(Category 20/13)
DL = 2000 Mbps
8x20MHz CA, 256-QAM
UL = 316 Mbps
3x20MHz CA, 256-QAM

Support for WiFi 6 standard (802.11ax) as well as the new 60GHz "Wi-Gig" 802.11ay, enabled by an external WiFi combo chipset.
Charging
Samsung Adaptive Fast Charge, Fast Wireless Charging (Qi & PMA)
Samsung Adaptive Fast Charge, Fast Wireless Charging (Qi & PMA)
Quick Charge 4+ (USB PD Compatible)