Earlier this week, Qualcomm relatively quietly announced three new chipsets. The Snapdragon 778G+, Snapdragon 695 and Snapdragon 480+.
It is mostly a forgettable announcement following the similar routine we have seen from both Qualcomm and MediaTek the past couple of years. Very minor refreshes of existing chipsets.
Qualcomm has announced so many chipsets this year I had forgotten the top of the range 7-series Snapdragon 780G existed.
The chipset was announced back in March, but to date, it seems like it is only the Xiaomi Mi 11 Lite 5G that has implemented it. For a while now, I have suspected that Qualcomm/MediaTek have some sort of exclusive deals with some OEMs for chipsets which is likely time-based. For example, Xiaomi launched the Redmi K30 5G Racing Edition with the SD768G and it took almost a year before any other company used this chipset.
The announcement for the new Qualcomm chipsets has been typically vague, with no detailed information on certain parts of the chipset.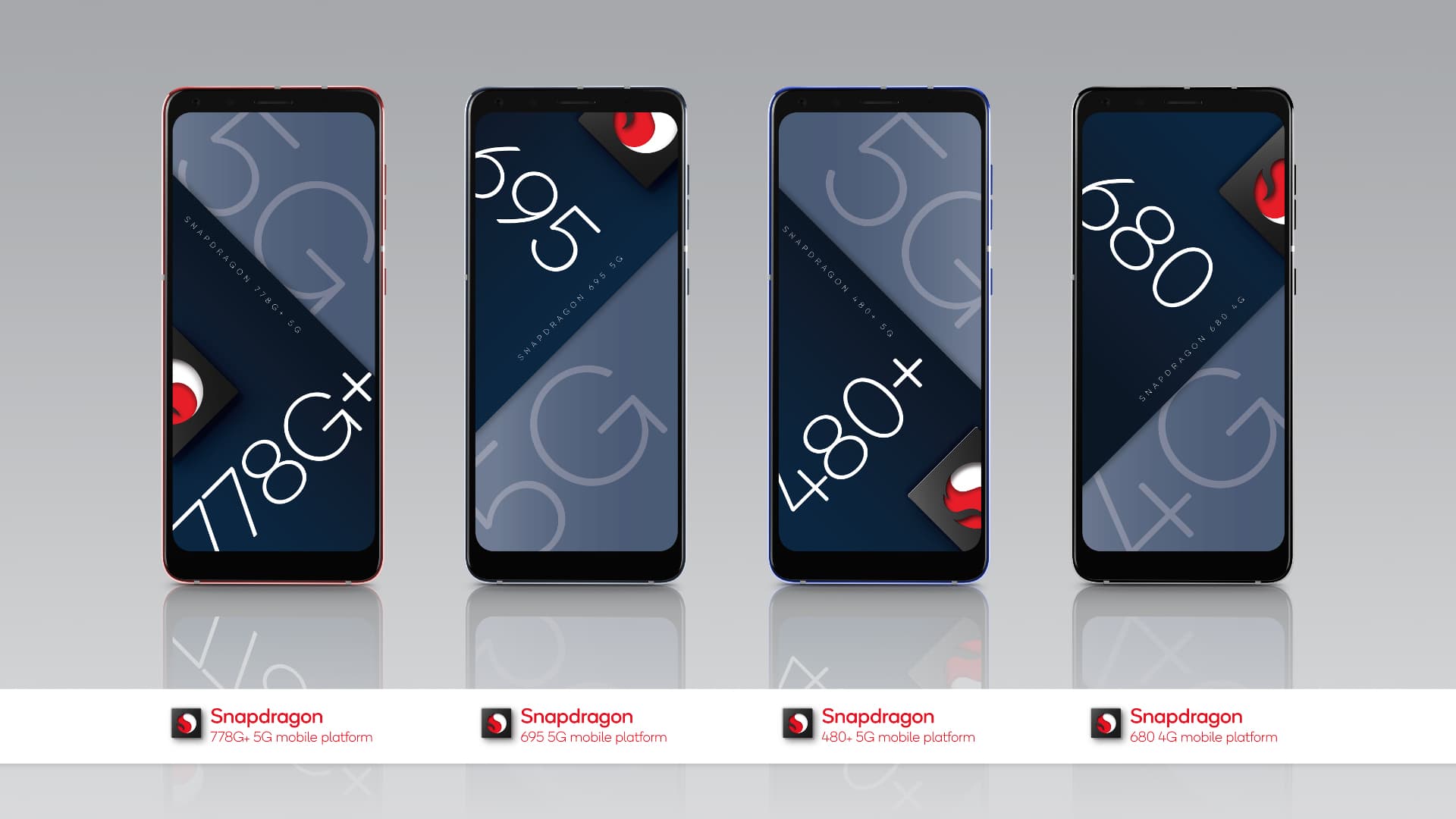 Qualcomm Snapdragon 778G+ vs Snapdragon 778G
As you would expect, the new Qualcomm Snapdragon 778G Plus is an incremental improvement over the Snapdragon 778G at best.
The Kryo 670 Prime core now runs at 2.5 GHz, up from 2.4 GHz, providing just a 4.2% uplift in frequencies. There is no change to middle A78 cores or the small A55 cores.
The Adreno 642L GPU is technically the same but Qualcomm claim that it now has 20% higher performance. Presumably, it is clocked higher than the previous generation.
There are no other changes.
Qualcomm Snapdragon 695 vs Snapdragon 690
The Qualcomm Snapdragon 695 is a bit more interesting. This has been updated with mmWave 5G support, not really much use in the UK but should be helpful in the US.
The CPU and GPU changes are even more vague. The CPU has moved to the Kryo 660, so in theory, the entire specification may have changed. But, lack of details would indicate that it is just a frequency bump.
The Snapdragon 695 has newer CPU cores Kryo 660 (vs. 560 for the older chip) and the Adreno 619 (vs. 619L). Qualcomm claim this provides improved CPU performance by up to 15% and GPU performance by up to 30%.
The Qualcomm specification page states the Kryo 660 goes up to 2.2Ghz, which is 10% higher than the 2.0Ghz the Kryo 560 uses.
Qualcomm Snapdragon 780G vs SD778G Plus & SD778G
What is quite odd is that the Snapdragon 780G name implies it is higher up in specification than the other chipsets. However, this may not be the case. The Snapdragon 778G Plus now has a higher clocked CPU, and it is has faster RAM with LPDDR5 (3200MHz) vs LPDDR4 (2133MHz).
The SD780G uses the smaller Samsung 5nm fabrication process but many people claim that TSMC is generally better.
Qualcomm Snapdragon 780G vs 778G Plus vs 778G vs 695 vs 690 Specification Comparison Table
Qualcomm
Snapdragon 780G
Snapdragon 778G+
Snapdragon 778G
Snapdragon 695
Snapdragon 690
CPU
Kryo 670 CPU cores (up to 2.4GHz)
Kryo 670 CPU cores (up to 2.5GHz)
Kryo 670 CPU cores (up to 2.4GHz)
Qualcomm Kryo 660 CPU
Up to 2.2 GHz
15% improvement
Kryo 560
1x ARM Cortex-A78 @ 2.4GHz
1x ARM Cortex-A78 @ 2.5GHz
1x ARM Cortex-A78 @ 2.4GHz
3x ARM Cortex-A78 @ 2.2GHz
3x ARM Cortex-A78 @ 2.2GHz
3x ARM Cortex-A78 @ 2.2GHz
2x Kryo 660 (CA77) @ 2.2GHz
2x Kryo 560 (CA77) @ 2.0GHz
4x ARM Cortex-A55 @ 1.9GHz
4x ARM Cortex-A55 @ 1.9GHz
4x ARM Cortex-A55 @ 1.9GHz
6x Kryo 660 (CA55) @ 1.7GHz
6x Kryo 560 (CA55) @ 1.7GHz
GPU
Adreno 642
Adreno 642L
20% higher performance
Adreno 642L
Adreno 619 GPU
Adreno 619L
AI
6th gen AI Engine
6th gen AI Engine
6th gen AI Engine
Hexagon 770 processor
Hexagon 770 processor
Hexagon 770 processor
Hexagon 686 Processor
Hexagon 692

Memory
LPDDR4 (2133MHz)
LPDDR5 (3200MHz)
LPDDR5 (3200MHz)
2x16 LP4x @ 2133 MHz
@ 1866MHz LPDDR4X 14.9GB/s
ISP
Triple 14-bit Spectra 570 ISP
Triple 14-bit Spectra 570L ISP
Triple 14-bit Spectra 570L ISP
Qualcomm Spectra 346T
Triple 12-bit ISPs
Spectra 355L
14-bit
2x Image Signal Processor (ISP)
Single-camera: Up to 84MP with Zero Shutter Lag (ZSL)
Single-camera: Up to 64MP with Zero Shutter Lag (ZSL)
Single-camera: Up to 64MP with Zero Shutter Lag (ZSL)
Single camera: Up to 36MP with ZSL
Up to 192 MP
Dual camera: Up to 64MP + 20MP with ZSL
Dual camera: Up to 36MP + 22MP with ZSL
Dual camera: Up to 36MP + 22MP with ZSL
Dual camera: Up to 22MP with ZSL
: Up to 16 MP
Modem
Snapdragon X53 4G LTE and 5G multimode modem (integrated)
Snapdragon X53 4G LTE and 5G multimode modem (integrated)
Snapdragon X53 4G LTE and 5G multimode modem (integrated)
Snapdragon X51
Sub-6 GHz: 100 MHz bandwidth, 4x4 MIMO
Snapdragon X51
Downlink: 3.3Gbps (5G)
Downlink: 3.7Gbps (5G)
Downlink: 3.7Gbps (5G)
Downlink: 2.5Gbps (5G), 1.2Gbps (4G LTE)
Downlink: 2.5Gbps (5G), 1.2Gbps (4G LTE)
Charging
Qualcomm Quick Charge 4+
Qualcomm Quick Charge 4+
Qualcomm Quick Charge 4+
Qualcomm Quick Charge 4+
Qualcomm Quick Charge 4+
Connectivity
Qualcomm FastConnect 6700
Qualcomm FastConnect 6700
Qualcomm FastConnect 6700
Qualcomm FastConnect 6200
Qualcomm FastConnect 6200
WiFI 6E, WiFI 6
WiFI 6E, WiFI 6
WiFI 6E, WiFI 6
WiFi 5
No mention of WiFi 6
WiFI 6 ready
2.4GHz, 5GHz, 6GHz bands
2.4GHz, 5GHz, 6GHz bands
2.4GHz, 5GHz, 6GHz bands
2.4GHz / 5GHz bands
2.4GHz / 5GHz bands
Manufacturing process
Samsung's 5nm process
TSMC's 6nm process
TSMC's 6nm process
6nm (TSMC?)
Samsung 8nm (8LPP)
Devices with the Qualcomm778G Plus and Snapdragon 695
There are obviously no devices launched yet, but some brands have committed to using the chipsets:
OPPO: "The new Snapdragon 695 5G Mobile Platform takes 5G truly global with mmWave and sub-6 in the 6-series, which will deliver high-speed connection enabled smooth experiences in all scenarios," said Henry Duan, vice president, president of smartphone, OPPO. "We're excited to launch a device based on the Snapdragon 695 in the coming months and bring even more incredible experiences to consumers."
Xiaomi: "Xiaomi and Qualcomm Technologies are committed to bringing the best mobile experiences to consumers," said Chang Cheng, vice president of Xiaomi Corp. "We are excited to adopt the new Snapdragon 778G Plus 5G and Snapdragon 695 5G Mobile Platforms the deliver smartphones that will enable truly global 5G, enhanced AI, and immersive gaming experiences."