Amazon Fire TV is leading the cord-cutting revolution, bringing high quality streaming shows to your TV screen, all through your trustee Wi-Fi rather than a cable setup.
I don't know about you guys, but nothing beats the experience of watching shows and movies on the big TV screen. Although Netflix offers apps for PCs, smartphones, and tablets, the cozy feeling of ensconcing yourself on a couch with snacks and drinks in hand while you're fully immersed in the action on the screen is unmatched.
And all you need is a small Fire TV streaming device, a Netflix subscription, and a good Internet connection to make this happen.
Well, that and a little bit of app-installing along with it, which is what I'm going to explain in this article.
Installing Netflix on Your Amazon Fire TV
The popularity of Amazon Fire TV is increasing like wildfire. This year, Fire TV beat the number of users on Roku (another popular streaming device), reaching the 30 million mark.
The convenient remote control and simple-to-use software interface makes the Fire TV a natural choice for the purposes of Netflix streaming.
What's more, the Fire TV supports a much wider range of apps and services which can be incredibly valuable in enriching your streaming experience (Hint: we'll be using one such app to unlock the complete content catalog of Netflix in the UK, which isn't so easy to do with Roku).
However, Netflix isn't one of the default apps that you'll find in Fire TV home screen right out of the box.
So, first things first, you need to install the Netflix app on your Fire TV to start streaming.
Follow the steps below to commence the setup process:
Select Search from the main menu and type "Netflix"
When the app appears on the screen, select Download or Free
Once the download has completed press Open
Select Sign In
Enter your Netflix account credentials
Start streaming your favorite shows on your TV right away!
Accessing Complete Content Catalog on Netflix
Although Netflix is available in pretty much every country in the world, the availability of shows and movies varies from region to region.
UK is among the top 5 countries with the largest content library on Netflix, but it is still than what the likes of Japan and the US get.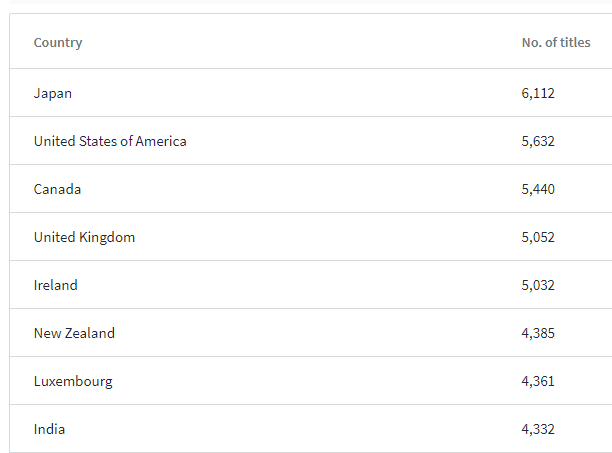 Source: Finder
The difference isn't that great in numbers, it is nonetheless extremely disappointing if a show or movie you really want to watch is available elsewhere but not in the UK.
This is outrageously unfair. But you can't really blame Netflix for this because they have content distribution laws to follow and honor agreements with producers and distributors.
But it doesn't have to be this way. You can actually access US-only shows on Netflix on your Fire TV while sitting in the UK, and it doesn't require magic.
This can be easily done with the help of a VPN service, as explained in this guide on watching US Netflix in UK.
When you've chosen a VPN that has the ability to access US Netflix in the UK, you will now need to install this VPN app on your Fire TV to enable geo-unblocking of your favorite Netflix shows that can't be accessed from the UK.
Although the setup instructions for VPNs vary depending on the provider, the general process is pretty much the same and it goes something like this:
Select Search and type the name of the VPN service you want to use
If the provider has a VPN app that supports your Fire TV device, it should now appear in the search results
Select the app and then press the Download button
Press Open after the app has finished downloading
You will now have to sign in with your VPN username and password (you should sign up and make a VPN account on the VPN provider's website beforehand using a computer for ease)
When you have successfully signed in, the VPN app will in most cases ask for Connection request. Press OK when prompted for this
Now, you can use the VPN service and change your apparent location to US to access Netflix
Select a US server and wait until the connection to the new server is formed
If successful, your IP address will now change to a US-based IP
Keep the VPN running in the background and now open your Netflix app
You are now accessing Netflix the way it is in the US with all its content available at your fingertips
If you want to revert back to the UK region of Netflix, simply disconnect the VPN, exit the app, and open Netflix again
Finishing Up
The Fire TV really is a little box of magic for streaming enthusiasts. But a VPN on Fire TV will open up a whole new a dimension of magic and give you uninhibited access to Netflix content no matter where you are located in the world.
Quite simply, put Fire TV, Netflix, and a VPN together and you have the perfect room for reckless bingeing nights you've always pined for.