Acer have been jumping on the 4k PC monitor tend big this year, they have released several models including the impressive looking S277HK and XB280HK. The former is a beautiful slim bezel 27″, which I think is the only slim bezel on the market and sells for around £530. The XB280HK is designed for gamers and I suspect will fly off the shelves, it is a 28″ 4k G-Sync monitor retailing for around £530, which is also one of, if not the only 4k GSYNC monitor on the market.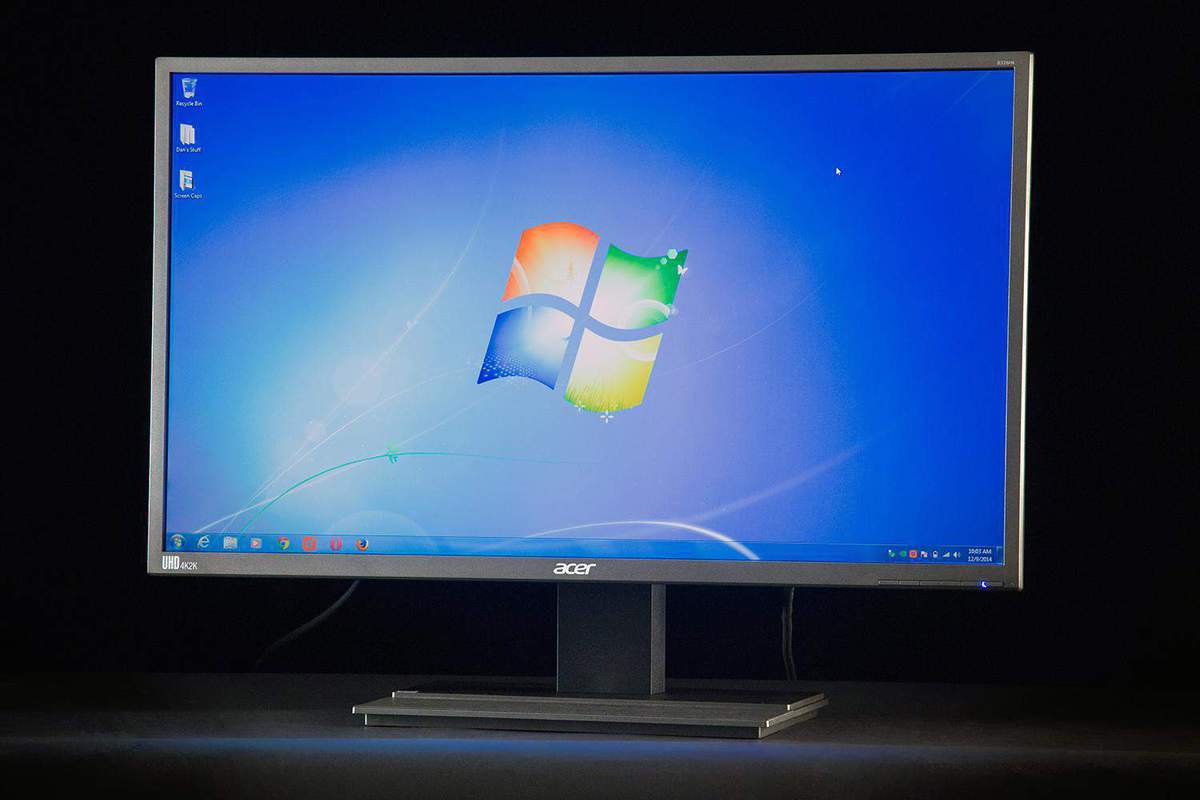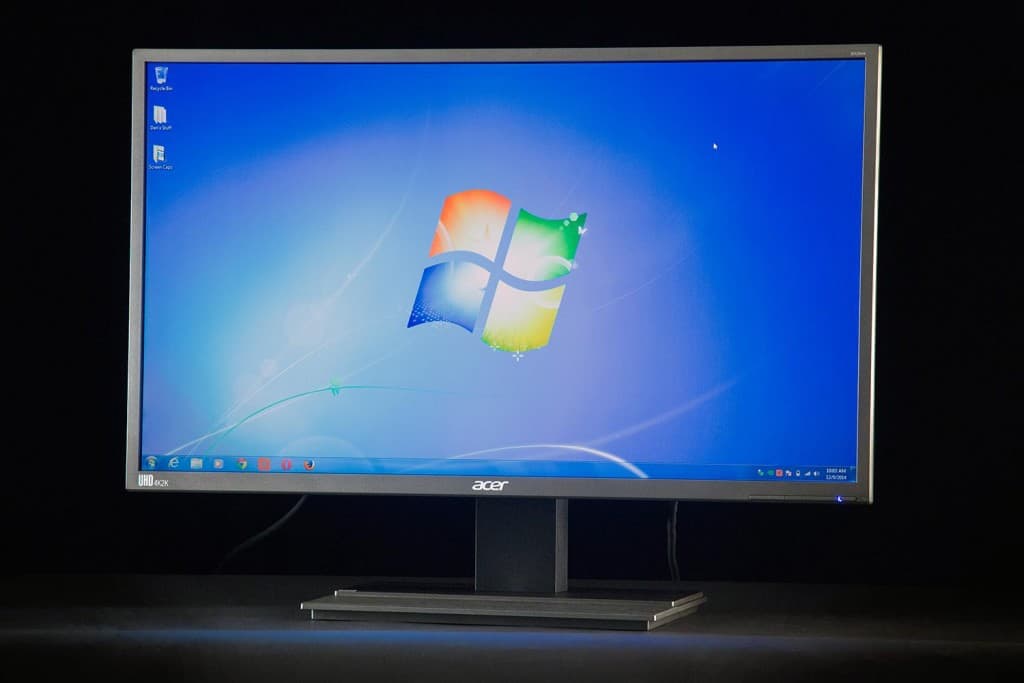 This week I have been reviewing the B326HK which does not have any fancy features such as GSYNC but makes up for it in its sheer size of 32-inches. On my desk it is huge and it takes quite a bit of getting used to. A monitor of this size commands a steeper price than the previous ones mentioned but it is currently £589.00 on Amazon which is a bargain for a screen this size and the cheapest 32″ 4k screen on Amazon at the moment.  Its full specification is:
32″ 4k2k 3840×2160 resolution
Brightness: 350 cd/m2
Contrast Ratio: 100,000,000:1
Response Time: 6 ms GTG
Display Color: 1.07 billion
10-Bit panel
Viewing Angle (L/R;U/D) (CR>=10): 178 / 178
Terminals: DVI-D / HDMI / DisplayPort / Mini-DisplayPort
IPS LED Technology
HDCP Support
Speaker: 2W x2
USB 3.0 Hub: Yes
VESA Wall Mounting (mm): 100 x 100 mm
The look of the screen is a little boring compared to the slim bezel model mentioned previously. It has quite a business look about it, with a big chunky base and all black plastic bezel. Setting up the screen is surprisingly easy, you inset the stand into the base and literally use one built in thumb screw to tighten it into place. It feels very secure considering I only used one screw.
Unfortunately the screen is only adjustable by height and tilt, which is no issue for me but will certainly be a bugbearer for many.
As with most high end monitors nowadays you get a lot of input options include DVI-D, an MHL compatible HDMI, DisplayPort 1.2 and mini-DisplayPort, all of which can be utilized independently for a single viewing experience, or in conjunction with one another simultaneously thanks to the display's integrated picture-in-picture option.
The monitor also has a 4 port USB 3.0 built in.
There are several supplied cables including HDMI, DVI and Display Port. My graphics card is a couple of years old and only has mini-DP for its display port so I had to use HDMI or DVI initially. With HDMI I found the picture terrible, it is very washed out  and could only run in 1080p. Changing to DVI improved a lot, while it would still only run at 1080p everything looked clean and crisp.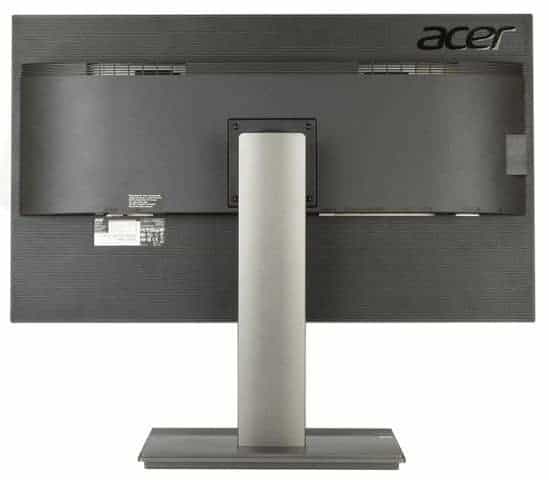 Finally when my mini-DP port arrived I got chance to run it at its full resolution and jumping from 1080p to 4k is quite a shock to the system. Everything become so small and spaced out, but once you tweak the scaling in windows everything becomes more usable. Once icons and text are larger everything becomes really sharp and looks fantastic.
Personally I didn't feel I needed to run any colour calibration at all, as everything looked fantastic once I was on display port. This is helped by the fact that Acer have chosen to go with a IPS based panel over the cheaper TN based one. Though if you do want to tweak things you can use the Acer eColor Management calibration system.
Day to day use was excellent and I quickly became accustomed to the vast screen real estate. Media also looked fantastic on it and I watched a couple of movies on it, which looked as good as you might image. I noticed no serious screen artefacts or blurring. My GPU is not quite up to the job of playing 4k games on High settings, but everything still looked brilliant to me.
Overall this is a great monitor, it probably isn't the best looking one on the market, nor does it have quite all the bells and whistles of some of its competitors. But it has one huge selling point, and that is its price. According to Amazon it is a cheaper than anything else on the market at this size by a decent margin. The cheapest competitor I can find is a BENQ model at £670 with most other model pushing £1k. While £589.00 is a lot of money to spend on a PC monitor, it is cheap enough for someone like me to consider as a main screen. If that price is still too expensive for you then Acer also do a 28″ B286HK  model which is an absolute bargain price of £343 on Amazon or £299 via Ebuyer. At these kind of prices I would 100% recommend one of the Acer models and certainly recommend 4k if you have a PC that can handle it.