Vegas is fantastic to visit, there is no other place in the world like it, even if you are not planning to gamble it is well worth a visit at least once, just to experience how amazing and ridiculous it is in equal parts.
I have been twice now, once with friends and once with my partner, and I hope to attend CES one day.
If you have never been to Vegas, it is difficult to comprehend how big it is, looking at Google maps the strip seems quite small with a handful of the big name hotels all sitting next to each other. Pictures of places such as the Bellagio do make it look huge, but it is not until you get there you realise how big it is. For example, looking at Google Maps, walking from New York New York to the Bellagio fountains looks like it will take five minutes, the hotels are next door but one, however, it is a good 20-minute walk. Once you get inside a casino, things get even more complex, and it can easily take 20+ minutes to traverse from one side of a casino to the other unless you know where you are going.
So, when you are in Vegas, it is important to have an aide to get you around. Thankfully with smartphones this is quite easy and there are several must-have apps before you go to Vegas. The obvious one is Google maps, and this will be something you use regularly, but I won't use it in my recommendations as it is something we all know of and use. If you want to brush up on your skills before you visit you should also check out some of the best casino apps over on bestcasinosites.net.
Vegas.com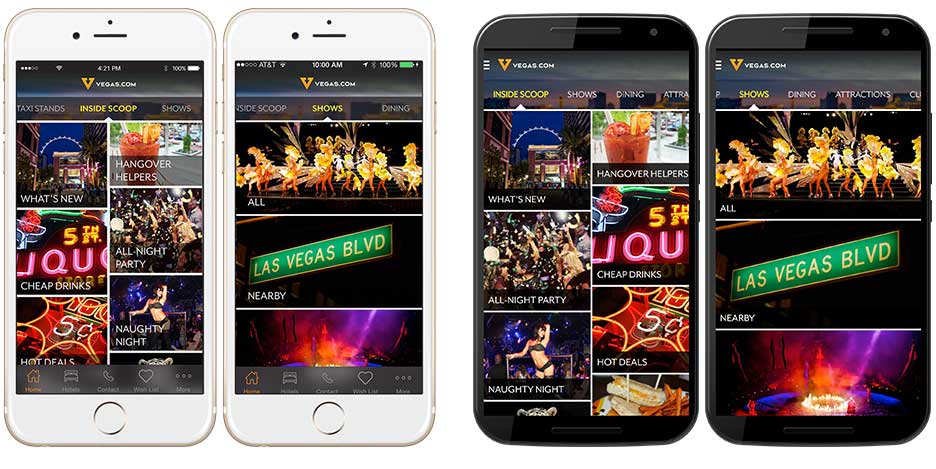 On Android, there are a surprisingly low number of well-reviewed Vegas guides. One of the best options appears to be the imaginatively named Vegas.com app.
It uses geo-location to inform you of what is going on near you, and you can use this feature to search for things like where is the nearest bathroom.
It is a great app to find out places to go to with listings showing how far they are currently away from you and a representation of the price. So for bar and restaurant listings, you can find out opening times, typical prices and then the location on the map. If you find somewhere you want to go to, you just need to hit directions, and it will load up Google maps guiding you to your chosen spot.
VegasMate
If you are an iPhone user, then VegasMate is one of the most popular options for navigating Vegas. It is a complete guide for Vegas offering a full map of the strip and downtown with information on all of the hotels, restaurants, clubs, shows, pools and more.
There is a useful CabCheck feature that allows you to estimate the cost fo taking a cab, or if you prefer to walk there is an integrated directions feature.
With the restaurants, the app is integrated with OpenTable and allows you to make reservations quickly and easily, as well as cancelling them if needed.
When available, they include restaurant menus and casino floor maps, right on your iPhone or iPad. No more searching through poorly designed casino websites to find them.
It is also possible to create trip plans and syncs them between devices, making sure you see as much of Vegas as possible.
MyVegas
This one doesn't really help you navigate Vegas, but I think it is well worth downloading before you go as it can save you a lot of money. Me and my partner used this app before we went, and it is great if you have some spare time to kill during the day. It is free to use, and you earn coins from playing the slot style games which can then be used to redeem for rewards while you are in Vegas.
There are some great rewards that you can earn and these can save a lot of money, but as you would expect, the best ones require a lot of play time. When we went, we used some of our rewards for a $20 voucher at the Pub in the Luxor, a $50 credit and dessert at the Camelot Steak House in Excalibur, and several 2-4-1 deals at places like Aria. Between the two of us we saved around $250 playing this game for its rewards.
You can only redeem 3 rewards within the space of a month so realistically this means 3 per visit to Vegas. (Unless you have spent actual money to buy coins, then I think you can redeem 4 rewards).
You must select your rewards before you travel. The app registers where you are located so once you are in Vegas fewer rewards are on offer.
Before you travel, select what rewards you want then follow the instructions on the screen. When you get to Vegas, visit an MLife desk (in any MGM owned casino) to have them applied to your MLife card (if you are not already an MLife member you can join up at the same time). The staff at the desk will tell you what else you need to do to use your rewards.