The end of the year sees the usual lists of best movies, video games, albums and anything else in the pop cultures sphere. But it's quite unusual to see a list celebrating the best and most exciting casino games of the year. However, we want to make the exception for a number of reasons: Firstly, there have been several pivotal casino games launched in 2019; secondly, every game on our list can be considered ground-breaking in some fashion; and, finally, some casino games have become so popular that they deserve to be celebrated with other bits of pop culture.
Here's the list:
Starting with what we consider to be the most important series of games released in a long time. Playtech's Kingdoms Rise slot series is now at Casino.com, and it's getting quite the reception. Four games have been released simultaneously: Reign of Ice, Guardians of the Abyss, Forbidden Forest and Sands of Fury. What makes this series different is that all the games are connected, creating a huge fantasy world reminiscent of Game of Thrones or Warcraft. An interactive map of the kingdoms allows you to effortlessly flip between games and launch different features. The best part is that your progress is recorded, so you can pick up from where you left off even after months of not playing. Ground-breaking stuff by Playtech.
NetEnt usually creates its own characters from scratch rather than relying on branded content, but it made some exceptions this year with Narcos, based on the hit Netflix series, and Conan. Our preference is for the latter, which focuses on the adventures of Conan the Barbarian. Brilliant use of 3D graphics and some cool gameplay features ensure the game never gets boring, and there are also possibilities for some massive payouts.
Ascot Sporting Legends – Playtech
We would argue that Playtech's range of games in association with Top Trumps that celebrate the achievements of sporting legends like AP McCoy and Ronnie O'Sullivan didn't get enough appreciation. However, our favourite is one that is a little more stripped back than the others. Ascot Sporting Legends celebrates the pomp and ceremony of Britain's most prestigious racecourse, Ascot. The game has all the allure of the luxury lifestyle in terms of prizes, including a highly lucrative High Society Bonus. Great stuff.
Volatile Slot – Microgaming
A really interesting concept here. Essentially, this game touts the fact that there might be long periods of play without any wins, followed by periods of big payouts. Experienced casino players use the terms low and high volatility to describe slot machines that behave in this manner, and Microgaming is capitalising on people understanding that before playing. It's a fun game and you can get some huge prizes, but you should be fully aware that the risks to your wallet are also increased.
Break Away Deluxe – Microgaming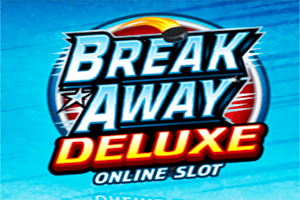 Microgaming created Break Away a few years back, and the ice hockey themed game became an instant classic. So, it was with some anticipation players were waiting for the release of Break Away Deluxe. While some might have expected something new, Microgaming simply gave the classic game a bit of a reboot, with some new features and better graphics. Think of it in the same manner as a rock band releasing a remastered version of a classic album. It's breathed new life into the game, and new players are discovering it all over again.