Gambling is something that a lot of people take part in. Of course, in the modern world, it's easy to get hold of lots of little gadgets that can do a lot to enhance your experience. We've taken a look at some of the most interesting casino gadgets that are available at the moment. These include the most common to more of the niche ones.
Casino Apps
We had to start with casino apps. There are so many fantastic online casino apps available to players at the moment that it's hard to choose the best one. However, one fact remains, and that is that online casino apps significantly improve the experience of online gambling. They make it more fun, and easier to access at any time. If you like playing at online casinos, then an app is definitely the way forward.
Virtual Reality Headsets
We can almost hear you wondering aloud what this has to do with gambling. Well, to put it simply, some of the latest advancements in online casino technology have been centered around VR tech. There are already VR holidays available, and the next step is VR casinos.
While a fully-fledged VR casino isn't quite on the horizon yet, there are some VR casino games available. These provide players with the opportunity to enjoy a first-person experience, which creates a lot more immersion than other titles out there.
In the future, it's expected that players will have the opportunity to play at a full VR casino, but for now, the VR games provide more than enough enjoyment. At the very least it's a way to put yourself right into the casino space without having to leave your room.
Automatic Card Shuffler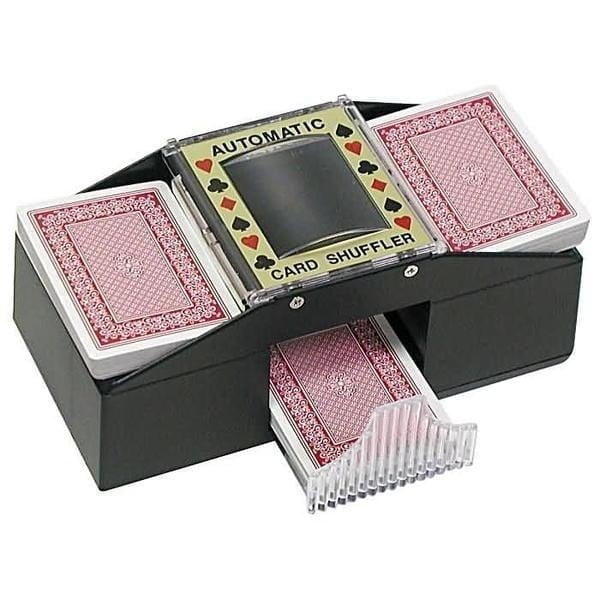 Shuffling cards with a flourish, is quite difficult to do. The magicians and dealers you see might make it look easy, but it actually takes quite a lot of practice to get right. An automatic deck shuffler, means that you can play Poker or Blackjack in your own home without having to worry about the quality of the shuffle.
It means you can spend more of your time having fun, and less time worrying about the quality of the cards that have been dealt. This is a great way to make your Poker evenings a much more professional affair.
A Roulette Watch
This one might not actually impact your gambling directly, but it goes without saying, that it's a lot of fun. You can get a watch that has a roulette wheel built into the time face. It looks fantastic, and it instantly makes everyone aware of what your passions are. A roulette watch will allow you to keep the time with a fantastic piece of engineering.
While it might appear to be a gimmick, the roulette watches are incredibly well designed.