The next generation of the Microsoft Zune has been officially announced. This time there are 3 versions, the first a $249 80GB Hard Drive model, Second a 8Bb flash based model, and lastly a 4Gb flash model.
The new features include, wireless syncing with your computer automatically when within Wi-Fi range, a new touch sensitive pad (ipod esque) and videos in Zune Market place.
There are also reports that the Zunes sharing feature will be expanded to allow the sharing of other media, media will be viewable in the h.264 and MPEG4 file formates.
Personally I was hoping Microsoft would close the gap a little more on Apple with the Zune 2 offering, MS certainly have the resources to compete with Apple and I would of liked to of seen a 160 Gb version of the zune. I suppose the 80gb version is priced the same as the Apple 80Gb Ipod Classic and the unique sharing features of the Zune may give it that edge over the Ipod.
The one very impressive thing Microsoft has announced that may help win them some fans is that the original Zune will be getting updated with all the new features of the Zune 2. This means if you have one of the original Zunes you will now get the new Wi-Fi synching, updated sharing features, codecs, and windows media TV on the Go. Essentially you old Zune will be exactly the same as the new Zune in terms of functionality.
In comparison the Apple touch runs exactly the same OS as the IPhone however has many of the IPhones features stripped away, including no email, weather, stocks, notes or the ability to add events to the calender. While most may not really want these features on the Touch why would Apple want to actually go out of its way to remove the features when they could be a selling point of the device.
Update: The new 80Gb Zune will apparntly come with premium headphones, this would be a major selling point for me as when I bought be IPod i forced out another £60 to buy some of them lovely V-Moda Vibes(which have now broken within a year!! grr) adding to the cost greatly. Now I am sure the premium 'phones wont be as good as the V-Modas or some Shures they must be better than the crap ones distributed by Apple.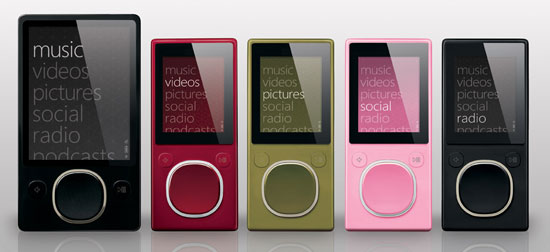 A Full feature list of the 80Gb Zune:
Beautiful, big color screen. A bright, durable 3.2-inch glass screen delivers uncompromised portable video viewing. Your music, video and pictures never looked better.
• Touch controls. Fly effortlessly through your song, picture and video collections with the new Zune Pad. Innovative new touch controls let you brush or click.
• Wireless sync. Cut the cord to your PC. Refresh your Zune with new content anywhere you charge your device. Connect to your PC through your home wireless network by setting your Zune to automatically sync the latest podcasts, music and more from your stereo dock, AC adapter or speaker dock accessory.
• Zune Social, a beta online community Web site. Discover, share and leave your musical mark. Create a Zune Card and personal profile at Zune.net to reflect your musical identity. Invite friends, share song recommendations, post comments and browse member pages to discover new music and connect to other people with similar musical tastes.
• Zune Marketplace. Get your fill. Over 3 million songs, albums, DRM-free MP3s, music videos, audio and video podcasts and more. Buy individual songs and albums or choose a Zune Pass to get unlimited downloads for a flat rate.
• Wireless Zune-to-Zune sharing.3 Share full-length tracks of your favorite songs, albums, playlists, pictures and even audio podcasts. Listen to the full track of any song you receive up to three times, and even pass along songs you receive to other friends who have a Zune. If you like a song you receive, you can easily add it to your wish list and then buy it from your PC the next time you sync.
• Recorded television content to go. The Zune software will now automatically import broadcast content recorded on Windows® Media Center for Windows Vista® Home Premium or Ultimate, so consumers can sync them onto their Zune and hit the road.4
• Built-in FM radio. With the built-in FM tuner you can listen to your favorite local FM radio stations while you're on the go. Advanced tuning capabilities allow you to see the name of the song and artist currently playing on select frequencies.5
• Import your music. Zune software will automatically import your existing music, pictures and videos, including music you have ripped into iTunes and Windows Media® Player, even transferring your existing playlists and song ratings in one easy step. Some content may be protected by the service you purchased it from, so those files cannot be imported.
• Your games. Your music. Your way. Plug your Zune into your Xbox 360® and customize the soundtrack in your favorite games. You can also stream the music, pictures and videos from the Zune software on your PC to your Xbox 360 console using a wireless connection.
• Accessories. A full line of Zune accessories are available to enhance your experience wherever you are, at home, on the go, in the car or working out.