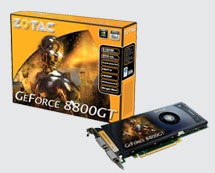 Ok so this is not really a professional review of the Zotac Card, I do not currently have all the software to perform a proper benchmark and I my main computer is a 4400 X2 (939) with 2Gig DDR memory. I assume if I did perform any benchmarking tests the CPU and Ram would be the week link lowing the scores. So this is more a post of subjective personal opinion rather than a impartial objective review.
Anyway, they other week I decided my twin 7800GTs were getting a little old and not providing the performance I would like in my computer. I was seriously considering just building an entire new system, but its close to Christmas so spare cash is short.
After the release of the new 8800GTs based on the new and fancy 65nm process (read more on Fabrication Process here) and the superb results it was achieving I decided to fork out for one. The idea was the small (ish) investment would prolong the life of my system until mid next year or so allowing me to save up and get a very high end system.
I have to be honest I have never really heard much about Zotac before, but from what I gather they are quite new to the market and they are a subsidiary of PC Partner who are also the people behind Sapphire. My choice in buying the Zotac was purely from a financial perspective, the company I own, Dolphin Promotions, is VAT registered, normally all my computer purchases are claimed back from the nice VAT man but I decided buy through Pixmania Pro, whom on proof of VAT registration will not charge the VAT. Yeay for me. To be honest I think the final price only saved a little over a normal 8800GT but the Zotac is clocked higher than the reference cards so I was hoping to squeeze a little more out of it.
The card arrived very fast, thanks Pixmania. Unfortunately my new Benq 24″ Monitor had not arrived, no thanks there Pixmania it was in stock when I ordered but took 2 weeks to arrive. Anyway I was restricted to a 19″ Acer monitor initially. Installation was simple though I used the latest drivers from NVidia rather than the Zotac supplied ones. One of the first things I did was install the demo of Crysis. I had previously installed it but my 7800s just could not cope, even at low settings, I expect with some messing about they would of just about coped.
Crysis immediately set the optimal settings to medium, while I can not provide FPS details the game ran very smoothly and I was very happy, Crysis really is a beautiful game.
Since then I have installed Windows Vista, Hell Gate London, Call of Duty 4, Half Life 2: The Orange Box and the full version of Crysis. What's the point of having a 8800GT if you don't have any decent games eh?
Vista set my system performance to 5.0 with the Ram being the weak link, the Graphics had 5.9. The system ran all the games perfectly on High settings so I am very pleased so far. I have since also received my 24£ Benq, while I have not had much time for gaming on it I tried out Crysis. I have only set it to 1680×1050 at medium settings so far, from what I have heard most systems struggle with Crysis at 1920×1200. The game ran perfectly smoothly at these settings and I am hoping I will be able to push it a little further.
Overall I am very happy with the Zotac, for the price it has more than met my expectations. If you would like a bit of a technical review Bit Tech has a review of the BFGTech GeForce 8800 GT OC, this is slightly slower than the Zotac but should provide similar performance levels. PC Labs has a Crysis benchmark with a combination of cards including the Zotac 8800GT Amp Edition (Mine was the standard edition). The PC Labs Benchmark is a Turkish to English translation and only uses 1024×768 resolution, but it is still a good review.