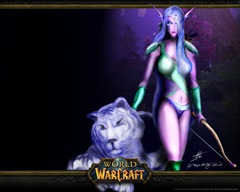 World of Warcraft: Wrath of the Lich King has finally been released to thousands of eager fans.
More than 2,000 people waited outside an Oxford Street store on central London to get an advanced copy of the second expansion pack for WOW.
The Wrath of the Lich King includes a bonus continent for high-level players, a plenty of new enemies, extra equipment, spells, and new professions.
The expansion will give players access to a new character, a Death Knight.
The Knight is a plate-wearing tank/DPS hybrid and will be available for players around level 55+. It is meant for end-game use only.
World of Warcraft has is currently the most popular online game (and most likely to stay that way for a while yet!) and has more than 11m registered players.