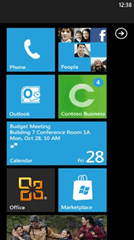 Well it is finally here, Microsoft have finally launched Windows Phone 7, the successor to the dreadful Windows Mobile.
In the UK phones will will be available from 21st October, while the US launch will be in early November.
The initial response to the OS is extremely positive and with Xbox 360 and Zune integration the phone could gain popularity very quickly. However it is being launched far later than competing mobile operating systems such as Apples iOS and Google's Android. It also lacks multi tasking and copy and paste, 2 features many people previously slated the iPhone for not having.
The phones due for a UK launch include:
HTC 7 Mozart
HTC HD7
HTC 7 Trophy
LG Optimus 7
Samsung Omnia 7
Phones that wont be launched in the UK (at least initially) include:
HTC 7 Surround
HTC 7 Pro
LG Quantum / Optimus 7Q
Dell Venue Pro
Samsung Focus
Unfortunately it would seem that all the phones with a dedicated hardware keyboard are not coming to the UK!!!