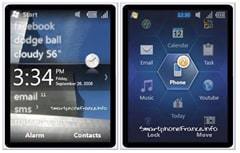 Neowin (via Wmpoweruser) are reporting that the first Windows Mobile 6.5 ROM has leaked and is available for Blue Angel (O2 XDA IIs, Qtek 9090, T-Mobile MDA III) devices. Apparently the ROM is only beta so it is likely to be missing a few features.
The rom appears to be publicly available via XDA-developers:
Windows Mobile 6.5 features include:
MSTOUCH(UPDATE)
TouchRecognizer
Touch LockScreen
IE6[IE Mobile8.12Pro]2009 Only for 6.5
CMHome For WM6.5PRO
Live For WM6.5
Microsoft are set to unveil WM 6.5 next month at the Mobile World Congress in Barcelona.
Microsoft are also developing Windows Mobile 7 and this is expected for  release in the second half of this year. However it has already been delayed and was planned for release the first quarter of this year. I am sure we will see a few more delays between now and the planned release date.
I have previously mentioned (several times) that I was disappointed with Windows Mobile 5 and version 6 as I found them both very buggy with frequent crashes requiring software or worse hardware resets. I have not tried 6.1 but I do hope the new versions improve a lot. I like to see a bit of competition between manufactures and this year does look good for smartphones.
A video of Windows Mobile 6.5 running on BA is after the jump.